Fun Things to Do in Hot Springs Arkansas
Hot Springs, Arkansas is a hidden gem for those looking to get away from the hustle and bustle of everyday life. With over 700 natural springs scattering across the city's landscape, it's no wonder that this small town in central Arkansas has become one of America's top vacation spots. Did you know that each spring offers its own unique temperature? In fact, some can reach up to 143°F – making them perfect for relaxation and healing! Let's check out fun things to do in Hot Springs Arkansas.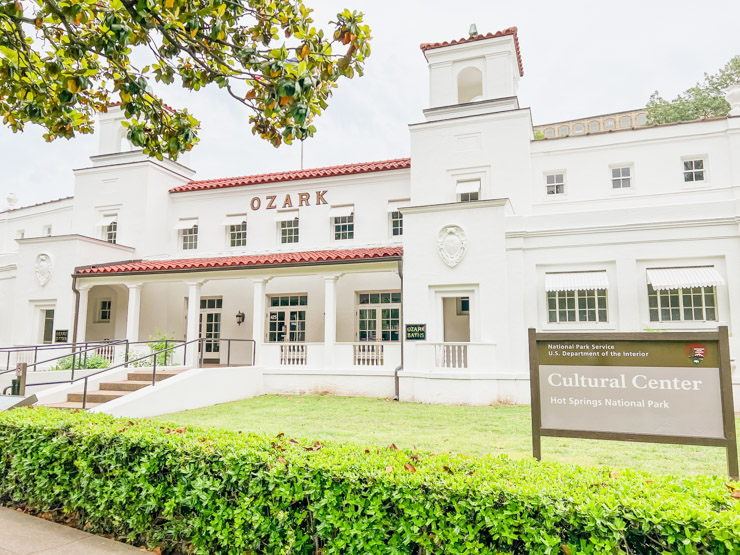 For those seeking adventure and exploration, there are plenty of fun things to do in Hot Springs Arkansas. From historic downtown attractions to outdoor recreation activities like hiking or mountain biking – visitors have their pick when it comes to finding something exciting and new to try out. Whether you're looking for an adrenaline rush or just a peaceful day outdoors with nature, Hot Springs provides it all. Keep reading for some of best things to check out here. There's even live music venues if you want to take your experience up a notch!
Hot Springs is full of surprises waiting around every corner; so why not plan your next escape here? Let go of your worries and explore what this beautiful destination has to offer. You won't regret it!
Hot Springs National Park
Hot Springs National Park is a must-see destination for anyone looking to explore Arkansas' natural beauty. Located in the city of Hot Springs, visitors can experience breathtaking views from the Observation Deck on top of Hot Springs Mountain Tower as well as take in thermal waters and botanical gardens at Garvan Woodland Gardens.
Just outside of the park boundaries lies Ouachita National Forest offering plenty of opportunities to hike and camp. For those seeking a day trip away, Lake Catherine State Park features crystal clear water surrounded by lush forestlands perfect for swimming or fishing. A visit to this area will leave you feeling energized and inspired; it's no wonder why people come from all over to enjoy its wonders! Plus, just minutes away is Bathhouse Row where tourists can relax in luxurious spas – an ideal way to end your stay here! If you love to relax and explore a great botanical garden make sure and visit this one. This is the only National Park in Hot Springs.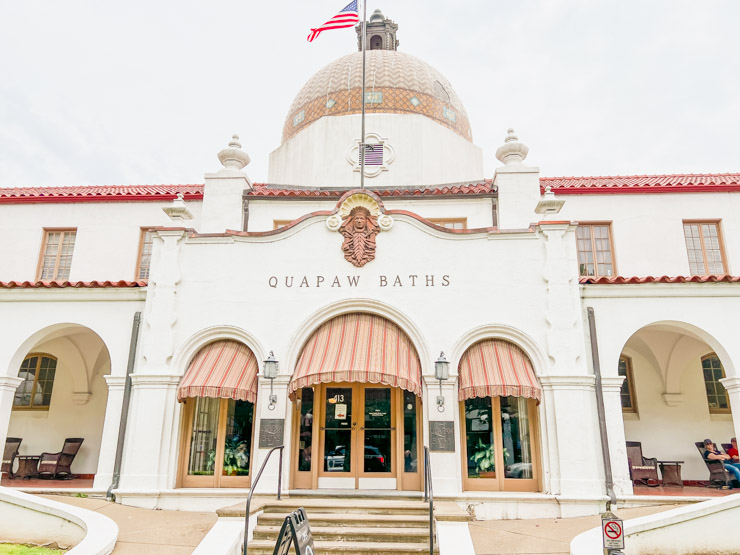 Bathhouse Row
Bathhouse Row is an iconic site in Hot Springs, Arkansas. Located along Central Avenue, it features eight historic bathhouses and thermal springs that have been welcoming visitors since the 19th century. Quapaw Bathhouse holds a special place in the hearts of locals who visit from near and far to soak up its healing waters. This historic building is so neat to go visit. The Buckstaff is the oldest continuously run bathhouse (built in 1912). The Fordyce Bathhouse Visitor Center provides interesting exhibits about the history of bathing culture at this location, including interactive displays about early spa treatments.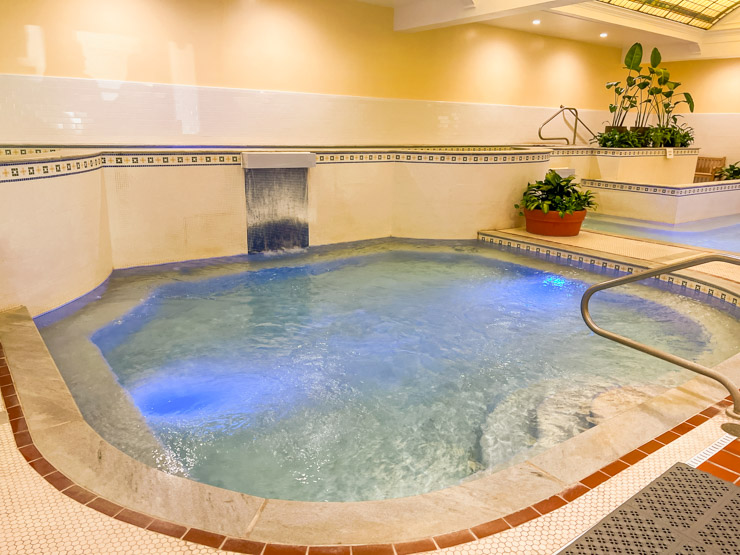 The Buckstaff Bathhouse offers many traditional services for those seeking relaxation or natural remedies for ailments such as arthritis or muscle pain. Guests can book massages, facials, and more in addition to soaking in one of the mineral-rich thermal baths. With over 40 different types of baths available, there's something for everyone! For even more insight into Hot Springs' unique past, take a tour of Historic Bathhouse Row where you'll learn all about how people enjoyed thermal baths centuries ago. These buildings were constructed in the the early 1900s and some even before that. Great historical sites to visit and explore. 
In addition to the various hot springs attractions around town, there are also plenty of other activities to enjoy on your trip here. From exploring nearby parks like Garvan Woodland Gardens to enjoying a night out on the town – there's no shortage of fun things to do in Hot Springs Arkansas! Get ready to uncover a world full of fun activities waiting just outside your hotel room door.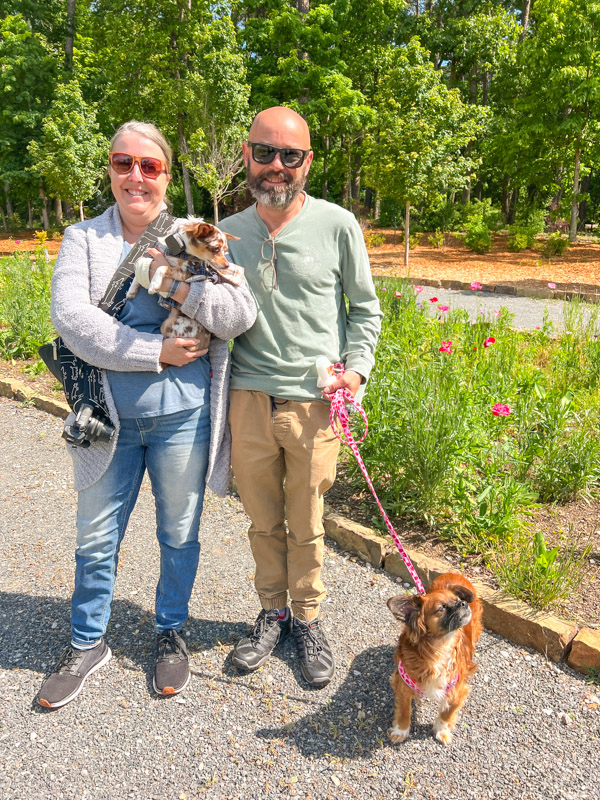 Garvan Woodland Gardens
Nestled within the enchanting city of Hot Springs, Garvan Woodland Gardens stands as a breathtaking natural oasis that seamlessly blends art, horticulture, and tranquility. This botanical marvel sprawls across acres of meticulously landscaped grounds, offering a captivating journey through a diverse array of themed gardens, each with its own unique charm. From the vibrant blooms of the Asian Garden to the serene tranquility of the Japanese Garden, every step through Garvan Woodland Gardens is a sensory delight. Visitors are treated to a sensory symphony of colors, fragrances, and textures as they explore winding pathways, picturesque bridges, and serene water features.
The Gardens also play host to a calendar of events and exhibitions that celebrate the intersection of nature and human creativity, ensuring there's always something new to discover with every visit. A true haven for nature enthusiasts, artists, and those seeking a peaceful retreat, Garvan Woodland Gardens stands as a testament to the harmonious coexistence of man and nature. It's a great place for nature lovers.
The gift shop at Garvan Woodland Gardens has a variety of souvenirs and merchandise that are perfect gifts for family and friends who appreciate nature. As a dog-friendly destination, the gardens encourages families to explore its grounds and absorb its serene beauty alongside their beloved pets.
Garvan Woodland Garden is an amazing spot to explore what nature has to offer while learning about some fascinating history too! With so much to see and do, it's no wonder why this beautiful park continues to be such a popular destination among tourists visiting Hot Springs year after year.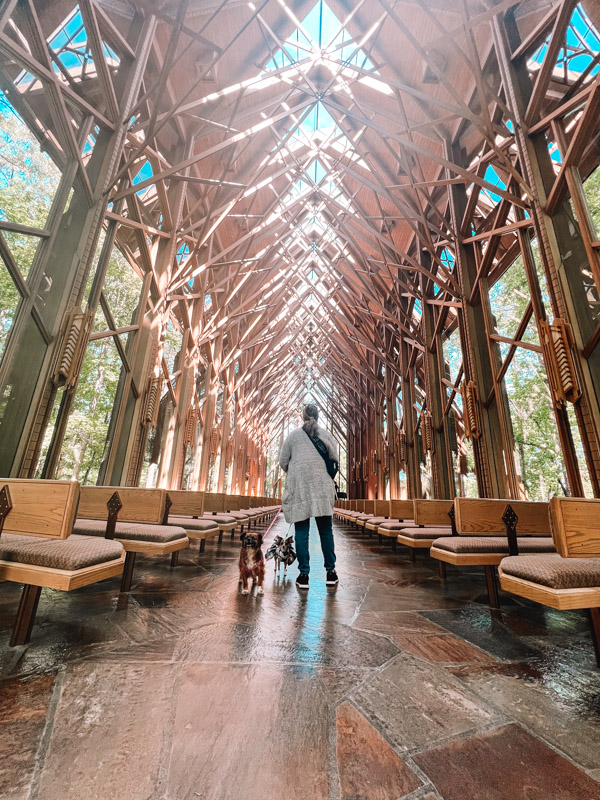 St. Anthony Chapel:
St. Anthony's Chapel, is a captivating historical gem that draws visitors with its tranquil ambiance and rich heritage. This charming chapel, adorned with exquisite architectural details, serves as a testament to the area's cultural significance. One notable feature that sets St. Anthony's Chapel apart is its welcoming and inclusive atmosphere. Whether one seeks a moment of reflection, a glimpse into local history, or simply a peaceful place to unwind, St. Anthony's Chapel stands as an open and inviting sanctuary for all.
Lake Hamilton
Nestled in the picturesque city of Hot Springs, Lake Hamilton stands as a captivating playground for both locals and tourists alike, offering a plethora of engaging activities to indulge in. Boasting crystal-clear waters framed by scenic landscapes, the lake invites water enthusiasts to partake in a range of adventures, from leisurely boat cruises and kayaking expeditions to thrilling water sports like jet skiing and wakeboarding.
Those seeking relaxation can unwind on the tranquil shores, basking in the sun's warm embrace or enjoying a leisurely lakeside picnic. The lake's vibrant social scene comes to life with a variety of waterfront dining options and lakeside resorts, providing the perfect backdrop for unwinding and savoring delicious cuisine. Whether it's fishing for bass, exploring hidden coves, or simply savoring the captivating views, Lake Hamilton stands as an enticing destination that promises unforgettable experiences for all who venture to its shores. A 200 acre lake with many activities including swimming, fishing, boating, kayaking, bird watching and hiking along its shores.
Babe Ruth Statue
The Babe Ruth Statue in Hot Springs stands as a proud testament to the city's rich baseball heritage and its role in shaping the career of one of the sport's most iconic figures. Erected in honor of the legendary Babe Ruth, who honed his skills in the city's renowned spring training camps during the early 20th century, the statue captures his indomitable spirit and profound impact on the game. As visitors gaze upon this magnificent bronze tribute, they are transported back in time to an era when baseball's future was being forged on the fields of Hot Springs. The statue not only celebrates Ruth's remarkable athleticism but also pays homage to the pivotal role that Hot Springs played in the history of America's pastime. It serves as a cherished reminder of the city's enduring connection to baseball and its enduring legacy as a hallowed ground for the sport's development.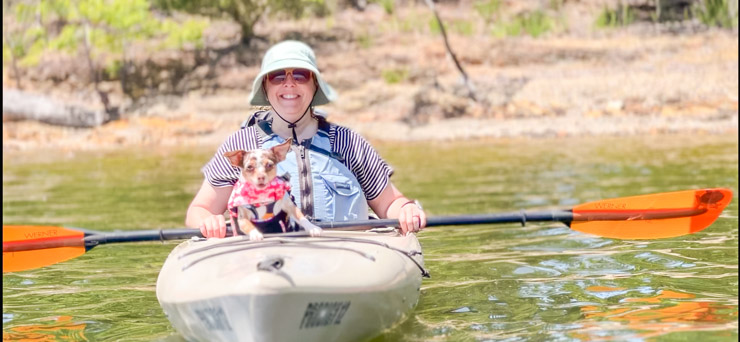 Kayaking On Lake Ouachita
Kayaking on Lake Ouachita is an exciting outdoor activity that should not be missed when visiting Hot Springs, Arkansas. Located in the heart of the Natural State and surrounded by hiking trails, kayakers are sure to take advantage of breathtaking views as they paddle along. The lake's crystal clear thermal spring water makes it ideal for various types of water sports such as fishing, swimming and boating. Our guide from Ouchita Kayak Tours was amazing and pointed out several points on interest on our tour!
The beauty of Kayaking on this majestic lake is unparalleled. With a variety of coves and bays to explore, paddlers can enjoy nature at its finest while taking in the stunning scenery around them. In addition to providing excellent paddling opportunities, Lake Ouachita also has many places where one can find refuge from the sun's rays or just relax after a long day out on the lake..
From kayaking on Lake Ouachita to soaking up natural hot springs – Hot Springs Arkansas provides countless ways to get away from it all without having to go far from home. Other outdoor fun things to do in Hot Springs Arkansas that have yet been mentioned include biking through lush forests full of wildlife, camping under starry night skies or enjoying a leisurely stroll down historic Bathhouse Row – each offering ample opportunity for relaxation and exploration alike.
Other Outdoor Things To Do In Hot Springs Not Mentioned
Hot Springs, Arkansas is an outdoor lover's paradise. Visitors can explore the stunning natural beauty of the area with activities such as horseback riding along the Sunset Trail or taking a dip in the local water park. There are also plenty of opportunities to enjoy some live music and experience the thrill of roller coasters at Magic Springs Theme Park. For those looking for something different, they can join one of Hot Spring's many guided tours led by knowledgeable park rangers who will provide fascinating insights into the history and culture of this great city. Furthermore, no visit would be complete without a scenic drive around Lake Hamilton to admire its breathtaking views.
For adventurers seeking more thrills, Hot Springs offers a variety of exciting outdoor activities beyond what has already been mentioned. They can try their luck fishing on Lake Ouachita or take an ATV excursion through nearby mountains for a unique view of the Ozark National Forest. The region also provides endless hiking opportunities from easy trails suitable for families to challenging routes that test even experienced hikers' skills. Additionally, visitors have access to numerous campgrounds where they can relax near picturesque lakeside settings while enjoying nature in all its glory. With so much to do here in Hot Springs it's easy to see why it's become one of America's most popular destination spots!
The next stop on any visitor's itinerary should be none other than mid-America Science Museum – home to over 100 hands-on exhibits designed for science education and exploration fun!
The Mid-America Science Museum
As a beacon of knowledge, The Mid-America Science Museum is an awe-inspiring hub for educational fun. With its interactive exhibits and petting zoo, the museum offers visitors an experience unlike any other in Hot Springs. From Magic Springs Water Park to superior Bathhouse Brewery, there's something captivating at every turn. Visitors can explore the Grand Promenade or take in a performance from Maxwell Blade Theatre of Magic – truly living up to its name as 'The Entertainment Capital Of Arkansas'!
For those looking for an adrenaline rush, Theme Park is sure to deliver with its wide array of rides and attractions. Whether you're soaring through the air on one of their roller coasters or taking a leisurely ride around some scenic lakes – this spot has it all! Plus, you'll have plenty of time left over afterwards to visit some nearby restaurants or hit the shops before heading back home.
No matter what your taste may be, Hot Springs provides endless possibilities when it comes to entertainment and exploration. So come out and enjoy all that this charming town has to offer. You won't regret it!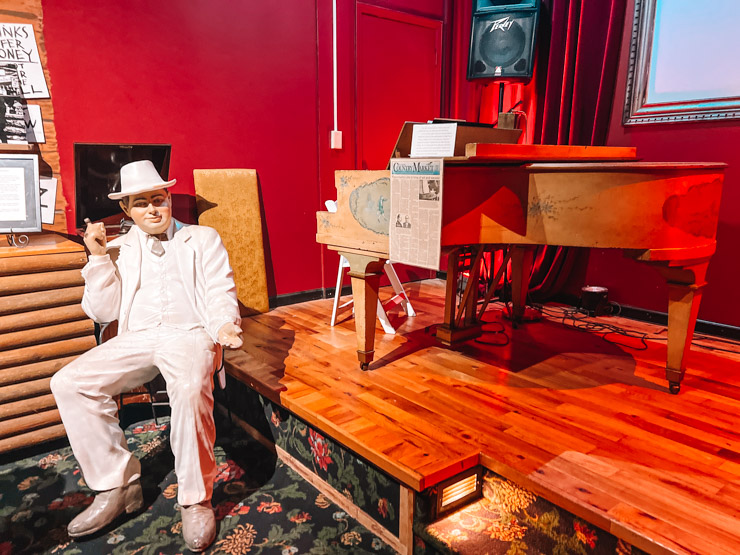 Gangster Museum Of America
The Gangster Museum of America in Hot Springs, Arkansas is a must-see for those who have an interest in gangsters from the 1920s and 30s. Visitors get to learn about some of the most notorious American gangsters like Al Capone, who frequented the Ohio Club located on Central Avenue.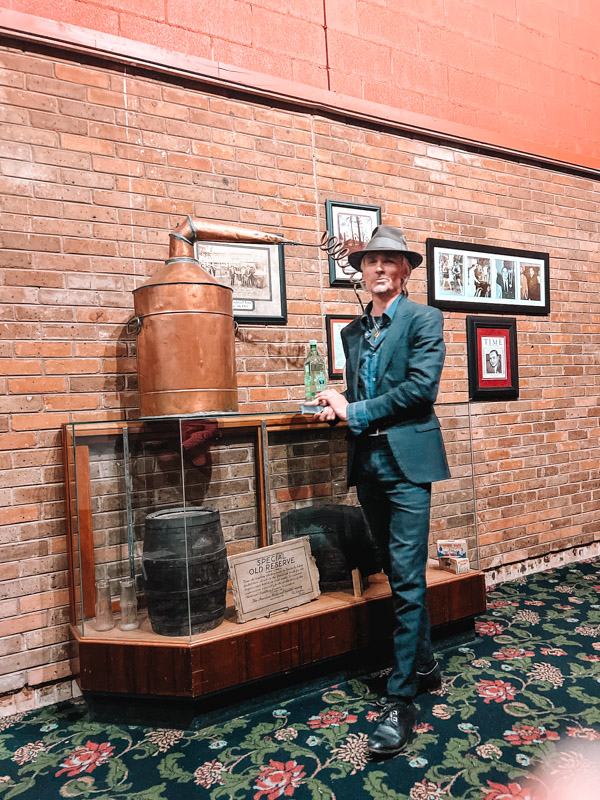 Hot Springs is home to more than just its famous museums; it's also filled with plenty of fun activities for visitors to enjoy! Magic Springs Theme Park offers thrill rides and water slides while nearby Hank Aaron Stadium is great spot for watching minor league games. Tourists can even take a trip out to the Arkansas Alligator Farm or witness the World Championship Running of the Tubs race held each year at Oaklawn Racing & Gaming.
No matter what you're interested in, there are plenty of things to do in Hot Springs! From learning about infamous gangsters at the Gangster Museum of America to experiencing unique events such as the Running of the Tubs race, this city has something for everyone. There's no doubt that your visit will be one full of adventure and excitement! This is great if you are looking for indoor fun things to do in Hot Springs Arkansas.
Oaklawn Racing Casino Resort
Oaklawn Racing Casino Resort is the main attraction in Hot Springs, Arkansas. Located in a downtown area of this beautiful city, Oaklawn offers year-round horse racing as well as an array of casino gaming options that includes table games like Poker and Blackjack, slot machines and more. With a rich history dating back over a century, Oaklawn has evolved into a modern resort offering a dynamic array of experiences. Guests can witness heart-pounding horse races, try their luck at a variety of casino games, indulge in exquisite dining options, and unwind in luxurious accommodations and spa treatments. Beyond the captivating gaming and racing offerings, Oaklawn Racing Casino Resort promises visitors an all-encompassing experience steeped in tradition and contemporary entertainment.
In addition to Oaklawn's many attractions, visitors can take time out to experience the only bathhouse left standing from Hot Spring's glory days: The Quapaw Baths & Spa. Here guests can relax with their choice of massage therapy treatments or soak in natural hot springs mineral baths!
For those who want even more entertainment while visiting Hot Springs, there are plenty of great restaurants/breweries/wineries nearby where they can enjoy delicious food and drinks after a day spent exploring Oaklawn Racing Casino Resort.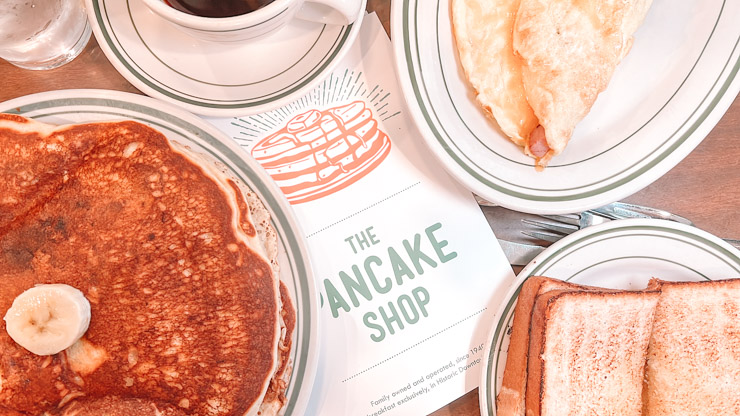 Restaurants/Breweries/Wineries
Hot Springs, Arkansas is a great place to experience the area's unique culture through its restaurants, breweries and wineries. Located just an hour from Little Rock, it's easy to get to Hot Springs for a day trip or weekend stay. The city of Hot Springs is located on Lake Hamilton and is known as "The Spa City" because of its numerous historic bathhouses. When you're in town, be sure to explore the heart of downtown where you can find dozens of different restaurants featuring local cuisine and craft beer. Some of our other favorite foodie stops included Stubby's BBQ, Best Court Café for a stellar brunch, Kollective Coffee + Tea, Crystal Ridge Distillery for a drink and J&S Villa for a fine dining experience.
The Pancake Shop stands as a beloved culinary gem, inviting locals and visitors alike to indulge in a delectable breakfast experience like no other. This charming eatery offers a cozy ambiance and a menu brimming with a tantalizing array of pancake creations that cater to every palate. From classic buttermilk pancakes to inventive options like blueberry cheesecake and pecan-studded delights, The Pancake Shop transforms breakfast into a symphony of flavors and textures. Beyond its pancake prowess, the restaurant also boasts a selection of hearty omelets, fluffy waffles, and savory breakfast favorites, ensuring there's something for everyone to savor. With its friendly service, comforting atmosphere, and mouthwatering fare, The Pancake Shop has become a cherished destination that captures the essence of Hot Springs' culinary scene and leaves patrons craving their next visit.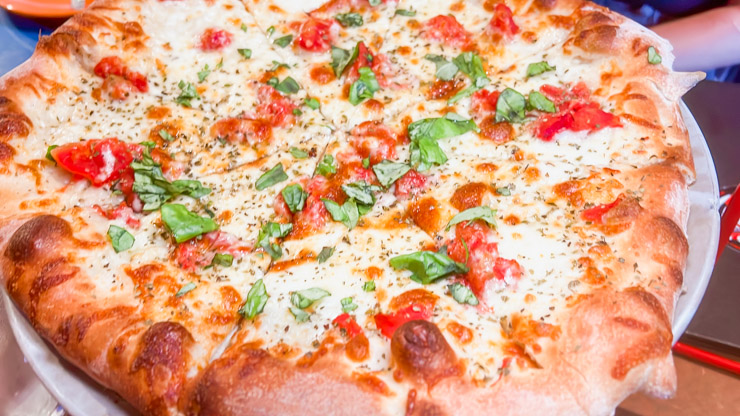 PIZZA!
SQZBX Brewery & Pizza is a delightful culinary haven that seamlessly marries the art of craft beer brewing with the flavors of authentic Italian-style pizza. This unique establishment offers a warm and inviting atmosphere where guests can relish a diverse selection of handcrafted beers, each a testament to the brewmaster's dedication to quality and innovation. As the aroma of freshly baked pizza fills the air, patrons are treated to a culinary journey that captures the essence of Italy through delectable wood-fired pies topped with premium ingredients. Beyond its culinary offerings, SQZBX Brewery & Pizza often hosts live music, creating a lively ambiance that draws both locals and visitors seeking an unforgettable experience. With its harmonious blend of exceptional brews, mouthwatering pizza, and captivating entertainment, SQZBX Brewery & Pizza stands as a true hotspot in Hot Springs' dynamic dining and entertainment scene.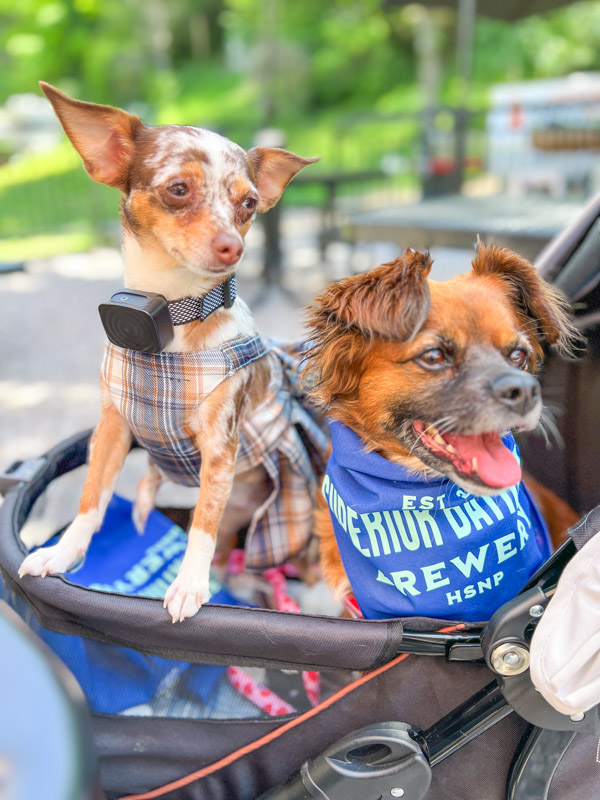 Superior Bath Brewery stands as a captivating fusion of history, relaxation, and craft brewing. Housed within a historic bathhouse, this unique establishment offers a one-of-a-kind experience where visitors can savor artisanal beers crafted on-site while immersing themselves in the city's rich spa heritage. The brewery's ambiance exudes a blend of old-world charm and contemporary comfort, providing a perfect backdrop to enjoy a diverse range of handcrafted brews that cater to various tastes. From the soothing mineral waters that once defined the building to the flavorful beers that now flow from its taps, Superior Bath Brewery seamlessly marries the past with the present, inviting patrons to unwind, connect, and indulge in a truly immersive and flavorful journey through Hot Springs' history and beer culture.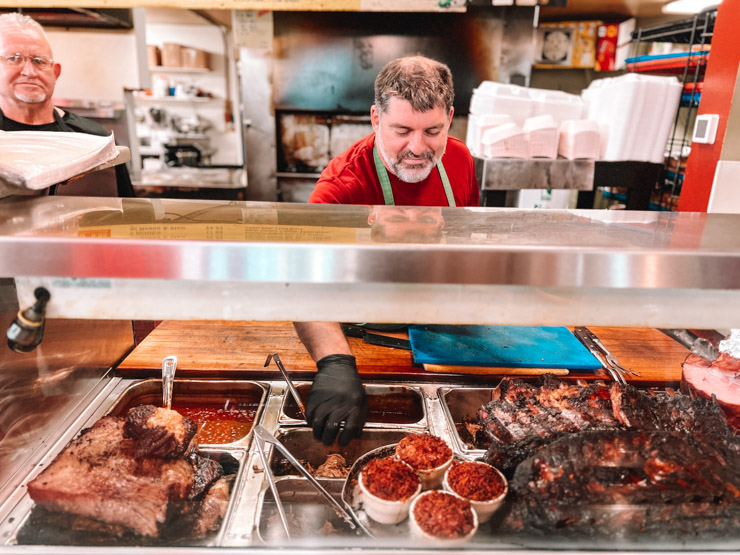 During our visit to Hot Springs, we had the pleasure of dining at Stubby's BBQ, and it was an unforgettable culinary experience. Nestled in the heart of the city, Stubby's BBQ is a haven for barbecue enthusiasts and food lovers alike. From the moment we stepped in, the welcoming ambiance and the tantalizing aroma of smoked meats set the stage for a memorable meal. The menu boasted a delectable array of barbecue delights, from tender brisket to mouthwatering ribs, all expertly prepared and bursting with flavor. The sides were equally impressive, offering a perfect balance to the hearty main courses. The friendly staff added to the overall positive experience, making us feel right at home. Our time at Stubby's BBQ was a true treat for the taste buds, leaving us with the indelible memory of savoring some of the most delicious barbecue in Hot Springs.
Whether you're looking for fine dining or casual meals with family and friends, there's something special waiting for you in Hot Springs!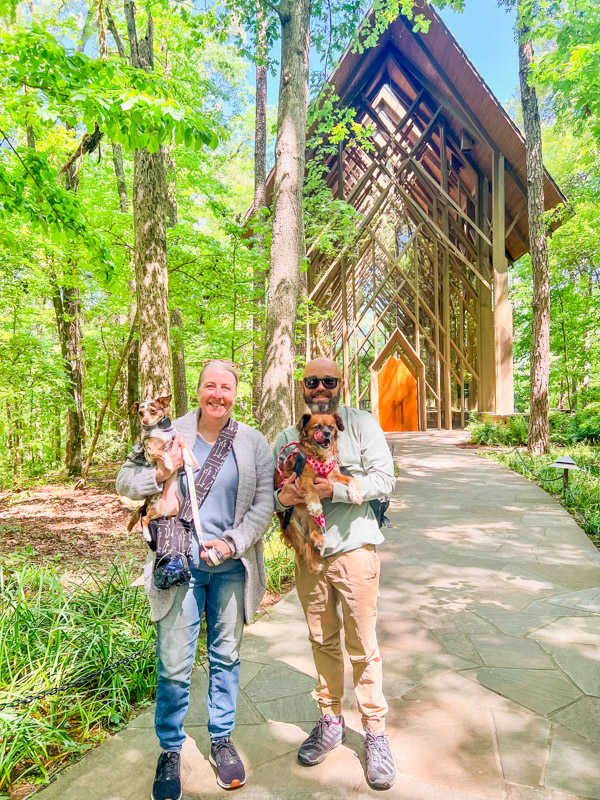 Pet Friendly
Hot Springs, Arkansas is the perfect destination for people who love to explore with their furry friends! With over 25 pet-friendly attractions and accommodations in this small town, visitors can easily experience all that Hot Springs has to offer. Did you know that Hot Springs National Park was the first national park established by Congress in 1832? This means there are plenty of unique things to do here like taking a stroll through its incredible scenery or visiting one of its many hot spring baths filled with mineral rich water.
Hot Springs warmly welcomes both visitors and their furry companions, offering a plethora of pet-friendly attractions and amenities. The city's picturesque landscapes invite leisurely strolls with pets in various parks and trails, including the scenic Hot Springs National Park. Many outdoor patios at local eateries accommodate pets, allowing for delightful dining experiences. Additionally, several accommodations, ranging from hotels to cabins, extend a warm invitation to pets, ensuring a comfortable stay for both humans and their four-legged friends. From exploring the quaint streets to hiking the trails together, Hot Springs provides a pet-friendly haven where the joy of companionship can be shared throughout every aspect of the journey.
Northwoods Trail System
If you want an adventure with your dog then take them on a hike around Northwoods Trail System which offers seven miles of trails. You'll get to enjoy fresh air, wildlife sightings, and serene views throughout your journey without having to worry about leaving Fido behind. No matter what activity you choose during your stay in Hot Springs, have no fear because there are lots of cool things to do here when traveling with pets! From shopping centers to restaurants and so much more, both owners and animals alike can find a little slice of paradise in this charming southern city.
We love when we get to travel with our pets so we are always on the lookout for pet friendly activities and we found plenty of fun things to do in Hot Springs Arkansas.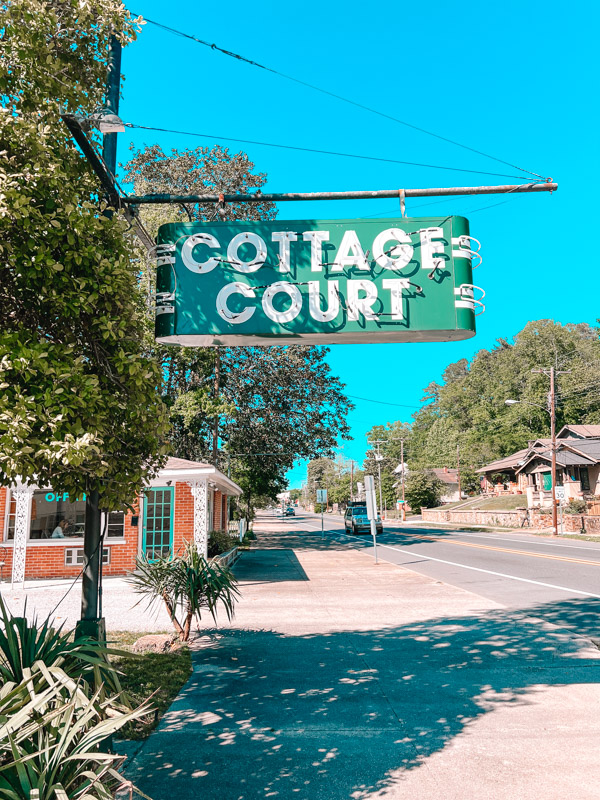 Accommodations For Visitors – Dame Fortune Cottage Court
Visitors to Hot Springs, Arkansas will find a wide variety of accommodations available. Dame Fortune Cottage Court is one of the best places to stay during your visit. Nestled in the heart of Hot Springs, Arkansas, Dame Fortune Cottage Court offers a charming and inviting retreat for travelers seeking a cozy getaway. This historic cottage court exudes a timeless charm with its quaint cottages, each uniquely adorned and thoughtfully equipped to provide a comfortable stay. Beyond its vintage allure, one of Dame Fortune's most endearing features is its warm embrace of four-legged companions.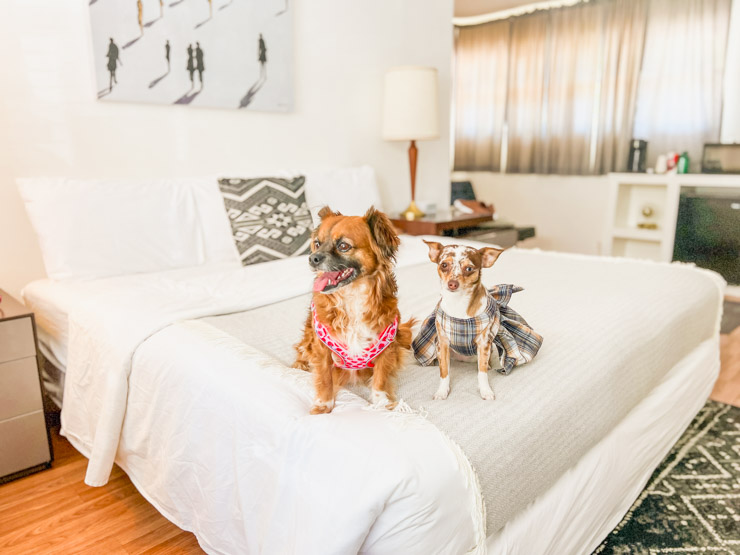 As a dog-friendly destination, the cottage court welcomes furry friends with open arms, ensuring that every member of the family can partake in the relaxation and exploration this quaint haven offers. With its prime location and pet-friendly atmosphere, Dame Fortune Cottage Court not only promises a delightful stay but also fosters a sense of inclusivity that truly sets it apart. Located in the heart of spa city USA, this tiny town boasts some of the most fun things you can do. Open year round, it's no wonder Dame Fortune Cottage Court has become so popular among travelers looking for rest and relaxation.
Best time to go to Hot Springs
So when's the best time to plan your trip? That depends on what kind of experience you're after: if you want cold weather activities then winter is definitely your best bet. But if sunshine and warm temperatures are more up your alley – springtime would be ideal! Regardless, whether you come at summer or fall, there's sure to be something fun waiting for you in Hot Springs.
No matter how long you stay, visitors won't regret their choice in lodging as Dame Fortune Cottage Court offers comfortable rooms at great rates – making it one of the top destinations for those seeking a memorable vacation experience filled with amazing sights and sounds. From art galleries to shopping opportunities, Hot Springs truly has something for everyone!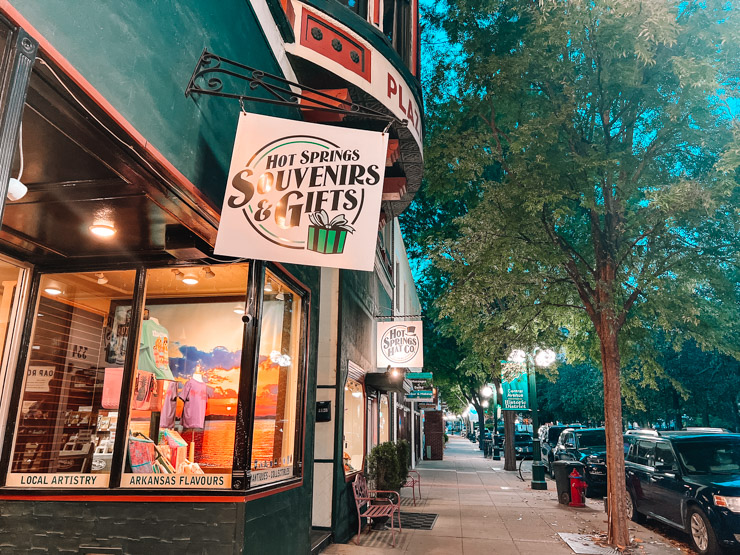 Art Galleries And Shopping
Nestled in the Ouachita Mountains of Arkansas, Hot Springs is a perfect place for anyone looking for an escape from their day-to-day routine. From its natural beauty to its display of spring water, this tiny town has it all — art galleries and shopping. Located at the heart of downtown, visitors can experience some of the best spots in the United States to get unique souvenirs and gifts.
For those interested in art, there are plenty of galleries that offer pieces from both local and international artists. Whether you're looking for paintings or sculptures, there's something for everyone here! Plus, many shops feature handmade items such as jewelry and pottery made right within the city itself. This makes it easy to find one-of-a-kind gifts while supporting small businesses in the area.
If retail therapy is more your speed, then Hot Springs has great options too. There are several clothing stores with stylish clothes and accessories along with antique shops filled with treasures waiting to be discovered. Plus, because everything's located close together it's easy to explore multiple places in one outing without having to drive around town all day long.
Hot Springs offers something special for every type of traveler; whether they seek culture through art galleries or relaxation by way of shopping, this charming spot provides endless possibilities just waiting to be explored. With so much on offer here, tourists won't soon forget their time spent discovering what this little corner of America has hidden away inside its borders. Onward now to exploring historical sites and ghost tours await!
 Historical Sites And Ghost Tours
Hot Springs, Arkansas is full of fun things to do for the whole family. From historical sites and ghost tours to exploring its natural beauty, there's something for everyone in this vibrant city.
History buffs will love visiting some of Hot Springs' oldest buildings like the Historic Gangster Tour or Fordyce Bathhouse Visitor Center. Here you can learn about the history of organized crime during Prohibition as well as soak up some knowledge on bathhouse culture in Hot Springs throughout the 1900's. You'll also find plenty of Museum exhibits that showcase artifacts from around the area such as photographs, jewelry, and even clothing pieces used by locals back in time.
Ghost Tours
For a spooky experience, take your family on one of the many Ghost Tours offered in town. Each tour has its own unique twist and often includes stories of strange occurrences and hauntings within certain locations around town. Some popular spots include The Arlington Hotel (which was once owned by Al Capone), Central Avenue Bridge, and St Mary's Church – all with their own set of eerie tales! Plus, these tours make great photo ops if you're looking to capture memories from your trip!
It's easy to see why Hot Springs, Arkansas is such a popular destination. From the outdoor activities like kayaking on Lake Ouachita or exploring Garvan Woodland Gardens, to all of the historical sites and ghost tours – there truly is something for everyone! Shopping in one of the art galleries or walking along Bathhouse Row can be an unforgettable experience too. And with pet friendly accommodations like Dame Fortune Cottage Court, it's never been easier to bring your furry family members along for the ride.
What are you waiting for?
Hot Springs has everything you could want for an amazing getaway that will leave you feeling refreshed and energized. It'll take your breath away with its stunning beauty that seems almost unbelievable – from crystal clear waters perfect for swimming and fishing to lush gardens full of blooms – it feels like a magical paradise. You can learn the history of Hot Springs, experience the mineral-rich water and relax or find a guided tour or ghost tour. 
If you're looking for fun things to do in Hot Springs Arkansas, look no further! With so much to explore and experience here, you won't soon forget about this incredible place. So what are you waiting for? Come check out Hot Springs today and discover why people come back time after time!
Check Out These Posts:
FOLLOW US ON SOCIAL MEDIA
Don't forget to invite your friend's to our Facebook groups! We would also love to see your vacation pictures!