Looking for a hearty one pot meal? This Campfire Dutch Oven Chicken recipe is easy and delicious.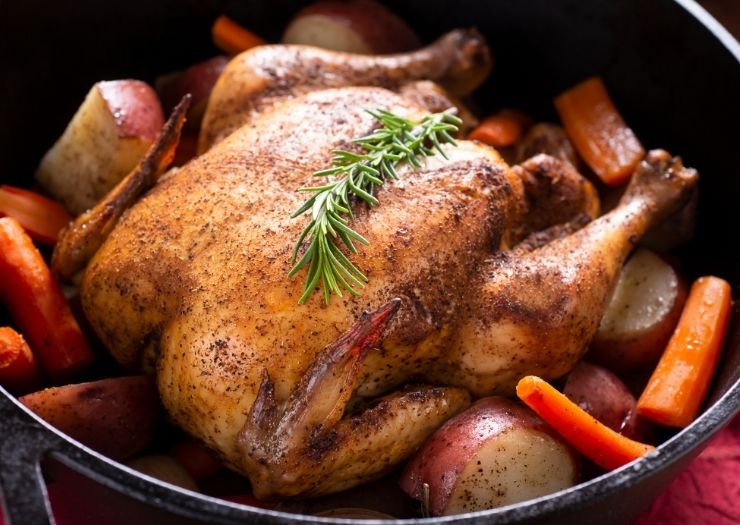 Campfire Main Dish: Dutch Oven Chicken
Camping meals sometimes get a bad wrap. All the work that goes into camping usually centers around cooking and the cleanup. However, it's totally possible to have a delicious, filling, AND easy meal right at your campsite! You just need the right recipe! Check out our Dutch Oven Chicken recipe, which will feed an entire family and won't involve hours prepping food.
This Dutch Oven Chicken dish starts with a few camping staples. Primarily, you will need a cast iron Dutch Oven with a lid. We used the kind that you can hang over a campfire. A Dutch Oven like this is an investment, but it's one of those things that will last for many years to come. You can hang the dish from a tripod, as shown in the picture, or use a grate from a roasting pan to elevate it off the coals.
Just remember, You don't want to place the Dutch Oven directly on the coals, as this will hinder the fire from getting ventilation and you can also end up with a disaster if the Dutch Oven gets off balance and falls over!
For practical reasons, cast iron is great to use when camping. It's not breakable, for starters! If you're a seasoned camper or RV'er, you know that things jostle around in the vehicle or camper. Bringing along actual dishware is a no-go! For large meals like this Dutch Oven Chicken, you can opt for a cast iron pan like this one, or you can purchase an enamel version dish.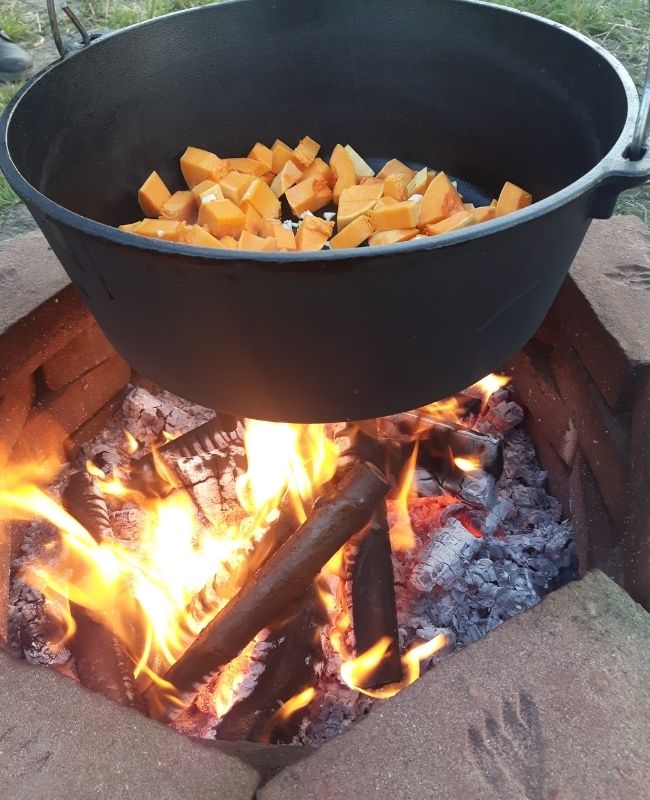 Prepping your Dish and Campfire:
Another reminder for outdoor cooking is to use all the typical safety precautions for your campfire. Make sure it's well situated in a fire pit, or a designated campfire area. In many established campsites you will find these already set up. Always check for fire alerts or burn bans prior to any outdoor cooking. If you're camping at a campground, check on their rules for campfires.
It might sound silly to include these reminders, but being prepared ahead of time is a good way to have a safe and stress-free campfire and dinner! 🙂
After your campfire is prepped, make sure your Dutch Oven is ready to go. Adding a small amount of olive oil or vegetable oil can prevent any food from sticking to the bottom of the pan.
When you're ready to cook, eat your Dutch Oven over the coals. You can go ahead and hang it over the fire as your coals heat up. Have a good pair of grilling tongs handy, since you will be placing some hot coals on the lid of your Dutch Oven as it cooks. This is to achieve heat all around the food inside.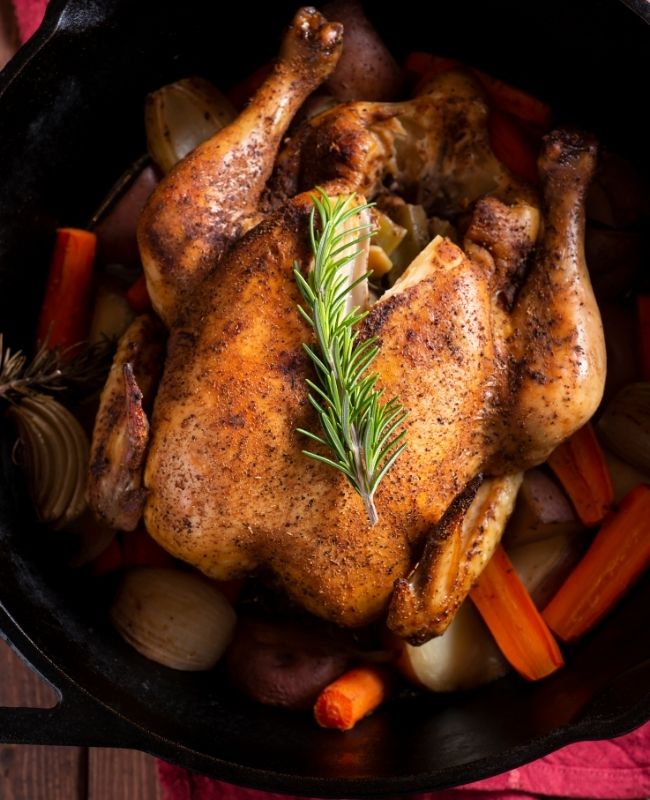 Adding Ingredients and Cooking Your Dutch Oven Chicken:
After you have your campfire started and you're ready to get cooking, add your prepped vegetables in the bottom of the Dutch Oven. Separately in a small bowl, Melt 4tbs of butter and mix with olive oil, juice of one lemon, 5 cloves of garlic and seasonings. Coat the chicken with your seasoning mix, salt and pepper and set aside.
The veggies will elevate the whole chicken off the bottom of the pan, and they will also cook more thoroughly since they will be covered in juices from the cooking chicken. You can choose your favorite veggies, and just make sure all are chopped similar in size.
Add your seasoned chicken on top of the vegetables. You can actually prep the chicken before you go camping to save a step! Make sure the chicken is refrigerated, but fully thawed, prior to cooking.
Place the lid on and allow the pan to heat up. You will rotate hot coals during the cooking time. Hot coals will need to be placed on top of the lid, and kept hot within the campfire below. Do not remove the lid repeatedly while the chicken cooks, since this will let heat escape and increase the cooking time. The entire cooking time will take 1 1/2-2 hours.
To check for done-ness, use a meat thermometer placed into the thickest part of the meat. I usually check in two different places. Juices should also run clear at the bone when it's ready to eat!
Print Your Recipe Here:
Print your recipe here for your Dutch Oven Chicken! Follow the exact recipe for cooking, and enjoy!
Yield: 2-4
Dutch Oven Chicken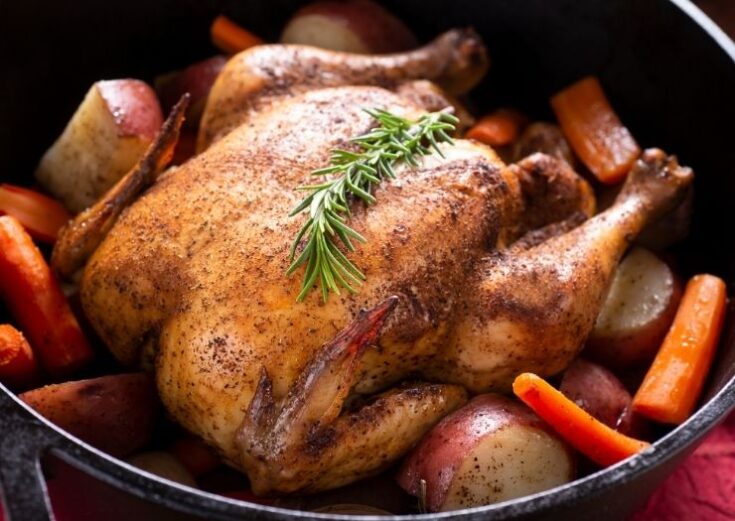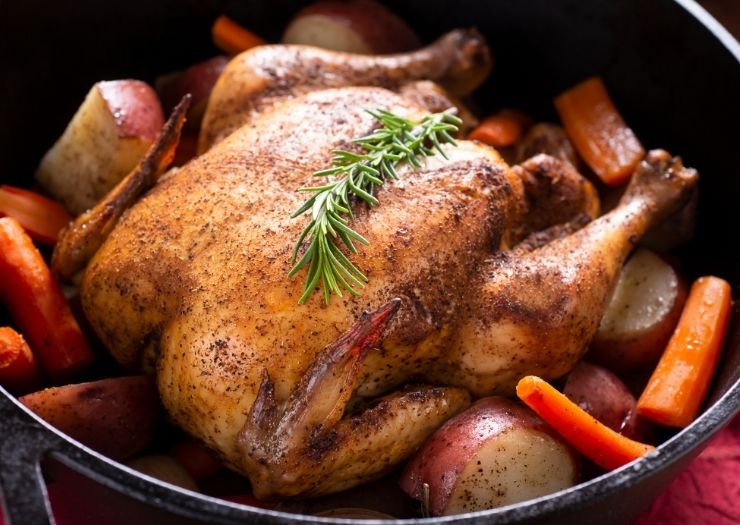 This dutch oven chicken is perfect for the campfire or making at home.
Ingredients
Whole chicken
Butter
1 1/2 tsp. black pepper
3 1/2 tsp. kosher salt
1 head garlic
2 tsp. chopped fresh thyme
1/2 tsp. onion powder
1 tsp. paprika
Baby potatoes, carrots, and an onion
Instructions
Rub the chicken down with pepper, salt, paprika, onion powder, and thyme.
Heat the dutch oven over the coals and melt the butter with garlic cloves. Then sear the chicken, breast side down
Remove chicken and add vegetables, then lay the chicken on top of the veggies breast side up.Insert your meat thermometer into the thickest part.
Add the lid, top with hot coals, and cook until you hit the required temperature. (about 165 degrees)
Notes
Oven Directions: If you are making this at home. Preheat the oven to 450°. Rub down chicken with butter or olive oil and seasonings. Can also do the same with veggies. Add 1/2 cup chicken stock to your dutch oven. Add veggies then chicken on top of veggies breast side up. Roast the chicken, covered, for 35 minutes. Uncover and continue roasting until a thermometer inserted in the thickest part of the thigh registers 165°, 20 to 25 minutes. Broil on high until the chicken begins to brown, 1 to 2 minutes. Remove from the oven and let chicken rest for 15 minutes.
Nutrition Information
Yield
4
Serving Size
1
Amount Per Serving
Calories

420
Total Fat

23g
Saturated Fat

8g
Trans Fat

0g
Unsaturated Fat

13g
Cholesterol

139mg
Sodium

1256mg
Carbohydrates

8g
Fiber

2g
Sugar

2g
Protein

42g
Please look at your own nutrition, this is just a guesstimate using nutrition software.
You can find more camping recipes here, and be sure to check out all the travel inspired food on Roaming My Planet!
Awesome Camping Articles You Should Check Out
FOLLOW US ON SOCIAL MEDIA
Don't forget to invite your friend's to our Facebook groups! We would also love to see your vacation pictures!