Slow Cooker Olive Garden Chicken Pasta
We love this Olive Garden Chicken Pasta for an easy slow cooker main dish. I've used this Olive Garden Dressing for years but just recently started adding it to recipes!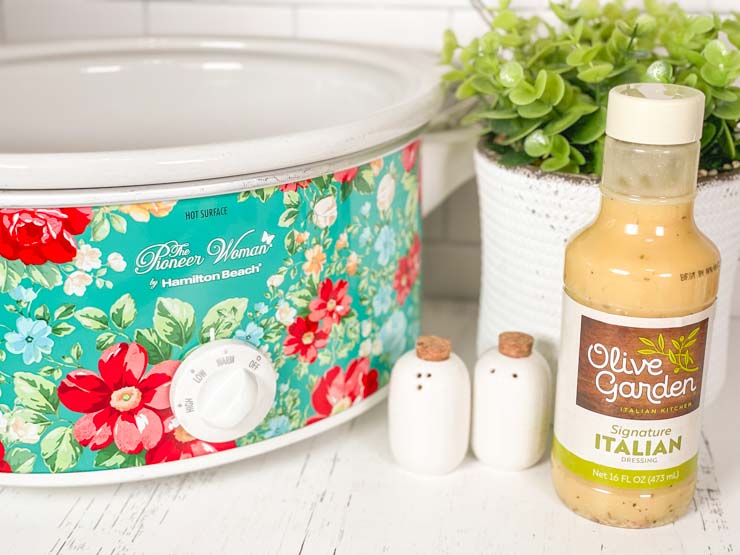 Olive Garden Chicken Pasta
Olive Garden recipes are some of my favorites to try to make copy cat recipes from. We love eating out at Olive Garden usually when we are out of town on a family vacation. It's one of those restaurant chains you can rely on for good food, and you already have a general idea of the food prices and menu– ideal if you have a large group. We are huge fans of the Olive Garden chicken pastas!
This copy cat recipe in the slow cooker is ideal for busy days, and can even be adapted to a travel recipe since it cooks in the slow cooker or Instant Pot– win!!
The one thing you will need for this Olive Garden Chicken Pasta Recipe that you may not already have on hand is the Olive Garden Signature Italian Dressing. The nice thing is that it's sold everywhere and fairly easy to find. Just look in the dressing and condiments aisle of your grocery store. If you don't have a large grocer nearby, you can also find it online.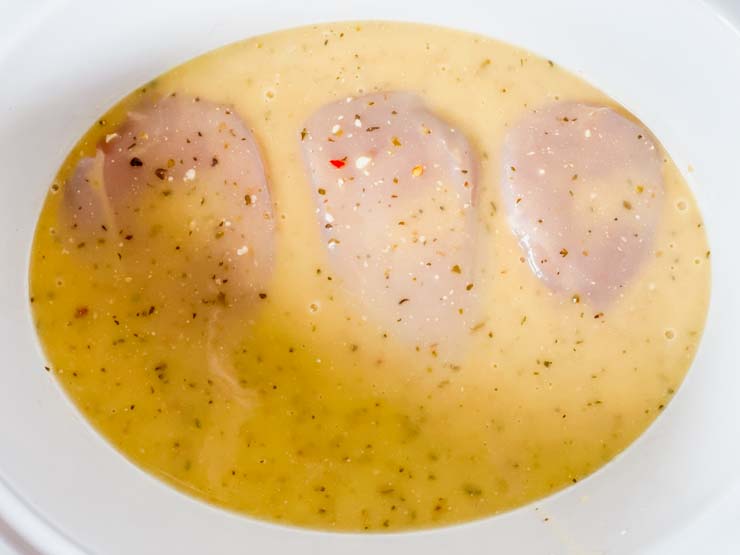 How To Make:
To make your Olive Garden Chicken pasta, start by adding your skinless, boneless chicken breasts into the bottom of the slow cooker. You will add your dressing, shredded parmesan, and softened cream cheese on top of the chicken.
For this recipe you don't have to worry too much about your cream cheese being softened ahead of time. Since it's not on the bottom of the slow cooker, it shouldn't cook too fast. To be entirely honest I am pretty careful with cream cheese in the slow cooker. I've had it overcook and curdle more than once, so I am careful to keep it up and off the heat source (at the base of the slow cooker).
I have to tell you, all this cooks together to become a glorious, flavorful mix that will have your house smelling like dinner is ready well before it's time to eat! The dressing adds just enough salt and tangy goodness to the chicken. And, the cream cheese gives it an amazing texture.
During the last 15 minutes of cooking time, cook your pasta as directed on the package. You can use any small pasta, such as Penne, Bowties, Spirals, Ziti, or even Fettuccini. For longer pastas, you can break them up into halves or thirds. If you're making this away from home, you can use precooked pasta, frozen pasta, oven ready pasta, or even microwavable. It's up to you and what you prefer.
Don't Drain all of the Pasta!
I would note that if you like your pasta sauce a little more on the thin side– rather than a heavy, creamy pasta — you can add a little water to this dish. It's always a good idea to save about 1/2 cup of starchy pasta cooking liquid.
I just scoop up some of the pasta water toward the end of the 10 or 11 minutes the pasta is cooking. Why do this? Pasta water has a lot of starch that can thin out a sauce while not making it too watery. It "marries" the other ingredients in the sauce to the water and creates a great texture. If you have previously made homemade cream sauces, many recipes call for adding pasta water (cooking liquid) to the sauce.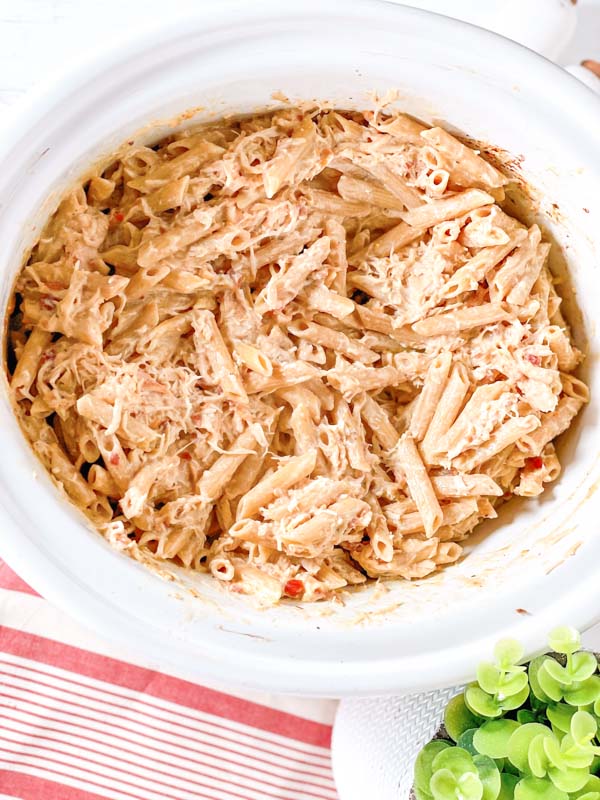 Add your pasta and gently mix together and serve!
How to Serve:
You can serve your Olive Garden Chicken Pasta with a salad, nice slice of garlic bread, or even veggies.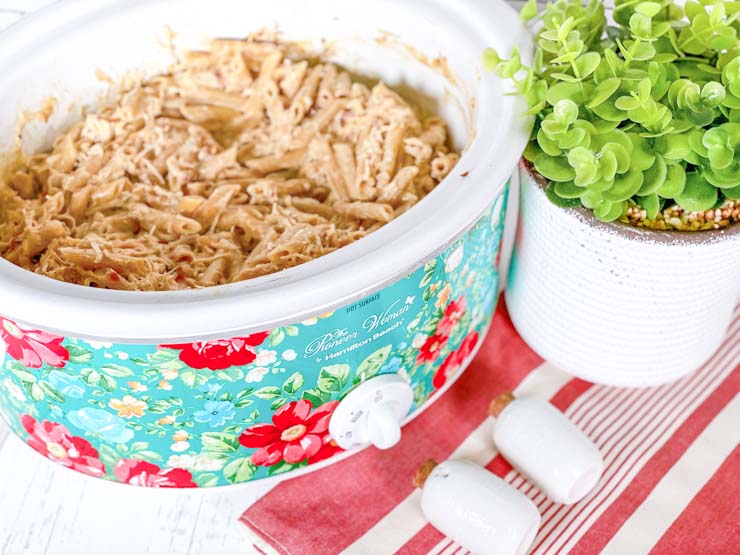 If you're making this in a camper, vacation home, cabin or condo, chances are you don't have access to a lot of dishes and appliances. You can definitely keep this one simple and just go with some canned veggies. We love green beans with just about any pasta dish! You can also garnish with fresh tomato diced over the top.
Yield: 4
Slow Cooker Olive Garden Chicken Pasta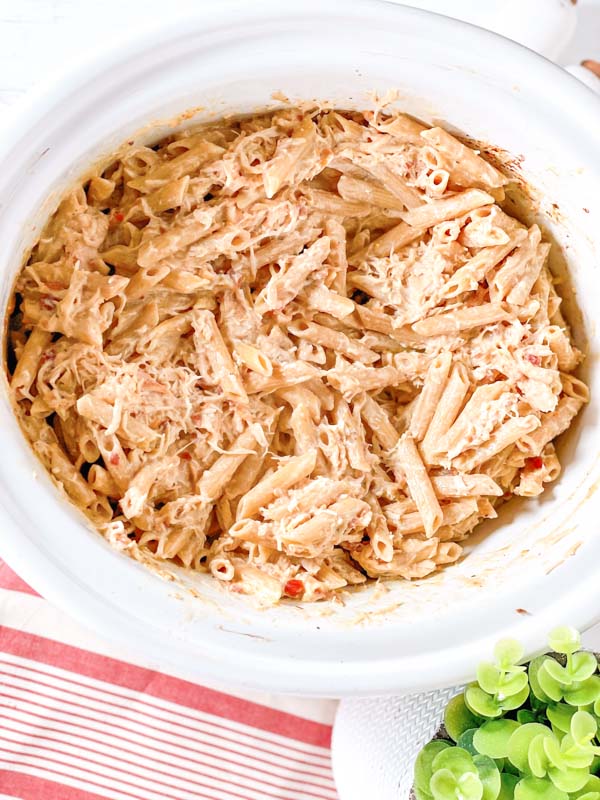 This pasta may be a new favorite to add to the menu! It features the zesty Olive Garden brand dressing and plenty of parmesan!
Cook Time
8 hours
6 seconds
Total Time
8 hours
10 minutes
6 seconds
Ingredients
3 Chicken Breast (about 1 lb)
16 ounce box of Penne Pasta
16 ounce bottle of Olive Garden Italian Dressing
8 ounces Cream cheese
1/2 cup of Shredded Parmesan
1/4 tsp of pepper
Instructions
Place chicken breast in slow cooker -- for best results used thawed chicken.
Add dressing
Cut cream cheese into 4-6 blocks and place over chicken.
Sprnkle 1/4 cup parmesan and pepper over chicken.
Slow cook for 6-8 hours on low or 4-5 hours on HIGH.
15-20 minutes before done, cook pasta according to package directions and drain. Reserve 1/2 cup cooking liquid and set aside.
Shred chicken and add drained pasta. Mix gently until all pasta is coated with sauce mixture. If sauce is too thick for your preference, slowly add additional reserved cooking liquid 2-3 tablespoons at a time, mixing as you add.
Sprinkle the remaining parmesan cheese on top and serve.
Notes
Add chopped fresh tomato, parseley or garlic bread and enjoy!
Nutrition Information
Yield
4
Serving Size
1
Amount Per Serving
Calories

568
Total Fat

27g
Saturated Fat

14g
Trans Fat

0g
Unsaturated Fat

9g
Cholesterol

141mg
Sodium

415mg
Carbohydrates

39g
Fiber

2g
Sugar

3g
Protein

42g
We hope you can get a chance to make this delicious meal! Its a great alternate main dish idea if you're looking to switch up the menu from Chicken Alfredo or Spaghetti! 🙂 Print your recipe below.
FOLLOW US ON SOCIAL MEDIA
Don't forget to invite your friend's to our Facebook groups! We would also love to see your vacation pictures!