Air Fryer Tortellini Recipe
This Air Fryer Tortellini is a healthier spin on the classic appetizer. No deep frying!
Air Fryer Tortellini
We love fried ravioli for an appetizer and have had a recipe for it for some time on Consumer Queen (our sister site). You can check out that recipe if the old Olive Garden appetizer is one of your favorites.
I wanted to try an Air Fryer version for a few reasons. The main reason, of course, is that air frying requires so much less oil and less mess.
All you really need for great air fried foods is a good olive oil sprayer, instead of a large quantity of vegetable oil and the frying pan. I am not a nutrition expert so I can't say how healthy it is if you're watching oils and cholesterol in your diet, but I can say it's going to be quite a bit "lighter" than any deep fried version. So, if you're ready for this easy Air Fryer Tortellini Recipe, scroll down!
Ingredients for Air Fryer Tortellini:
First, gather your ingredients. You will need your spices, milk, eggs, Parmesan, and breadcrumbs. If you don't have breadcrumbs handy, one easy hack is to grind up a bag of croutons in a small kitchen chopper. I have this one from Ninja and it's great for using when I need a food processor but don't want to get out my larger appliance. It does go on sale around $20-$25 around the holidays so keep an eye out for a good sale. I LOVE mine. I mix spices in it too.
Organize your ingredients in small prep bowls or regular bowls and cook your tortellini as directed on the package. I love Sam's Club Cheese Tortellini. It comes in giant cartons, and I always put any extra in the freezer. It freezes beautifully and thaws out in just a few minutes on the counter when I'm ready to cook the extra. One double carton is good for at least two to three meals. It's a lot more frugal than some of the smaller bags you might find at the store.
How to Make:
This recipe may seem time consuming but it actually goes faster than you would think. Dip each tortellini in the flour first, then into the egg and finally into the parmesan. A pair of small tongs keeps your hands clean — they don't build up with flour quite as fast as your hands will. 🙂
After you have 6-7 of your tortellini coated, go ahead and start them in the air fryer. Make sure to coat the air fryer surface with nonstick spray, and give the tortellini a good coating of non-stick spray or olive oil. You can also use a pastry brush but I find it loosens some of the coating and makes a mess!
Set your air fryer for 10 minutes and while that's going, continue coating another batch of tortellini. You can flip them over about 2/3 the way through air frying, but they should cook fairly well without flipping over. They are small, and since they are pre-cooked you don't have to worry too much about the internal temperature. As long as they are hot, you're good to go!
Remove and serve immediately. You can serve these as an appetizer to go along with pizza (isn't it difficult to figure out something to serve with pizza!?) Or, you can have them on their own while you wait for a larger main dish to cook. There's something about camping and being outdoors that just makes you extra hungry!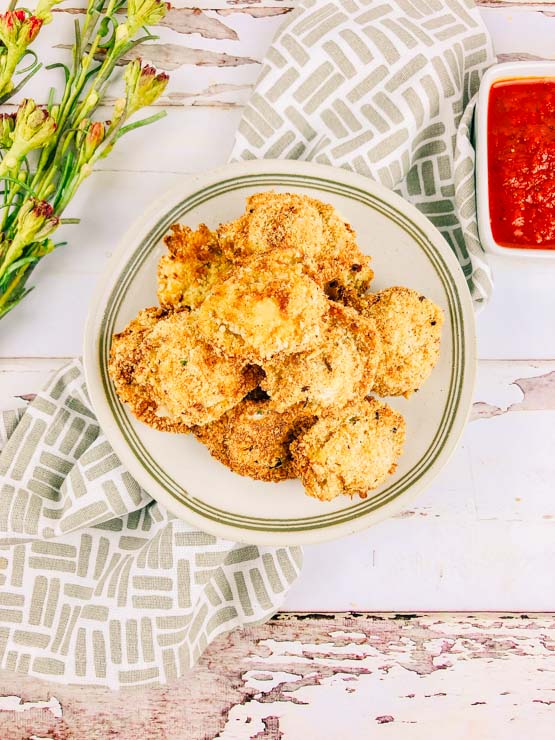 How to Make it Work in a Camper!
You might be saying to yourself– this doesn't really seem like a campground food! Honestly I wouldn't try this one for very basic campouts. If you have a camper, RV or Fifth Wheel, chances are you probably bring along a couple kitchen appliances to make hot meals. An air fryer is a great one to bring along since you can use it for so many foods, and it really doesn't take up much space!
You also don't have to worry about messes associated with using the camper stovetop and cooking with oil or other smelly ingredients.
How many does this serve? That really depends on the brand of tortellini and how many actual pieces are included in your 9 ounce pack. If you have smaller ones, it will make more. This recipe is estimated for about 4 people, with each serving being about 5-6 pieces. I hope you enjoy!
Air Fryer Tortellini Recipe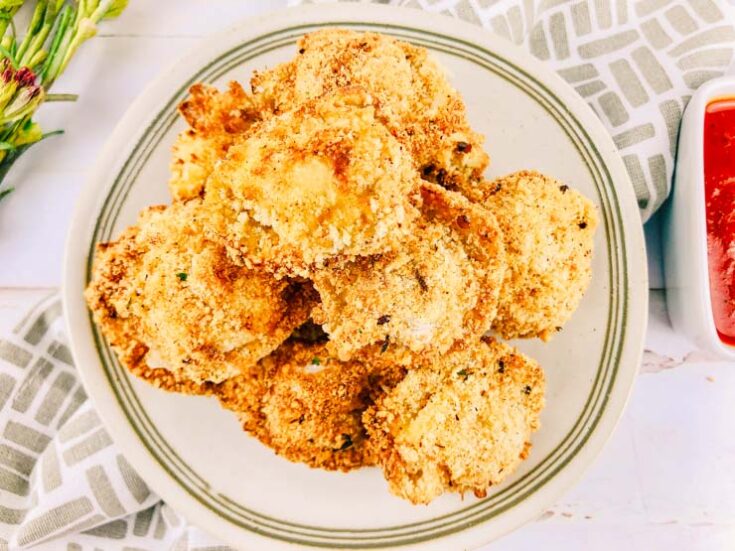 This tortellini makes a great snack or appetizer, or a side for pizza night! Camper friendly if you bring along your air fryer!
Ingredients
9 oz cheese tortellini
1 cup panko or traditional breadcrumbs
⅓ cup parmesan cheese
1 teaspoon oregano
½ teaspoon garlic powder
½ teaspoon red pepper flakes
Salt & pepper
Parsley for garnish
1 cup flour
2 eggs
Marinara sauce for dipping
Instructions
Cook tortellini per package directions then drain
In a bowl mix together panko, parmesan, and seasoning until well combined
In a separate bowl whisk eggs
Place flour in a third bowl
Coat tortellini with flour, egg, then panko mix
Cook in air fryer at 370 degrees for 10 minutes
Garnish with parsley and serve with marinara
Notes
For a campground friendly option, have your crumb mixture bagged in Ziploc bags so they are ready to go. You can also precook your tortellini and refrigerate until ready to air fry. Be sure to use up any pre-cooked tortellini in 2-3 days for best taste and texture.
Nutrition Information
Yield
4
Serving Size
6
Amount Per Serving
Calories

535
Total Fat

12g
Saturated Fat

5g
Trans Fat

0g
Unsaturated Fat

5g
Cholesterol

128mg
Sodium

912mg
Carbohydrates

83g
Fiber

4g
Sugar

5g
Protein

23g
See More from Roaming My Planet Here: