Stress Free Flying With Kids
Are you planning a family vacation and dreading the flight? Don't worry—flying with kids doesn't have to be a nightmare! In this blog post, we're sharing our top tips for making your next flight with kids as stress-free as possible. From packing snacks to choosing the right seat, we've got all the advice you need to make your journey smooth sailing.
Tips for a Stress-Free Flight
Gearing up for a cross-country flight with the kiddos? It can be hectic and stressful, even with the best laid plans, but keeping these tips in mind can help.
Flying with Kids – Be prepared!
Double-check your flight times on your way to the airport and after you arrive. Using the airline's app on your phone or the big screens in the airport, make sure your flight is on time.
If it isn't, decide whether you want to hang out before Security or if you'd rather get it over with and go through to the other side to wait. Most of the time, getting through Security sooner rather than later is your best bet. I'd rather sit at the gate with kids for three hours than have the nagging anxiousness in my head of not getting through Security on time.
Make sure you have the right size (and weight) bags, the right amount of bags, and that your car seat and/or stroller are ready to be checked at the gate.
There's nothing more frustrating than being told you have to pay $50 for an oversized bag while you're trying to hush a screaming toddler. Hey, I've seen it happen.
Think Ahead on What to Bring on your Carry-On:
You can never be too prepared! Here are a few things to pack in that all-important Carry-On bag!
Wet wipes
Snacks
An empty sippy cup or bottle
Pack a few extra diapers and/or pull-ups, too!
Bring a portable DVD player or game system if possible, depending on the age of the kids you're traveling with.
Coloring books and crayons are helpful for keeping everyone busy while they're waiting to board the plane, and waiting to take off.
Load your phone up with games that don't require wi-fi.
A pillow and small blanket can help them get comfortable enough to sleep if it's a long flight, if you're lucky. 🙂 For older kids, pack Dramamine or Benadryl if they tend to get motion sickness of any kind. Earplugs might also help, but the plane will be loud at take-off regardless, so that's just an extra thing to grab if you think it might help.
Sometimes you'll experience ear popping or even ear pain while flying. To prevent this, pack extra gum for kids who are old enough to chew it; fruit snacks will work for preschoolers, and breastfeeding works well for babies.
Have a frank conversation – or two.
If your child is scared or anxious about flying, have conversations on a regular basis to discuss what will and can happen during your trip.
Watch fun cartoons and YouTube videos about flying so they know what to expect. Depending on their age, they might not be old enough to be bothered by it at all – especially if you start flying with them when they're young! It's important to find a laptop for travelers that is compact and has a long battery life to use on planes.
Packing a few toys or activities for distractions is a great way to keep kids calm. One time when I was flying, I noticed a parent grabbing what appeared to be presents out of her bag. She took dollar store toys and wrapped them in tissue paper and ribbon, so the kids had surprises to open during the flight. This is absolutely genius, and super affordable, too!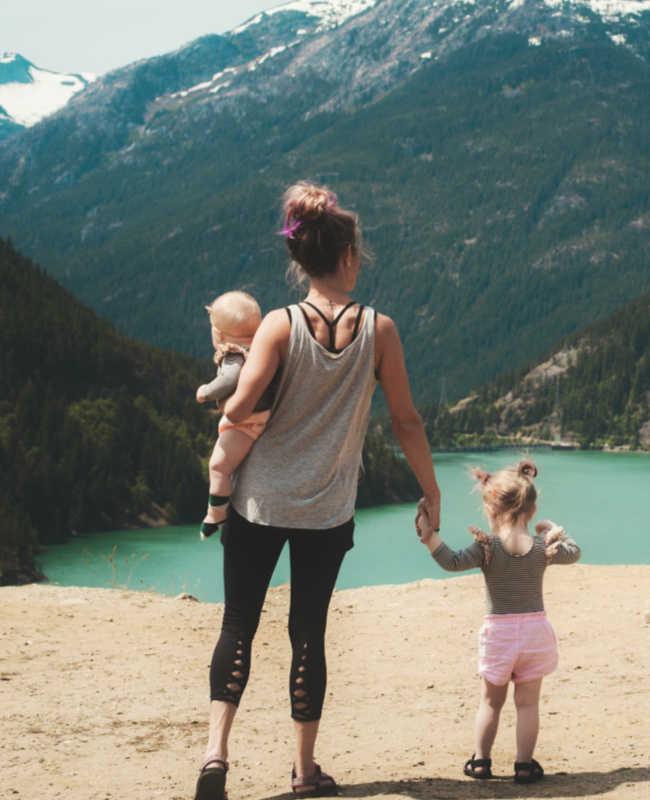 New Rules and Things to Think About:
What you're probably wondering if you're planning to fly with kids in the coming weeks or months is– how do I navigate all the recent changes??
Social distancing rules and guidelines for wearing masks are something to think about. It can be stressful for adults, and unfamiliar to kids– even those who are experienced with flying. We know it can be an intimidating process to plan travel right now.
Here are a few tips from our experiences traveling, that can hopefully keep the process of flying with kids from feeling overwhelming!
Prior to heading to the airport, let kids know what to expect! 
Make some fun masks! Since non- healthcare related face coverings are required in some areas, be prepared by purchasing or making a few masks for the kids in fun prints.  Be sure to look over your airline's website, for any specifics on masks.  This has changed frequently in 2020!  Review the CDC recommendations for masks for kids, if needed.
Pack extra masks, hand sanitizer (in allowed size/amount for your airline), and even wet wipes in your carry-on.  Don't assume you will be able to purchase any of these things at the airport! Any and all sanitizing products may be on short supply.
Be honest.  For older children especially, help them understand what's going on in the world and take a few extra moments to let them voice any fears prior to your trip.  You may be surprised at how great they are at handling these changes! 
Just breathe.
There's always going to be that one person who is annoyed by your kid so much as breathing next to them on the flight, but if you keep a positive attitude you're much more likely to have a calm kiddo. Be kind, keep your cool, and be as friendly to your fellow passengers as possible!
Realize that not everything always goes as planned but you're doing the best you can and that is good enough!

What's your best tip for flying with kids? Let me know in the comments!
Family Destinations & Articles You Should Check Out
FOLLOW US ON SOCIAL MEDIA
Don't forget to invite your friend's to our Facebook groups! We would also love to see your vacation pictures!