Hiking In Utah's Canyonlands: Needles District Adventure!
Utah's Canyonlands National Park is located in southeastern Utah and home to the awe-inspiring Needles District. It is about a 4 hour drive from Salt Lake City and is one of the distinct sections of the National Park. A rugged wilderness that promises an unforgettable hiking adventure. With its vast expanse of 527 square miles of dramatic desert scenery. The Needles District, which makes up the southeast corner of Canyonlands National Park, is a playground for outdoor enthusiasts seeking a taste of freedom and exploration. Here, towering stone pillars stand as grand sentinels, reaching towards the sky like blunted needles. Creating a landscape that is both majestic and humbling.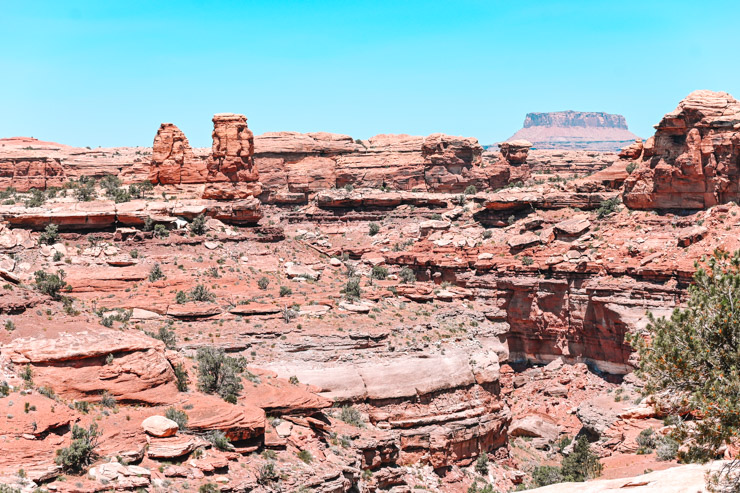 In the Needles district of Canyonlands National Park, one can truly immerse themselves in the beauty of nature. The diverse topography offers a thrilling blend of challenges and rewards. Hikers can navigate through canyons, ascend rocky slopes, and traverse sandy trails. The network of hiking trails is a testament to the district's commitment to preserving its natural wonders. Thus providing visitors with opportunities to embark on unforgettable journeys. From the popular Chesler Park Loop, where panoramic views unfold at every turn, to the breathtaking Druid Arch Trail, where a colossal natural arch captivates the imagination, there is no shortage of exhilarating hikes to choose from.
Whether you're a seasoned adventurer or a novice explorer, the Needles District beckons with the promise of freedom and the chance to create lasting memories amidst Utah's Mighty 5.
Canyonlands National Park Needles Visitor Center
The Needles Visitor Center is open daily but the hours will vary by seasons. It is located by the park entrance and is a great place to get water and use the facilities before a long day hikes. 
Topography and Trails
The Needles District in Canyonlands National Park offers a diverse topography and a vast network of unique hiking trails. This unique area is characterized by its stone pillars that jut skyward like blunted needles. This creates a striking and unforgettable landscape that will leave you in awe.
As hikers explore the district, they will encounter a variety of terrain, including deep canyons, towering cliffs, and expansive mesas. The contrasting colors and textures of the rock formations add to the visual appeal of the area. Making Canyonlands National Park Needles District a truly awe-inspiring destination.
The Needles District is a haven for outdoor enthusiasts seeking an adventure in a remote and less crowded setting. The vast network of hiking trails allows visitors to explore the district at their own pace. Giving you a sense of freedom and exploration as you enjoy the National Park.
From shorter, family-friendly hikes to more challenging routes, there is something for every level of hiker. The popular 11-mile Chesler Park Loop takes hikers through a stunning landscape of towering sandstone spires. While the Druid Arch Trail offers a more strenuous but rewarding experience. Finally culminating in the view of a magnificent natural arch.
Whether you are a seasoned hiker or a novice adventurer, the Needles District promises an unforgettable experience in Utah's Canyonlands.
NOTE: It's very very hot and dry here. We recommend bringing the following items:
Popular Hikes at Canyonlands National Park Needles District
One of the most well-known hikes in the Needles District is the Chesler Park Loop. The Chesler Park Loop spans about 10 miles and offers breathtaking views of the diverse topography. This loop hike is recommend only for strong hikers. Part of the hike on this popular trial takes adventurers through a landscape with such features as towering sandstone spires, deep canyons, and expansive slickrock. The trail winds its way through narrow slot canyons. Where hikers can marvel at the intricate patterns and colors of the rock formations. It's always a good idea to make sure you are prepared for the long hike before you start. Pack plenty of water and protection from the elements. 
As they ascend to higher elevations, hikers are rewarded with panoramic views of the surrounding mesas and buttes. The Chesler Park Loop also passes by the iconic Joint Trail, where hikers can squeeze through narrow cracks in the sandstone, creating a sense of exhilaration and adventure. Throughout the hike, hikers can spot unique desert wildlife, such as desert bighorn sheep and peregrine falcons, adding to the allure of the experience.
 Five reasons why the Chesler Park Loop should be on every hiker's bucket list:
– Unforgettable panoramic views of the Needles District's stunning landscape
– Opportunities to explore narrow slot canyons and squeeze through narrow cracks in the rock
– Chance to encounter unique desert wildlife, adding to the sense of adventure
– Diverse topography that showcases the beauty of Utah's desert scenery
– Less crowded compared to other popular hiking destinations in Utah's Mighty 5 national parks.
Embarking on the Chesler Park Loop offers hikers a sense of freedom as they traverse the rugged wilderness of the Needles District, immersing themselves in the untouched beauty of the desert landscape.
Chesler Park Viewpoint
This is a 5.4 mile trail is located near Monticello, Utah. You can expect to spend about 3 hours to complete this trail. The best time to hike the Chesler Park trail are April through October. This is pretty popular hike so expect to see others during the peak season. If you are looking for low crowds on the trails, try avoiding the busy seasons. 
Canyonlands' Cave Spring Trail
This is one of the easy hikes in CanyonLand National Park. There are no steep grades to negotiate but the Canyonlands' Cave Spring trail can be rough and uneven. Which makes this trail not accessible to wheelchairs. On part of this hike you will see an old cowboy camp and prehistoric rock marking. This short walk covers about .6 miles and to access it you will need to drive on gravel roads. 
Confluence Overlook Trail
The Confluence Overlook trail traverses dry, open country along the northern edge of the geologic faults that shaped the Needles. It is recommended for experienced hikers and is 11 miles long roundtrip.This trail does require a hiking up and down rocky slopes.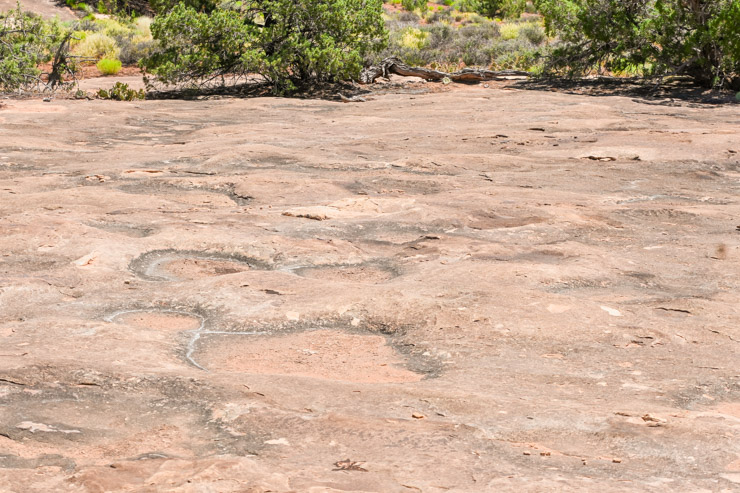 Pothole Point Trail
If you are looking an easier hike, one the best hikes is to Pothole Point. The hike covers uneven ground but is only .6 miles long. This hike offers great views of Canyonlands National Park. Rainwater collects in these potholes and provides a great ecosystem for kinds of living things.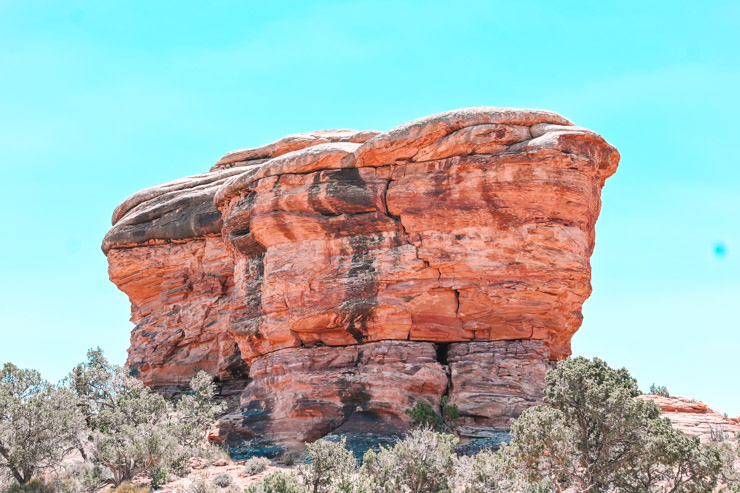 Lodging Options
Lodging options in the area surrounding the Needles District include camping within the park itself as well as accommodations available in Monticello and Moab.
For those seeking a more immersive experience in nature, camping within the park is a popular choice. The park offers several campgrounds with basic amenities such as picnic tables, fire rings, and vault toilets. However, it's important to note that there are no hookups or showers available. One of the best things about camping within the park is that it allows visitors to fully embrace the rugged wilderness and enjoy the breathtaking night sky out in the open country. Campsites in Loop B of the Needles campground may be booked up to 6 months in advance for dates within the peak seasons – March 15 – May and September – October. Loop A campsites are on a first-come, first-served basis.
Squaw Flat Campground
Squaw Flat Campground give you a great introduction to the Needles. Flush toilets, drinking water, grills, picnic tables, and fire rings are provided. 
Alternatively, accommodations can be found in the nearby towns of Monticello and Moab. Monticello, located about an hour and a half south of the Needles District, offers a range of lodging options including hotels, motels, and bed and breakfasts. This quaint town provides a peaceful retreat after a day of hiking, allowing visitors to relax and rejuvenate.
On the other hand, Moab, a vibrant town known for its outdoor recreation, is located about two hours north of the Needles District. But don't let the long drive keep you from staying in Moab. Here, visitors can find a wider range of accommodations, from budget-friendly motels to upscale resorts. Moab also offers a variety of dining options and outdoor gear shops, adding to the overall convenience and excitement of the trip. Plus Arches National Park is just a short drive away.
More than hiking at Canyonlands National Park Needles District
Elephant Hill trailhead
If you are looking for something more adventurous then grab your four-wheel-drive vehicle and head to Elephant Hill trailhead. This is one of the most technical four-wheel-drive roads in Utah. and will challenge you with steep grades, loose rock, stair-step drops, tight turns, and tricky backing. Mountain biking is also a great way to experience this trail. Just be aware that there is no water at any of the individual campsites but there are primitive toilets. Group campsites at New Bates Wilson do not have toilet facilities available. So i you plan on camping at any of the group sites be prepared to bring your own toilet.
Colorado River Overlook
The Colorado River overlook is good for mountain biking. You can avoid the large rocks and steep drops by parking on the road and walking to the overlook if you are looking for something easier. 
Big Spring Canyon Overlook
The Big Spring Canyon overlook provides you with some of the most spectacular views of colorful spires of cedar mesa sandstone and multi-colored sandstone benches that line the bend in the canyon. There is also a trailhead here for the Big Spring to Elephant Hill loop. This is challenging hike that covers 10.8 miles.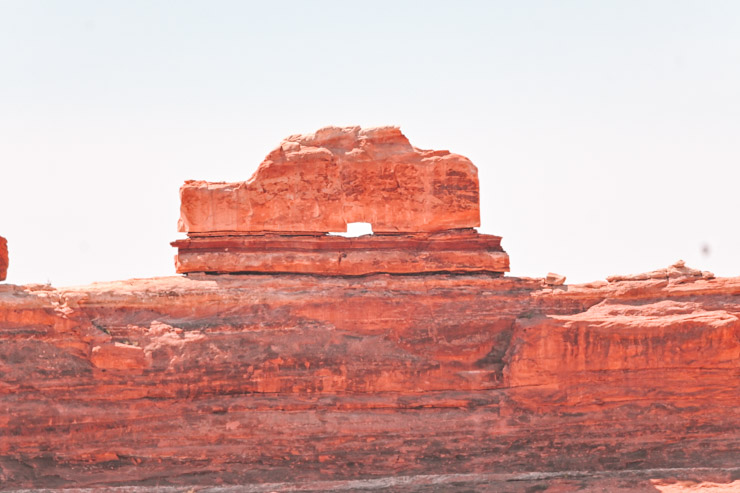 Wooden Shoe Arch
Wooden Shoe Arch can seen from the main road in CanyonLands National Park. There is a turn off that will give you the best way to get a great pic of the Wooden Shoe Arch. The incredible views of Wooden Shoe Arch from here are definite must see.
Needles Overlook
The Needles Overlook is located on the drive from Moab to Canyonlands on Hwy 191. It's about 17 miles on the access road to the overlook. The Needles Overlook provides you with a near 360 degree view of the sandstone features.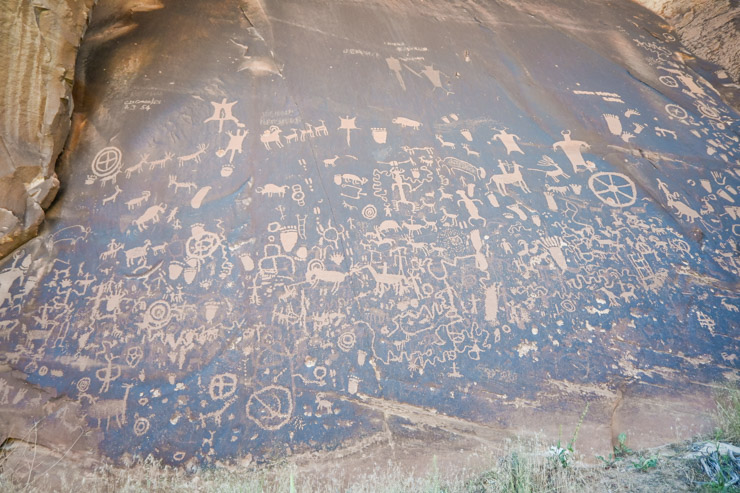 Newspaper Rock
One of the popular stops on the scenic drive out to Canyonlands National Park Needles district is Newspaper Rock State Historic Monument. Newspaper Rock is a roadside ruin and is a Utah state monument featuring a large rock panel carved with one of the largest known collections of petroglyphs. It is one of the best places to see rock paintings up close.
The Weather at Canyonlands National Park Needles District
The summer temperatures in the National Park average in the mid 90's for the highs and low 60's for the lows. In the Spring and Fall the temperatures will range from the 50's to the low 70's for the highs. 
Whether choosing to camp within the park or stay in one of the nearby towns, visitors to the Needles District can find lodging options that suit their preferences and enhance their adventure in this awe-inspiring landscape.
Awesome National Parks to See
FOLLOW US ON SOCIAL MEDIA
Don't forget to invite your friend's to our Facebook groups! We would also love to see your vacation pictures!