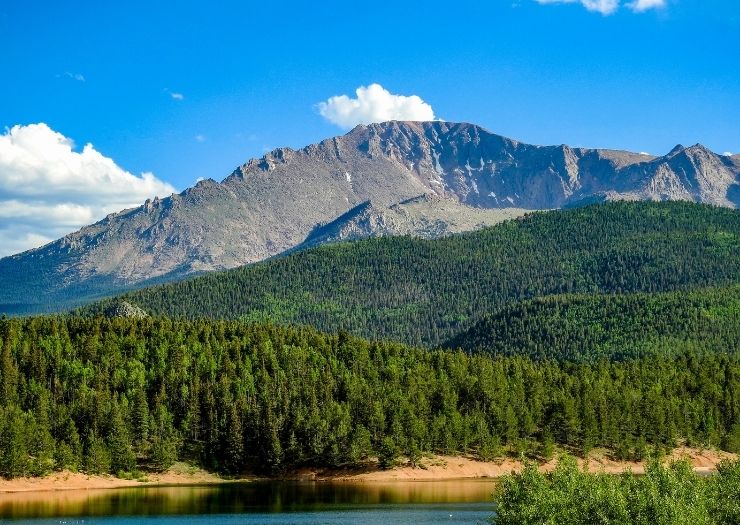 No trip to the Rockies is complete without heading to Pikes Peak in Colorado. Pikes Peak towers 14,115 feet into the Colorado sky. Pikes Peak is the highest summit of the southern Front Range of the Rocky Mountains, in North America. The 14,115-foot fourteener is located in Pike National Forest, Just a little drive west of downtown Colorado Springs, Colorado. The mountain is named in honor of American explorer Zebulon Pike and is truly an amazing sight! And the view is even more amazing from the summit.
Ways to Explore Pikes Peak in Colorado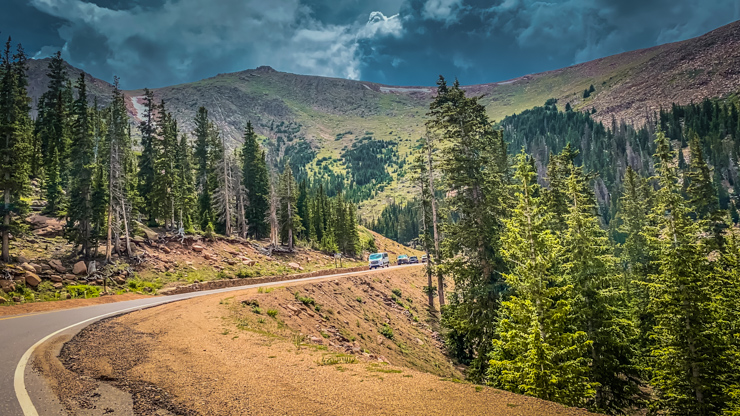 Pikes Peak isn't just to something to look at. It's meant to be explored. You have several options to choose from. You can drive to the summit, take a guided tour (if you don't feel comfortable driving the winding road), ride the Manitou and Pikes Peak Cog Railway or even hike if you are experienced.
If you are going to explore Pikes Peak, you should allow 3-4 hours if you are driving or taking a guided tour. Of course hiking and biking times will depend on your skill level. But this is not something a novice biker or hiker should try. There are plenty of beautiful places to explore around Pikes Peak for everyone so don't worry.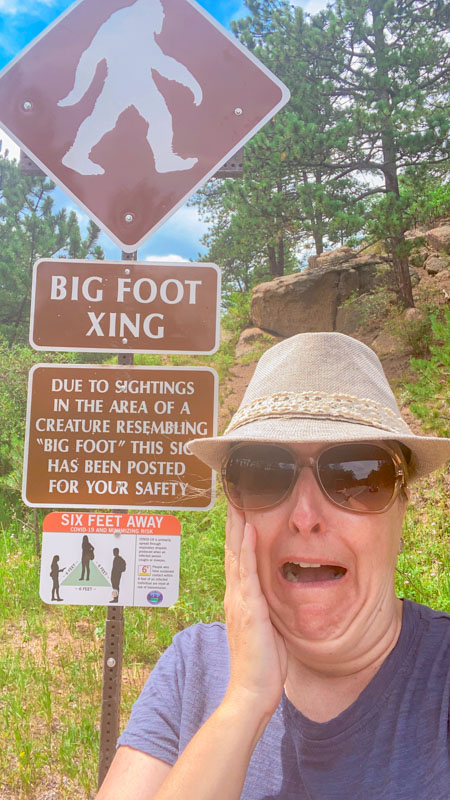 But 1st pickles…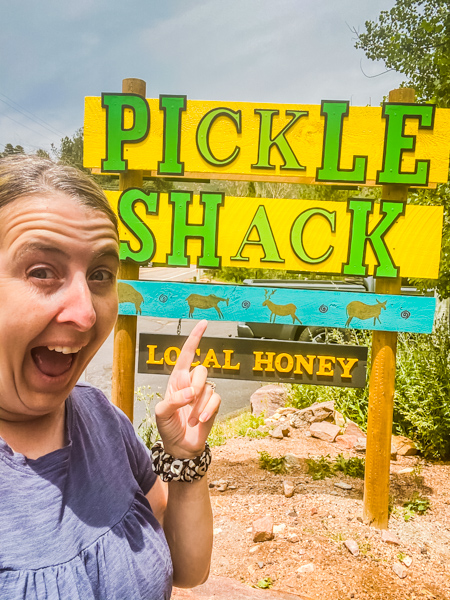 At the base of Pike Peak in Colorado is the awesome little Pickle Shack. It's a cute place to stop for pictures or grab a drink and snacks before you head up. Plus it's a great place to stop and get some pickles on your way home. We have a couple of friends who are pickle obsessed so of course we had to stop and get gifts!
The Summit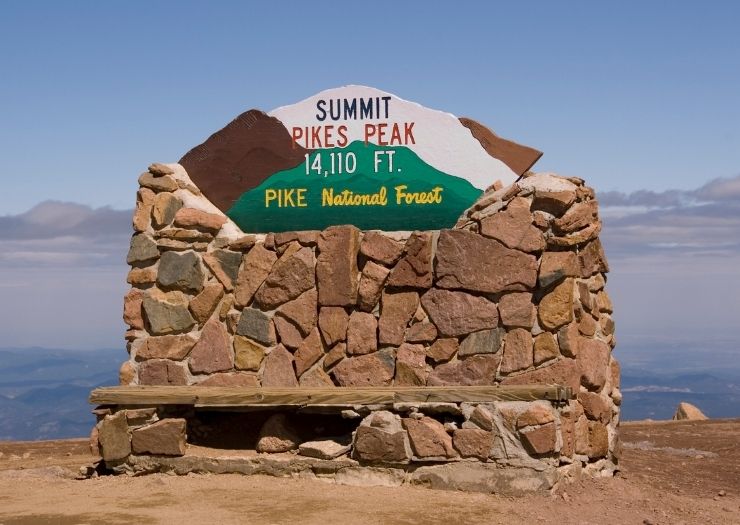 To get to the summit you just have to drive about an hour on the 19.26 mile Pikes Peak Hwy. Pikes Peak Hwy is a 2 lane road that winds its way up to 14,110 ft. The views on the way up are amazing! And I say on the way up because on the way down I was more concerned about the switchbacks! Now you will have to pay to get the summit. But the fee is nominal. It's well worth it.
To help combat the brake heat they have several places to pull over so you can let your brakes cool. Plus it gives you more time to take in the beautiful views! So just take your time driving down and you will be just fine! You can also go down in low gear to help with your brakes. Make sure to look for wildlife on the side of the road.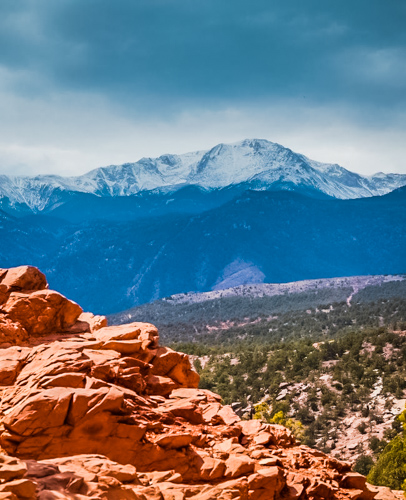 Summit tips
You will want to dress in layers for this trip because a hot day can turn into a very chilly one once you hit the summit! We actually got hit with a freezing rain storm for a brief moment at the summit. Also bring sunscreen!
Make sure you have full tank of gas. You will use a surprising amount of gas going up Pikes Peak. Manitou Springs has plenty of gas stations to hit before you start up Pikes Peak Hwy.
One more thing about the drive to the summit. You don't actually "drive" to summit. You drive about 2/3 of the way up to a parking area and they will shuttle you to the summit. When we arrived at the parking area the line for the shuttles was long. But don't worry they have plenty of shuttle van running so the wait wasn't that long. We waiting for about 10 minutes for our shuttle.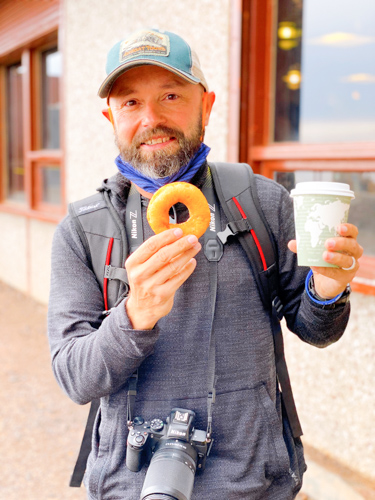 Don't forget to treat yourself to some donuts on the Summit. They are the only donuts that are made at an altitude above 14,000 feet anywhere in the world! They actually have to use a special recipe because of the extreme altitude. So you really can't get these donuts anywhere else!
Pikes Peak in Colorado bonus fact
Pikes Peak in Colorado is something you must experience. Pictures and TV do not do it justice. I mean Pikes Peak inspired the song "America the Beautiful" by Katharine Lee Bates. So don't forget to take your time and enjoy the views. Who knows how Pikes Peak will inspire you.
Tip: The Summit will be closed on July 13 and July 19 (2021) as they finish construction of the new Summit Visitor Center.
Family Destinations & Articles You Should Check Out
FOLLOW US ON SOCIAL MEDIA
Don't forget to invite your friend's to our Facebook groups! We would also love to see your vacation pictures!