Mounting a TV in a Popup Camper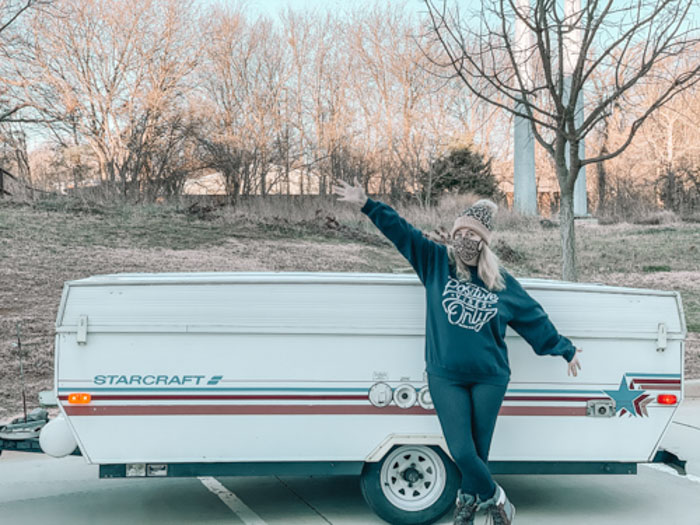 I know it can be a controversial topic when talking about a popup camper tv. But we can all agree that not everyone camps the same. Also a TV can used for education programs if you have kids. There are a lot reasons to have a TV in your popup. The question is how to mount it. Well let me share with you how I mounted our 32″ TV in our popup.
Where to mount your popup camper TV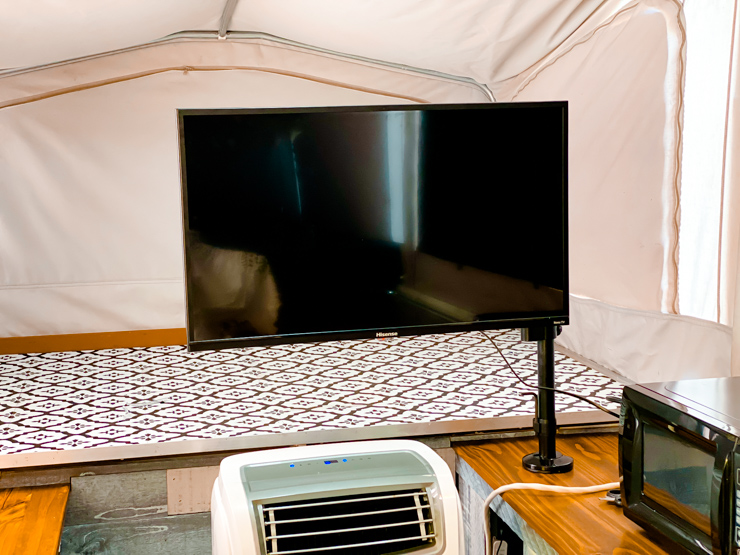 First is to decide where you want to mount your TV in your popup camper. This will ultimately help you decide on how big a TV you can use. When we bought our camper the previous owners had already started renovating it. So I was able to design and build a cabinet to put a small refrigerator in. I designed it so we would have more countertop space. If you are glamping you have to a microwave and coffee maker! This was the perfect spot to put our tv too.
What kind of TV mount to use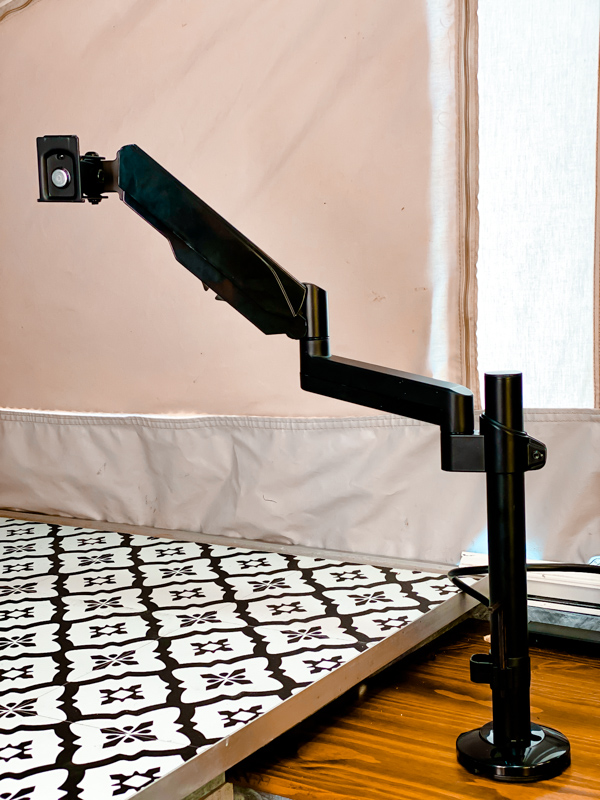 The make static tv stands that you can use. They are great if you just want to set your tv on the counter. But I wanted a way to mount my tv so that I could swing it out of the way when we weren't watching it. I found this desktop TV mount on Amazon. This TV mount allows us to not only be able to swing it out of the way. But also adjust the height and tilt the screen if we need to.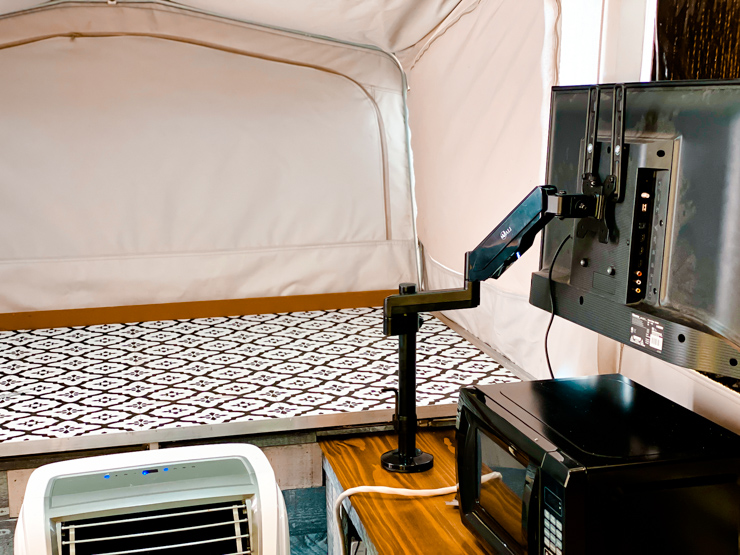 How big a TV do can you use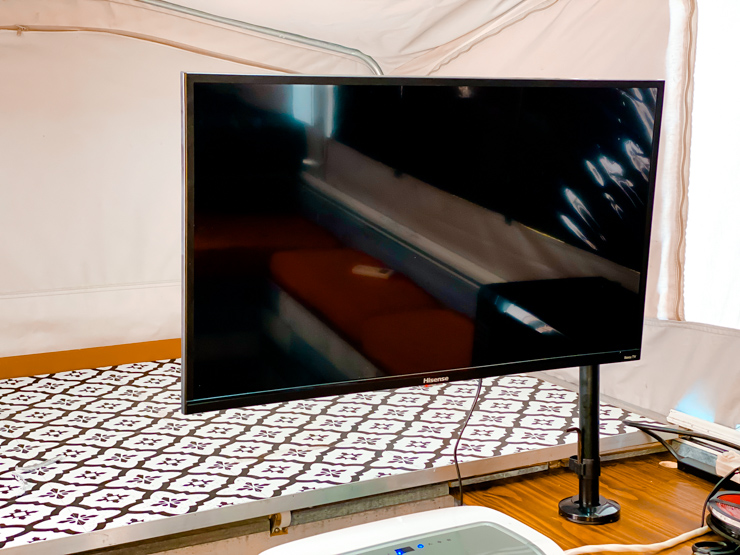 This question is answered by how much space you have. We have a 32″ TV and it is perfect for us. Not to big so you have to wrestle it around. And not so small that you can't see it when you are laying in bed. Also you have to see how big a TV your TV mount will support.
Installing your popup camper TV mount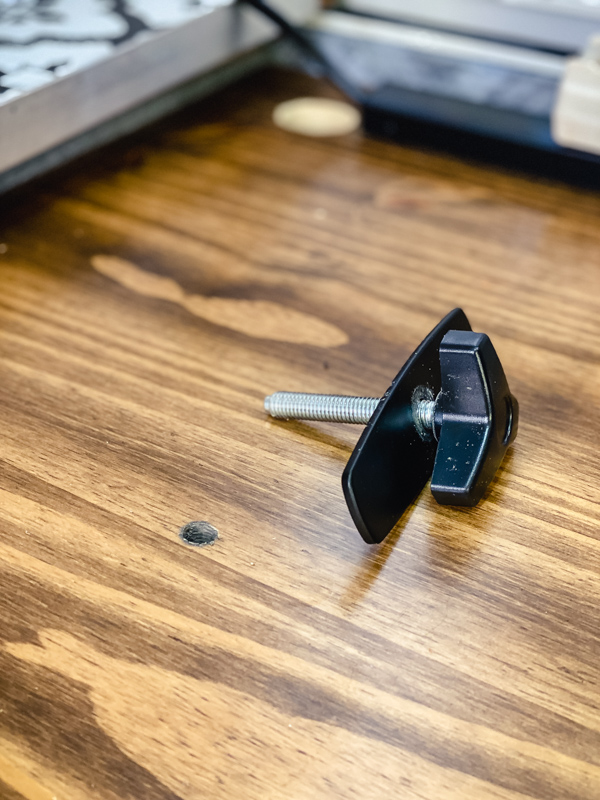 The TV mount we used literally required us to drill one hole in the countertop. That's it. It has a big bolt and plate that screws up from the bottom and attaches to the TV mount. Then all you do is install the mounting brackets provided on the back of your TV. It's that easy. We leave the mounting brackets on the TV when we travel.
When you are ready to break camp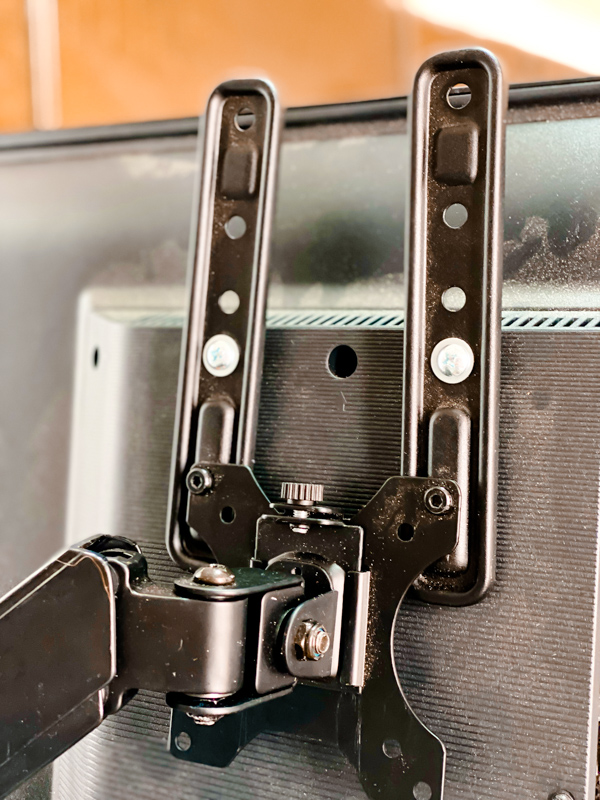 When it's time to break camp all you have to do is take the TV off the mount. It is held in place by one thumb screw. Then just unscrew the big bolt that bolts the mount to the countertop. You do not need any tools for this. That's it. Easy peasy lemon squeezy.
Final thoughts
For us a TV was a must have. We enjoy watching TV as we laying down for bed. But as with everything camping… PLEASE be respectful of everyone else out camping. They may not enjoy that movie as much as you. Of course there are other ways to mount a popup camper TV but this way worked best for us and I hope it works equally as well for you!
Awesome Camping Articles You Should Check Out
FOLLOW US ON SOCIAL MEDIA
Don't forget to invite your friend's to our Facebook groups! We would also love to see your vacation pictures!