Manly Eats: Beer Pot Roast Slow Cooker Recipe
Are you looking for an easy and tasty slow cooker recipe that will please the men in your life? Look no further than this delicious beer pot roast slow cooker recipe. This dish is made with simple ingredients and the perfect comfort food for a chilly winter evening. Plus, the guys will love the hearty and satisfying flavor of this meal. So break out your slow cooker and give this recipe a try today! You'll be able to make a whole meal in one pot with only 15 minutes prep time.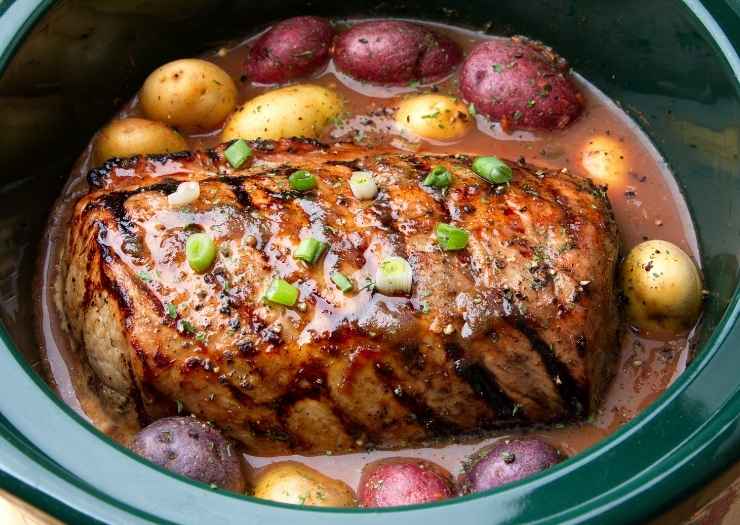 Cooking in your slow cooker can save a lot of time and sanity when it comes to mealtime. This Beer Pot Roast recipe is perfect for the whole family. Not only does the slow cooker or crock pot do all of the work, but it also produces a meal that is hearty and satisfying. The beer gives the roast a delicious amazing flavor that everyone in your family will love. This recipe calls for a 3-6 pound beef roast, but you can easily adjust the size of the roast to fit your needs. Some people like to use tomato paste or worcestershire sauce in their recipes, and while you can totally add this to make it your own, it's not needed. This recipe calls for 1 cloves garlic but you can use garlic powder in a pinch.
What is a Yankee Pot Roast?
A Yankee Pot Roast is a hearty and delicious dish that originated in the United States but is based off a European cooking technique. It consists of a boneless beef chuck roast that is braised in liquid, usually with vegetables such as carrots, celery, pearl onions, and potatoes. The roast is cooked low and slow, resulting in tender, melt-in-your-mouth meat. As the roast bakes, it creates a rich and thick broth that is often served over mashed potatoes. This dish is designed to be an economical meal and uses great cuts of marbled meat for maximum flavor. Serve it up for dinner and enjoy the deliciousness of this classic New England recipe!
What Cut of Beef Should I Use for My Beer Pot Roast?
For the perfect melt in your mouth roast dish, the best cut of beef to use is a chuck roast (also known as chuck roll roast or chuck eye roast) from the shoulder of the cow ( shoulder roast). This cut is known for its marbling which helps to keep the meat tender and melt-in-your-mouth delicious after being cooked low and slow. Other cuts that could be used include eye of round, bottom round or top round beef, but the beef chuck roast is the choice for the most flavorful and succulent results. What ever cut you choose look for meat with good marbling. Thats is the white fatty part of the meat. The fat is what keeps the beef tender and flavorful. Also, if you don't like corned beef you could substitute this roast for St. Patrick's day.
Do You have to Brown a Roast Before Putting It Into a CrockPot
It is not necessary to brown a roast before putting it in a crockpot, however, it can add a great deal of flavor and texture to the dish. Browning the roast in hot oil in a large skillet or Dutch oven on the stove gives it a beautiful golden-brown sear before it is cooked. This added step can result in a melt-in-your-mouth roast beef with more depth of flavor. If you decide to brown your roast before cooking it in the slow cooker, it should be seared for about three or four minutes per side. Additionally, the juices that are released from the meat during the searing process can be reserved and used to make a delicious gravy.
Getting started
The first step is to brown roast on all sides. Heat oil in a large skillet over medium-high heat. You can use vegetable oil or olive oil. This is an important step as it helps build that depth of flavor that we all love! Place your roast in the hot oil. Once it is browned on all sides, remove from heat and set aside while you prepare the vegetables for your slow cooker. You can use a variety of root vegetables. I like to use a yellow onion, large carrots (or baby carrots if you don't want to spend time cutting up carrots), small potatoes or red potatoes ( medium potatoes work also, just use less). Just make sure that you cut the vegetables to approximately the same size so that they cook evenly.
In the next step you will add 1/2 of the onion soup mix package to the bottom of your crockpot.The great thing about the premade onion soup packages is that help build those flavorful liquids that everything cooks in. Then you will want to place roast in the slow cooker and sprinkle the remaining soup mix on top of the roast. Now is the time to add salt and black pepper (to taste) if you like. You can also use our homemade onion soup mix too.
You will need your vegetables that you cut up for this step. You will want to place your cut up carrots, potatoes and onions all around your roast. Having your vegetables slow cooking with your roast will give everything the rich flavor that you love.
What Kind of Beer Should I use
Feel free to use your favorite beer for this step but a good irish stout beer like a Guinness beer will give you that little extra flavor. There are plenty of great options out there like lager or Ales. Pour beer on top of everything. If your roast and veggies are not completely submerged then add some water or beef stock. The best part is now you have the rest of the beer for yourself!
What if I don't Like Beer
If you don't like beer and are looking for alternatives for your beer pot roast, you may want to consider using chicken broth, ginger ale, white grape juice, beef broth, red table wine, coca-cola, or more beef stock as substitutes. You can also omit the tomato paste if you do not like a tomato flavor in your pot roast. For optimal flavor, consider adding yellow, white or red onions and fresh garlic to your pot roast. Finally, a porter ale is our most favorite brew to braise a pot roast with; however, an English style porter such as Black Jack Porter by Left Hand Brewing or Mayflower Porter will add an extra layer of flavor to your meal.
Now for the step that all good recipes should say… Cover pot and relax. You are going to cook your slow cooker beer pot roast on low for 8 hrs. All the food will be soaking up the great flavor from the cooking liquid. This will be one of the most tender beef roast that you will have.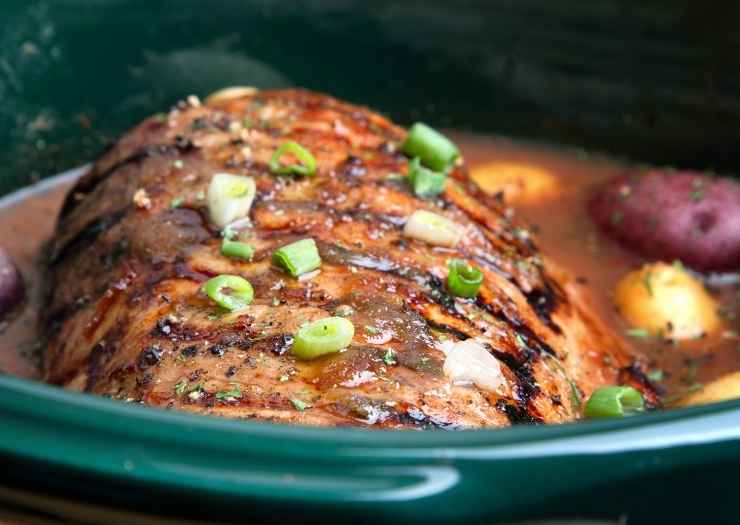 The Gravy
Now the extra step of making gravy and not using a gravy mix will help put this slow cooker pot roast recipe over the top. Plus it's just a few simple steps. Now if you have to use a gravy mix that's fine too. But you should really try this gravy!
When your roast is done take the roast and veggies out and set on a serving platter. Be Careful with the roast though, that tender meat will want to fall apart. Now take that liquid in your crockpot and transfer it to a saucepan. Add a cup of beef broth, water, and cornstarch. Whisk mixture together until smooth. You will bring this to a boil and cook until it thickens. Some people do like to add a splash of red wine vinegar but I always leave that out.
This is a great recipe to put your own bit of a twist on it. Adding bay leaves or fresh herbs like fresh parsley to your cooking liquid is a good way to do this. Bay leaf can sometimes give it extra flavor. Just depends on what you like. You could also experiment with any other dark beer to see how that affects the taste. Some people like to add Dr Pepper or root beer to their roast. Adding your favorite soda can also be a great alternative to beer. You could even add a little brown sugar if you like. You could even cut out the potatoes and make a healthy side dish of loaded mashed cauliflower or just add a side of green beans. The possibilities are endless!
Should I cook My Roast on Low or High
Cooking a roast in a crockpot can be a great way to prepare a delicious meal with minimal effort. Whether you cook your roast on low or high setting depends on the cut of beef you are using. Both settings cook at the same temperature, but slow cooking will retain the moisture. If you're short on time, you can turn the slow cooker to "high" for one hour to get things boiling, but this should only be done in an emergency.
What should I Serve Beer Pot Roast With?
Beer pot roast in slow cooker is a classic, comforting dinner that should be served with mashed potatoes. The pot roast is prepared with a petite center-cut spoon roast slow-braised over 2-1/2 to 3 hours with carrots, parsnips, pearl onions, brown ale beer, beef broth, and fresh herbs until tender. You can make it extra special with a luxurious gravy made from craft beer and beef stock and aromatics like garlic. Serve it over creamy mashed potatoes or green beans for a delicious and comforting meal. Alternatively, you can serve the pot roast without the veggies, and shred the beef to make sandwiches or heat it in leftover gravy to serve over mashed potatoes, egg noodles or toast. Enjoy!
How to How to Store my Leftover Beer Pot Roast
Storing leftover beer pot roast for the next day is easy. After the roast has been cooked and cooled, it should be placed in an airtight container and refrigerated for up to four days. This will ensure that the roast remains fresh and safe to eat. If you wish to reheat the roast, it should be done on medium heat ( or low heat) in a Dutch oven or slow cooker. Additionally, you can make the roast up to two days in advance, which will allow the flavors to meld together. Finally, make sure to discard any herbs and seasonings before storing the leftovers. This recipe makes enough leftovers to make other easy dinners. I love to cook once eat twice. use it in a pot pie, beef taquitos or make beef stroganoff.
Check out the recipe card below for the complete recipe. And if you don't have a slow cooker feel to try cooking it in your instant pot and be sure to subscribe to our newsletter for more easy dinner recipes
Yield: 4-6
Manly Eats: Beer Pot Roast Slow Cooker Recipe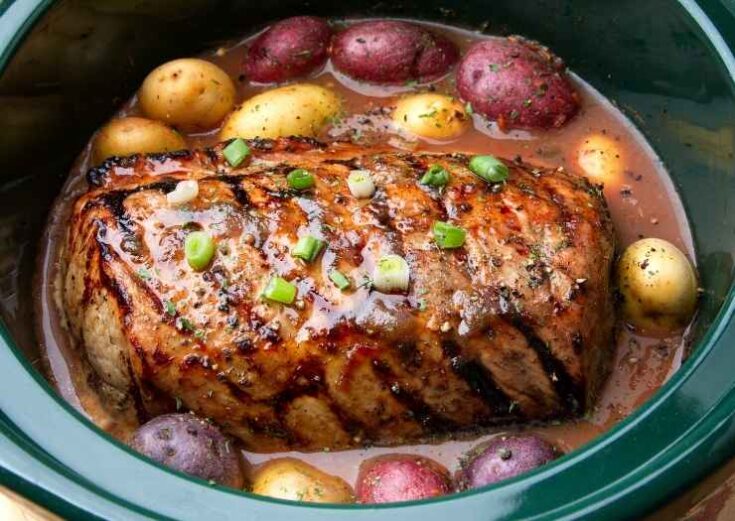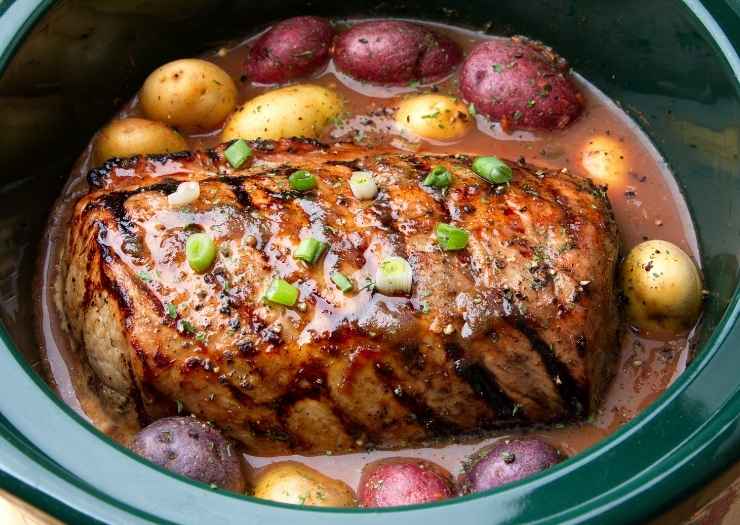 Easy Beer Pot Roast slow Cooker Recipe
Total Time
8 hours
15 minutes
Ingredients
1 3-6lb roast
1 pk carrots cut into chunks
10 small potatoes
1 12oz can of beer ( you can even use gluten free beer)
2 tbsp oil
1 pkg dry onion soup mix
1 lg onion
1 cloves garlic, minced
FOR GRAVY:
1 1 /2 cups of beef broth
1/4 cup of water
3 tbsp juice from the bottom of crockpot
2 tbsp of corn starch
Instructions
Heat oil on medium high heat in a large skillet and brown roast for 2-3 minutes on both sides.
Add 1/2 of the onion soup pkg to the bottom of your crockpot. Place roast on top and sprinkle remaining soup mix on top of roast.
Place your cut up carrots, potatoes and onions all around your roast and sprinkle with salt and pepper to taste.
Pour beer over everything. If your roast and veggies are not completely submerged then add some water.
Cook on low for 8 hrs.Serve with Gravy

DIRECTIONS FOR GRAVY:
1. Take remaining juices and 1 cup of beef broth and heat in a sauce pan.
2. In a measuring cup, mix 1/4 cup of water and 1 tbsp of cornstarch and whisk together until smooth and bring to a boil.
3. Stir until thickened.
Notes: You can add additional beef broth to your mix to thin it out if it's too thick. Also a hoppier beer can be bitter so remember that.
Check out these amazing side dishes:
FOLLOW US ON SOCIAL MEDIA
Don't forget to invite your friend's to our Facebook groups! We would also love to see your vacation pictures!
Yosemite National Park- Complete guide