Manly Eats: Beer Pot Roast Slow Cooker Recipe
Are you looking for an easy and tasty slow cooker recipe that will please the men in your life? Look no further than this delicious beer pot roast slow cooker recipe. This dish is simple to prepare and the perfect comfort food for a chilly winter evening. Plus, the guys will love the hearty and satisfying flavor of this meal. So break out your slow cooker and give this recipe a try today!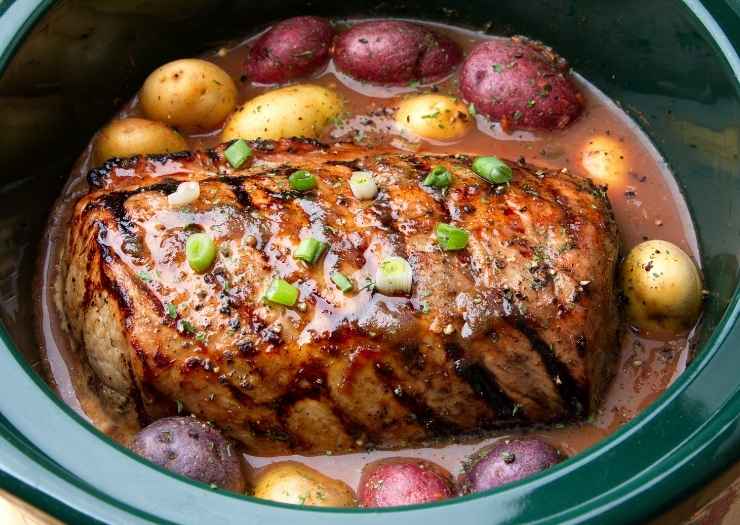 Cooking in your slow cooker can save a lot of time and sanity when it comes to mealtime. This Beer Pot Roast recipe is perfect for the whole family. Not only does the slow cooker or crock pot do all of the work, but it also produces a meal that is hearty and satisfying. The beer gives the roast a delicious amazing flavor that everyone in your family will love. This recipe calls for a 3-6 pound beef roast, but you can easily adjust the size of the roast to fit your needs. Some people like to use tomato paste or worcestershire sauce in their recipes, and while you can totally add this to make it your own, it's not needed.
Getting started
The first step is to brown roast on all sides. Heat oil in a large skillet over medium-high heat. You can use vegetable oil or olive oil. This is an important step as it helps build that depth of flavor that we all love! Place your roast in the hot oil. Once it is browned on all sides, remove from heat and set aside while you prepare the vegetables for your slow cooker. You can use a variety of root vegetables. I like to use a yellow onion, large carrots (or baby carrots if you don't want to spend time cutting up carrots), small potatoes or red potatoes ( medium potatoes work also, just use less). Just make sure that you cut the vegetables to approximately the same size so that they cook evenly.
In the next step you will add 1/2 of the onion soup mix package to the bottom of your crockpot.The great thing about the premade onion soup packages is that help build those flavorful liquids that everything cooks in. Then you will want to place roast in the slow cooker and sprinkle the remaining soup mix on top of the roast. Now is the time to add salt and black pepper (to taste) if you like. You can also use our homemade onion soup mix too.
You will need your vegetables that you cut up for this step. You will want to place your cut up carrots, potatoes and onions all around your roast. Having your vegetables slow cooking with your roast will give everything the rich flavor that you love.
Time for the beer
Feel free to use your favorite beer for this step but a good irish stout beer like a Guinness beer will give you that little extra flavor. There are plenty of great options out there. Pour beer on top of everything. If your roast and veggies are not completely submerged then add some water or beef stock. The best part is now you have the rest of the beer for yourself!
Now for the step that all good recipes should say… Cover pot and relax. You are going to cook your slow cooker beer pot roast on low for 8 hrs. All the food will be soaking up the great flavor from the cooking liquid. This will be one of the most tender beef roast that you will have.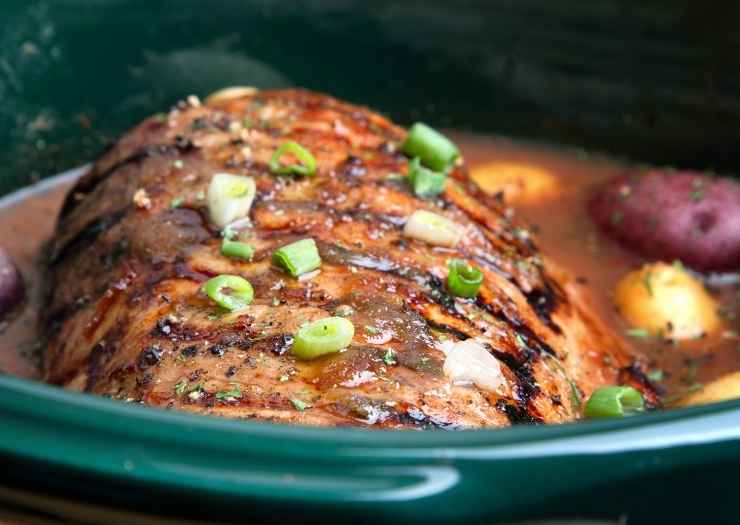 The Gravy
Now the extra step of making gravy and not using a gravy mix will help put this slow cooker pot roast recipe over the top. Plus it's just a few simple steps. Now if you have to use a gravy mix that's fine too. But you should really try this gravy!
When your roast is done take the roast and veggies out and set on a serving platter. Be Careful with the roast though, that tender meat will want to fall apart. Now take that liquid in your crockpot and transfer it to a saucepan. Add a cup of beef broth, water, and cornstarch. Whisk mixture together until smooth. You will bring this to a boil and cook until it thickens.
This is a great recipe to put your own bit of a twist on it. Adding bay leaves or fresh herbs to your cooking liquid is a good way to do this. Bay leaf can sometimes give it extra flavor. Just depends on what you like. You could also experiment with any other dark beer to see how that affects the taste. Some people like to add Dr Pepper or root beer to their roast. Adding your favorite soda can also be a great alternative to beer. You could even cut out the potatoes and make a healthy side dish of loaded mashed cauliflower or just add a side of green beans. The possibilities are endless!
Yield: 4-6
Manly Eats: Beer Pot Roast Slow Cooker Recipe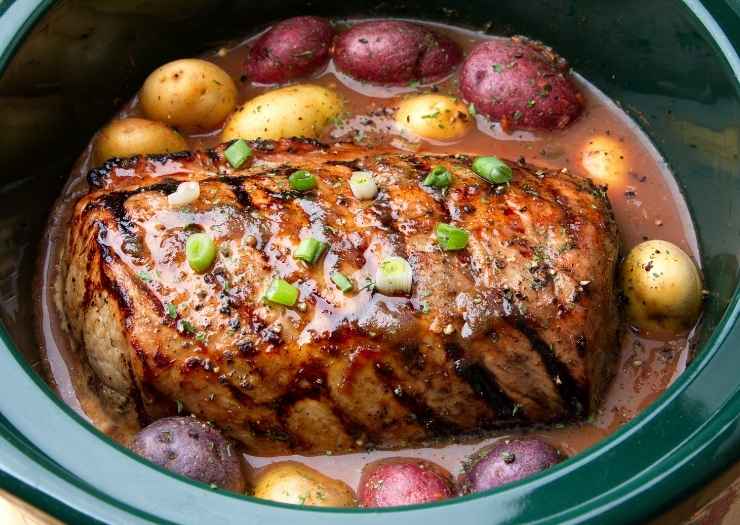 Total Time
8 hours
15 minutes
Ingredients
1 3-6lb roast
1 pk carrots cut into chunks
10 small potatoes
1 12oz can of beer ( you can even use gluten free beer)
2 tbsp oil
1 pkg dry onion soup mix
1 lg onion
1 cloves garlic, minced
FOR GRAVY:
1 1 /2 cups of beef broth
1/4 cup of water
3 tbsp juice from the bottom of crockpot
2 tbsp of corn starch
Instructions
Heat oil on medium high heat in a large skillet and brown roast for 2-3 minutes on both sides.
Add 1/2 of the onion soup pkg to the bottom of your crockpot. Place roast on top and sprinkle remaining soup mix on top of roast.
Place your cut up carrots, potatoes and onions all around your roast and sprinkle with salt and pepper to taste.
Pour beer over everything. If your roast and veggies are not completely submerged then add some water.
Cook on low for 8 hrs.Serve with Gravy

DIRECTIONS FOR GRAVY:
1. Take remaining juices and 1 cup of beef broth and heat in a sauce pan.
2. In a measuring cup, mix 1/4 cup of water and 1 tbsp of cornstarch and whisk together until smooth and bring to a boil.
3. Stir until thickened.
Notes: You can add additional beef broth to your mix to thin it out if it's too thick. Also a hoppier beer can be bitter so remember that.
Check out these amazing side dishes:
Yosemite National Park- Complete guide