Are you ready for an underwater adventure like no other? SeaQuest is your ticket to explore the mysteries of the deep, and the best part is, you can score four tickets for free! In this blog post, we'll reveal some fantastic deals and tips on how to make your SeaQuest visit an unforgettable experience without breaking the bank.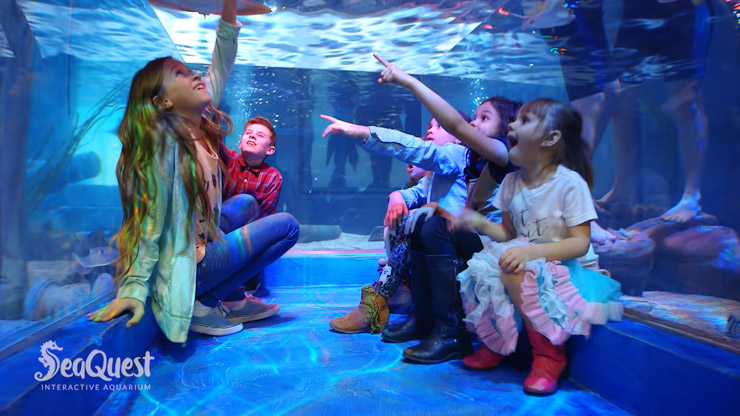 Right now for a limited time SeaQuest offering 4 Free SeaQuest Tickets at select locations. Here's what you need to do:
Just head to their website and select a location and date.
Next add up to 4 admission tickets to your cart.
Use code: CONSERVATION to make them FREE!
Again please remember that this only works at certain locations. Also through October 31st the Lynchburg SeaQuest is having their own special promotion. Right now you can use code: 35EPIC to save 35% off EpicQuests. EpicQuests are good for groups up to 8and is a 3-hour interactive guided tour. This offer may be available at some of their other locations as well.
If you Love SeaQuest check out their other ways to save at their locations.
1. Keep an Eye on Special Promotions:
SeaQuest frequently runs special promotions and offers, especially during holidays and special events. Check their official website or sign up for their newsletter to stay updated on the latest deals and discounts. You might find limited-time offers for free tickets when you purchase others or during certain promotional periods.
2. Follow SeaQuest on Social Media:
Social media is a powerful tool for discovering exclusive promotions and contests. Follow SeaQuest on platforms like YouTube, TikTok, and Twitter to stay in the loop. They often host giveaways, trivia contests, and interactive challenges that could win you free tickets.
3. Birthday Bonanza:
Did you know that SeaQuest offers free admission to the birthday person on their special day? If you have a birthday coming up or if a family member does, this could be your chance to snag a few complimentary tickets. Just be sure to bring your ID or birth certificate to verify your birthdate.
4. Educator Appreciation Days:
SeaQuest appreciates teachers and educators! They often host Educator Appreciation Days where educators can enjoy free admission. If you're a teacher, keep an eye out for special promotions geared towards educators.
Family Destinations & Articles You Should Check Out
FOLLOW US ON SOCIAL MEDIA
Don't forget to invite your friend's to our Facebook groups! We would also love to see your vacation pictures!