Oosterdam Cruise Reviews : Mediterranean Cruise with Holland America
Holland America Line's Oosterdam is a luxurious cruise ship that offers an experience unlike any other. Boasting a length of 936 feet and a gross tonnage of 82,500. This impressive vessel accommodates up to 1,964 guests in its array of comfortable and inviting staterooms. Guests can enjoy fine-dining restaurants such as the Pinnacle Grill and Canaletto, offering premium steaks and seafood. From exploration of stunning Mediterranean landscapes to attentive service from the dedicated crew members. The Oosterdam is sure to provide an unforgettable journey for those seeking freedom on their vacation. With its high-end furnishings and amenities, it promises an experience beyond expectations. One that will make your Mediterranean cruise dreams come true.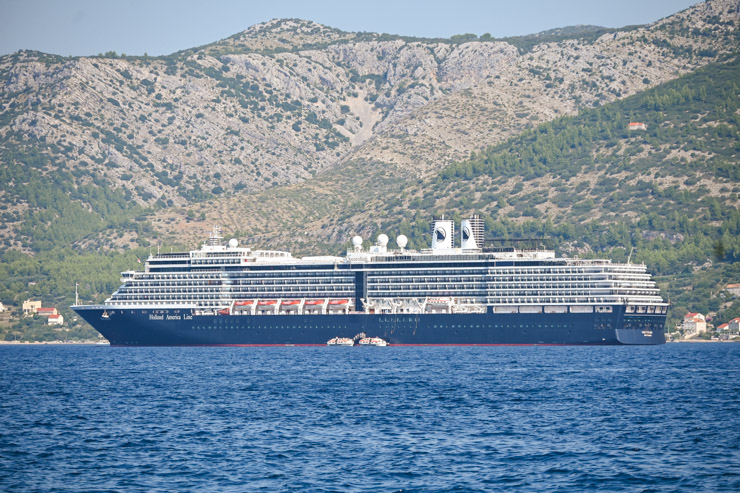 Getting to Know the Ship – Oosterdam Cruise Reviews
The Oosterdam cruise reviews provide a great opportunity to learn about the ship. From its luxurious suites and production shows to its amazing food and great customer service. The Holland America Line's Oosterdam is a Vista Class cruise ship that offers an exciting Mediterranean cruise experience for avid travelers. It has been recently refurbished with modern amenities for an enhanced guest experience. Rolling Stones Rock Room offers passengers freedom to enjoy music and dance all night long. Additionally, there is also a main dining room where guests can savor delicious meals and drinks throughout their journey. The Oosterdam reminds me very much of it's sister ship the Westerdam. With its comfortable interiors, private balconies, and attentive staff, the Oosterdam provides an unforgettable experience to everyone who steps onboard.
Embarking and Disembarking
Passengers of the Oosterdam Cruise will enjoy an efficient embarkation and disembarkation process, ensuring a smooth transition between destinations. On this particular cruise we were welcomed aboard in Trieste, Italy before heading to Croatia. Split was our first port of call. I have to say, Holland America does an amazing job on their embarkation process. It's probably one of the fastest and smoothest we've seen. From the time we arrived to the time we got on board was less than 30 minutes.
Once on board , Holland America will send your luggage to your room. Then you can explore the ship with ease using Holland America's Navigator app. The app provides daily schedules, dining reservations and onboard activities. (more about that below). Guests are encouraged to take full advantage of the amenities available on board including Lido Market for snacks. The Dive In by the Lido deck pool is perfect for refueling after your embarkation process. Once you've gotten a bite to eat we recommend exploring the ship. This gives you a chance to get a gage on where everything is located to make your week run smoother. With such convenience and freedom, the embarkation and disembarkation process aboard Oosterdam cruise is sure to make your travel experience even more enjoyable.
The Navigator App
Navigator app ensures travelers aboard the Oosterdam Cruise have access to daily schedules, dining reservations, and onboard activities for an effortless journey in the Mediterranean. This application serves as a great asset to guests traveling on the east mediterranean cruise with Holland America Line. It allows them to book tables at Canaletto restaurant or Pinnacle Grill. Guests can also check their daily itinerary, receive updates about events and activities happening onboard, and keep track of their expenses. With this innovative technology, passengers can enjoy maximum convenience while exploring the stunning destinations of Croatia or Greece. The app also includes helpful tips and advice for travelers looking for more freedom during their time on board the Oosterdam Cruise.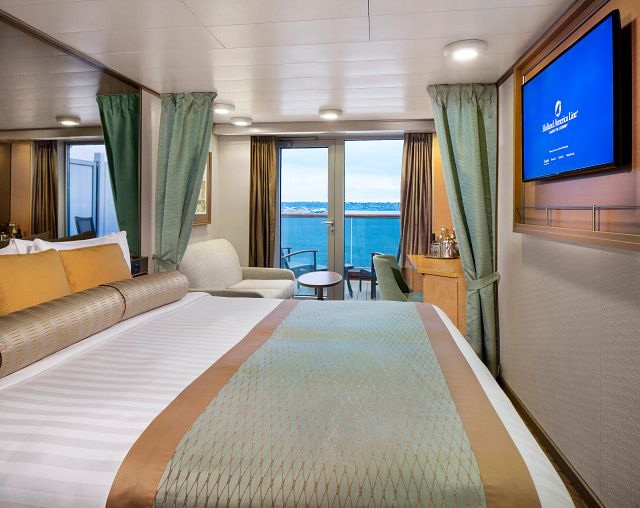 Oosterdam Cruise Reviews – The Verandah Staterooms
Offering a home away from home experience, Verandah staterooms on the Oosterdam promises to transport guests into a world of luxury and comfort. These spacious rooms feature floor-to-ceiling windows and private balconies. This allows guests to enjoy the natural beauty of the Mediterranean while still having their own space. There is a queen size bed, a small couch and even a bathtub which is a nice extra touch. I would also like to mention that there was plenty of closet space which we loved. The perfect blend of comfort and privacy make these Verandah staterooms an ideal choice for those looking for a truly luxurious experience.
Oosterdam Cruise Reviews – Fine Dining and Casual Dining Options
For those looking to indulge in a unique culinary journey, the Oosterdam offers an array of fine and casual dining options. With gourmet creations crafted by skilled chefs, guests can choose from a variety of venues to satisfy their appetite. From Italian-inspired cuisine at Canaletto restaurant. To premium steaks and seafood at Pinnacle Grill, what kind of culinary adventure will you embark on? Enjoy exquisite dishes such as handmade pastas and authentic Italian dishes at Canaletto. Or savor succulent cuts of beef accompanied by delectable sides at Pinnacle Grill. For those seeking a more relaxed atmosphere, the Dive-In serves up classic burgers and hot dogs, with refreshingly creative twists. One of my favorite sandwiches at the Dive is their chicken sandwich! Make sure to get your fries covered in cheese or their Dive In sauce!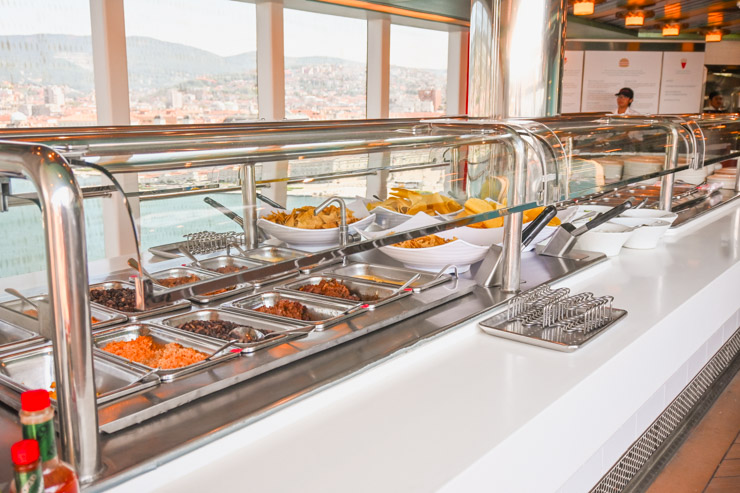 There is also a taco bar on the Lido. This is the only place on the ship you can find something salty and crunchy. The tortilla ships… Thats the one thing I wish Holland America would have more of. Things like pretzels, popcorn etc. I heard a lot of the same comments from other passengers as well. One of the comments we kept hearing over and over on this ship is that the food on Holland America is so much better than other cruises we've been on. We would have to agree.! Whether it's an intimate dinner or gathering with friends over drinks – Oosterdam has something for everyone!
Pinnacle Grill
The Pinnacle Grill aboard the Oosterdam, a Holland America Ship, is a culinary haven that epitomizes sophistication and indulgence. This elegant dining venue offers a refined ambiance where guests can savor an exquisite array of culinary delights. Known for its premium steaks and seafood, the Pinnacle Grill presents a menu that showcases the finest ingredients prepared with precision and artistry.
The attention to detail extends beyond the cuisine. With impeccable service and a warm, inviting atmosphere that sets the stage for a memorable dining experience. Whether celebrating a special occasion or simply indulging in gourmet pleasures, the Pinnacle Grill promises a journey of flavors and tastes that elevate the cruise adventure to new heights of culinary excellence. We recommend trying the candied bacon served on a close-line. But don't just eat the bacon by itself, cut off a tiny sliver of the rosemary hanging and add a little bit of lemon juice that comes and oh… my .. wow!
Canaletto

Canaletto, nestled within the Oosterdam, a Holland America Ship, offers a delightful culinary escape that captures the essence of Italian flavors and ambiance. This charming dining venue invites guests to savor the rich and diverse tastes of Italy, with a menu featuring a medley of traditional and contemporary Italian dishes. The warm and inviting atmosphere mirrors the welcoming trattorias of Italy, creating the perfect setting for a leisurely meal. From freshly prepared pastas to delectable seafood and antipasti, Canaletto presents a culinary journey that transports diners to the heart of Italian cuisine. Whether enjoying an intimate dinner for two or a gathering of friends and family, Canaletto promises an authentic and memorable dining experience that adds a touch of Italian passion to the cruise adventure.
Canaletto just put out a new menu, and we were very fortunate enough to get to try it on on our cruise. I recommend the Casarecce pesto Genovese and the veal and sage meatballs. They are both absolutely delicious. Caneletto is located in the Lido Market.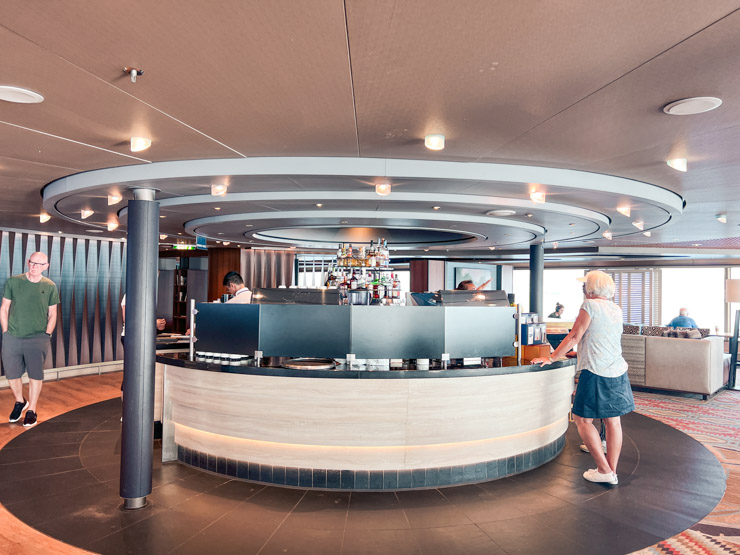 Explorations Cafe
The Explorations Café aboard the Oosterdam, a Holland America Ship, is a serene haven designed for both relaxation and intellectual enrichment. This inviting space seamlessly combines a comfortable coffeehouse atmosphere with a treasure trove of knowledge. Guests can indulge in premium coffees and teas while perusing an extensive collection of books and magazines, or they can access the ship's internet for online browsing. The tranquil ambiance, complete with cozy seating and panoramic views, provides the ideal setting for quiet contemplation or engaging conversations. Whether seeking a moment of solitude or a stimulating exchange of ideas, the Explorations Café offers a haven of serenity where passengers can unwind while nurturing their curiosity amidst the backdrop of the open sea.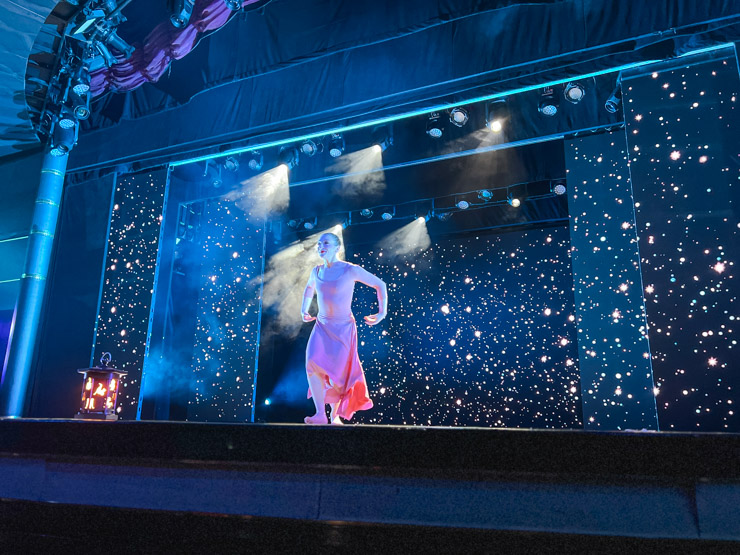 Entertainment
Experience an unforgettable voyage onboard Oosterdam with a variety of entertainment options and activities to suit all tastes. From production shows in the World Stage to musical performances throughout the ship, there is something for everyone. Oosterdam also features a casino where guests can try their luck at slots or tables games such as poker, blackjack, and roulette. For those looking for a more relaxed experience, there are art auctions and trivia nights in addition to spa treatments and fitness classes. There's never a dull moment onboard Oosterdam as there is always something new to explore!
Billboard Onboard. 
The Billboard Onboard on the Oosterdam, a Holland America Ship, is a lively and engaging entertainment venue that brings the joy of chart-topping hits to the high seas. This vibrant space resonates with the energy of a modern music lounge, where talented musicians perform an array of popular songs that span decades and genres. Guests can sing along, tap their feet, and relish in the infectious melodies brought to life by skilled performers. The Billboard Onboard captures the essence of a musical journey through time, offering a dynamic and interactive experience for passengers to enjoy as they cruise to picturesque destinations. It's a delightful fusion of live music, camaraderie, and memorable moments that adds an extra layer of excitement to the cruise adventure.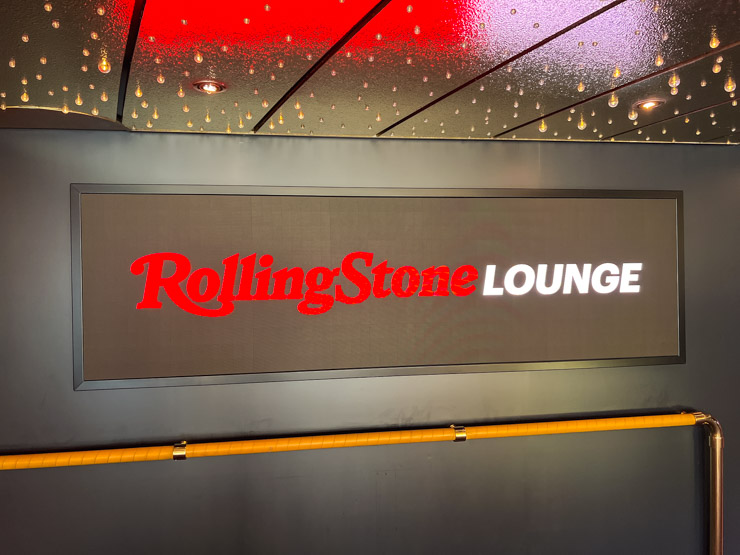 RollingStone Lounge
The RollingStone RLounge on the Oosterdam, a Holland America Ship, is a thrilling sanctuary for rock music enthusiasts at sea. This dynamic venue channels the essence of legendary rock and roll, delivering high-energy performances that pay tribute to iconic hits and timeless classics. With a vibe reminiscent of a legendary rock concert, guests can revel in electrifying renditions delivered by skilled musicians who bring the stage to life with their passion and talent. The RollingStone Lounge provides an immersive experience where cruisers can unleash their inner rock aficionado, enjoying the raw power and soulful melodies of rock music while sailing to breathtaking destinations. It's a remarkable fusion of live entertainment and the cruising experience, making it a must-visit spot for those seeking the electrifying spirit of rock on the open seas.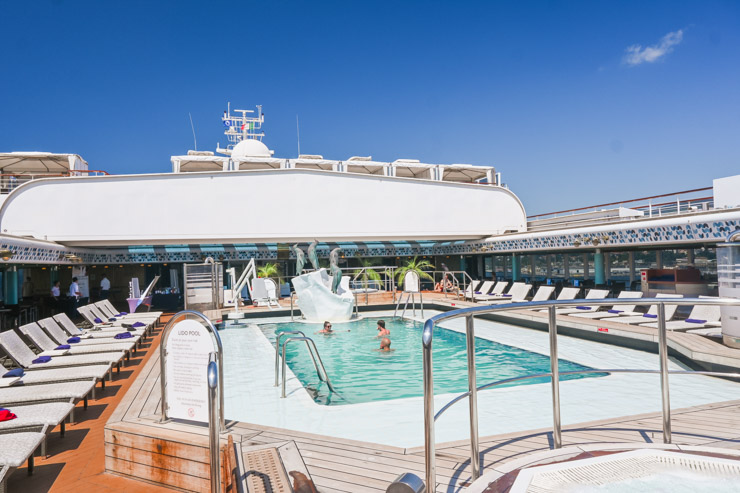 The Lido Deck
The Lido Deck aboard Oosterdam offers guests a place to relax and unwind in the sun, while enjoying spectacular views of the Mediterranean. It is an outdoor area with pool, whirlpools, and plenty of deck space for lounging. The deck is surrounded by lush vegetation which helps to create a tranquil atmosphere that allows visitors to take in stunning views of the sea.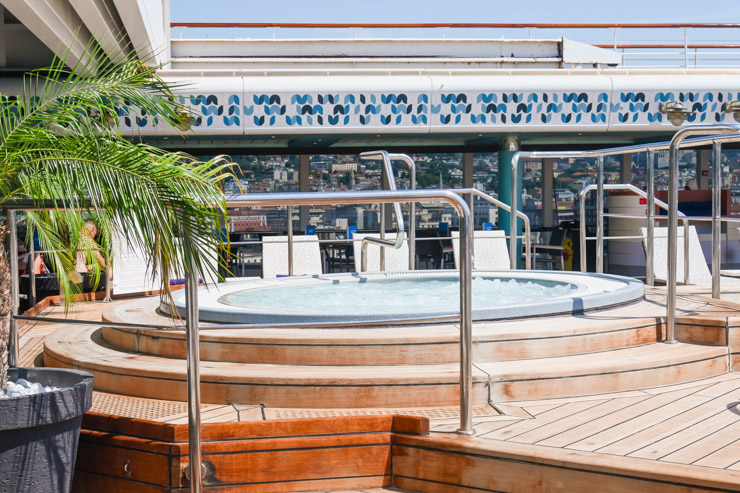 There are also two bars located on the Lido Deck so guests can enjoy refreshing drinks or cocktails during their stay. Furthermore, there is a full-service spa where guests can indulge in treatments such as facials and massages. Finally, Oosterdam also provides several activities onboard such as movies under the stars, dance classes, trivia contests, and live music shows for those wanting entertainment after dark.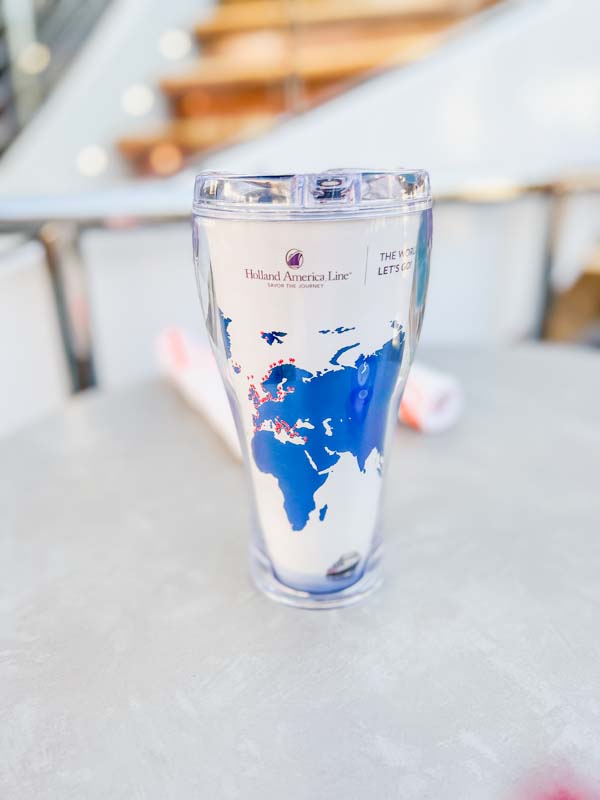 Drink Packages
The Lido Deck offers a variety of activities and entertainment for guests to enjoy during their cruise. For those interested in alcoholic beverages, Holland America Line's Oosterdam offers several drink packages that provide access to select wines, spirits, and cocktails. The Signature Beverage Package gives guests the freedom to enjoy any beer or wine by the glass up to $9 per serving as well as cocktails and other drinks up to $14 per serving. The Premium Beverage Package provides unlimited access to beers, wines by the glass up to $15 per serving, specialty coffees, juices and fountain soda. Cocktails are also included up to $20 per serving. Both packages come with a 15% discount on bottle purchases from onboard shops. Additionally, they offer non-alcoholic packages such as the Soda & More package which allows customers unlimited access to all non-alcoholic beverages including fresh juices and smoothies for one daily fee.
Internet Packages
Offering a variety of internet packages, Holland America Line's Oosterdam provides an opportunity for guests to stay connected while cruising. Passengers can choose from various data plans to suit their needs, with prices ranging from $14.99 for 250MB of data up to $299.99 for unlimited access. With speeds of up to 1Mbps, the onboard Wi-Fi network is designed for browsing and basic email applications, ideal for passengers who need to stay in touch with family and friends or just want to check their emails while traveling. The Wi-Fi signal is available throughout the ship so passengers will never miss a moment of connection no matter where they are on board the ship.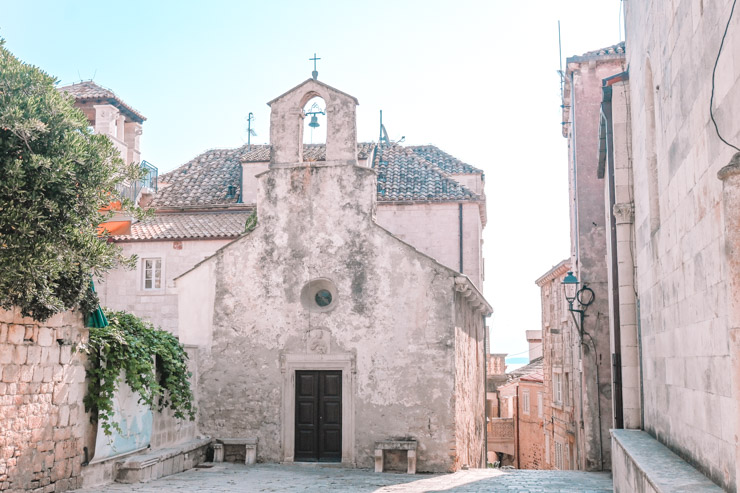 Oosterdam Cruise Reviews – The Ports
Passengers aboard the Oosterdam Cruise have been raving about the stunning ports in the Mediterranean with its picturesque beauty so unreal, it's almost heavenly. From Barcelona to Civitavecchia, guests were able to explore a variety of exciting destinations in both Spain and Italy. In Barcelona, visitors could indulge in delicious tapas and explore Gaudi's iconic architecture. The beautiful city of Naples offers breathtaking views of Mt. Vesuvius, while Rome provides an unforgettable cultural experience complete with ancient ruins and artwork that are sure to captivate any traveler. The last port of call was Civitavecchia – a vibrant coastal town full of life and energy. With such an array of incredible places to discover, passengers on the Oosterdam Cruise can be sure their journey is worthwhile!
For our specific itinerary we cruised the east mediterranean. here is a list of the specific ports we visited. Shore excursion tip: If you didn't get to book an excursion, if you go down to the Guest Services and wait to see if there are any no shows, you will be on standby. Two of the passengers with us on this trip were able to get on a really nice excursion this way. We also mentioned each excursion that we did at each port. They were all AMAZING!
Our Ports and Excursions on This Trip: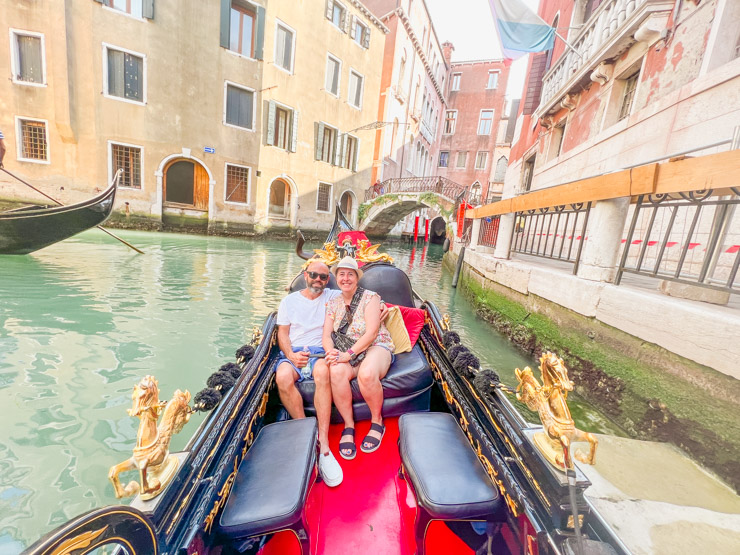 Fly into: Trieste (Venice), Italy. – I recommend getting here a few days early to see Venice. I honestly think 2 days is enough. We stayed at the Hilton Molino Stucky which included a really nice breakfast buffet. They also offered a water taxi to and from Piazza San Marco and Zattere. The cost for the water taxi was only $15 for your whole stay. It runs 7 days a week. You can get here from the airport or by train.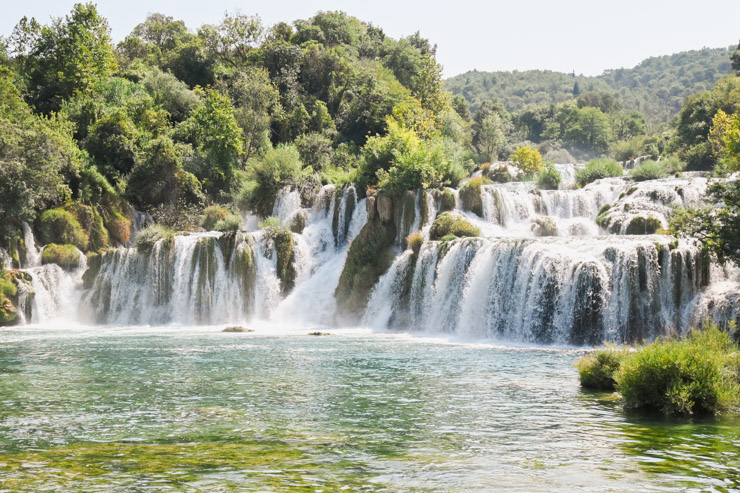 Split, Croatia – Krka Nationa Park Excursion . We absolutely loved this place, it was so beautiful. This was pretty shaded on the walk to the waterfalls. The waterfalls were stunning and the water was so clear, you could see the Salmon swimming.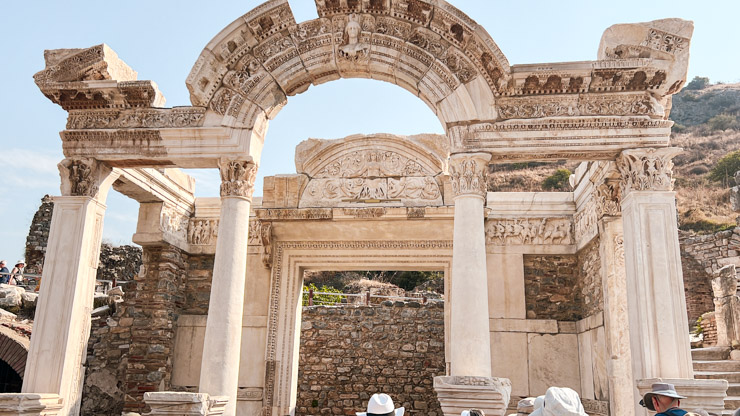 Korcula, Croatia – We did not book an excursion, we loved walking around the port and we recommend packing your swimsuit. Full post coming soon on this port.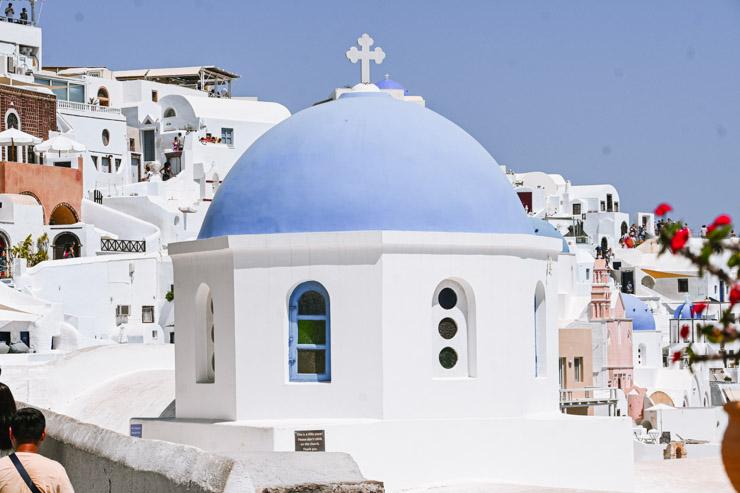 Thira (Santorini), Greece – Archaeoligical Aklrotiri & Oia Town. This was a lovely tour. Our only comment for the tour operator is on hotter days like they day we were on maybe be considerate of how much time is spent in each place in the hot sun. The tour guide was really detailed but maybe could be a little less during the months of July/August when there are extreme heat warnings. It was extremely hot that day.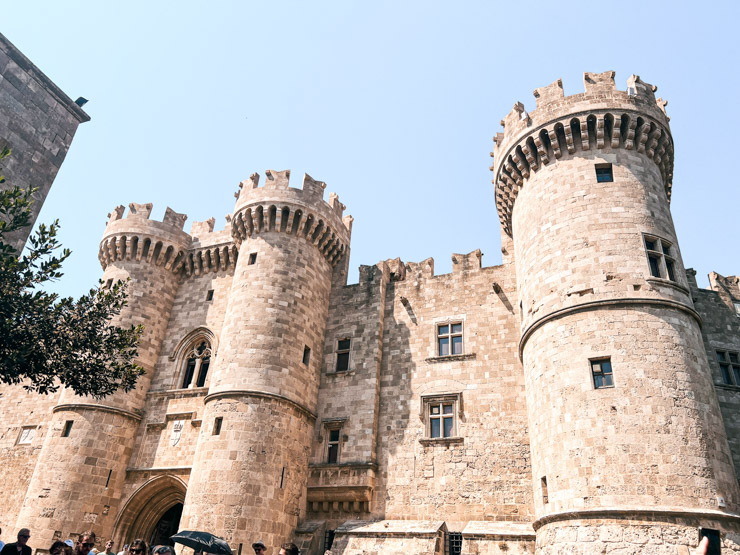 Rhodes, Greece – The Best of Lindos Acropolis & Rhodes Town. This was a great tour. We saw the Doric temple of Athena, visited the Palace of the Grand Master and strolled the medieval streets.
Kusadasi (Ephesus), Turkey – The Best of Ephesus. This was our favorite excursion. So much history to soak up! Our tour guide was amazing and extremely knowledgable. Lunch buffet was included and the food was very good.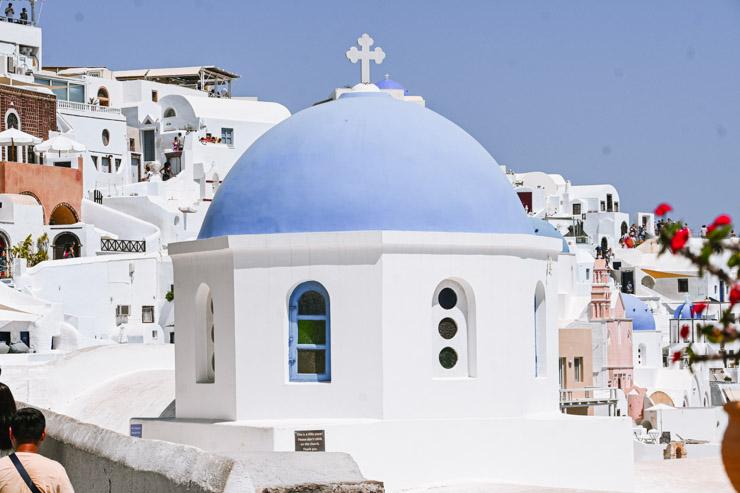 Piraeus (Athens), Greece – Disembarked but we are staying 3-4 days in Athens. We booked a cheap place to stay using the Hopper App. Use code: CONSUMERQUEEN for $25 off your first hotel stay.
We'll actually being doing separate posts on each port soon. So Make sure you subscribe!
Where Else Does the Oosterdam Sail – Westerdam Cruise Reviews
The Oosterdam is not only a luxurious Mediterranean cruise ship, but it's sister ship also offers an unforgettable experience when sailing to Alaska on the Westerdam. Onboard, guests will be welcomed with attentive service and have access to deluxe suites and amenities during their voyage. Staterooms are designed for comfort and relaxation, with verandah rooms providing private balconies for breathtaking views of the scenery. Suite passengers can enjoy exclusive privileges in the Neptune Lounge such as a private bar and dedicated concierge services. In addition, culinary options are plentiful with Canaletto serving Italian-inspired dishes and Pinnacle Grill offering premium steaks and seafood. Entertainment onboard includes production shows featuring live music, comedy acts, dance performances, and more.
Oosterdam Cruise Reviews: So What Did You Think?
The Oosterdam is an exceptional choice for a Mediterranean cruise, offering top-notch furnishings and attentive service, as well as a range of dining options to suit any taste. From fine-dining restaurants to casual dining options and drink packages, guests are sure to be pleased. With its on-board activities and access to stunning landscapes of the Mediterranean, the Oosterdam provides an unforgettable experience. As the old adage goes: 'A journey of a thousand miles begins with a single step' – take that first step onboard the Oosterdam for an adventure you won't soon forget.
Awesome Oceanside Vacations
Check out some of these awesome oceanside vacation ideas.
FOLLOW US ON SOCIAL MEDIA
Don't forget to invite your friend's to our Facebook groups! We would also love to see your vacation pictures!