OK State Fair is Back :Discount Tickets Available!
The OK State Fair is back and we've got the details on discount tickets and more! For more local travel deals, join our travel group on Facebook.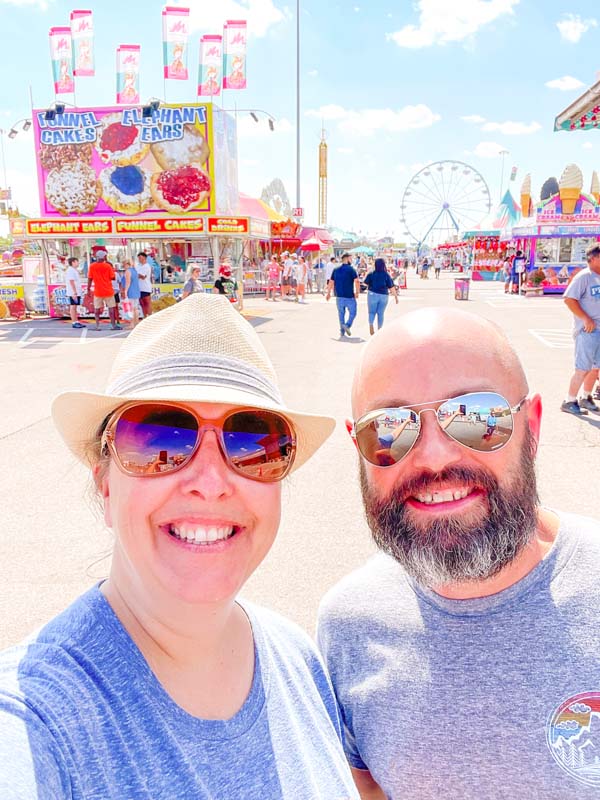 Looking for OK State Fair deal? You're in the right place! The Oklahoma State Fair is a fun and festive time and there's something for everyone! With concerts, rides, food, and more, we know you won't want to miss the Oklahoma State Fair! Check out the information below to see how you can save on some of the more expensive things, such as admission and rides! did you know the first OK state fair was held in October of 1907 led by Jones and Colcord who organized the first State Fair Association. back this it was mostly agriculture based, where they gave out prizes for crop and livestock competitions. They started the annual school day in 1975 (the year I was born)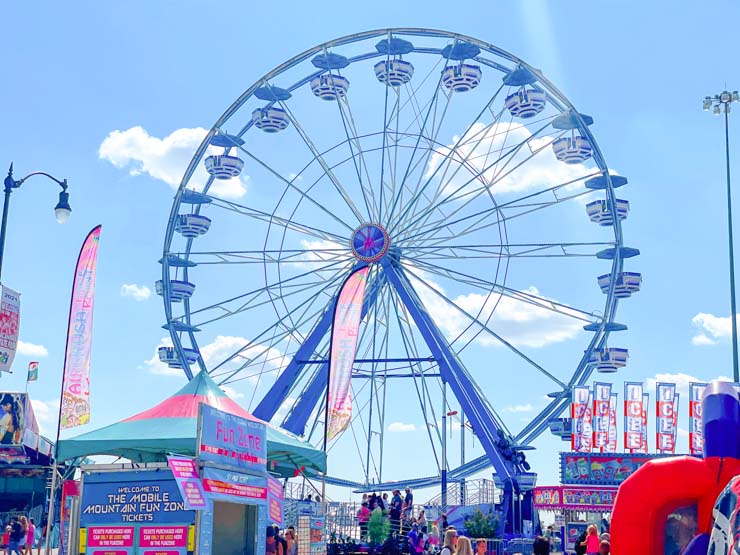 Fair Food
Who's ready for cinnamon rolls, Indian tacos, funnel cakes and corn dogs. Many times we head to the state fair for all the yummy food. let's not forget walking through all the buildings and riding rides. There is fun for the whole family!
In general, food at the fair runs about $7 and up per entree. A great way to save is to split items. So, ask for extra plates when you order. This not only saves a few dollars but you can also try more of those specialty items.
Moneysaving food hacks:
Split an order- always ask for a few extra plates!
Have several kids who are asking for cotton candy? Grab a family sized bag on your way home. These bags can easily be divided amongst 2-3 kids.
Skip the individual drinks- we try to stick to just our water bottles at the fair. Not only is it hot, but the beverages are where you wil likely spend the most money. A soda will cost several dollars! If you must have that special beverage, consider one of the fair cups that you can get cheaper refills with, and get it early enough to refill at least once. They cost more money up front but on average you will spend less on each refill.
Get the State Fair Coupon Book.
New Food Vendors This Year:
A Latte Love Coffee House
B-Rays BBQ
Champions BBQ
Chan's Eatery
Chicken Coop
Cookie Dough Monsters
Cutie Pies Concessions
Diventuri Concessions
Dole Whip
FryDay Concessions
G3 Concessions
Gram's Sweet Treats
Gringo's
Lakeside Concessions
Pioneer Wagon
Pour & Co.
Rush Springs Watermelon
Swain's Pizza On-A-Stick
The Bacon Habit
The Funky Flamingo
The Original Minneapple Pie
Waffle Chix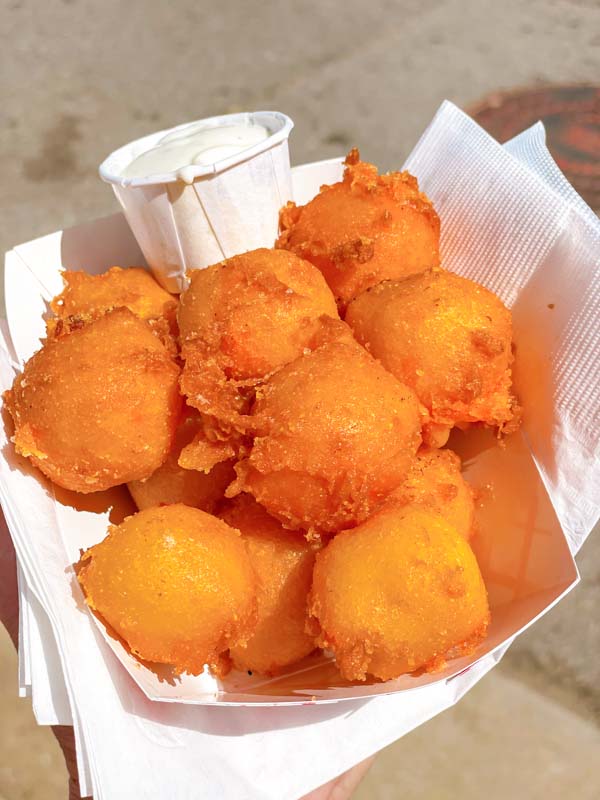 Outside Gate Admission Tickets
Get your advance outside gate admission tickets  to the OK State Fair at the OKC Fairgrounds Box Office, online at okstatefair.com or by calling 405-948-6800. Public activities open at 10am.
Adults (ages 12+): $15
Children (ages 6-11): $10
Children (ages 5 and under): FREE!
Season Pass are not available after the Fair begins
Advance gate tickets are also available at metro area OnCue stores, beginning in mid-August, each year. Season passes are not available for purchase at OnCue.
If you're going to the fair during busy/popular hours, we highly recommend getting your tickets online or in advance. Why? On the opening day of the fair in the evening, the line actually stretched half way from the ticket booth to the main road!
It can be quite the wait. Those who had a pre printed ticket were able to wait in the gate check line (where they scan your ticket). It was a much faster process.
Advance Ticket Prices Are:
Adults (ages 12+): $10
Children (ages 6-11): $5
Season Passes: $30 (only available through Sept. 13. Purchase in person.)
Parking- What to Know:
Park in designated parking ONLY! It's not worth it to potentially have your car ticketed or towed. Parking is not allowed on roads. Parking has never been an issue for us, even on the busy days. Defnitely car pool for an easier parking experience. There are parking attendants that will wave you into a parking spot, so no guesswork on where to go. Pay attention to which direction traffic is flowing. Some roads are one way.
Parking is free but you can optionally pay $5 for preferred parking (most paved lots). If you have anyone who cannot walk far or lots of smaller children or a stroller, the preferred parking is worth it. We have done both over the years.
Buildings open at:
Sunday-Thursday: 10 a.m. to 9 p.m.
Friday-Saturday: 10 a.m. to 10 p.m
Unlimited Carnival Armbands
Here's our best hacks for saving on those expensive carnival rides!
Get the arm band- individual rides cost several dollars EACH. So if your kiddo is set on riding those carnival rides, the arm band will pay for itself in just 4 rides or so!
Before the fair- You can purchase an arm band for carnival rides at okstatefair.com or by calling 405-948-6800. They have flash sales each year. If you opt to purchase these online, they do charge a $1 convenience fee plus a processing fee of around $2.00. Call ahead or purchase at the fair to save that $3.00. So keep this in mind for future fair visits! Follow the OK State Fair on Facebook for notifications of flash sales. The sale price is usuallly $25 for an arm band, and includes admission.
If you missed your chance at getting the advanced ticket pricing, order your Carnival arm band online for $20 plus fees. This is still a savings over purchasing them at the fair! You can go on one of the discounted days for the best savings!
Carnival Opens:
Monday-Friday: Opens at 1 p.m.
Saturday-Sunday: Opens at 11 a.m.
Save Big at the Fair with These Special Discount Days
Thursday, September 14: Thrifty Thursday – $8 outside gate admission for everyone (children 5 and under FREE); $3 Little Book of BIG DEALS and ride all day armbands* for just $25!
Monday, September 18: Tractor Bobs presents Military Monday – All active duty, retired, veterans and their spouses (Military I.D. or supporting document required) receive FREE outside gate admission and $5 Sky Eye Wheel ride tickets.
Tuesday, September 19: Pepsi Triple Shot Tuesday – $3 outside gate admission, $3 Little Book of BIG DEALS, $3 each carnival ride*, $3 souvenir cup refills, and $3 Sky Eye Wheel ride tickets for everyone! No Pepsi can required! 
  Triple Shot Tuesday $3 Food Deals
  Triple Shot Tuesday $3 Shopping Deals
Wednesday, September 20: Senior Day – FREE admission for senior citizens 55+ (I.D. required), $5 Sky Eye Wheel ride tickets. 
Thursday, September 21:
Thrifty Thursday – $8 outside gate admission for everyone (children 5 and under FREE), $3 Little Book of BIG DEALS, and ride all day armbands* for just $25!
College Day – $5 admission for college students (I.D. required) One admission per I.D.
*Some exclusions may apply. Not good on "non-mechanical special attractions." 
**Credit card purchases will have a surcharge. Visit OKStateFair.com
Great American Pig Races 
If you've never been to a pig race, get ready to go  HOG WILD! These little oinkers run as fast as their  pudgy legs can take 'em, all to win a cookie waiting  at the finish line. This is a great family show for all ages and it's located in the Centennial Plaza and free with fair admission.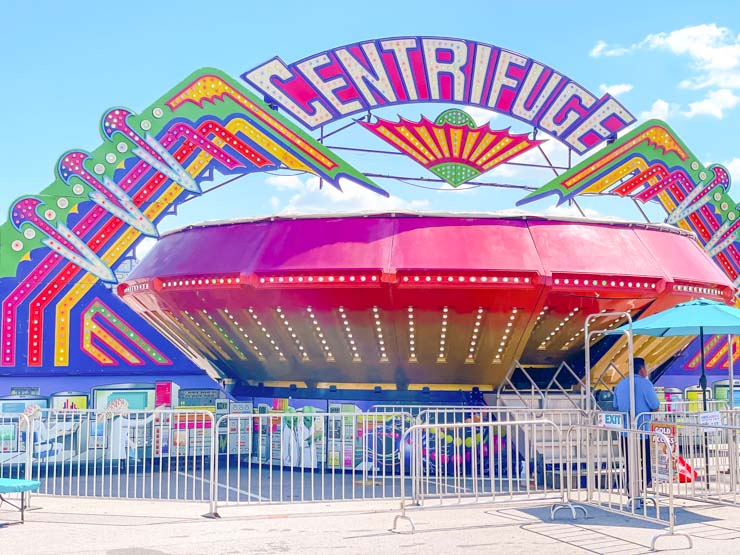 Disney on Ice: September 14-19, 2023
The Ok State Fair brings Disney to life on Ice!
Embark on an enchanting journey into the worlds of Disney's Frozen and Encanto like never before at Disney On Ice! Experience the mesmerizing artistry of ice skating as it whisks you away to the magical realm of Arendelle, where you'll become part of Anna's quest to locate her sister Elsa, whose icy powers have plunged the kingdom into eternal winter. Join Olaf, Kristoff, and Sven as they brave wintry challenges in their race to restore the warmth of summer.
Next, step into the wondrous Casita of the Madrigal family, nestled among the breathtaking mountains of Colombia. Accompany Mirabel on her courageous adventure to safeguard her family's enchanted home, accompanied by her sisters, Isabela and Luisa. Guided by the ever-charming Mickey and Minnie, extend an invitation to your loved ones and friends to join in song and celebrate the enduring power of love and bravery at Disney On Ice presents Frozen & Encanto – a performance that will undoubtedly be the talk of the town!
We hope you have plenty of family fun at the OK State Fair this year, and hope this post can help save a few dollars and stretch your fair budget! Happy Fall!
Located in: Jim Norick Arena
Live Music Schedule:
Located in the Entertainment Plaza, here you will be able to listen to a variety of music such as jazz, country, R&B and more on the Chickasaw Country Entertainment Stage. Best of all, all shows on the Chickasaw Country Entertainment Stage are completely free with fair admission.
Stokley: Friday, Sept. 15 at 7:30 p.m.
Lou Gramm: Saturday, Sept. 16 at 8 p.m.
Marshall Charloff & The Purple Xperience: Sunday, Sept. 17 at 7:30 p.m.
Katy Nichole: Monday, Sept. 18 at 7:30 p.m.
The Drifters, Cornell Gunter's Coasters, & The Platters: Tuesday, Sept. 19 at 7:30 p.m.
Shawn Klush – Tribute to Elvis: Wednesday, Sept. 20 at 7:30 p.m.
Kolby Cooper with Cam Allen: College night! Thursday, Sept. 21 at 7:30 p.m.
Hinder: Friday, Sept. 22 at 7:30 p.m.
Vince Neil: Saturday, Sept. 23 at 8 p.m.
Los Pescadores Del Rio Conchos: Sunday, Sept. 24 at 7:30 p.m.
Wheelchair & Scooter Rentals:
Stroller Rental: $15
Wagon Rental: $20
Wheelchair Rental: $25
Electric Scooter Rental: $65
Check for schedule updates on the Ok state fair website. We will update the OKC Fairgrounds 2024 schedule as soon as we get the information, so bookmark this page. You can also find information on the Oklahoma 4-H and FFA exhibits.
FOLLOW US ON SOCIAL MEDIA
Don't forget to invite your friend's to our Facebook groups! We would also love to see your vacation pictures!