16 Must See Waterfalls in Oklahoma
If you're looking for an outdoor adventure and you like camping in Oklahoma, then you're going to want to keep reading. With its abundance of hiking trails and natural wonders, you can explore the state's beauty at your leisure. One of the many attractions waiting for you is its waterfall scene. Whether you're a seasoned adventurer or this is your first time exploring the great outdoors, we've put together a guide to some of the best waterfalls in Oklahoma including Oklahoma's largest waterfall. Alot of them aren't too far from Oklahoma city. So perfect for an Oklahoma day trip. So pack your bags and get ready to experience some of nature's most breathtaking moments! And if you have littles and you don't want to drive far you can check the small Bricktown falls on the Bricktown canal located in downtown Oklahoma City.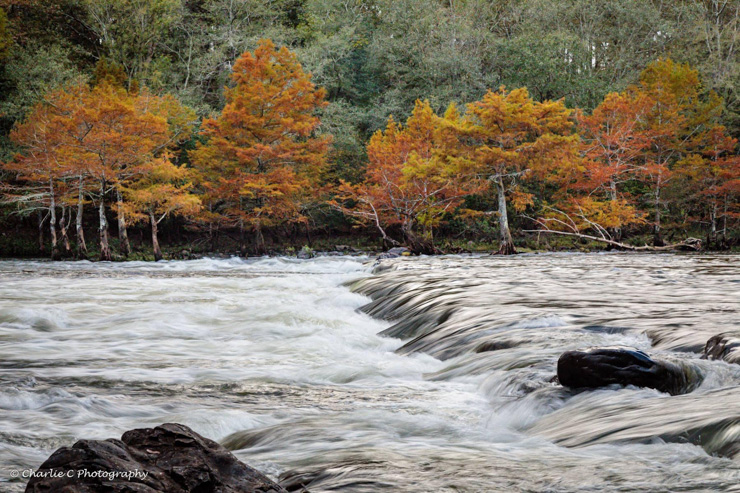 Beavers Bend Waterfall (Presbyterian Falls)
Have you ever seen the beautiful waterfall at Beavers Bend State Park? The park is located in the hills of southeast Oklahoma in the ouachita national forest and is known for its picturesque landscape. The falls can be found along the Lower Mountain Fork River. You can hike to the river or rent a kayak for a kayak trip from Wild Goose Canoe and Kayak to see the falls. You'll probably see lots of white water kayakers here.
Beavers bend is a beautiful area in the Ouachita Mountains to hike and fish and rent luxury cabins for the weekend or camp at camp sites in the surrounding area. There is also plenty of picnic sites.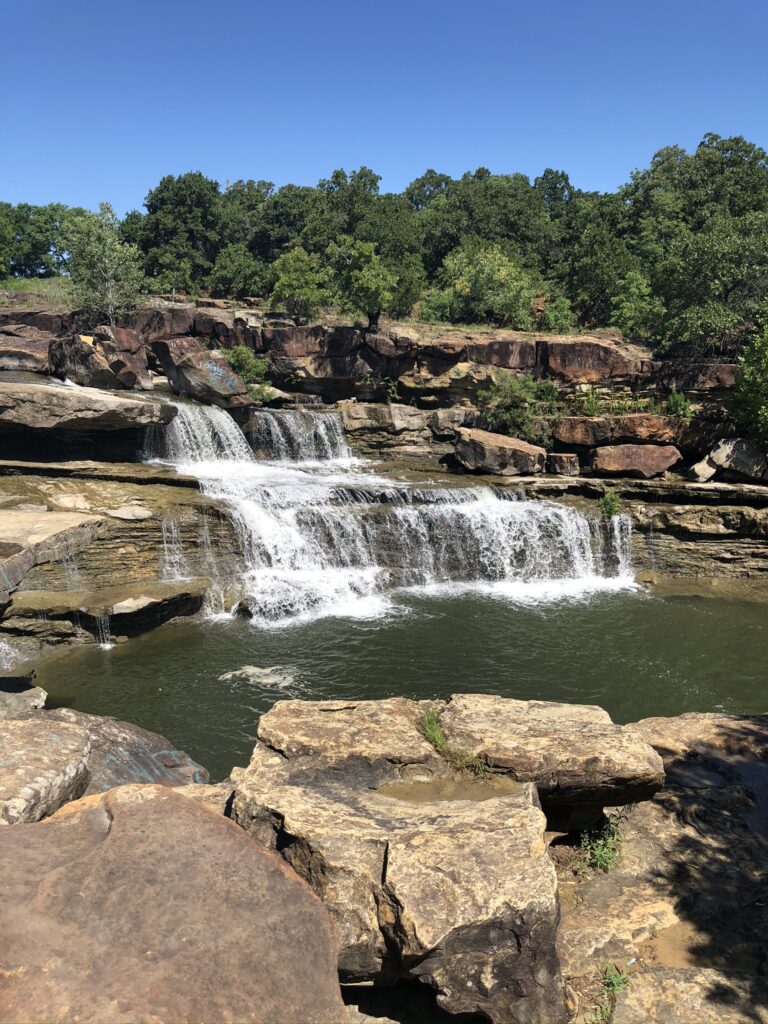 Bluestem Falls
Most people head down to Pawhuska to visit the Pioneer Woman Mercantile as well as Ree Drummond's restaurant, But did you also know there is also a hidden gem you might be missing out on just 10 minutes from downtown? Blue Stem Falls is caused by The bluestem lake spillway.An overflow from Blue Stem Lake spilling out into Middle Bird Creek and therefore not naturally occuring. First of all let me start by saying don't use Google maps. It has led so many people the wrong way or it keeps saying that the park is closed when it's not. If you are leaving Pawhuska and coming from HWY US 60/E. Main St. you will want to turn right. on to Country Road 4275 (If you are coming into Pawhuska just make a left at Country Road 4275). Stay on Country Road 4275 for about three miles. When you come to the fork in the road at the lake, make sure you go right towards the falls. Park in the parking lot and it's just a 2 minute hike to the falls. Parking is free. Make sure you also check out the swinging bridge in the area.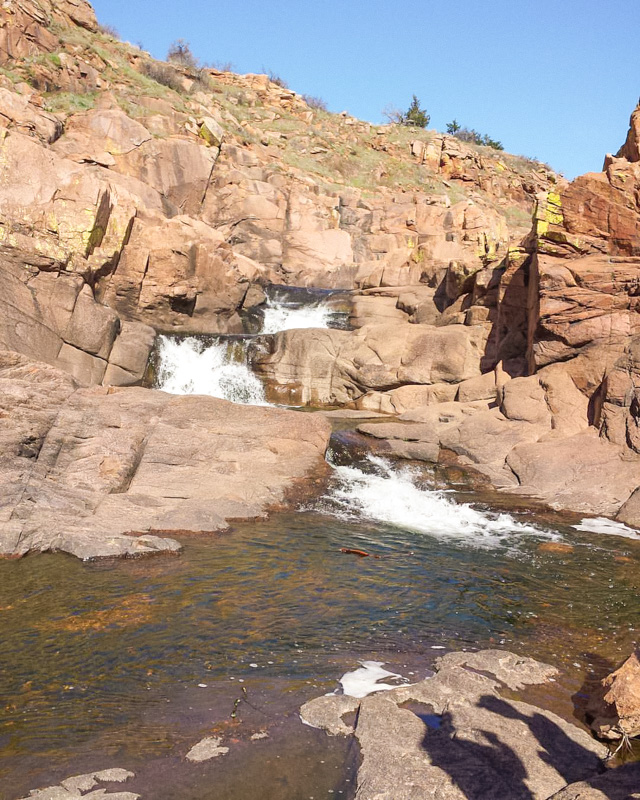 Cache Creek Falls
Cache Creek Falls is located in the Wichita Mountains National Wildlife Refuge. The Narrows Trail is a great way to get close enough for an up-close encounter with the beautiful waterfalls that dot this section of trail. It's about a 2.7 mile loop. The waterfalls are a series of cascading drops that tower over the textured rock face. If you're unsure on how to find it, just ask the rangers and they will be able to tell you the best to find it.
Centennial Park Waterfall
Centennial Park waterfall is a man made waterfall is located in the 13-acre park that is popular with the locals. It's Located in the middle of Tulsa with great views of the Tulsa Skyline. It's the perfect spot for a picnic lunch or a quiet walk. It's a great way for those in Tulsa that can't travel far to enjoy a waterfall.
Blue River Waterfalls
The cool waters of the Blue River in Tishomingo create a picturesque landscape that is perfect for fishing. The fast-flowing river offers bass, catfish and crappie as well as stocked trout during winter months to anyone who pitches their tent nearby at this popular campground on one side or another along its banks! The fast-flowing currents provide picturesque falls and cascades. You can also enjoy water sports here such as water skiing.
Heavener Runestone Falls
The large sandstone rock in this 55-acre park is thought to have been a Viking boundary marker created between 600 and 800 AD. The 1 mile of hiking trails offers scenic views, an overlook along the way where you can take pictures or stop for lunch on one of many tables that are available throughout your journey through nature's beauty!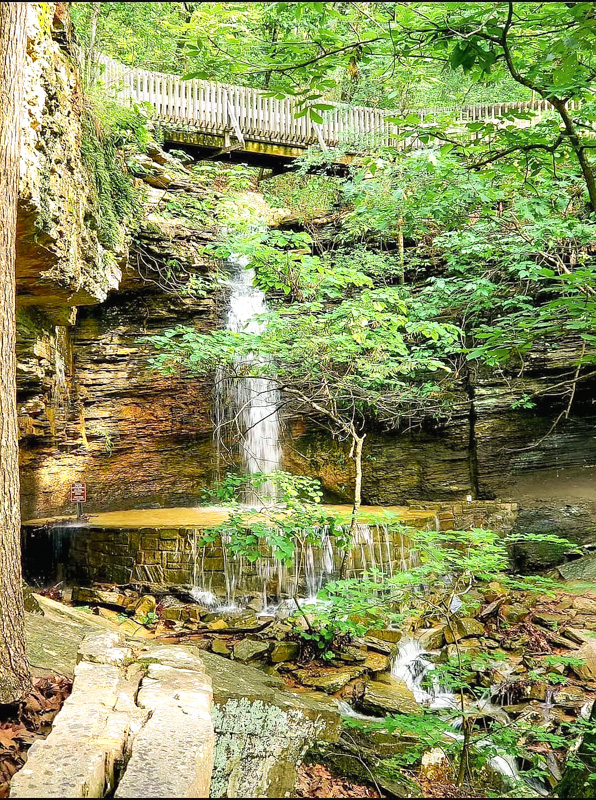 There's also camping sites with electricity hookups so visitors will feel comfortable staying overnight if they wish– hospitality isn't just ours but theirs too!! Additionally there may be limited RV parking space available near picnic areas & BBQ pits in Heavener Runestone Park. To get to the waterfall you will want to take the Runestone Loop. It's a moderate 0.2 trail. So pretty easy for the whole family and quick day trip from Broken Bow Lake.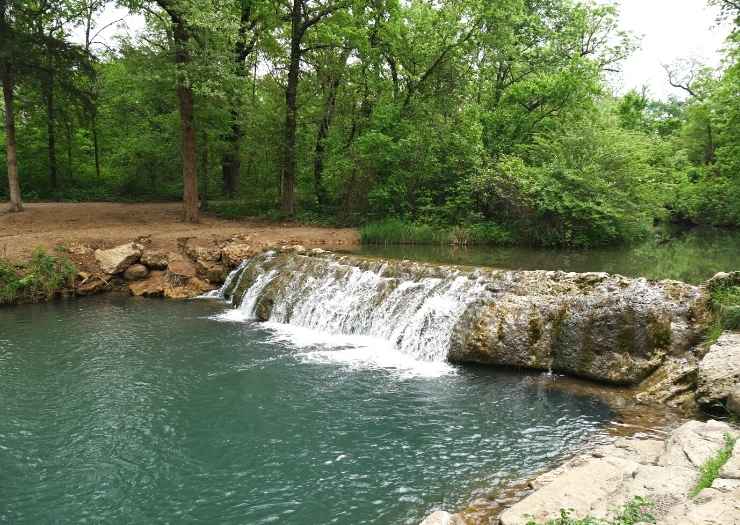 Little Niagara Falls
If you're looking for a little nature break while traveling in Oklahoma, make sure to visit Little Niagara Falls located in the Chickasaw National Recreation Area in Sulphur, Oklahoma. It's a beautiful spot to take in the sounds and sights of nature, and it's just a two and half hour drive from Tulsa. You'll find plenty of hiking and picnic areas at this scenic spot, so be sure to pack your camera! Little Niagara water fall in a little swimming hole in Travertine Creek with crystal clear waters and it's pretty chilly. The water averages about 65 degrees year round. Much of the water in Travertine Creek is fed from buffalo springs and antelope spring. There are 4 hiking trails and several spring mineral springs in the park.
Visitation at the park varies by month. In October through March, it's relatively uncrowded and quiet with low visitation rates during these times of year, especially during December and January. From April until September there are higher numbers of visitors who come to enjoy warm weather and pristine waters are when all campsites will be full most weekends.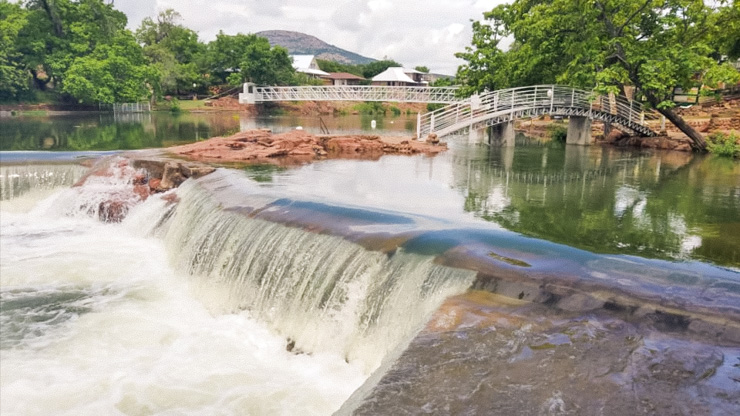 Medicine Park Falls
The small town of Medicine Park, Oklahoma is known for its round red rocks and rich history surrounding Medicine Creek. The cobblestone community was home to the Plains Indians long before it became an attractive resort with celebrities, gangsters and politicians drawn in by this serene setting. You can take a stroll along scenic trails near Bath Lake where you'll find a few delicious restaurants waiting too boot your appetite while enjoying views so beautiful they will make any city dweller feel blessed. Medicine Park Falls is located right in the the town at Bath lake where you can enjoy swimming during the warmer weather. Here you will also be able to hike through the Wichita Mountains Wildlife Refuge where you can see prairie dogs and buffalo. You can also check out lake lawtonka located just north of Lawton. This is one of the best places to see waterfalls in Oklahoma if you also like to do hiking and you also want to see lots of wildlife.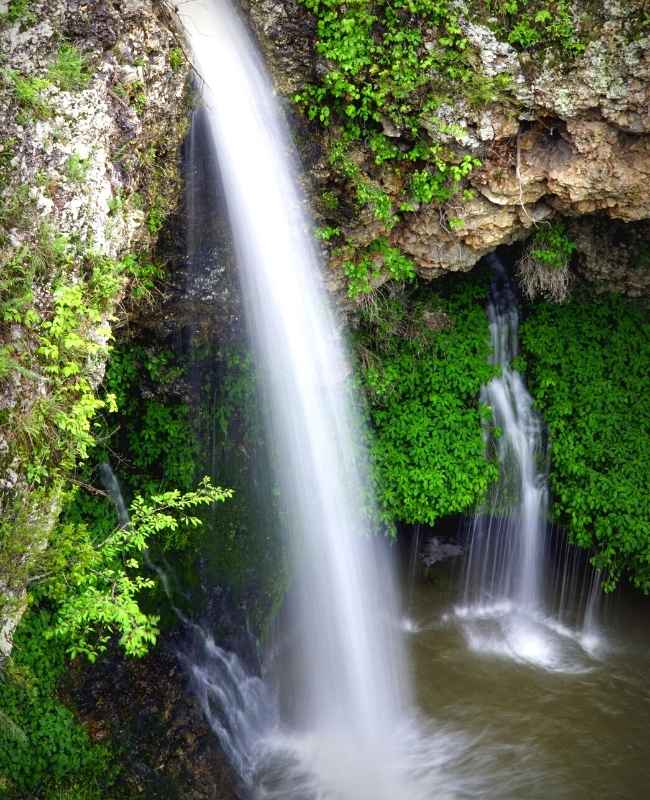 Natural Falls State Park
Natural Falls State Park ( also known as dripping springs) is a hidden gem in the Ozark Highlands region of northeastern Oklahoma in West Siloam Springs. Right near the oklahoma-arkansas border. The 77ft waterfall cascading through rock formations and creating an serene atmosphere at the bottom makes for one beautiful view, but there are many vantage points that allow visitors to enjoy this wonder all their own way! If you're a movie buff, scenes from the 1974 movie, Where the Red Fern Grows, was filmed right inside this park.
The park offers tent and RV sites and you can also rent a four person yurt. Natural Falls State Park is one Oklahoma's tallest waterfall and it's also pet friendly. There is also an observation platform at the bottom of the falls with really great photo opportunities. If you are a nature lover you might catch of glimpse of wild turkeys and white tailed deer. It's one of the best waterfalls in Oklahoma besides Turner Falls.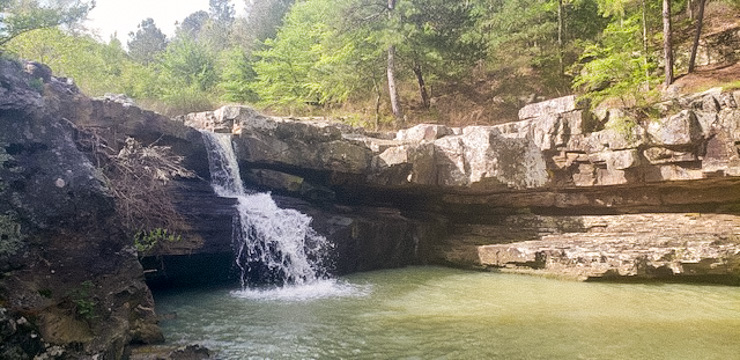 Owl Creek Falls
Owl Creek Falls is one of those hidden gems, that well there really isn't a lot written about it. It's located on San Bois WMA south of McCurtain. We want to thank our fan Chelsea Heath for bringing this waterfall to our attention. Because honestly we didn't know it existed.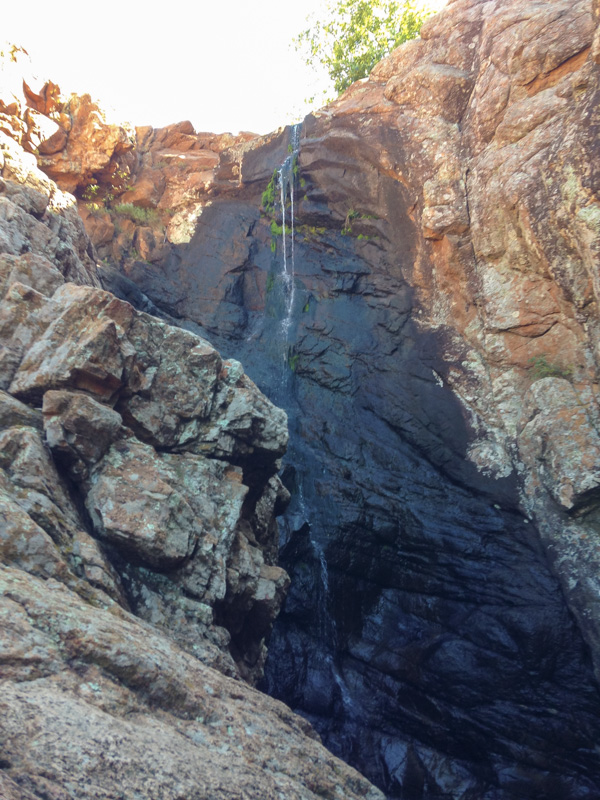 Post Oak Falls
Oklahoma is full of magnificent waterfalls. Another one that gets lots of waterfall visits is Post Oak Falls. It's located in the Charons Garden of the wichita mountains near Indiahoma, Oklahoma. here you will find dog friendly tails (leashed dogs only) and fishing. To find the falls you will want to take Post Oak Trail which is about 1.5 miles long. The trail ends in a little canyon with a small water fall. There is no swimming permitted here. There can be lots of snakes so make sure you wear some good hiking boots and jeans.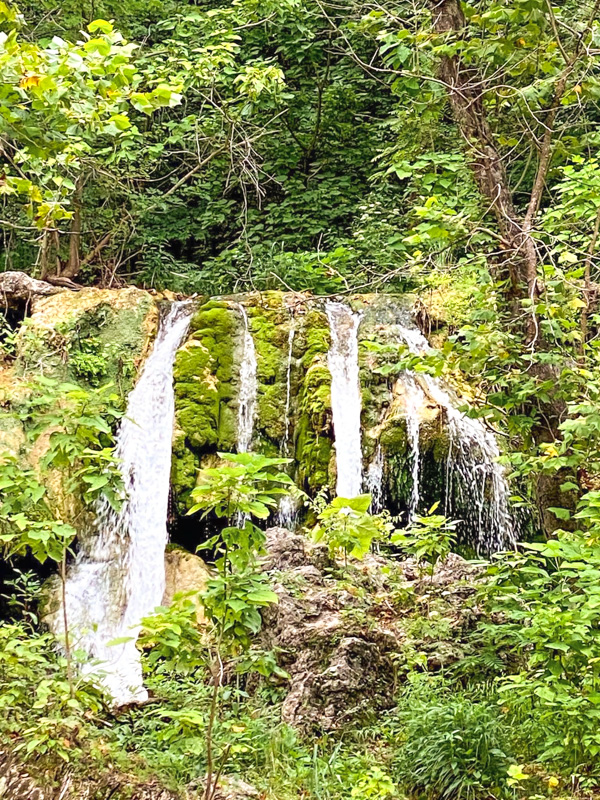 Price Falls
The Price Falls waterfall is a beautiful cascade in the woods less than six miles south of Murray County's county seat, Davis. It's located on the falls Creek campgrounds in the Arbuckle mountains. and has an elevation of 830 feet. It's popular in the summer for swimming and fly fishing. It's a great place for those who love photography. Turner Falls is located about 20 minutes west.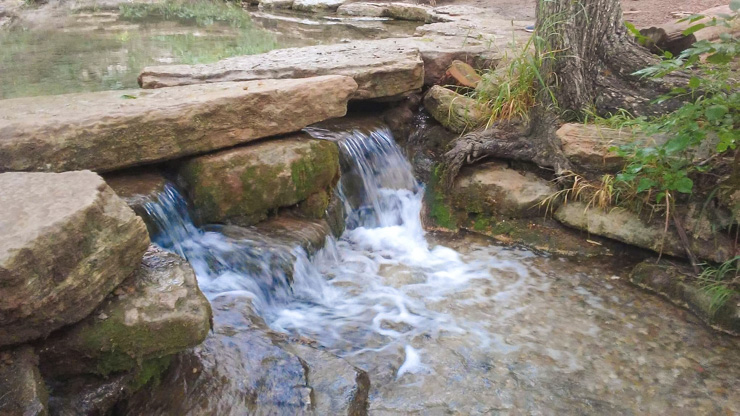 Roman Nose State Park
Roman Nose State Park, located in Watonga, Oklahoma, is also another place I have been visiting since I was a kid. It's kind of a family tradition. There are tons of hiking trails and chilly springs to walk through. If you take the Three Springs Trail which is an easy hike that will take you to two waterfalls in Oklahoma. This will also take you to the natural springs you can wade though that we talked about. From the entrance of the park do not take the right fork. You'll want to continue going straight for about 2 miles and make a right onto P10 road. Park in the parking lot and head down the stairs. Walk pass the pool on your right. You will find the entrance to the trail right behind the playground. At the entrance to the trail you find a small water fall. If you keep going on the trail, once you cross over a small bridge you will come to a small cave with a waterfall. You'll be able to wade into the creek to reach the waterfall. Don't forget the water here is pretty chilly year round because it's fed by natural springs. This is a popular spot and a great place for camping in the summer months as well.
Sand Creek Falls
Just 2 hrs away from Blue Stem Falls is is Sand Creek falls. Sand Creek Falls is located in Osage Hills State Park. This area was once a settlement for the Osage Indians. There are 20 RV sites and and 8 cabins. There are four different trails. To see the falls you will want to take Falls Trails which is about 0.50 miles and also great for fishing. The trails are dog friendly, they just need to be on a leash. Just park near the swimming pool where restrooms all also available.
Talimena National Scenic Byway Waterfall
If you love looking at fall foliage, this is the one of the most scenic spots in the state. This scenic byway is located in the southeastern part of the state and takes you through the Ouachita National Forest. Along this drive you will get to see some pretty waterfalls with the water streaming down the mountain side. It's one of the smaller waterfalls in Oklahoma.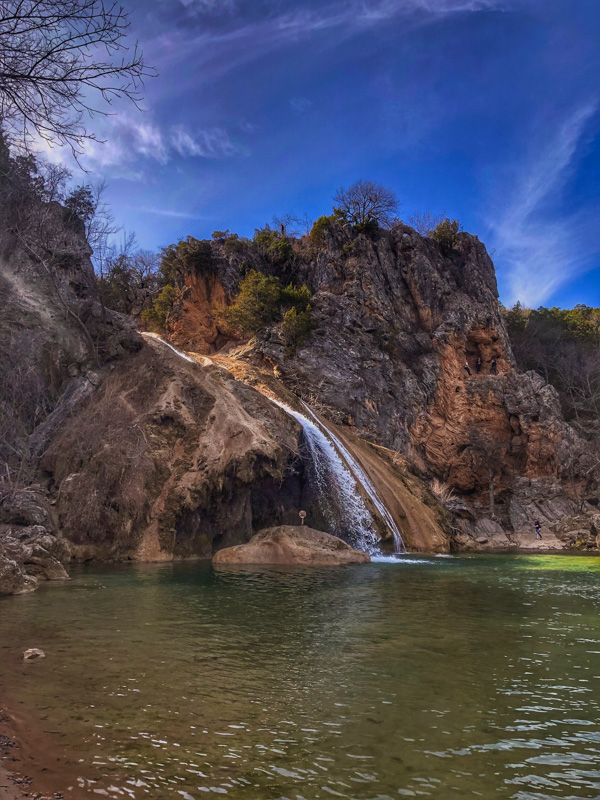 Turner Falls Park
If you're looking for an Oklahoma destination in central Oklahoma that offers something for everyone, Turner Falls Park, the oldest park in Oklahoma, is a great option with a cascading waterfall. It's located on Honey Creek in the heart of the Arbuckle Mountains.This water fall is 77 feet tall and is fed by natural springs and sandy beaches. It's one of the tallest waterfalls in Oklahoma. In the recreational area, guests can enjoy activities such as hiking, fishing, and swimming on a hot summer day. The park also features a pavilion that can be rented for special events, as well as a playground and nature center. Check out the cabin rentals here if you want to stay during the week. There is also an old rock castle that you can hike up to and explore. No matter what time of year you visit, Turner Falls Park is sure to delight. It's one of the best waterfalls in Oklahoma.
We've been going here since we were kids. There are two main natural swimming holes. One by the falls and one called the "Blue Hole". The blue hole has a water slide and a few diving areas and is a popular spots. You'll also find a few natural caves and cool rock formations. There are public restrooms, picnic tables as well as a snack shop and gift shop. Make sure you check park open times depending on the time of the year. If there has been a drought the falls may be very low and not as pretty to see. But it can also flood during heavy rains. The best time Ito visit is at the end of Summer when the weather is still great but it's less crowded. f you love swimming holes you may also want to check out some of the other bath houses like the Pawnee Bathhouse which is another natural swimming pool.
The state of Oklahoma isn't just desert plains as most people think. We are full of all kinds of natural beauty such as stunning waterfalls, lush forests, freshwater springs , hiking trails and more. Most people are planning vacations to the grand canyon or the black hills of South Dakota but there are plenty of places to visit right here in your home state. So gather up the kiddos because it's time for a road trip to see some popular waterfalls in Oklahoma. PLEASE JOIN OUR FACEBOOK GROUP.
FOLLOW US ON SOCIAL MEDIA
Don't forget to invite your friend's to our Facebook groups! We would also love to see your vacation pictures!
How I Earn Free Camping Gear:
Your're probably thinking yeah right, there is no way I can earn free camping gear. That's ok I was skeptic too, til my mom was like no this works! I mean who is going to tell mom she is wrong? So While you're looking at Oklahoma Waterfalls check this out too.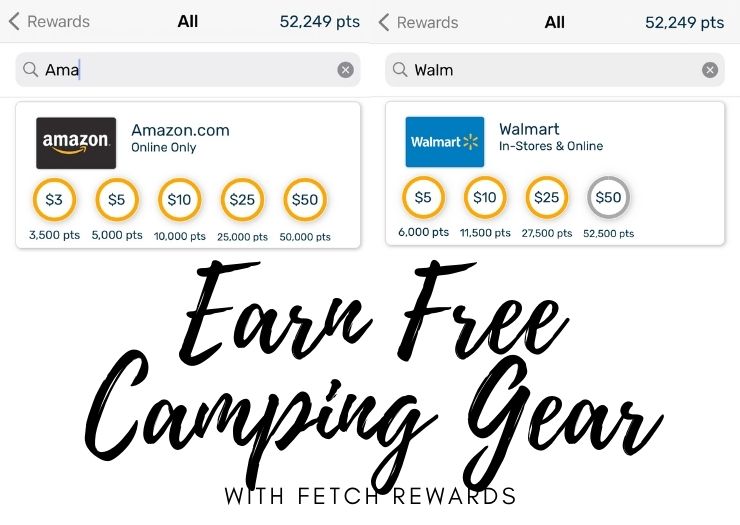 So basically all you need to do is download the Fetch Rewards app and enter the code: EF9PC and scan any grocery, hardware store, pet store or gas receipt within 7 days and you will get a bonus of 2,000 points. Grocery receipts can be up to 14 days old. You will get points for every receipt you scan and bonus points for certain brands. Then you can redeem those points for FREE gift cards like Amazon, Walmart, Cabelas and many more! As you can see I have enough points in my account right now to redeem for a FREE $50 gift card!
More Places to Visit in Oklahoma
FOLLOW US ON SOCIAL MEDIA
Don't forget to invite your friend's to our Facebook groups! We would also love to see your vacation pictures!