Juneau Alaska Cruise Port : Your Complete Guide
Juneau, Alaska is one of the most beautiful and awe-inspiring cruise ports in the world. If you're lucky enough to have your cruise ship dock here, be sure to make the most of your time by exploring all that Juneau has to offer. From glacier viewing to whale watching, there's something for everyone in the Juneau Alaska cruise port. Don't miss out on this incredible destination!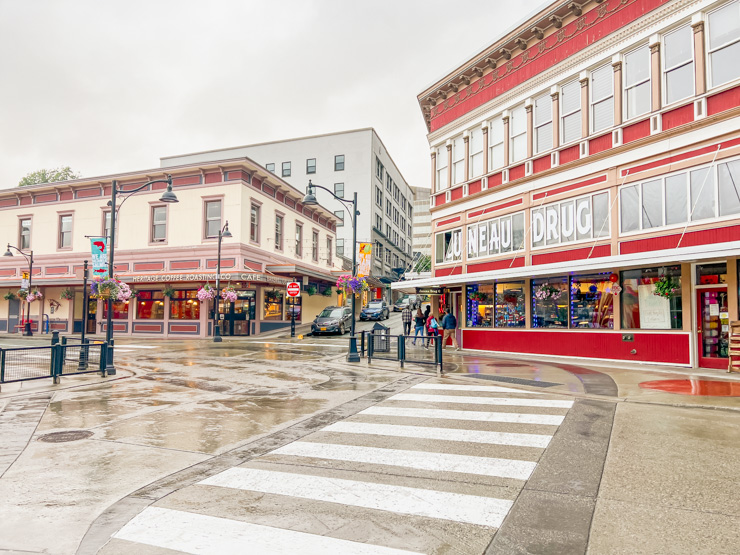 Do cruises dock in Juneau?
Yes, Juneau is one of the most popular ports for an Alaskan cruise.
What is the best time to visit Juneau Alaska?
Late spring to early fall will give you the best weather and hours of daylight. With all of the events and festivals here during the year you will find something enjoyable whenever you travel, but if you are going to go on a cruise you can expect their calendars to run from spring to fall. So basically between May and August. These are the months that you're most likely to see whales.
If you don't mind traveling during the shoulder season which is September through April, you could save a ton of money on airfare and lodging. Just remember it's going to be cold!
How many days should I spend in Juneau?
Depending on the length of your cruise is how much time you should set aside for Juneau. There is so much to see and do. You can ride the Juneau Tram, explore the Mendenhall Glacier at Mendenhall Lake, take a wildlife tour to see the brown bears, shop at the Artist's Gallery, watch for humpback whales or take a nature hike. However many days you spend here you will find many popular excursion options to fill your time at the Port of Juneau. It is the state capital of Alaska and it is the second largest city in Alaska after Sitka. From the rugged mountains and Mendenhall valley to the local artists and Glacier Bay national park there is something to amaze everyone in Juneau.
What is the rainiest month in Juneau Alaska?
September and October are see the highest rainfall in Juneau with 7-8 inches on average. August, November and December see about 6 inches of rain.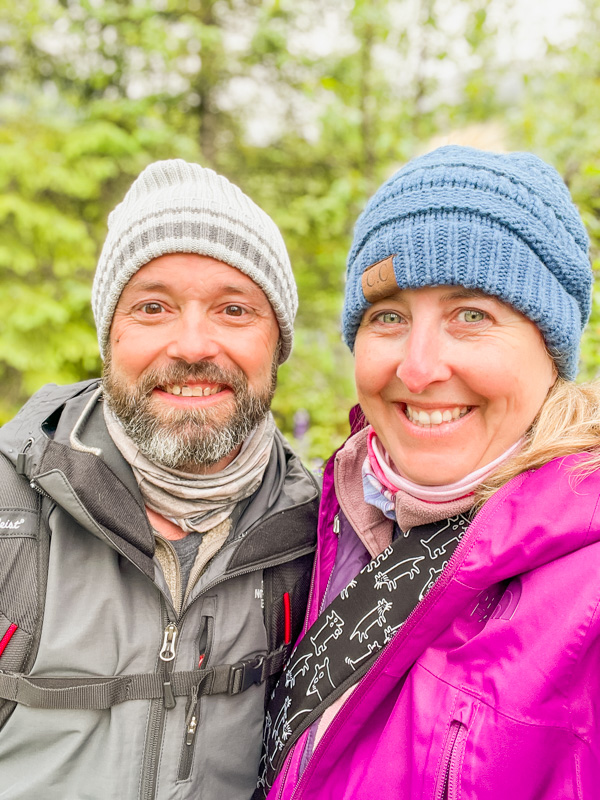 What is the coldest month in Juneau Alaska?
January and February are the coldest months in Juneau with the lows at about 20 degrees Fahrenheit and a high around 30. And keep in mind that in the winter months there may only be about 6 hours of daylight in Juneau.
Is Juneau walkable from the cruise ship?
Yes! The ships dock just at the south end of the downtown area. It is right across the street from the Mt. Robert's Tramway. Many of your tours or excursion can pick you up near the Tramway.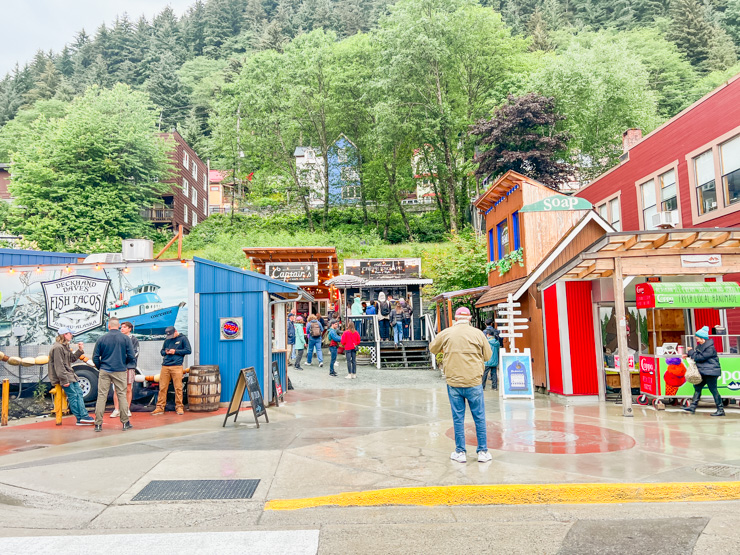 Is Juneau walkable?
There are many popular attractions within walking distance to the Juneau cruise port. Many shops and restaurants are close by for cruise passengers to access quickly. You can get a map of downtown at one of the four welcome centers in town. Right at downtown you will find coffee shops and bistros, Indian, Italian and Mexican cuisine along with pizza and amazing seafood.
Do you need a car in Juneau Alaska?
Many attractions you will want to visit are in the downtown area or have access from the Tramway, ferry terminal or shuttle bus. There are a few things that are easier to get to with a car, like the west hiking trail at the Mendenhall Glacier recreation area. If you take the bus, it drops you off about a mile from the trail head.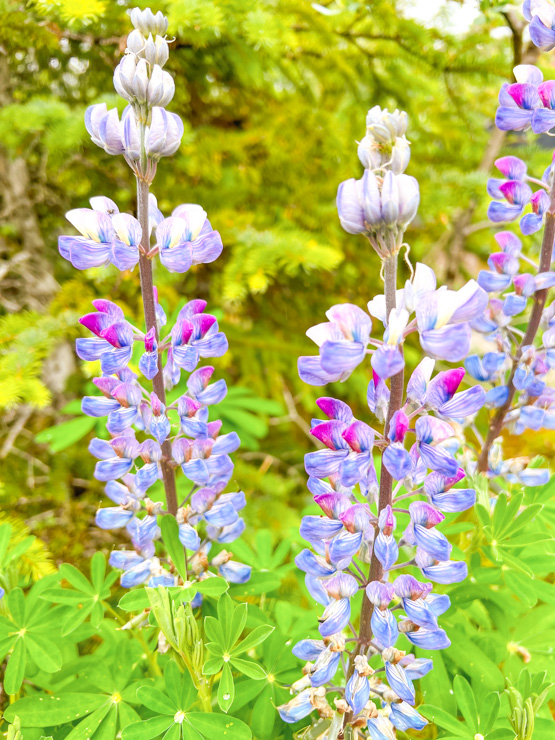 What is Juneau Alaska known for?
Juneau is known for being a great location to view wildlife in their natural habitat. We think it has to be the best Alaska cruise port. With downtown Juneau being just a short walk from the cruise terminal there is so much to see and do right away. If you are able to book a cruise tour to visit a nature center, the Gastineau channel, or one of the helicopter tours we highly recommend spending some time enjoying all that Juneau has to offer. Just remember when booking a helicopter tour , they can be canceled due to weather conditions.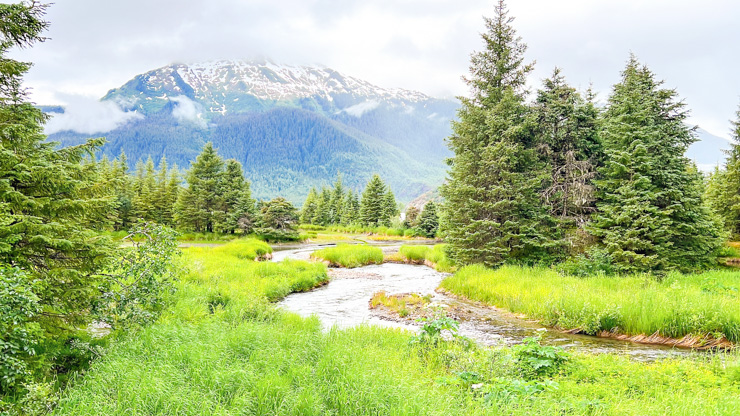 We know you have many options with the cruise lines so make sure you research all of the shore excursions available when you travel. You cannot see it all in one trip so you must prioritize items and budget for them accordingly.
How much does the Juneau Tram cost?
Daily tram tickets are $ 45 for Adults, $30 for children and toddlers are free. Call to verify prices for your travel dates as they are subject to change.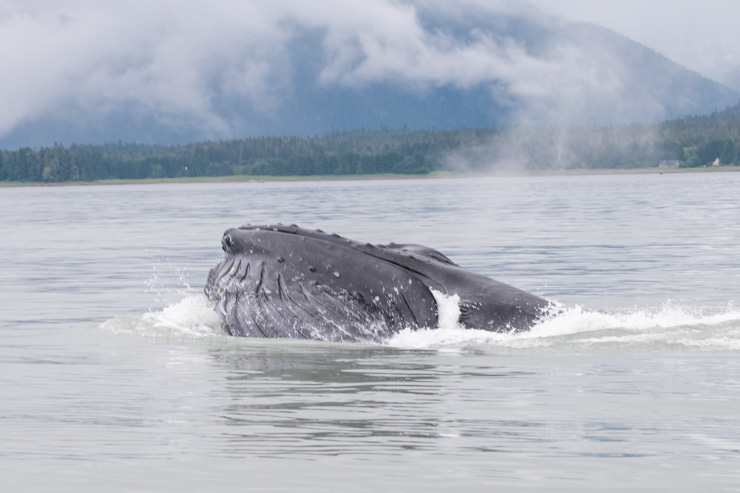 Can you see whales in Juneau?
Yes! We had the best time on our tour to the Mendenhall Glacier for whale watching in the Juneau Alaska cruise port. After a bus ride to Auke Bay there is a guided walk through nature before you get to the smaller vessel that takes you out to see humpback whales, and orcas. We got some of the most amazing photographs of our lifetime here. We booked the Alaska Whales & Mendenhall Glacier Small Group Tour through Holland America and it was fantastic! It was hard to catch them on still camera but we got plenty of video that we are posting on our Instagram and TikTok. The best time to see whales is May-August because of the whale migration.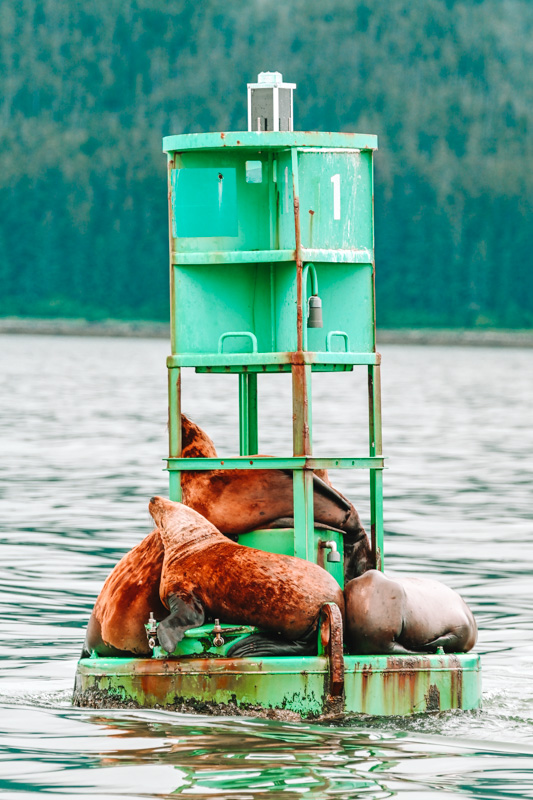 From these tour boats you can also see sea lions, porpoises, harbor seals, deer and bald eagles. Your trip begins ride in a heated safari vessel with large windows that completely open to see wildlife on the water. Your captain will guide you through Stephens Passage, and let me tell you they know the best spots to see whales. After that you will take a short, guided hike through the Tongass National Forest to the viewing of Mendenhall Glacier. Look for the beautiful purple flowers on the walk as pictured above.
The operators of this tour guarantee that a whale will be sighted on this excursion. If not, you will receive a $100 cash refund from the tour operator at the conclusion of the tour.
Are there bears in Juneau Alaska?
Yes! Juneau is home to black bears and brown bears. They thrive with the waterways and salmon population. It is common to actually see bears wandering through neighborhoods. Wildlife viewing is very popular in the Juneau Alaska cruise port. We didn't see any on this trip but we also knew the salmon wasn't running just yet. We hope to see them on our next Alaska cruise we booked which will be in the month of July when the salmon will possibly be running.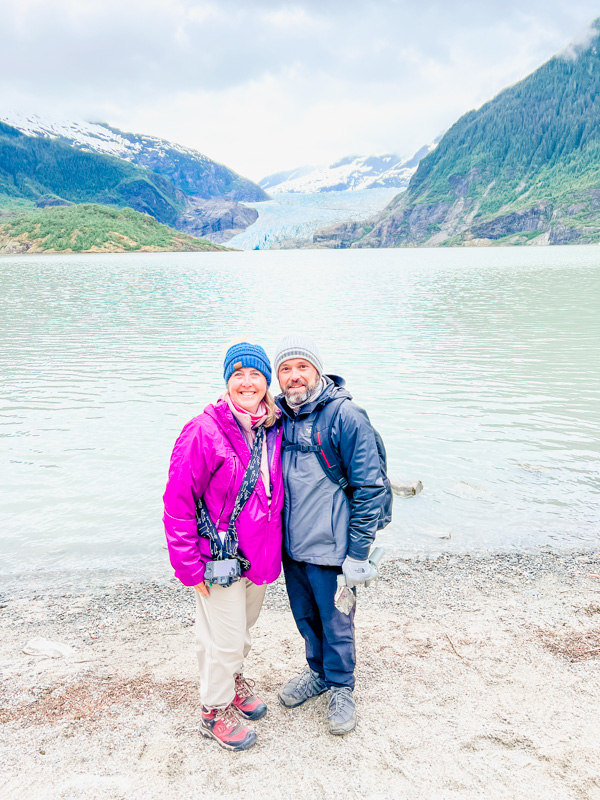 Can I see the northern lights in Juneau?
Absolutely. Juneau is a great place to go to if you want to watch the Aurora Borealis. Fairbanks is the top spot, but Juneau is still prime viewing for this phenomenon. For the best viewing venture out in a kayak. You can kayak from the coast to the Tongass National Forest or to the Mendenhall glacier. If you can ice skate you may want to try making your way out on the Auke Lake. When it is frozen, it's a great place to watch the lights in the Alaska State Capitol.
Cruise season
Alaska's cruise season is short but sweet, running from May to September. If you're lucky enough to cruise to Alaska during that time, there's a good chance you'll be docking in Juneau. Juneau is one of the most popular cruise ports in Alaska, and it's not hard to see why. Cruise ships can dock right in the heart of downtown. This means you'll be just a few steps away from all the best shops and restaurants. And if you're looking for some fun excursions, Juneau has plenty to offer. You can spot bald eagles and brown bears in the wild, explore glaciers and waterfalls, or even take a helicopter ride to get a bird's eye view of this stunning state. No matter how you choose to spend your time in Juneau, you're sure to have an unforgettable experience.
Juneau, Alaska is a beautiful place to visit and we hope you consider traveling there. The cruise industry has done an excellent job of marketing the area as a tourist destination and it's definitely worth your time to check out what they have to offer. Whether you're looking for an adventure or simply want to relax in some stunning natural surroundings, the Juneau Alaska cruise port has something for everyone. Thanks for following our blog and we look forward to bringing you more great content in the future!
Awesome Oceanside Vacations
Check out some of these awesome oceanside vacation ideas.
FOLLOW US ON SOCIAL MEDIA
Don't forget to invite your friend's to our Facebook groups! We would also love to see your vacation pictures!