Cruising The Koningsdam with Holland America
Koningsdam, aka ms Koningsdam, is a state-of-the-art vessel that debuted in 2016. As the newest ship in the Holland America fleet, she offers guests the latest in cruising amenities and technology. Koningsdam cruises to a variety of destinations, but we were lucky enough to sail on her Alaska itinerary. The seven-day trip was packed with adventure, exploration, and relaxation. Highlights included glaciers, whales, and stunning natural scenery. The Holland America Koningsdam is a wonderful ship, and we would highly recommend her to anyone considering a Holland America cruise. If you have never been on one of Holland America Cruises, you are in for a real treat.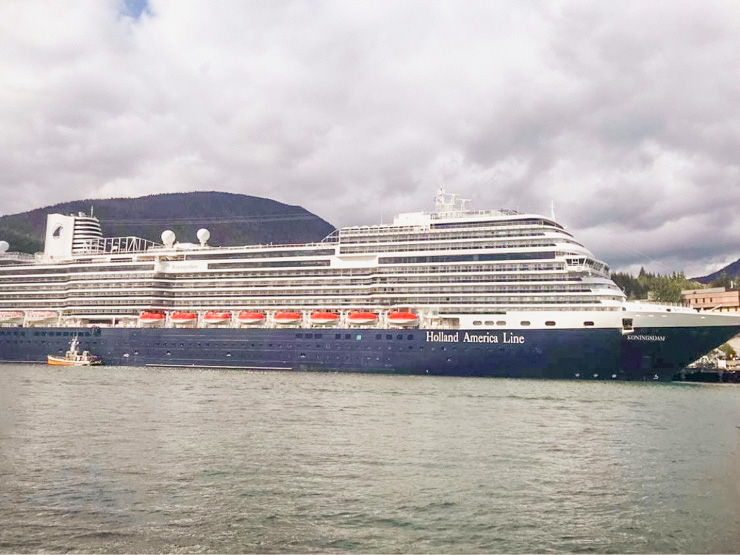 Today we are going to talk mostly about the ship itself. We have two other blog posts coming that will go over Alaska cruise and land tour reviews as well as the best time to travel to Alaska.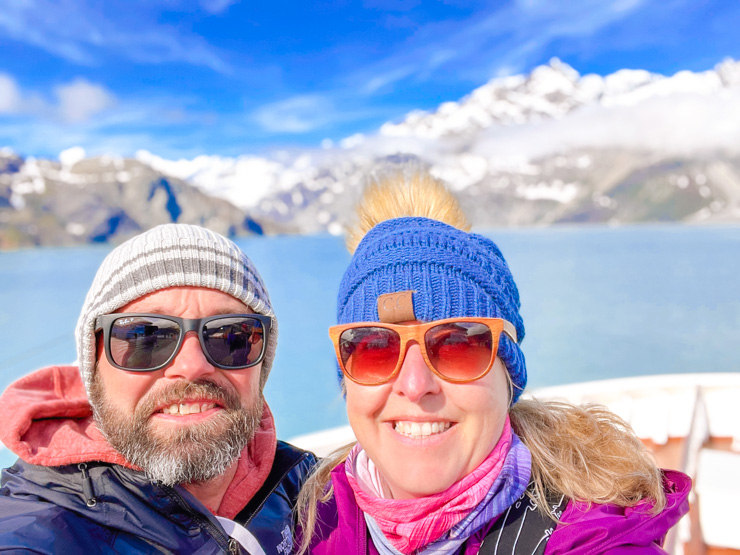 What Makes Cruising Alaska with Holland America so Special?
Cruising Alaska with Holland America is an unforgettable experience. The majestic scenery, abundant wildlife, and friendly staff all contribute to making it a special trip. One of the highlights of cruising with Holland America is the on board naturalist. T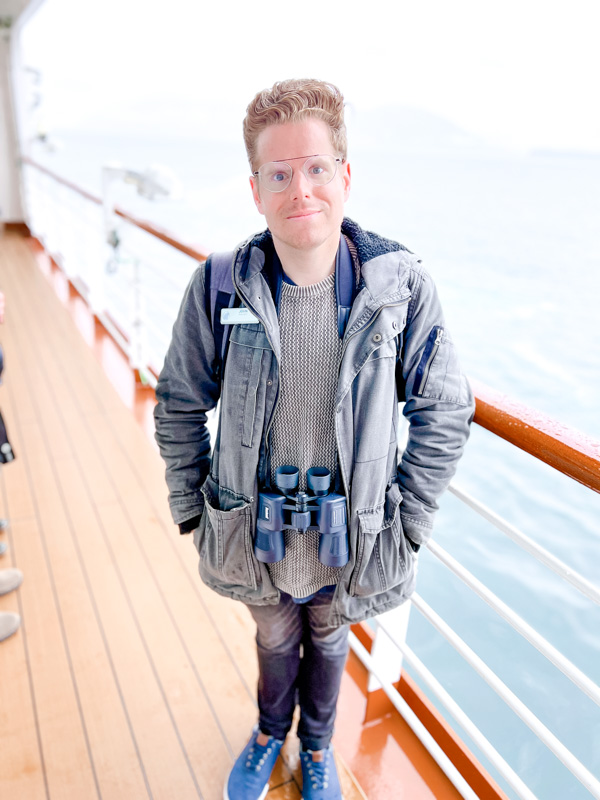 his person is on hand to give you advice on spotting wildlife and tells you the best time to see them from the ship. They also bring in park rangers to talk to cruisers about what wildlife they could see inside Glacier National Park. This added knowledge makes cruising with Holland America a step above the rest when it comes to Alaska travel.
EMBARKING & DISEMBARKING
In order to cruise Holland America, everyone is required to show their vaccination card. Everyone also had to tested before boarding. The embarking procedures went very smooth for us. We had a 12:40 arrival time and we were in our room by 2:15. At the time of our cruise, masks were required in the terminal building. Holland America also asked all guests to wear their masks indoors unless eating or drinking.
Disembarking was also super easy. Two days before we were scheduled to arrive home, they have baggage tags available at Guest Services. We just chose the time we wanted from the times available and that was it. On the day we disembarked they just call out the groups at the scheduled time. We chose 8:30 as our time and we literally walked off the ship without having to wait in a line. The first line we came to was the line for customs. We were off the ship and cleared by customs by 9:00. I'm sure experiences will vary but we followed their procedures and the time spent waiting in lines was minimal.
HOLLAND AMERICA LINE NAVIGATOR
The Holland America Line Navigator App is your go to tool for booking your dining, excursions and more. I used their app to check times for entertainment too. It even works when you are off the ship and not connected to wifi, although you may not have access to all the features. You are able to check show times, pull up your excursion tickets and view the ships itinerary. You will also be able to check your on board account statement. Make sure you download the app for free before you board the ship and write down your Holland America Login information. It's available for both iPhone and android users.
There is also a chat feature in the app. This allows you to chat with family or new friends that you made on board!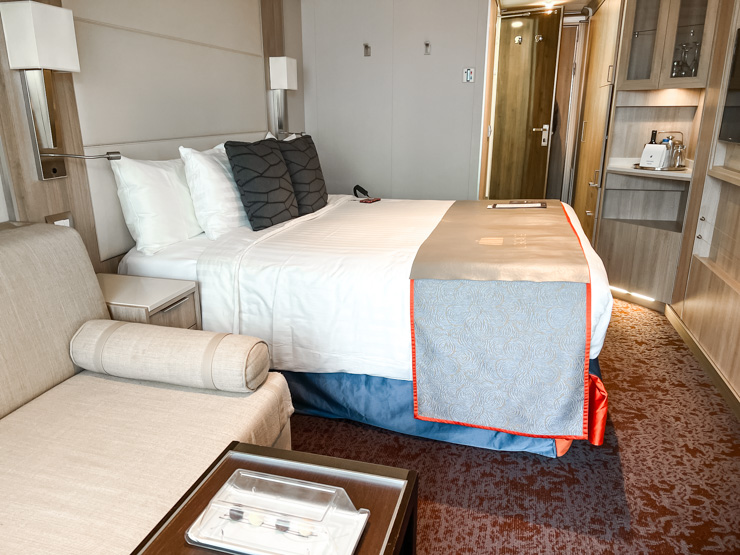 Our Cabin
Our cabin was spacious and comfortable with a large balcony. The balcony did have the life boats blocking part of our view but honestly we spent most of out time on the outer decks, not in our rooms. There is a surprising amount of storage space in the cabin. We had plenty of room for all our belongs and clothes and we are NOT light packers!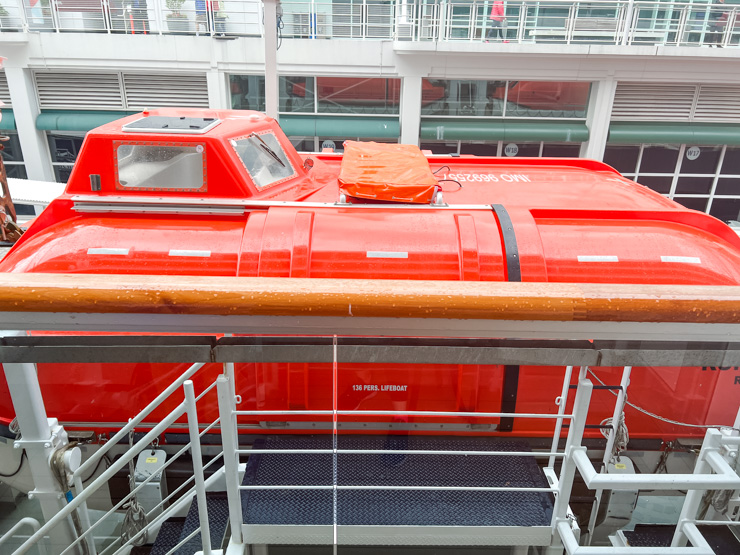 Something new they had added to the cabins on the this ship was the floor lighting. If you are like us and have to get up to go to the restroom in the middle of the night the floor lights up so you don't trip and fall on your way to the bathroom.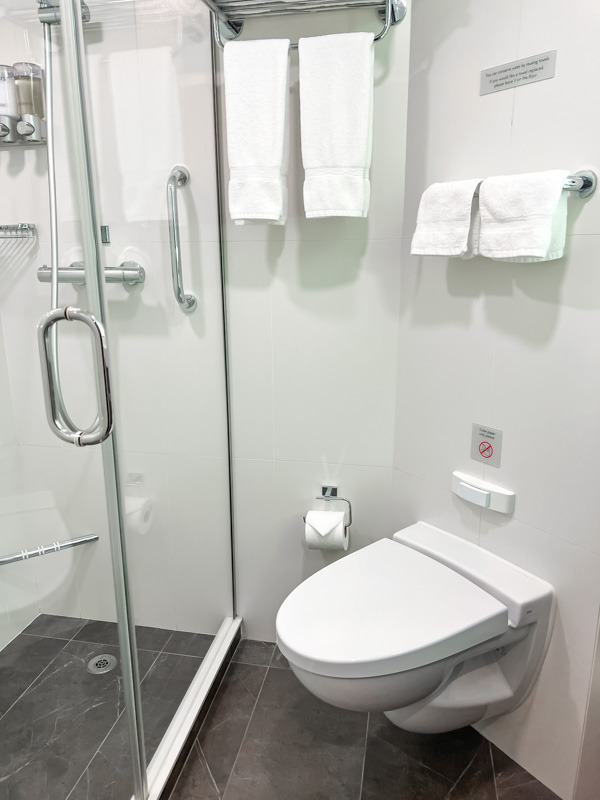 Filled with light from floor-to-ceiling windows overlooking a private verandah, these staterooms include a sitting area, two lower beds convertible to one queen-size bed—our signature Mariner's Dream™ bed with plush Euro-Top mattresses, and shower with premium massage showerheads. The configuration of staterooms may vary from the images shown.
Approximately 228–405 sq. ft. including verandah
Koningsdam Deck Plan
Koningsdam, the newest and largest vessel in Holland America's fleet, sets sail on her maiden voyage in 2016. She is a Pinnacle-class ship, and at 99,500 tons with a capacity for 2,660 passengers,975ft in length, 114.8 wide and 1,163 crew members, she is certainly an impressive sight. The Koningsdam won the "Winner Best Midsized Ship" from USA Today. You can download a PDF of all the the deck plans.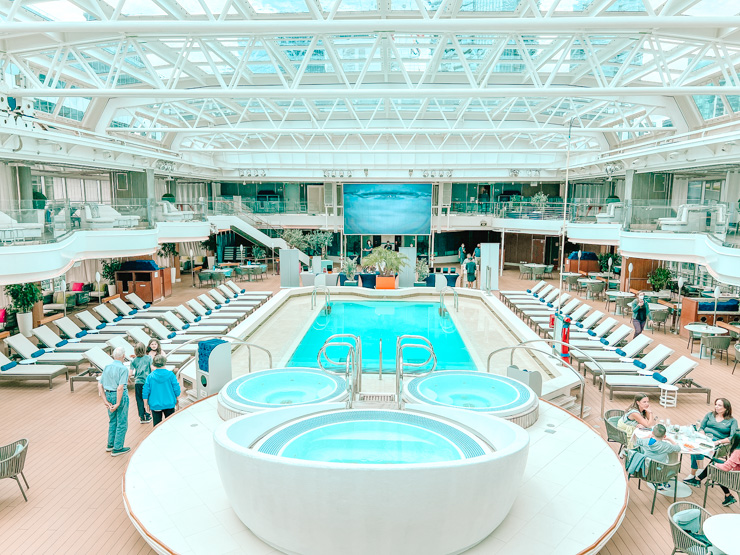 The Lido Deck
The Lido deck is one of the most popular areas on the Holland America Koningsdam. The pool and hot tubs are located here, as well as the Dive in, New York Deli & Pizza, Gelato, and where all of he movies are shown.
The Gym and Spa are also located on the Lido deck, making it the perfect place to relax and rejuvenate. Whether you're looking to soak up some sun or stay active, the Lido deck has something for everyone.
You can also find the the Sports Court, where you can play basketball, volleyball, or ping-pong on Deck 10.
Fine Dining Options
Holland America Line is known for its excellent cuisine, and the Koningsdam is no exception. The ship offers a wide variety of dining options, from elegant formal dining to more casual venues.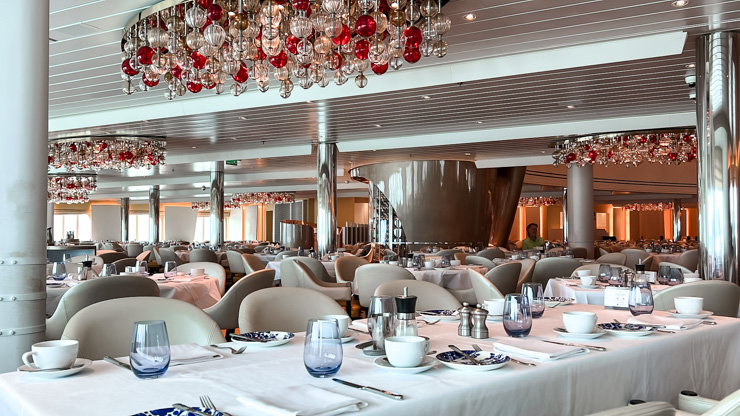 The Dining Room
The dining room on Holland America Koningsdam offers an elegant and intimate setting for a truly memorable dining experience. The menu features classic Dutch and international cuisine, beautifully presented and expertly prepared. In addition, the dining room offers an extensive wine list, featuring both old world and new world wines. Whether you are enjoying a romantic dinner for two or a special celebration with family and friends, the dining room on Holland America Koningsdam is the perfect place to indulge in a truly gourmet experience.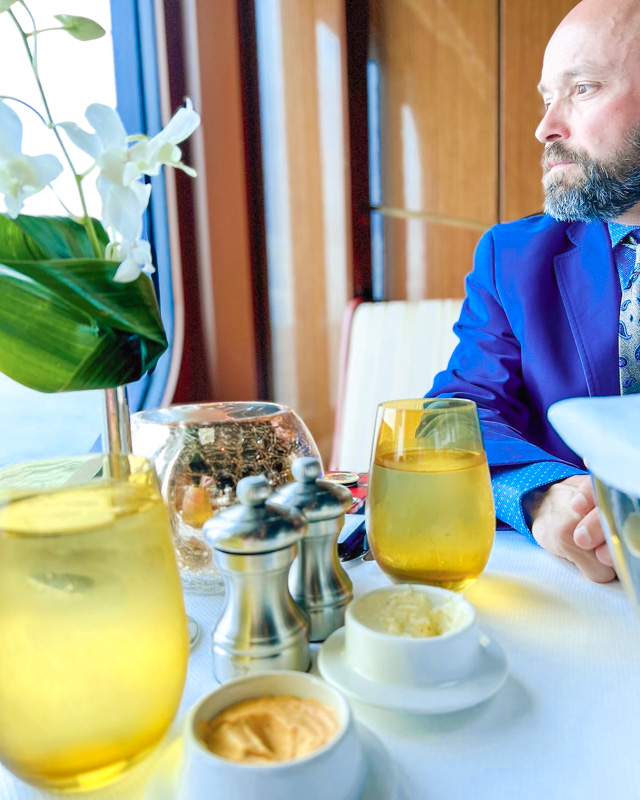 Pinnacle Grill
Holland America Line's Pinnacle Grill is one of the best cruise ship restaurants at sea. The food is exquisite, the service is impeccable, and the ambiance is elegant yet relaxed. The menu features lobster, filet mignon, and other surf-and-turf favorites, as well as an impressive selection of vegetarian dishes.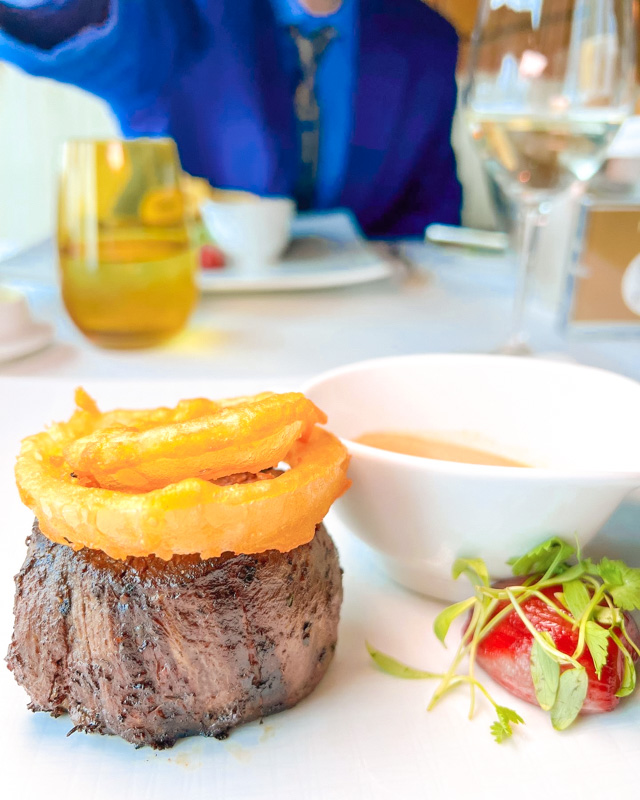 The wine list is also top-notch, with a wide variety of both red and white wines from around the world. Whether you're treat yourself to a special meal on your Holland America cruise or celebrating a special occasion, Pinnacle Grill is sure to exceed your expectations.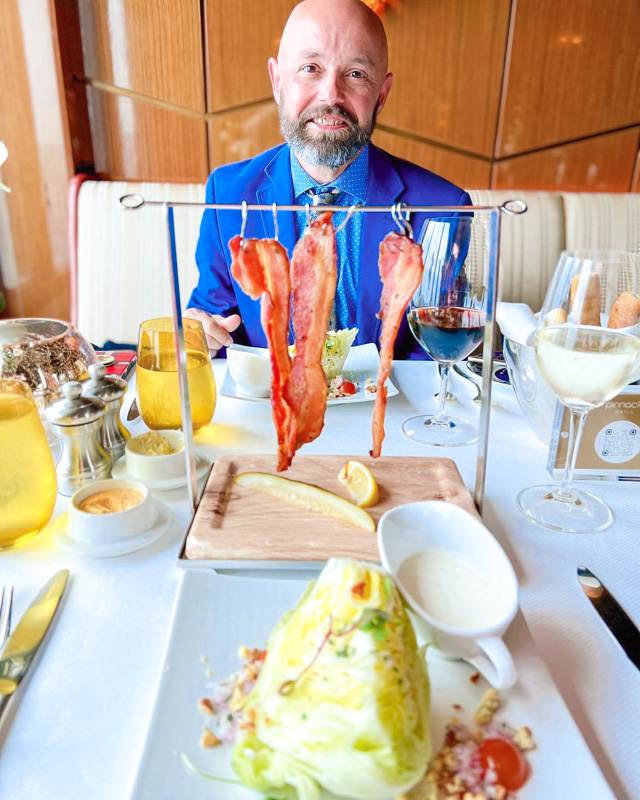 Don't forget to try the bacon! The bacon appetizer is a must. *Additional Cost*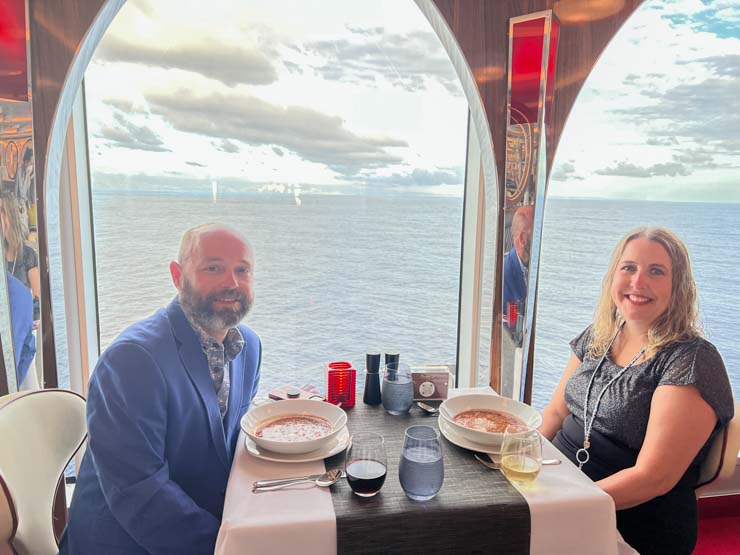 Canaletto
The Koningsdam is a state-of-the-art cruise ship from Holland America Line, and the perfect place to enjoy a meal is Canaletto. This Venetian-inspired restaurant offers stunning views of the passing scenery, and the menu features classic Italian dishes with a modern twist. Start with the calamari fritti or the arugula salad, and then move on to hearty pasta Entrees like the black fettuccine carbonara or the veal Marsala. For something truly unique, try the squid ink risotto, which is infused with a hint of saffron. Of course, no visit to Canaletto would be complete without indulging in some classic tiramisu or gelato for dessert. Whether you're looking for an intimate dinner for two or a fun night out with friends, you'll find that Canaletto is the perfect place to enjoy good food and great company. *Additional Cost*
Tamarind
The Tamarind is Holland America Line's signature Asian restaurant, serving dishes from Thailand, Japan, China, and Vietnam. Here you can explore southeast Asia, China and Japan cuisine. Their menu celebrates the four classical elements of water, wood and fire. They offer a variety of dishes that range from exotic fare such as wok seared lobsters to barramundi (Asian sea bass) in banana leaf and sushi, accompanied by chilled or heated sake. *Additional Cost*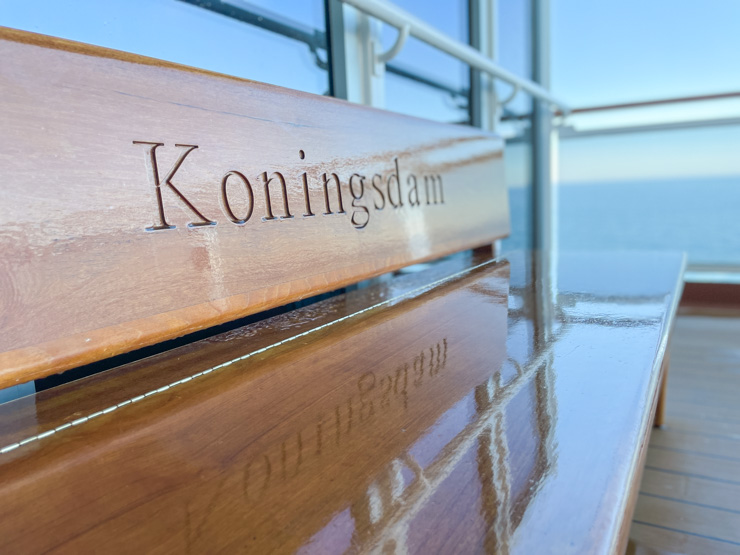 Nami Sushi
Nami Sushi is the perfect place to enjoy a delicious sushi roll from world-renowned sushi master, Andy Matsuda. With an expertly crafted menu and inviting atmosphere, this is great place to enjoy some sushi.*Additional Cost*
Rudi's Sel De Mar
Holland America's Rudi's Sel De Mar is the perfect place to enjoy classic french dishes with a modern twist. The menu features an array of savory seafood options, all of which are cooked to perfection. The dishes are beautifully presented and come with a variety of dipping sauces and side dishes. The restaurant also offers an extensive wine list, making it the perfect place to enjoy a romantic meal or celebrate a special occasion. Whether you're looking for a quick bite or a leisurely dining experience, Rudi's Sel De Mar is sure to please. *Additional Cost*
Casual Dining Options
The food onboard was excellent, especially in the main dining room where we had the opportunity to try a wide variety of dishes. The staff was attentive and always eager to please.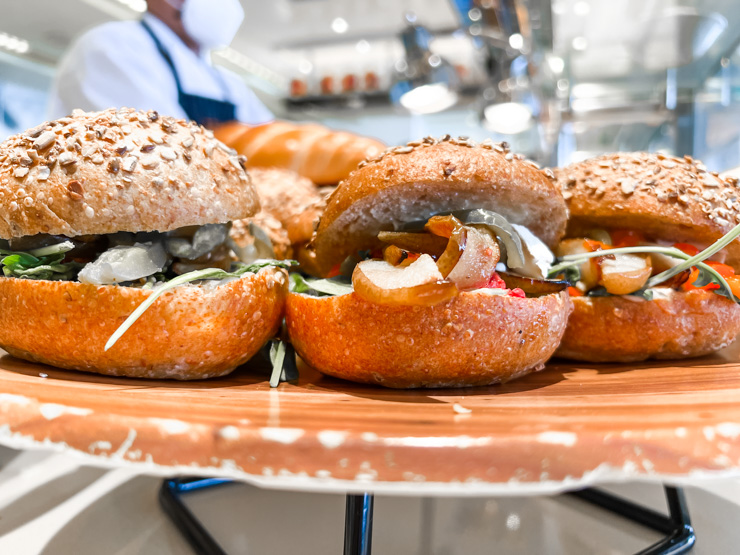 Lido Market
The Holland America Lido Market is a buffet-style restaurant located on the ship. The restaurant offers a wide variety of international cuisine, including Italian, American, and Dutch dishes. Guests can enjoy a wide range of hot and cold dishes, as well as a rotating selection of desserts. The Lido market is open for breakfast, lunch, and dinner. The market is located on Deck 9.
Grand Dutch Cafe
We spent most of our mornings here. We would grab a pastries and some coffee and watch the Alaska scenery float by. They have nice selection of pastries in the morning and have even have made-to-order Dutch specialties from open-faced herring sandwiches to apple and bacon pancakes! You can also enjoy Dutch speciality drinks or Dutch and Belgium beers here as well.
New York Pizza
If you looking for a pizza or a sandwich, this is your place. In the evenings they also have late night snacks available. I think we got a pretzel every night!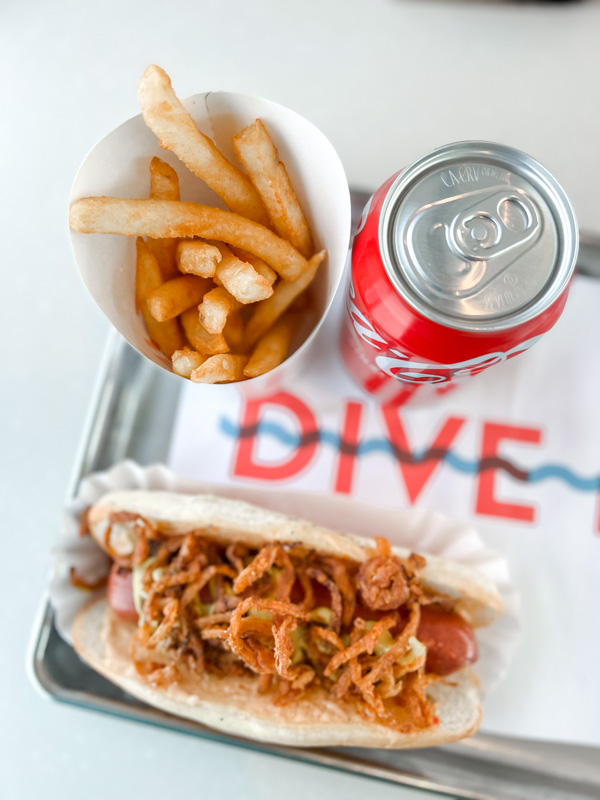 Dive In
No need to leave the Lido deck to eat lunch when you can just head over to the Dive In. Hot Dogs, Hamburgers and more are made to order. You have to try the Dive In sauce on the fries! You won't be sorry.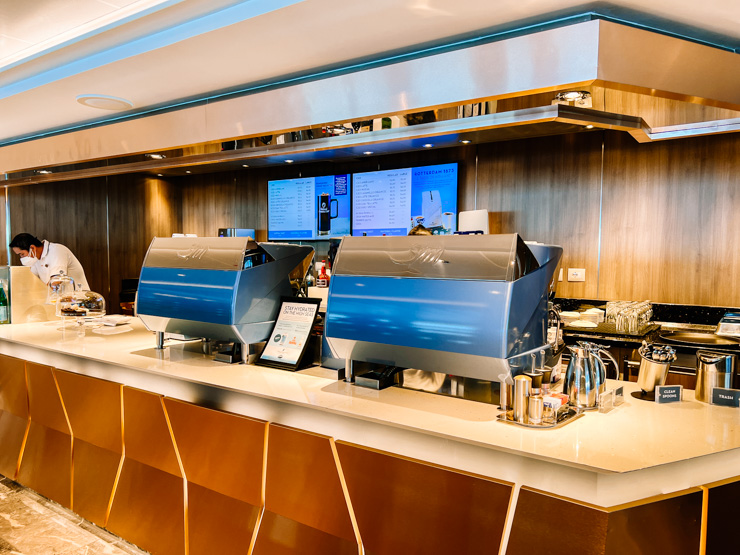 Explorations Cafe
If you like to enjoy your coffee while playing a board game or working on puzzle then head on up to Explorations Cafe. There is also a library that had books on Alaska for us to enjoy. Plus the views from high up on the bow of the ship are amazing. *Additional Cost*
Gelato
You are on vacation and calories don't count right? Holland America Line brings the delicious Italian tradition directly to you with their very own Gelato Ice Cream Parlor. Located on the Lido deck, the Gelato Ice Cream Parlor offers a selection of 12 rotating flavors of gelato, as well as sorbet and yogurt. With so many delicious options to choose from, you're sure to find a favorite (or two… or three!). *Additional Cost*
24 Hr in Room Dining
Enjoy 24hr room service on board. One morning we even scheduled breakfast to be delivered to our room. Nothing like enjoying your breakfast on the balcony! *Included with your Koningsdam Holland America Cruise *
Club Orange
Enjoy premium in room breakfast, expanded dinner menus and priority dining with the Club Orange amenities program.*Additional Cost*
Complimentary stateroom upgrade
Exclusive dining options and premium in-room breakfast
Skip the line with Club Orange priority access
Dedicated Concierge Hotline
Special event for Club Orange guests
Entertainment
The Koningsdam Holland America Cruise Line offers a wide range of entertainment options to suit every taste. From live music and piano bars to movies on the Lido deck, a casino and sports court, there's something for everyone onboard.
Rolling Stone Rock Room –
Rock out on the high seas with Holland America's Rolling Stone Rock Room. The Holland America Rolling Stone Rock Room is a nightclub on the cruise ship that offers live music and dancing. The club has a stage where bands perform every night, and there is also a dance floor. The club is open late, and guests can order drinks from the bar. The Rolling Stone Rock Room is one of the most popular nightspots on the ship, and it is usually crowded.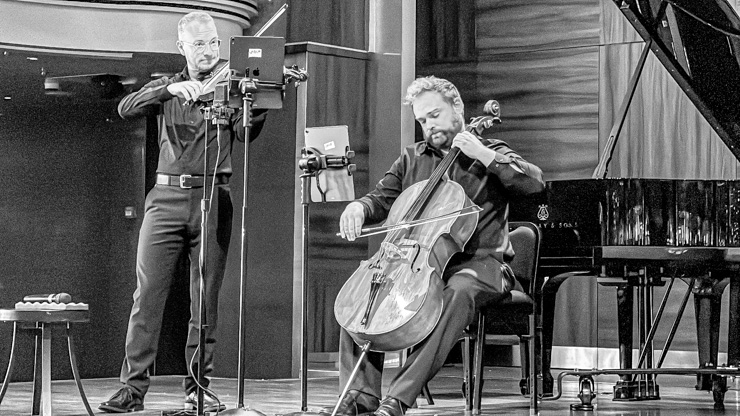 Lincoln Center Stage –
The Holland America Lincoln Center Stage orchestra is world-renowned for its musical excellence. Housed on deck 2 of the ship, the orchestra performs a wide variety of classical and contemporary pieces, entertaining guests of all ages. The intimate setting of the Lincoln Center Stage allows audiences to appreciate the skill of the musicians up close, and the acoustics are such that everyone in the room can enjoy the music regardless of where they are seated.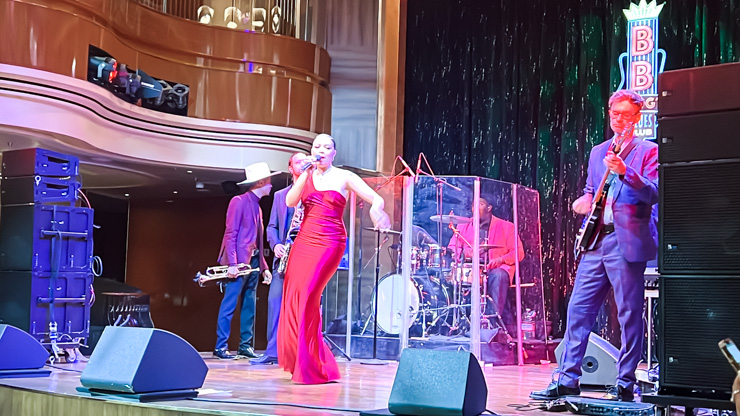 B.B. Kings Blues Club –
The Holland America B.B. Kings Blues Club is the perfect place to enjoy some live music and dancing while on board the ship. The club is located on deck 2 and offers a variety of different music genres, from blues to jazz to R&B. There is also a dance floor where you can show off your moves. We spent almost every night here on our Koningsdam Holland America trip.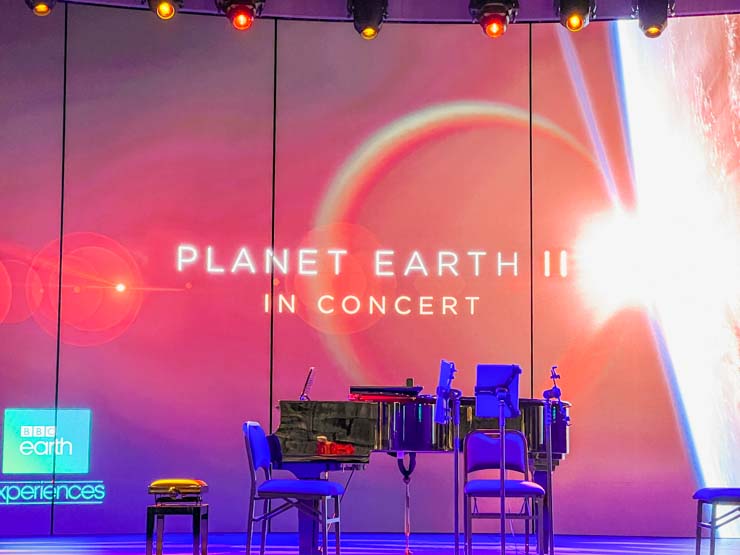 BBC Earth in Concert –
On select Holland America ships, you can experience the sights and sounds of the natural world like never before with BBC Earth in Concert. Featuring state-of-the-art visuals projected on a giant screen, the concert brings to life the beauty and majesty of the planet we call home. Accompanied by an original score performed live by a full symphony orchestra, the concert is an unforgettable journey through some of the most stunning locations on earth. From the depths of the ocean to the top of mighty mountains, BBC Earth in Concert takes you on an epic adventure that will leave you awestruck. Whether you're a nature lover or simply looking for an unforgettable experience at sea, you won't want to miss BBC Earth in Concert on your next Holland America cruise.
Billboard Onboard –
Holland America's onboard entertainment is top-notch, and their Billboard Onboard is no exception. Featuring two pianists who sing and play top hits, this Piano Bar is the perfect place to relax and enjoy some great music. Whether you're a fan of classical piano or prefer to rock out to some pop tunes, the Piano Bar has something for everyone. And with a full bar available, you can also enjoy your favorite drink while you listen. So if you're looking for some great onboard entertainment, be sure to check out the Koningsdam Holland America America's Billboard on Board, You won't be disappointed.
World Stage –
The Holland America World Stage is a state-of-the-art theater that offers live dance shows, presentations and other forms of entertainment. The theater is ,usually located on deck 2 and 3 of the Holland America cruise ship, and it features comfortable seating, great views and a wide range of productions. The World Stage is one of the most popular venues on the ship, and it's easy to see why. The shows are high-quality and varied, and there's something for everyone to enjoy. If you're looking for a fun night out, be sure to check out the Holland America World Stage. You won't be disappointed.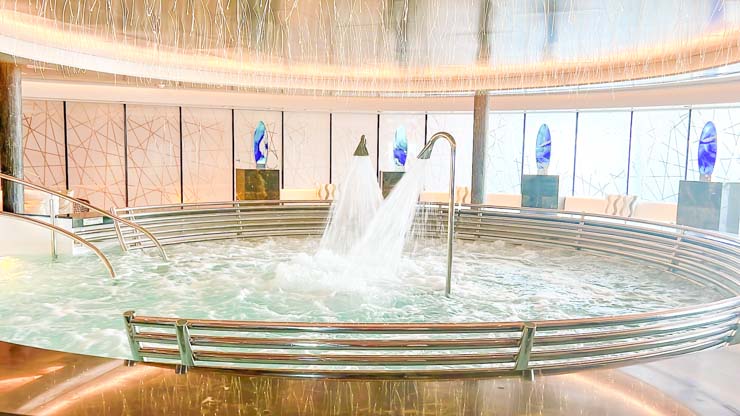 Green House Spa –
The Green House Spa aboard Holland America Line's cruise ships is an oasis of peace and relaxation. The spa features an extensive menu of treatments, including massages, facials, and body wraps. Guests can also enjoy a variety of fitness classes, including yoga and Pilates. The Green House Spa is the perfect place to unwind after a long day of sightseeing or exploring the ship. The friendly and professional staff are dedicated to providing a superior level of service, and they are always available to answer any questions you may have. Whether you're looking for a moment of calm or a complete transformation, the Green House Spa is sure to exceed your expectations.
Have you ever been on a Holland America cruise? We just got back from our trip on the Koningsdam and it was absolutely amazing! If you're thinking of planning a vacation to Alaska, I highly recommend checking out Holland America – their cruises are top-notch and they offer some great packages for seeing the beautiful state. We had an incredible time cruising through the Inside Passage ; if you want to see glaciers, bears, and pristine landscapes, there's no better way than taking a cruise on the Koningsdam Holland America. Has anyone else here gone on a Holland America cruise? I'd love to hear about your experience in the comments below.
FOLLOW US ON SOCIAL MEDIA
Don't forget to invite your friend's to our Facebook groups! We would also love to see your vacation pictures!