Is Disneyland Crowded on Halloween
Is Disneyland crowded on Halloween? Well, it seems that right now most Disney parks are crowded all the time. Let's explore some of the key things you need to know about Visiting Disneyland for Halloween and how to prepare for the larger crowd days.
Let's start off with some key things to know about Disneyland. Disneyland is in California, not Florida. It is next door to Disney California Adventure Park, but they are not the same park. Disneyland is the original Disney theme park that was designed by Walt Disney himself. If you are used to traveling to Orlando for Walt Disney World you will be pleased with how compact things are at Disneyland Park, Disney's California Adventure and throughout Disneyland Resort. When Walt Disney saw how much space was taken up and the non-Disney businesses surrounding them he decided they needed a much bigger property in Florida. Some people see this as being inferior, but I see is as fewer steps I have to take to walk from one end of the park to another. This can be especially beneficial if you are walking in Halloween costumes! (Please note that in Disney parks children are always allowed to dress up but only at special events are adults allowed to be in full costume.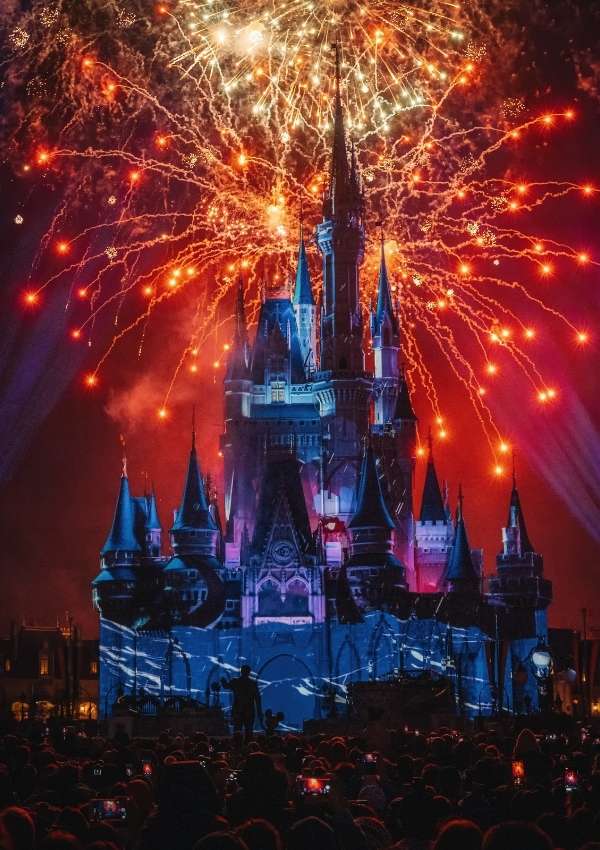 If you really want to dress up other times please research the style called "Disney Bounding") Walt Disney himself walked along Main Street, named these buildings and stayed in his 2nd floor apartment above The Town Square Fire Station. He imagined things the critics told him could never be. He shared his dreams with artists, set designers and those that would come to be known as Imagineers. They brought his dream to life right in Anaheim. He dreamed of a place families could play together, stay together, escape reality for the places only found in fairy tales. He wanted this land, his land to be a place for everyone. People from all over the world to travel to and have fun and experience magic, brought to life. Main Street was to be the Americana of his childhood. The places that made him feel safe and at home. A place he wanted for his children, and your children and my children. He dreamed a dream and spent years bringing it to life. We love to visit Disney parks, but they get such a transformation at the holidays. Let's talk about the transformation they see for Halloween.
There are some special things to know about traveling to Disneyland for Halloween, first of all let's talk about decorations and ride overlays. Some of the overlays go on the most popular attractions. Think of The Haunted Mansion wearing a costume with Jack Skellington coming to join the happy haunts. The Happiest Place on Earth has some amazing Christmas season decorations, but before that they go all out for fall and Halloween. The official Disney season for Halloween is September 2- October 31. But many guests starts to see the park start to transform in August. They have so much to put out and change over for the seasons they don't get it all done in one night. (Christmas at Disney parks starts after the last guest leaves on October 31 and it seems to transform over night, but if you go into parks on November 1st you might catch glimpses of both Halloween and Christmas. but if you go for several days that week you can experience 2 holidays in one week!)
Part of the transformations is on the rides themselves. The Haunted Mansion is the biggest change, Tim Burton's imagination takes over on the inside and the outside of the mansion. Jack Skellington and his ghostly pal Oogie Boogie bring a festive spin to Disneyland for Halloween, it's such a fun Haunted Mansion holiday. These awesome transformations are what makes these events so popular and can make Disneyland crowded on Halloween.
Located in Avenger's Campus you will also find some Halloween fun at The Tower of Tower turned Guardians of the Galaxy with it's special overlay for Halloween. You must go on a mission to rescue Groot in a Halloween themed adventure. Again, this ride will look like this September 2nd- October 31st only. Also in Disney's California Adventure you can find all of your pals from Radiator Springs…or Radiator Screams in Cars Land. You can check out Mater's Graveyard JamBOOree where you can dance to some fun tunes like "Monster Truck Smash" and "Welcome to Radiator Screams". If you enjoy a lovable Fiat like I do you want to head to the Casa Della Tires for Luigi's Honkin' Haul-O-Ween. In Cars Land you can see your favorite cars all dressed up for the event. Check out the Radiator Springs Racers and Luigi's Rollickin' Roadsters.
You will also find some of your favorite characters all dressed up for the "howl-iday". Friends like Mickey and Minnie are all decked out and ready for trick or treating. Main street celebrates with a pumpkin festival. All sorts of carved pumpkins are all over the place along with other fall and Halloween decorations that you have to see to believe. Make sure to download the Disneyland app for maps and times for all the character meet and greet locations.
You can enjoy the ride overlays and park decorations for this time of the year during regular park hours. but there is also a special event that you have to have a party ticket for and it is the Oogie Boogie bash. You can start learning about this event but it is already sold out. We know that it will be crowded because it is always sold out, if you want to purchase Oogie Boogie Bash Tickets you want to start planning your trip in the early summer months, tickets go on sale in June and sell out quickly. Tickets range from $129-$179 depending on the dates you select. The closer to October 31st you go the larger the crowds will be. You can check out the Disneyland Crowd calendar but it may not be accurate for special events, however you can deduct that park days with the highest crowds probably means that many more people plan on attending the Disneyland Halloween party or events.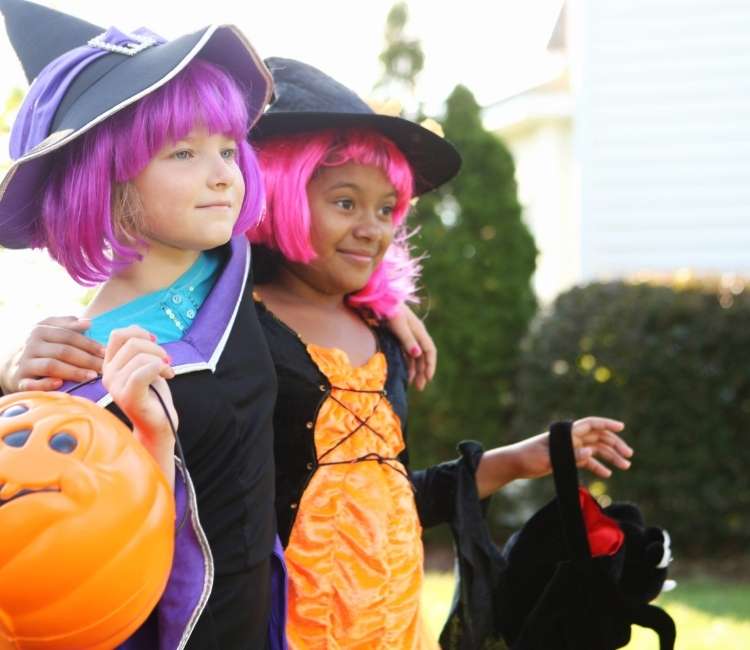 Their website described it as "Oogie Boogie Bash – A Disney Halloween Party
At Disney California Adventure Park, hang with Oogie Boogie and popular Disney pals dressed in their howliday best—select nights in September and October 2022! Don your favorite costume for a frightfully fun night of Characters, tricks and treats for Guests of all ages.
The spell's been cast! On select nights this September and October, Disney California Adventure Park will host a separately ticketed Halloween party with Oogie Boogie. This family-friendly event includes after-hours park access to treat trails, photo opportunities, entertainment, attractions, spooky fun decor and more.
Your ticket also lets you enjoy Disney California Adventure Park for up to 3 hours before Oogie Boogie Bash – A Disney Halloween Party begins. Once the party starts at 6:00 PM, you'll be treated to 5 hours of shindig shenanigans—including special Halloween-themed entertainment, attractions, Character sightings and more." Disneyland party nights can be crowded during Halloween.
With the event ticket you can enter Disney's California Adventure park before the party starts, as early as 3pm. You can gather candy along the treat trail, meet characters dressed for a costume party, and even spot some Disney villains at the Redwood Creek Trail surrounded by some spooky scenery. Of course they have special merchandise available at the events and some great food options too.
Now if you are not attending one of the party nights with a separate ticket there is still so much to see and do inside Disneyland and all over the Disneyland Resort. If you are a Disney fan you can have a great time on Main Street USA any time of year. This is why we love traveling at different times because it is like a whole new experience when you go for different events, holidays and festivals. If you are in Disneyland Park you can see all there is to enjoy at a special Día de los Muertos event in Frontierland. You can enjoy special food and themed displays and decorations celebrating the traditions of Mexico for the holiday Dia de los Muertos. Have a traditional meal at Rancho del Zócalo Restaurante located inside Disneyland.
If you are at Disney's California Adventure you can head to Paradise Gardens to La Plaza de la Familia for A Musical Celebration of Coco. There are several performances during the day, but you can also meet Miguel in between showtimes. Then head to the Mexican Árbol de la Vida (Tree of Life) where you can check out the Memory Wall and design your own masks like Dante and Pepita from the movie. You can hear the Mariachis play in the bandstand and have a meal at the Paradise Garden Grill. Make sure you check the schedule for the World of Color display on the water if you are there at night.
When planning to buy your park tickets look at the amount of time you have to visit Disneyland. If there are things in both parks you want to see but you are limited on time research the ins and outs of the Park Hopper Ticket. You can purchase single park tickets, that allow you into only one park per day (Disneyland OR Disney's California Adventure-they are not the same park though right next to each other)or you can purchase a park hopper ticket. This allows you to make reservations and enter one park and then later in the day you can walk across and enter into the other park. If you are familiar with park hopping in Orlando understand this doesn't happen the same in California.
The rules for admission are similar, but you are not hopping on a bus or the Monorail and spending a great deal of time to get to another park. DCA and Disneyland are literally right next to each other. You can cover so much ground in California since everything is so compact. Planning a Disneyland Day is not the same as planning a Disney World day. You can read up on plans and sample itineraries but you really need less time to cover a park in California.
If you want some Halloween in Florida be sure to look for Tickets for the 2022 Mickey's Not-So-Scary Halloween Party go on sale in the summer as well and may be purchased online or by calling 407-939-4240. Ticket prices range from $109 to $199 if purchased directly from Walt Disney World. Mickey's Halloween Party is not the same as Oogie Boogie Bash. You can enjoy the Halloween season at all Disney parks for sure. So if you are trying to decide if Disneyland is crowded on Halloween, Disney World may be an option if you are closer to Florida.
In previous years we've seen shorter wait times for rides if you go in early September and avoid times when most schools are on Fall break. There will always be long lines on Friday nights. Check the online schedules for park hours, reservations and do not miss a fun parade because you didn't do your homework! In Anaheim there are so many fun things to do all year long. We love Star Wars Galaxy's Edge and visiting Downtown Disney. If you go for Halloween make sure you pack accordingly and plan ahead. If you are not familiar with the weather in California you want to make sure you plan your costumes with temperatures in mind. Can your kids wear a light jacket under that princess dress? It can get cool when the sun goes down, especially in the end of October. This is a great time to experience the Halloween fun and avoid Disneyland being crowded on Halloween.
Another thing we want you to be aware of when planning a trip for a special event is dates. When you plan your trip and you pick a date to go to a special ticketed event make sure you can get there for the event. In the past few years with the pandemic Disney Parks have had to change the way a lot of things are done. With reservations and changing the number of guests allowed in at a certain time. If you buy tickets for the Oogie Boogie Bash on a Tuesday night do not buy plane tickets that have you arriving at 4pm on Tuesday. If there is any sort of delay or flight cancellation you are not guaranteed you will be able to change the date of your event ticket. If you are driving from far away or flying in make sure to give yourself plenty of wiggle room in your schedule to get there on time.
We know it is expensive for hotels and it is tempting to have fewer nights to stay in one, but you need to understand all sorts of delays could throw a wrench in your travel plans. There are shortages of airline staff and rental cars all over the world. When you plan such an expensive trip you do not want to make a mistake of trying to get too much into one day. These Halloween parties are at night, if you have little ones try to get them to a hotel and nap in the afternoon. Whenever you are going on a long trip try to plan for the worst but hope for the best. Run through all the what if scenarios. "If we fly in at this time, what if we have a longer layover?" We are driving cross country, "what if we breakdown halfway there?"
So, you ask, is Disneyland crowded on Halloween? Yes, absolutely! Can you have a great time and plan ahead to enjoy Halloween despite the crowds? Sure, just know what to expect and get familiar with what is going on at Disney Parks. Plan a park reservation, figure out mobile ordering food and even using the Genie system for rides. (oh how we miss the old paper Fast Pass system in Disneyland) You can have the best time and get your Halloween screams and thrills even if you go before Labor Day. (I do not recommend traveling over Labor Day weekend)
One great tip on working with knowing that Disneyland is crowded on Halloween is to learn how to Rope Drop and if you want to pay for certain perks like getting that Extra Magic Hour? You can get extra hours if you stay at one of Disneyland Resort's on property hotels but is that higher price tag worth it to you? It may be, you also have added conveniences when it comes to parking and transportation. So shop around and use a travel agent when looking for hotels. You can get Extra Magic Hours when you stay at Disney's Grand Californian Hotel & Spa, the Disneyland Hotel, or Disney's Paradise Pier Hotel. These are all great hotels and tons of fun for the kids. There is just something magical about staying on property at a Disney Resort. But you can also keep more in your food budget and shopping budget if you stay at a nearby good neighbor hotel/motel.
You can always make dining reservations at the Disneyland Resort restaurants as well to experience just a taste of that magic and see your favorite Disney Characters. Make sure if you want to do this or even splurge for some Character dining you plan way ahead and make those reservations. Disneyland Halloween time events can be extra special, which is what makes so many people want to head over for these events that you cannot experience the rest of the year. If you travel in September or October for regular park admission or a special event let us know what you think, is Disneyland crowded on Halloween?
FOLLOW US ON SOCIAL MEDIA
Don't forget to invite your friend's to our Facebook groups! We would also love to see your vacation pictures!