Sanibel Island Shelling Beaches
Are you looking to add some rare shells or sea stars to your shell collections? Sanibel Island is a popular shelling destination for vacationers from all over the world. Sanibel Island shelling beaches are so well know for collecting shells that they even refer to the posture of one bent over at the waist and reaching down toward the sand as the "Sanibel Stoop". Be sure to explore the beaches of Sanibel Island on your next adventure in Florida.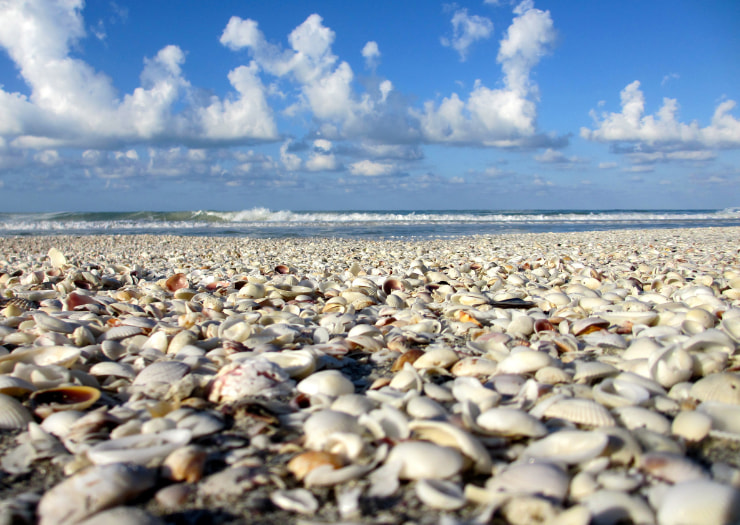 Sanibel Island is located off the coast of southwest Florida, in the Gulf of Mexico. It is one of the best places for swimming, boating, finding beautiful shells or other sea creatures.
With several Sanibel Island shelling beaches to choose from, it can be hard to decide which beach to visit or when is the best time to go shelling. Lucky for you, we have put together a guide for the best month for shelling on Sanibel Island. So pack up those flip flops and your best mesh bag and start planning your trip to this amazing destination. You won't believe how much fun you can have on Sanibel Island shelling!
Best Time to Go Shelling
Sanibel Island has something special in store no matter what month you choose to go shelling. From sweltering summer days filled with festivals and events or cool winter days spent walking along quiet beaches—there's something special about every season here! However, if we had to pick one month that stands out above all others it would have to be October – December when there are fewer people on the beach coupled with sunny skies and warm temperatures make it just right for collecting those perfect shells!
Now it is important to know how to find the time for low tide, that is key for great shelling!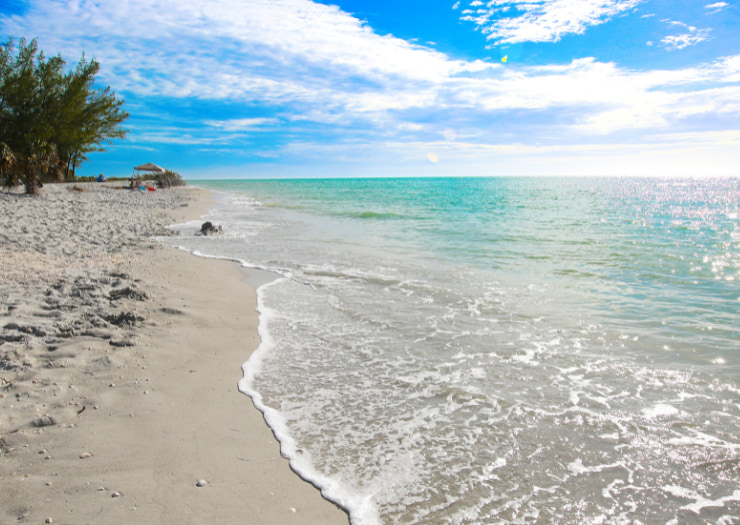 Bowman's Beach
Bowman's Beach is one of the most popular spots on Sanibel Island for shelling and other activities like swimming, sunbathing, and bird watching. The best time of year to visit Bowman's Beach for shelling is during the months of April through June. During this time of year, winds tend to blow from the north-east, bringing in a variety of shells that wash up upon shore. This makes it a perfect spot to search for some of the rarer shells that are normally more difficult to find. There are no hotels at this location but there are outdoor showers, changing rooms, restrooms and picnic tables, making it ideal for a place to spend the day.
Causeway Beaches
These beaches are great because you can park (for free!) right at the water's edge. Dogs are allowed in these areas as long as they are kept on a leash. You can swim at these locations and they have restrooms and picnic tables as well. You cannot have fires here, alcoholic beverages or launch your watercraft from these locations. So make sure your plans fit with the beach you choose to visit.
Gulfside City Park Beach and Captiva Beach
Gulfside City Park Beach is also an excellent choice when it comes to shelling on Sanibel Island. It is great spot for picnic and grilling. Captiva Beach is also great, this spot tends to have fewer shells than other beaches because it is located on a bay rather than oceanside shores. For optimal results, try visiting Gulfside or Captiva Beaches in late August or early September as this tends to be peak season for shell collecting here due to low tide levels exposing more potential finds! 
Lighthouse Beach
Lighthouse Beach (as the name implies) is home to an actual working lighthouse! This is a great place that has outdoor showers, RV parking spaces, bicycle racks and free handicapped parking. There is a fishing pier so regular parking has an hourly fee. They also have a shaded pavilion and picnic areas with barbeque grills.
There are miles of beaches to explore at the Seashell Capital of the World! These are just some of the best beaches for finding an abundance of seashells, feel free to comment and let us know where you love to hunt for shells in the state of Florida and especially the gulf-side beaches.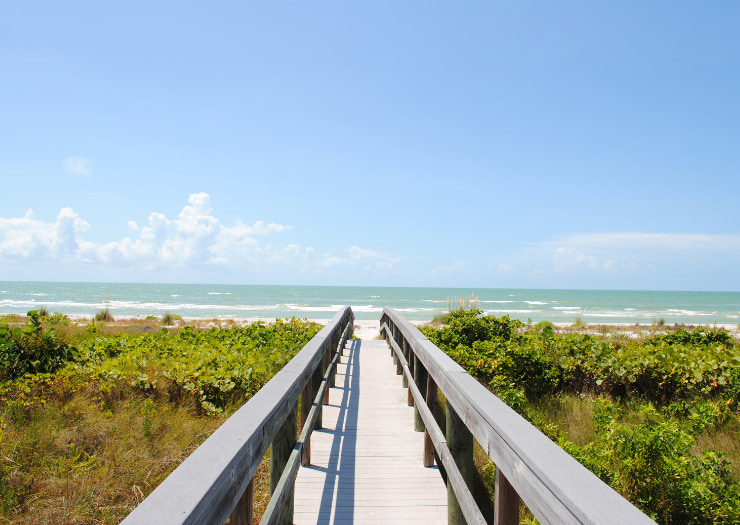 The shores of Sanibel Island are some of the best beaches for for finding several types of shells. You can find conch shells, cockle shells, Tulip shells, Junonia shells, Lightning Whelk shells, sand dollar shells, Olive shells and Coquinas shells plus maybe even more species of shells. Some of these are such unique shells they will make great additions for shell collectors. I love standing on the small sandbars when the high tide has gone out and created the best spots with a small tidal pool. Check for bubbles coming to the top of the water if you are hunting for live animals!
There are public and private beaches on Sanibel Island so depending on where you are staying you may have access to some less crowded beaches. Sanibel Island beaches can get very busy in the summer, but the public beaches are going to be the busiest. Check out the condos and timeshares available and ask about the beach access before booking your stay.
Sanibel Island is well known for its pristine beaches and stunning views—but there's so much more! With five different beaches all offering unique opportunities for shell collecting, there really isn't a bad time or place to go looking for gorgeous shells on Sanibel Island. Whether you're searching at Bowman's Beach in April or Gulfside Beach in September, there will be plenty of opportunity to find some beautiful seashells along your journey! So get out there and start hunting on those Sanibel Island shelling beaches – who knows what gems you may uncover!
Please note that some areas and Sanibel beaches have been affected by Hurricane Ian and may or may not be available at this time. Please check online or call ahead of your visit for the most up to date information on what is open and the current hours.
Awesome Oceanside Vacations
Check out some of these awesome oceanside vacation ideas.
BOOK YOUR TRAVEL THROUGH US:
You can book your travel using our affiliate links and it won't cost you any extra money. It's a great way to support our site for free.
ACCOMIDATIONS AND AIRFARE
ENTERTAINMENT & EXCURSIONS
FOLLOW US ON SOCIAL MEDIA