See the Stunning Beauty of Dubai Famous Buildings
Are you interested in exploring the famous buildings of Dubai? From the world's tallest building to a number of unique architectural designs, Dubai has some incredible structures that are worth visiting. We had the pleasure of seeing Dubai on our Costa Cruise. It's absolutely beautiful city. To help you plan your next trip, we've put together a list of the most famous buildings in Dubai. Read on to find out more!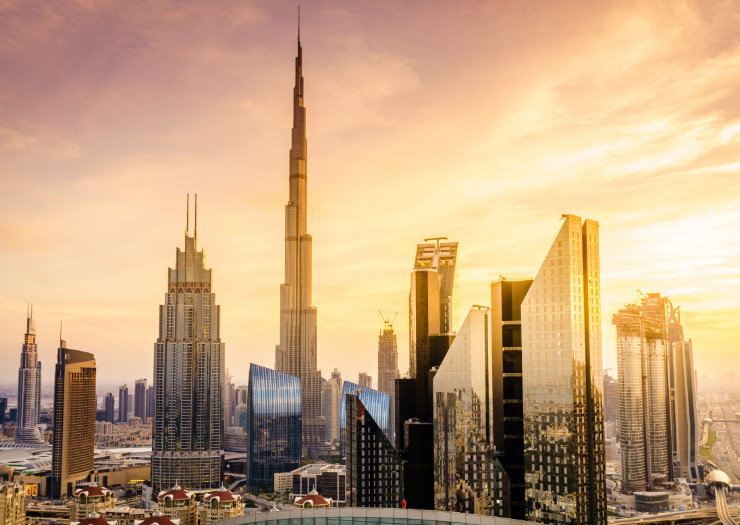 What is Dubai famously known for?
Dubai is renowned for its magnificent architecture and towering structures. From the iconic Burj Khalifa to the spectacular Palm Jumeirah and the magnificent Atlantis The Palm, there are an abundance of impressive buildings and structures that make up Dubai's skyline.
The Burj Khalifa is the world's tallest building, standing at an incredible 828m high. It is a feat of engineering and design, featuring 163 floors and containing a range of amenities such as a shopping mall, restaurants and an observation deck at its peak.
The Dubai Mall is another impressive structure in the city, home to hundreds of luxury stores, eateries and attractions. It is also home to the world's largest indoor aquarium, with a range of marine life on display. From Burj Park by Emaar you can check out great views of many of these iconic buildings and the Dubai Fountain at Burj Khalifa Lake.
Another iconic landmark in Dubai is the Burj Al Arab, the world's only 7-star hotel. Perched on top of its own artificial island, it has become an instantly recognizable symbol of Dubai's opulence and wealth.
The Deira Clocktower is another well-known landmark in the city. Built in 1963, it stands at 41m (134 feet) high and has become a symbol of Dubai's heritage and culture.
The Palm Jumeirah is an artificial archipelago constructed in the shape of a palm tree in order to add additional land to the UAE coastline. It features a range of luxury resorts, hotels and retail outlets, as well as an aquarium and waterpark.
Finally, Dubai Opera is one of the city's most impressive architectural feats. This state-of-the-art building was designed to host a range of performances including opera, ballet and theatre. A great way to see the city of Dubai is to book a double decker bus tour unless you are on a cruise and they have an excursion you want to do.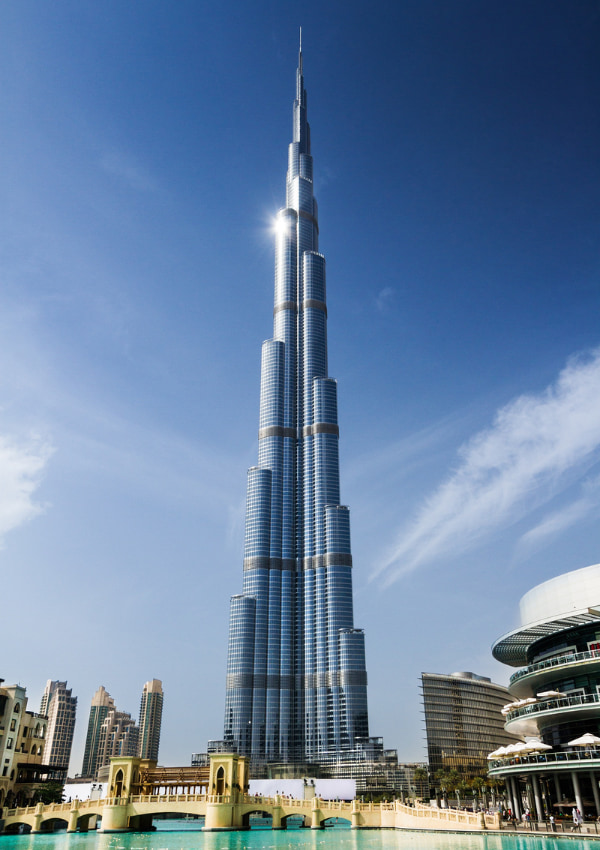 Burj Khalifa
Dubai is home to the world's tallest building – Burj Khalifa. This iconic tower stands at 828 metres (2,717 ft) tall, making it the world's tallest building since 2009. It also holds many other records for tallest building like tallest skyscraper and highest number of stories. With 163 floors and a total of 57 elevators, it is classified as a Megatall structure (buildings over 1,968 feet tall). The building has become an icon of modern Dubai, and is a must-visit for those looking to explore the city. It is home to some of the most luxurious residential apartments (over 1.85 million square feet in apartment space) and hotels, as well as an observation deck on the 124th floor which offers incredible views of the city and beyond. Up high beyond the luxury apartments you will also find restaurants and an observation deck that you can purchase a ticket to go up to.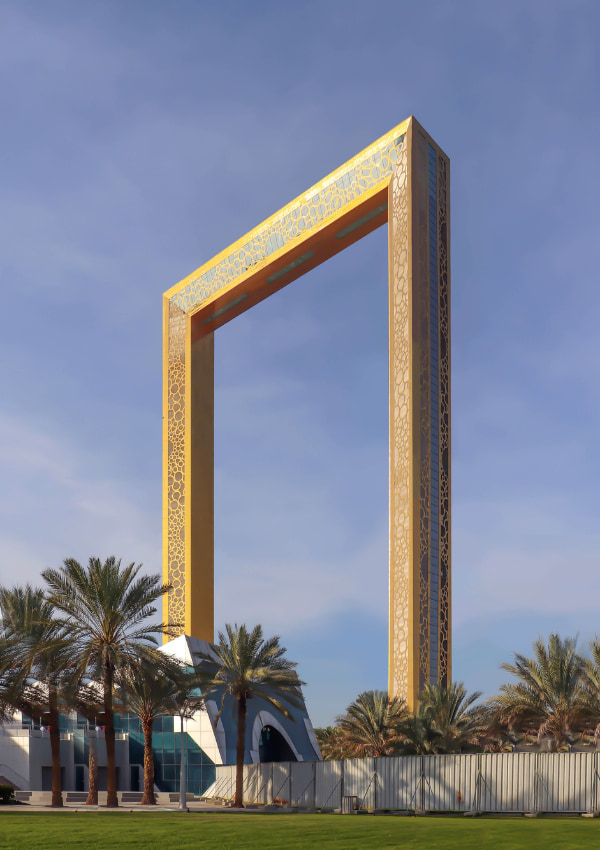 Dubai Frame
Dubai Frame is one of the city's many iconic landmarks and a must-see for any visitor. Located in Zabeel Park, it stands 150 meters high and 95 meters wide, making it the world's largest picture frame. An icon among the Dubai famous buildings.
The structure was designed to look like a huge window that frames stunning views of the city's modern skyline and historical areas. It consists of two towers connected by a sky bridge with an observation deck that offers stunning panoramic views of the city.
Visitors can also enjoy the Dubai Frame Gallery, which offers interactive presentations and insights into the city's past and present. The gallery also features some of the most iconic images of Dubai, making it a fun and informative way to learn more about the city.
The Dubai Frame is a great way to experience the beauty and grandeur of Dubai, as well as gain a better understanding of its history and culture. Whether you're looking for a great photo opportunity or simply want to marvel at the city's skyline, make sure you add this amazing attraction to your itinerary. Check their website for the most up to date admission prices and hours of operation.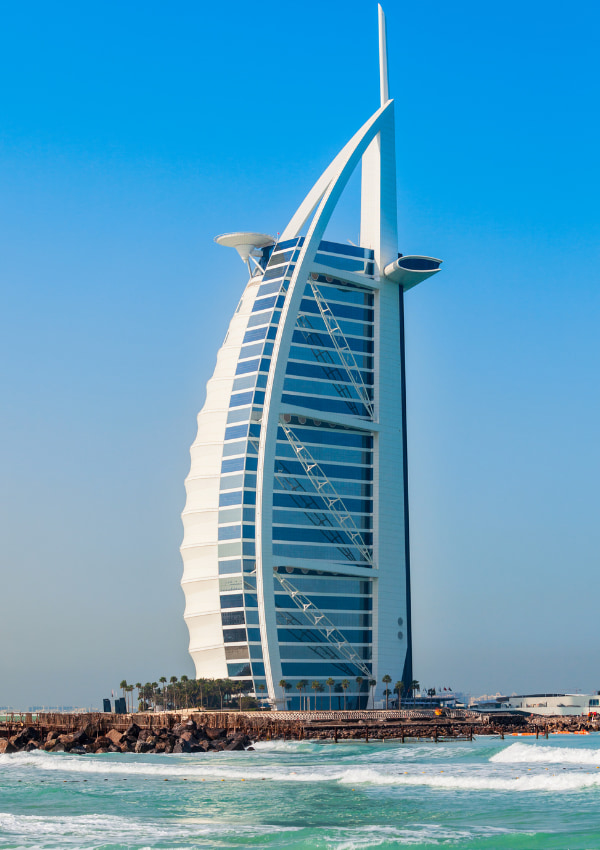 Burj Al Arab
Burj Al Arab is one of the most iconic landmarks in Dubai and a must-visit for any traveler to the city. Standing at 321 meters tall, the Burj Al Arab is a luxurious hotel that has become a symbol of the city. The building is designed in a way that resembles a billowing sail, symbolizing the maritime heritage of Dubai.
The Burj Al Arab is located on an artificial island off the coast of Jumeirah Beach and has been recognized as one of the most luxurious hotels in the world. It boasts some of the finest luxury amenities, including two helicopter pads and nine restaurants with stunning views of the sea. The hotel is also home to some of the most lavish suites in Dubai, including two seven-star suites that offer unparalleled views of the city skyline.
They have plenty of swimming options but the adult only infinity swimming pool is one of the most stunning in the world and has the most amazing views of the city.
The Burj Al Arab is a symbol of Dubai's ambition and success and a must-see destination for any visitor to the city. With its stunning architecture and luxurious amenities like the spa and infinity pools, it is no wonder why the Burj Al Arab has become one of the most iconic buildings in Dubai and is the best hotel and one of the top Dubai famous buildings.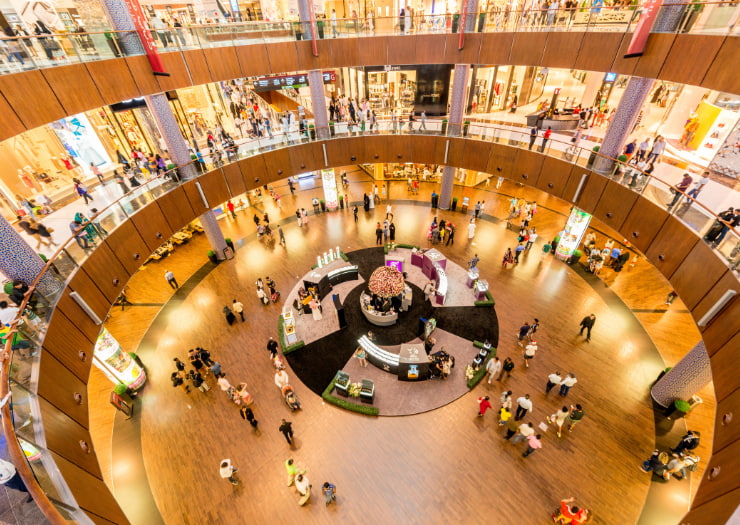 Dubai Mall
Dubai Mall is a shopping paradise for anyone looking for an unforgettable shopping experience. Dubbed as the world's largest shopping mall, Dubai Mall boasts of more than 1,200 retail stores, including some of the world's most iconic luxury brands. From fashion to electronics, you can find it all at Dubai Mall. Not to mention, the mall also offers plenty of dining options, entertainment spots, and family-friendly activities that make it a perfect destination for everyone. It is so much more than department stores and retail shops.
Visitors to the mall can take in the sights of the iconic Dubai Fountain, which puts on nightly shows that light up the night sky with music and dancing water. The mall also has several attractions including a haunted house type experience and an Olympic-sized ice rink. There are several kid-friendly activities such as a kid-friendly play area, the underwater zoo, trampoline park and a cinema complex in the shopping center.
Whether you're looking to shop 'til you drop or to just enjoy some quality time with family and friends, Dubai Mall is the perfect place to do it all! This enormous structure has definitely earned its place among Dubai's famous buildings.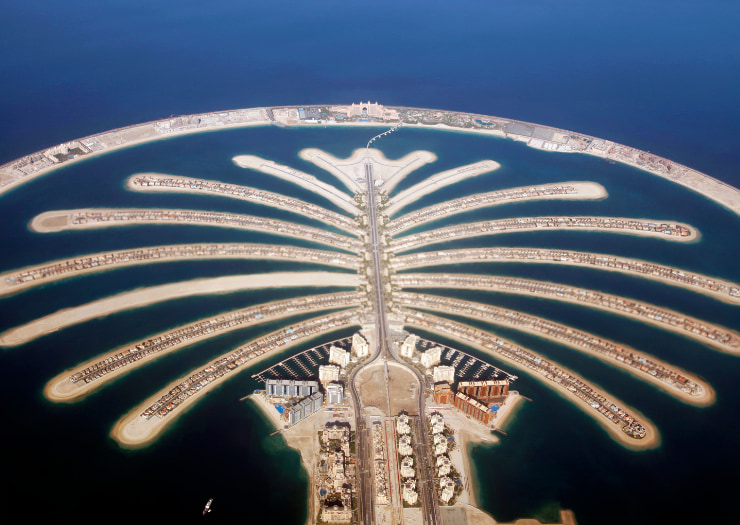 Palm Jumeirah
Palm Jumeirah is a man-made island in Dubai that is one of the most impressive feats of modern engineering. Created from a series of small islands with distinctive design, the Palm Jumeirah is shaped like a palm tree and is home to some of the most luxurious hotels and resorts in the world. With its white sand beaches, residential units with amazing views, and world-class attractions, it's no wonder that Palm Jumeirah has become such a popular destination. Whether you're looking for an incredible beach vacation with over the top guest rooms or just an amazing place to explore, Palm Jumeirah is the perfect place to go. From the incredible Burj Al Arab hotel to the iconic Atlantis The Palm, you'll find plenty of things to do and see on this man-made island. Whether you're looking for a romantic getaway or a family vacation, Palm Jumeirah has something for everyone.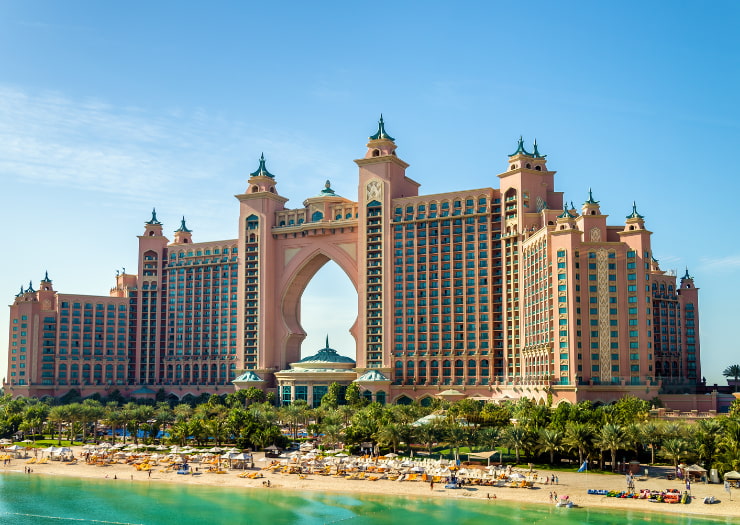 Atlantis The Palm
Dubai is a city that never fails to amaze its visitors with its grandeur and beauty. One such example of Dubai's grandeur is the iconic Atlantis The Palm. Located at the end of the Palm Jumeirah, this majestic hotel is a sight to behold.
In addition to providing its guests with luxurious accommodations and amenities, Atlantis The Palm also offers its visitors an unforgettable experience. It has an impressive collection of restaurants, bars, shops, a spa and even an aquatic theme park (Dubai is home to not only this water park but also some others of the largest in the world). Visitors can also visit the Lost Chambers Aquarium, which showcases marine life from around the world.
The majestic architecture of Atlantis The Palm is like no other. The building features a mix of contemporary and traditional elements and is decorated with vibrant colors and intricate carvings. The hotel also features a stunning main pool and one for the kiddos! Make sure to take the little ones to the Little Pirates Playground to enjoy this well themed play structure as well!
At night, the Atlantis The Palm is illuminated with bright lights that add to its mesmerizing atmosphere. This luxury hotel is a must-visit for anyone looking for an unforgettable experience in Dubai. They have more amenities than one could visit in one trip to the United Arab Emirates.
Dubai Opera
The Dubai Opera house is situated in the heart of Downtown Dubai and is a unique architectural achievement. The iconic building is designed to resemble a traditional dhow boat, and it's the first multi-format performing arts theatre in the Middle East. The 2,000-seat auditorium has the capacity to transform from a theatre into a concert hall, and even into a banquet or event hall. It houses a wide range of international performances throughout the year including ballets, operas, concerts, comedy shows, plays, and more. With its stunning design and diverse events, Dubai Opera is an absolute must-visit for any culture enthusiast. It is near the mall so it is simple to add to your itinerary if you will be in this area. Check out the dining options at this lovely building if you get a chance, great for a pre-show bite or drink.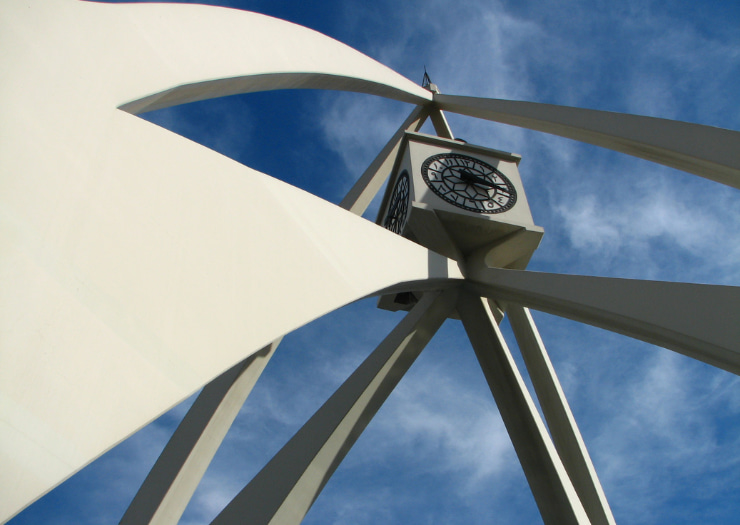 Deira Clocktower
Dubai is home to several iconic landmarks, and the Deira Clocktower is no exception. Located in the historical district of Deira, this clocktower is a symbol of Dubai's past and its commitment to progress. Built in 1963 to commemorate the visit of the then-ruler Sheikh Rashid bin Saeed Al Maktoum, it stands as a reminder of how far Dubai has come since its humble beginnings.
The clocktower stands tall in the round about in the road, making it easily visible from many places in Deira. It's also a popular tourist attraction, with many people coming to take photos of the iconic landmark. The clocktower is surrounded by shops and restaurants, making it a great spot to explore the old district of Deira.
The Deira Clocktower is a reminder of Dubai's past and serves as a symbol of progress. It stands tall over the city and reminds us that Dubai is an ever-evolving place with a rich history. A visit to the Clocktower is a must for anyone looking to explore some of Dubai's famous landmarks, even if it isn't quite a famous building in Dubai.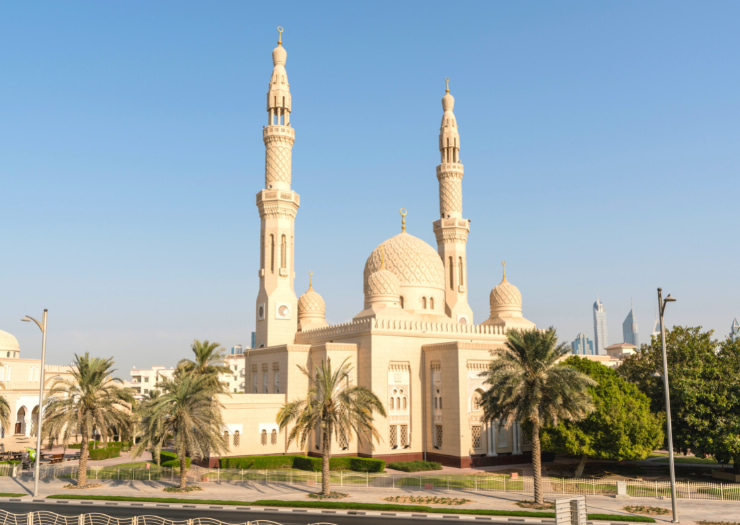 Jumeirah Mosque
Jumeirah Mosque is one of the most iconic landmarks in Dubai and is the only mosque in the city that allows non-Muslims to enter. Located in the affluent Jumeirah district, this stunning mosque was built in 1979 and is a sight to behold. Its impressive architecture and intricate design make it a popular tourist attraction, and visitors can explore the mosque's grounds in guided tours. The mosque is renowned for its stunning exterior, which features a traditional mashrabiyya (wooden latticework) façade and two beautiful minarets that soar into the sky. Inside, visitors will find a peaceful atmosphere and intricate Islamic architecture, making it one of Dubai's most breathtaking religious sites. Tours are scheduled at 10am and 2 pm daily (arrive 30 minutes early) but not on Fridays. Following the tour you can enjoy some traditional refreshments. Check their official website for guidelines on dress code to show respect when entering. Guests wearing other clothing will be asked to change, and loaned garments from the mosque.
Dubai is such a wonderful destination to add to your travel bucket list. There are so many great historical buildings of old Dubai to visit and experience the culture as well as modern resorts to relax and enjoy some luxury in downtown new Dubai. From beach getaways to cruise ships we know you will love your visit to Dubai and the famous buildings there.
More Luxury Travel Ideas:
FOLLOW US ON SOCIAL MEDIA
Don't forget to invite your friend's to our Facebook groups! We would also love to see your vacation pictures!