DIY RV Makeover – Easy Makeover Tips for Your RV or Camper
Are you dreaming of taking your family on a road trip in an RV? Or maybe you just want to spruce up your current vehicle? Getting a camper or RV can be so exciting. But what can you do when the style is not your taste or too outdated? Give it a makeover but do it yourself! If this sounds like something you are ready for, this blog post is perfect for you! We've rounded up the best DIY tips and tricks to give your RV a makeover without breaking the bank. Do not be intimidated by a DIY RV makeover for your old RV. It's a good idea and you just need to know how to get started.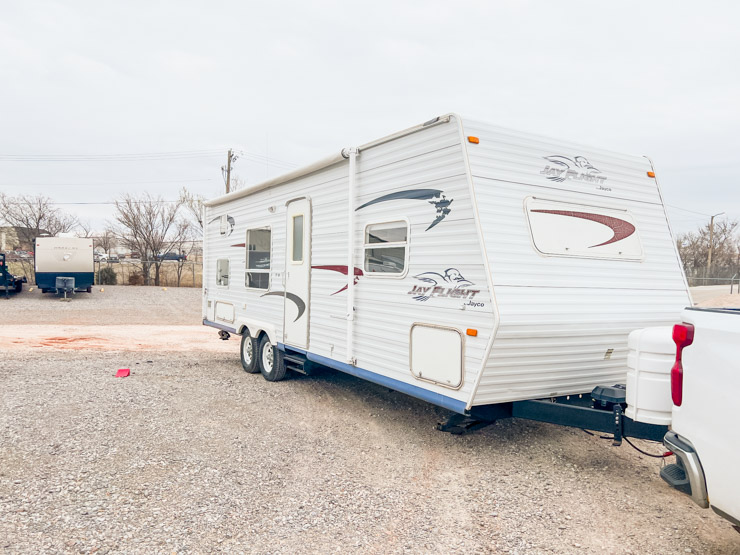 We have found so many items available but these DIYs are a great alternative. Plus doing them can make the biggest impact because you get more bang for your buck. The good news is you don't have to be an expert. Learning a new skill can be the fun part of the process that you can enjoy for years to come. A simple coat of paint and new window valences can give new life to your recreational space. 
RV Makeover Ideas – DIY RV Makeover
Embarking on an RV adventure is always exciting. When my husband and I stumbled upon a Jayco 27BH on Facebook Marketplace, we knew it was the perfect opportunity to put our personal touch on it. While we weren't planning on living in it full-time, we still wanted our RV to feel like a cozy and inviting home away from home.
We set out on a complete makeover journey. We were aiming to transform the outdated interior into a space that reflected our style and preferences. The best part was that we didn't need to make drastic and costly changes. Mainly because we weren't living in it full-time. We focused on small yet impactful updates that would make a big difference. Today, I am excited to share the before-and-after photos of our RV makeover, along with the products we used. It's not completely done yet as we still have a few finishing touches to do. I must mention that some of the products were generously sent to us by brands after I reached out to express my genuine love for their products. So let's dive in and explore the stunning transformation of our Jayco 27BH!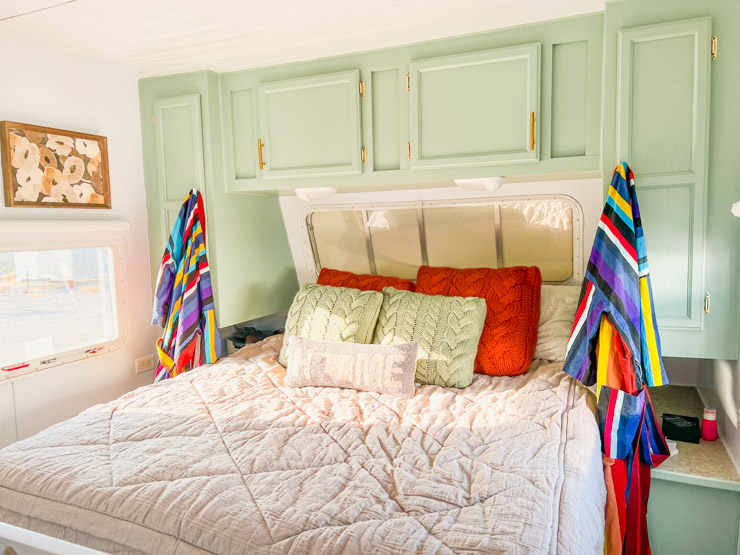 First thing first, Pick Your Color Scheme:
When working in a small space choosing the right colors can make all the difference. You want to feel cozy and have a truly inviting space. It doesn't have to be all white to feel bigger either. Look for lighter colors that make you feel calm and will feel comfortable in your RV interior.
Once you choose the colors you want you can paint the RV walls or stick wallpaper up. If you aren't ready for a big commitment like a patterned wallpaper. You can always paint a min color and add a simple wallpaper border strategically to not let the space feel overwhelmed by pattern.
Choosing the right light bulbs for bright lighting can also help the space have a more open or cozier feel. 
Painting Your RV Cabinets
Painting your RV cabinets can be a daunting task, but it doesn't have to be. With the right tools and a bit of patience, you can easily transform your cabinets from drab to fab. To get started, make sure to wait at least 24 hours after priming. Then, apply a coat of paint and let it dry for 4 hours. After that, you can add a second coat of paint. For even better results, lightly sand the cabinets before you start painting, and make sure to remove all handles and hinges.
TIP: We used a liquid sandpaper product. This helped get in the tight spaces on the cabinet doors.
If you plan to paint your wood cabinets white, use two coats of primer and two coats of white paint. With these simple steps, your RV cabinets will be looking great in no time! This one step can make a huge difference in your DIY RV makeover. You want to avoid simple water damage, so the painting process in your DIY RV makeover is important, don't skip steps. 
If you are using something like spray paint, or chalk paint you will be looking at different prices and durability, so keep all of that in mind when looking for affordable rv makeover materials. A bit of paint can give you dramatic differences but there are so many fun DIYs that go beyond paint and we want to explore all of the ways to update your living room and other spaces in your DIY RV remodel. 
Small Simple RV Updates Like Curtains, Cushions & Lighting
Once your RV's interior has been given a new coat of paint, you can focus on the smaller details. Swapping out blinds for roller shades or curtains can instantly give your RV a cozier feel and make it look larger and brighter. Adding in some plants is also an easy way to make your space look homier and more inviting. Not only will it give the space a fresh look, but it won't be as difficult as painting the walls or floors. You can also update your RV by adding new cushions and pillows, as well as new light fixtures. With all these small updates, your RV will look like a brand-new space!
Window treatments
When it comes to updating the window treatments in your RV, roller shades  / blackout shade are an excellent choice. Not only do they offer privacy and light control, but they also add a touch of modern elegance to your living space. During our recent shopping trip to Home Depot, we were pleasantly surprised to find the perfect roller shades for our RV at an incredible discount. The representative informed us that they were marking down the roller shades, allowing us to score them for over 50% off their original price. It was a fantastic deal that made the upgrade even more satisfying.
With an array of styles, colors, and sizes to choose from, Home Depot offers a wide selection of roller shades that can fit any RV window perfectly. Whether you prefer blackout shades for a restful sleep or light-filtering shades to maintain a bright and airy atmosphere, you can find these at Home Depot or IKEA. By taking advantage of their discounted prices, we were able to enhance our RV's aesthetics and functionality without breaking the bank. Do your research and don't be afraid to shop around for deals during your DIY RV makeover. 
If you like lots of natural light in some spaces but maybe not sleeping spaces, look for ways to use different types of curtains. Maybe find the same color scheme or neutrals that match the interior walls to complete your interior design. 
Updating Your RV Kitchen
Are you ready to give your RV kitchen a modern and sleek upgrade? Look no further than RVFaucets.com for a stunning selection of black faucets that will instantly elevate the style of your space. If you're going for a contemporary look with concrete countertops, black faucets are the perfect complement. They add a touch of sophistication and contrast that can transform your kitchen into a stylish culinary oasis.
RVFaucets.com offers a wide range of designs and finishes, ensuring you'll find the perfect faucet to match your aesthetic preferences. With their high-quality construction and durable materials, these faucets are not only beautiful but also built to withstand the rigors of RV life. Don't forget everything you add to your camper, RV or travel trailer adds weight and these faucets look heavy but they are actually pretty lights which is awesome. New fixtures and paint are a great option to bring new life to an outdated space
Don't stop now!
While upgrading your faucet, why not optimize your kitchen space as well? An under-the-countertop paper towel holder is a genius space-saving solution. By keeping your paper towels neatly tucked away, you free up valuable counter space and maintain a clutter-free environment. These holders are easy to install and provide convenient access to paper towels whenever you need them. Streamline your kitchen workflow and create a more functional and efficient space with this simple addition.

Having Airhood in your RV would be a game-changer for your culinary adventures on the road. As the world's first portable kitchen air cleaner, it offers a plethora of benefits that will enhance your cooking experience. One of its primary advantages is its ability to reduce grease, smoke, cooking odors, and oil residue from forming while you whip up delicious meals in the compact kitchen space of your RV. This not only keeps the air fresh and clean, but it also minimizes the risk of unwanted lingering smells. Moreover, Airhood is specifically recommended for use with electric and induction stoves, making it compatible with most modern RV setups. So, whether you're preparing a quick breakfast or indulging in a gourmet dinner, having Airhood by your side ensures a pleasant and clean cooking environment, making your RV journey even more enjoyable.
We also picked up this cutting board from IKEA. We have it sitting on the top of the stove and this gives me more food prep space! I installed 4 rubber feet on the bottom to keep it from sliding around.
Backsplash
To complete your kitchen transformation, consider updating your backsplash with peel and stick tile. This cost-effective and DIY-friendly solution allows you to achieve the look of expensive tile without the hassle of a major renovation. Peel and stick tiles come in a variety of colors, patterns, and finishes, including sleek black options that will coordinate beautifully with your new faucet. Whether you prefer a classic subway tile or a bold geometric design, the possibilities are endless.
However, let me say that using peel and stick tile is not as easy as everyone says it is. My daughter is pretty crafty and she almost pulled her hair out trying to help me with the peel and stick tile. It was hard to cut and you had to line it up just right. So we ended up just doing a small section and didn't go as far as we'd like but it still looks great.
Sometimes it's the small things
Don't overlook the small details when updating your kitchen. Swapping out outdated drawer pulls, hinges, and cabinet knobs can make a surprising difference in the overall look and feel of your space. Consider selecting black hardware to match your new faucet and create a cohesive and modern aesthetic. Or you can go for contrasting colors like did with black and gold! With an array of styles and designs available, you can customize your kitchen's appearance to reflect your personal taste and style. Replacing these small fixtures is a quick and budget-friendly way to give your cabinets and drawers a fresh and updated look. We also added a dow rod that we bought at Home Depot to the front of the spices to hold them that we have painted gold to match the handles.
You can also select bold and modern contact paper to line your drawers and shelves that compliment your other updates in your DIY RV makeover. 
By incorporating these simple yet impactful updates, you can transform your RV kitchen into a stylish and functional space that will make cooking and entertaining on the road a true pleasure. From black faucets to space-saving solutions, every element plays a part in creating a kitchen that is both beautiful and efficient. So go ahead, let your creativity flow and give your RV kitchen the makeover it deserves!
When choosing what you want to install think of how much use it will get. A few camping trips a year is nothing like living in your fifth wheel or RV full time. So make sure to get quality supplies in your prep work that will last a long while if you are doing more than a few short trips a year. 
Updating RV Furniture
Are you tired of staring at that outdated and worn-out furniture in your RV? Well, my fellow adventurers, it's time to give your mobile home-on-wheels a stylish makeover!  And guess what? I've discovered two game-changing solutions that will transform your space without breaking the bank!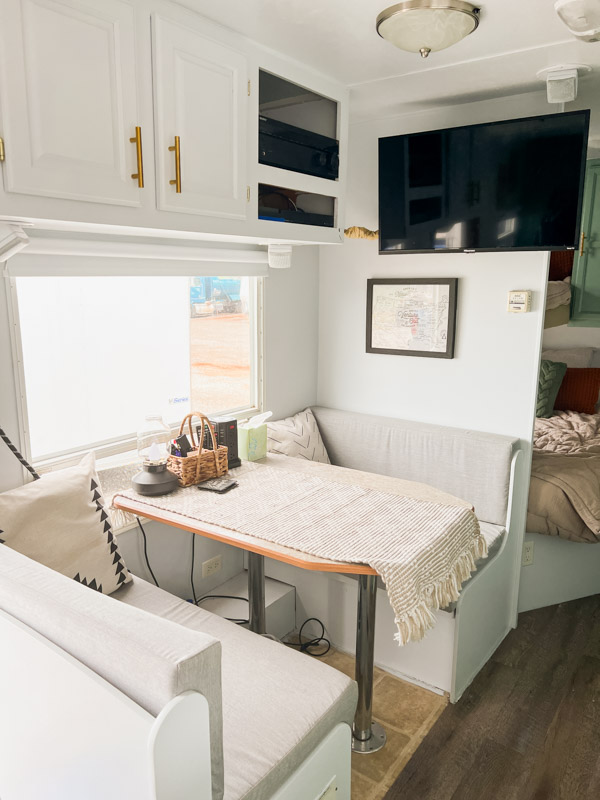 First up, let's talk about those dinette cushions. Say goodbye to the lumpy, uncomfortable seating and hello to a cozy dining experience!  Head on over to TheSewShackLLC on Etsy, where you can order custom-made cushions that will fit your dinette like a glove. With their wide range of fabrics and impeccable craftsmanship, you'll be sitting pretty in no time! The RV manufacturers don't make these to last forever or to suit your taste, it's a more general basic look. Take this opportunity to find the best style for you.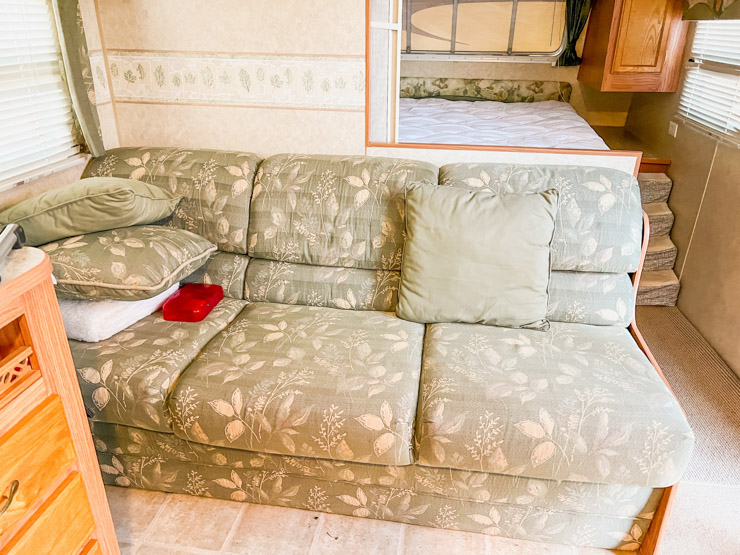 But wait, there's more! Let's not forget about that old, dull-looking couch that's seen better days. Instead of shelling out big bucks for a brand new one, I've got a budget-friendly alternative for you—futon covers!  Simply find a stylish futon cover that matches your RV's aesthetic and slip it over your existing couch. Voila! Instant transformation! Your couch will go from drab to fab in a matter of minutes, and you'll save some serious cash in the process. This is the easiest way to update but also one of the best ways because you can throw them in the laundry. I love the words "machine washable"!
So, whether you're revamping your dinette with custom cushions from TheSewShackLLC or giving your couch a facelift with a trendy futon cover, updating your RV furniture has never been easier or more affordable!  Embrace the power of creativity and make your home on wheels a haven of comfort and style. Happy decorating, fellow adventurers!
Updating Your RV Bedroom
If you're looking for ways to upgrade the look of your RV bedroom, you've come to the right place! One stylish way to update your RV is to install a wood accent wall. Not only does it look modern and chic, but it also adds a lot of character and interest to your space. For an even bigger impact, you could consider adding open shelving and storage to the wall. This is an easy and affordable way to not only upgrade the look of your RV bedroom but also add extra storage, which can go a long way in RV living.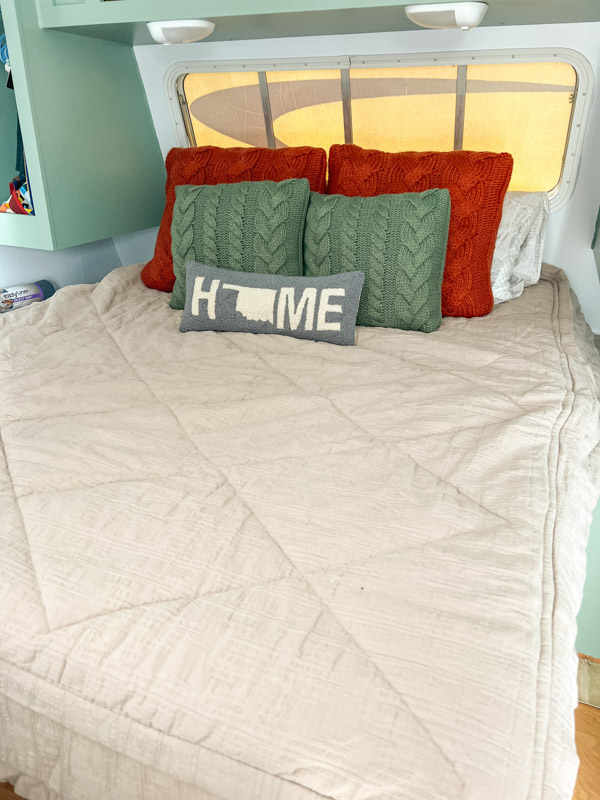 Sheets
Are you tired of the same old, drab bedroom in your RV? It's time to give it a fresh and inviting DIY RV makeover! One of the easiest ways to update your RV bedroom is by revamping your bedding. Say goodbye to tangled sheets and awkwardly fitting comforters, and say hello to the convenience and style of Beddy's bedding. With their innovative all-in-one design, Beddy's offers a hassle-free solution for making your bed. No more struggling to tuck in sheets or making the bed in tight spaces.  In our Jayco27BH we have a set of bunk beds and a queen bed.
On the bunks we added the Twin and the full bedding from Beddys. Added some throw pillows (which we'll talk about below) and some really cute signs from Hobby Lobby.
Sleep Dog Mattress
Pair your new Beddy's bedding with a comfortable and supportive RV mattress from Sleep Dog Mattress, and you'll have a dreamy sleep experience on the road. 
When it comes to a good night's sleep on the road, a plush mattress is key. Sleep Dog Mattress offers a wide range of luxurious, high-quality mattresses designed specifically for RVs. Say goodbye to restless nights and uncomfortable sleep surfaces, and hello to the ultimate comfort and support. Whether you prefer a memory foam mattress that conforms to your body's contours or a hybrid option that combines the best of both worlds, Sleep Dog Mattress has you covered.
The benefits of investing in a plush mattress for your RV go beyond mere comfort. A good mattress can significantly improve your overall well-being by promoting healthy sleep patterns and reducing aches and pains. With the right balance of softness and support, you'll wake up refreshed and ready to tackle your adventures on the road. Sleep Dog Mattress takes pride in their attention to detail and commitment to customer satisfaction. Their mattresses are crafted with the highest quality materials and engineered to withstand the unique challenges of RV living.
Benefits
Upgrading your RV bed with a plush mattress from Sleep Dog Mattress is a game-changer for your travel experience. It's an investment in your comfort and enjoyment while on the road. With the added benefit of a restful night's sleep, you'll have more energy to explore, make lasting memories, and truly appreciate the beauty of your surroundings. So why settle for a subpar mattress when you can indulge in the ultimate luxury of a plush mattress from Sleep Dog Mattress? Upgrade your RV bed today and experience the difference it makes in your overall comfort and well-being.
Don't forget to add a touch of personality with some throw pillows and other small decorative items. You don't have to break the bank to find beautiful options – try scouring your local bins stores for great deals on unique and stylish pillows. We got our teal pillows from Metro Merch OKC and the clay pillows at The Good Stuff Edmond. These small updates can make a big difference in transforming your RV bedroom into a cozy retreat that you'll look forward to coming back to after a day of adventure on the open road.
Bedroom storage
We also needed to make more useable space of the bedroom cabinets. When hanging our clothes it took up a lot of space and made it harder to find things. So we found the collapsible shelves that stack on top of each other and they worked perfect! We left the hanging pole as it wasn't in the way and that way if we change our mind later we still had it.
At home you may have several lamps or other forms of lighting that won't do in an RV. So choosing the right RV lighting is essential in the RV bedroom. You can get small, battery-operated lights at your local discount store for a great price. They usually have adhesive and can be placed under shelving, inside closets or anywhere else you can think of.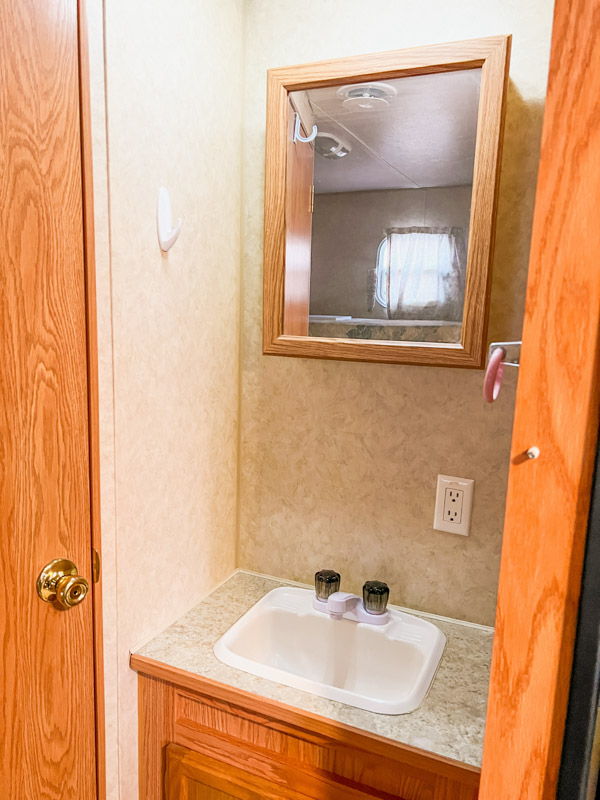 Updating Your RV Bathroom
Updating your RV bathroom can be a great way to give the space a fresh look. You can start by changing out the toilet for a new one, as well as replacing any fixtures like faucets and sinks. After that, you can consider adding some peel-and-stick flooring or vinyl tiles for an updated feel, these are great because the weigh a lot less than ceramic or glass tiles. Finally, you can add some style with dark metal fixtures against light-colored walls or add window valances. It's all about making the most of your space, so don't be afraid to get creative and make your RV bathroom truly yours!
We are loving the sleek look of some black fixtures to really give you a modern, farmhouse chic vibe in our decor. We found some great faucets for the RV kitchen and bathroom sink. Find other easy fixtures to coordinate your color scheme.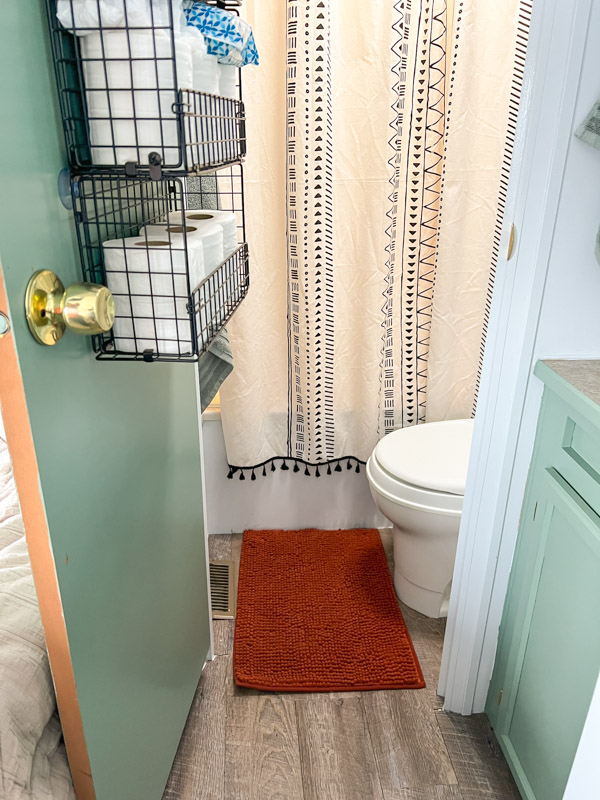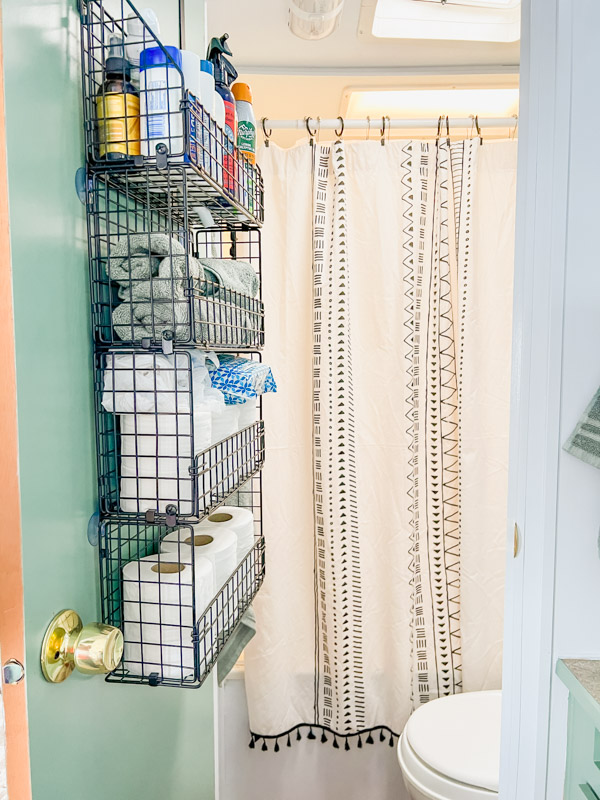 Check out this black toilet paper holder, and some storage and shelving options that all go beautifully together. Another option for hanging storage is over the door. In an RV you have got to utilize every bit of space you have, so something that hangs it great. The rack we found is foldable and can be taken down easily for driving.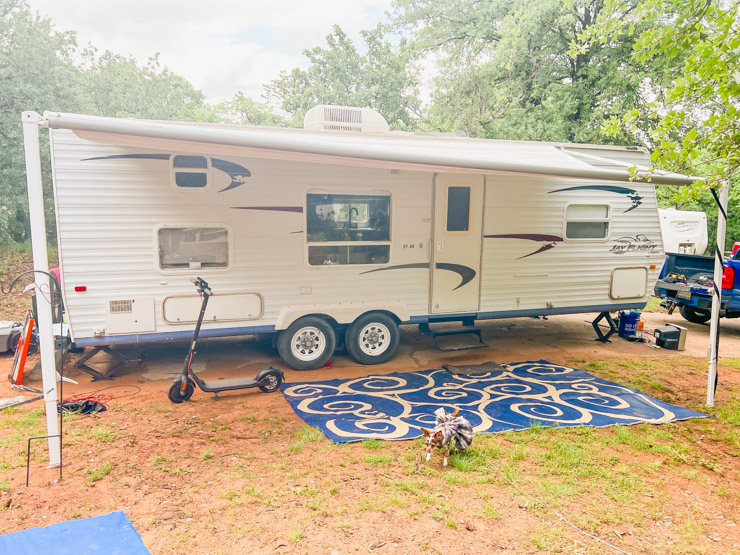 Updating The Outside of Your RV
One of the first things you want to do is give it a good washing. Beyond that look at accents like covered awnings, screened room awnings, or anything else that will help you transform your campsite into an outdoor living space. If you have an older RV or a new model you will want to make sure anything you actually want to attach to your RV is compatible. It could be a screen or doggy door, but you want to check the dimensions and specifications before ordering. Nothing can slow down your DIY RV makeover like having to return and exchange. 
You can look for things like outdoor rugs and folding tables and chairs that will store easily in your cargo area. Don't forget outdoor lighting options. Your DIY RV makeover can be as simple as new accessories to fit your unique style. Or as major as turning an old camper into the tiny home of your dreams to live in full-time.
Baby steps
Now we haven't had the chance to update the outside of our RV yet. Baby steps right? We do plan on replacing the awning and taking all the design off on the outside and painting some kind of scenery. We will be updating this post once we get that done so make sure you follow our Facebook page or subscribe to our newsletter for updates.

When it comes to keeping your RV clean and tidy, a simple yet effective addition can make a world of difference: a doormat. Placing a doormat outside the entrance as well as right inside the door of your RV serves as a first line of defense against dirt, mud, and debris that may be tracked inside. As you and your fellow adventurers step onto the doormat, it helps to catch and trap the dirt from your shoes, preventing it from making its way into the interior of your RV. This simple act not only keeps your floors cleaner but also reduces the time and effort needed for cleaning.
Additionally, a doormat can help to preserve the quality of your RV's flooring, as it minimizes the abrasive effects of dirt and grit. So, make sure to invest in a sturdy doormat for your RV, and enjoy the benefits of a cleaner and more inviting living space during your travels. (Pro tip: you can also do this when tent camping with your tent to keep the floor clean. You're welcome) 
RV Essentials
You also need to stock your camper or RV with essentials, these are anything you would normally pack for a camping trip or long road trip. You want to make sure you have rope and bungee cords, jumper cables, and all your connections for things like the water line and electricity hookup.
Think about making a laminated list to go over each time you head out with things like checking the air in the tires or the supply of toilet paper and cleaning supplies. You need all the comforts of home to have a great time on a long trip.
Make sure you check and make sure your bug spray and first aid kit are fully stocked as well. Don't forget flashlights and batteries. 
RV battery
When it comes to enjoying your RV adventures to the fullest, having a reliable and long-lasting battery is essential. Batteries Plus is the go-to destination for finding a new RV battery that will power your travels with ease. With their extensive selection and expertise in battery technology, you can trust that you'll find the perfect battery for your specific RV needs. Whether you're looking for a deep cycle battery to support your off-grid adventures or a high-performance battery to ensure a smooth start every time, Batteries Plus has you covered. Their batteries are known for their durability, efficiency, and longevity, allowing you to confidently hit the road and explore without worrying about power interruptions. Don't let a weak battery limit your travel experiences – invest in a new RV battery from Batteries Plus and embark on your journeys with peace of mind.
TIP: It's also a good idea to buy a trickle charger for your RV battery. Deep cycle batteries don't like to be fully discharged. This will lengthen the life of your battery.
Solar
When it comes to RVing, having a reliable and sustainable power source is crucial for a comfortable and convenient experience. That's why bringing a solar power station or generator with you is an incredibly beneficial investment. One brand that stands out in this field is Geneverse. Their solar power stations are designed to harness the sun's energy and convert it into usable electricity, providing a clean and renewable power solution for your RV. With a Geneverse solar power station, you can charge your devices, run appliances, and even power essential systems like lighting and heating.
The portability and versatility of these solar power stations make them ideal for RVers who want to minimize their reliance on traditional power sources and embrace a more eco-friendly lifestyle on the road. They come complete with solar panels. With Geneverse, you can enjoy the freedom to roam off-grid while still having access to reliable power. Say goodbye to noisy generators and hello to a quieter and greener way to power your RV adventures.
Grilling
As an avid RV traveler and Traeger enthusiast, I highly recommend packing Traeger pellets from Bass Pro or Cabela's for your next adventure with your Traeger Ranger pellet grill. Not only are they convenient to purchase from one of the most trusted retailers in outdoor gear. They are also made from high-quality hardwood and designed specifically for Traeger grills. I love the way they infuse my meals with authentic wood-fired flavor, no matter where my travels take me. Plus, with a wide range of flavors to choose from, including mesquite, apple, and hickory, there is no shortage of delicious options to try. So, whether you're grilling up a feast on your patio or cooking in the great outdoors. Traeger pellets from Bass Pro are the perfect companion for your Traeger Ranger grill.
RV toilet paper
When it comes to stocking your RV for your adventures, one item that often goes overlooked is septic-safe toilet paper. Regular toilet paper may not break down properly in your RV's septic system, leading to clogs and costly repairs. That's why it's crucial to invest in septic-safe toilet paper specifically designed for RVs. These specially formulated toilet papers dissolve quickly and completely. Thus minimizing the risk of blockages and ensuring the smooth operation of your septic system. By choosing septic-safe toilet paper, you not only protect your RV's plumbing but also contribute to the preservation of the environment. So, before you hit the road, make sure to stock up on septic-safe toilet paper to keep your RV's bathroom running smoothly and efficiently throughout your travels.
DIY RV Makeover Options to consider
RV owners have many options to consider when preparing for a DIY RV makeover. You can start with one project at a time like new flooring or window treatments. Or you can go straight for things like new furniture or a kitchen table. Make a list of your easy DIY projects and work out a budget. If you are replacing a lot of things like kitchen cabinets or doing a complete overhaul as part of your RV renovation projects you can end up spending a ton of money. So decide where you want to start and what you are willing to spend.
Also, consider how much time you will need for your projects. If you have a sewing machine and know how to make sofa covers or reupholster dinette cushions. A project like this could be super simple for you. If you do not sew and will have to have these done it may not be a quick and easy project. Really be honest with yourself about how long it will take for each task as you consider the cost of your projects.
More of our Favorite RV Items:
No matter your skill level there are simple tasks you can do for your DIY RV makeover. Let us know your favorite DIY RV Makeover projects and products for your RV and camper! Don't forget to follow us on social media.
More Great RV Articles:
FOLLOW US ON SOCIAL MEDIA