Crystal Digging in Arkansas : Mount Ida – What You Need to Know
It's no secret that the small town of Mount Ida, Arkansas is a diamond in the rough. Nestled away in the Ouachita Mountains, it has long been known as one of America's premier spots for crystal digging and rockhounding. For those who take part in this activity, there are many rewards to be had. The thrill of discovery to the beauty of nature are just a couple. In this article, we will explore how crystal digging works at Mount Ida, Arkansas. Plus we will explain why crystal digging in Arkansas is so popular among rockhounds around the country.
Crystal digging in Arkansas involves searching through layers of sedimentary rocks until a desired gemstone or mineral can be found. At Mount Ida, Arkansas, these deposits are particularly rich with quartz crystals.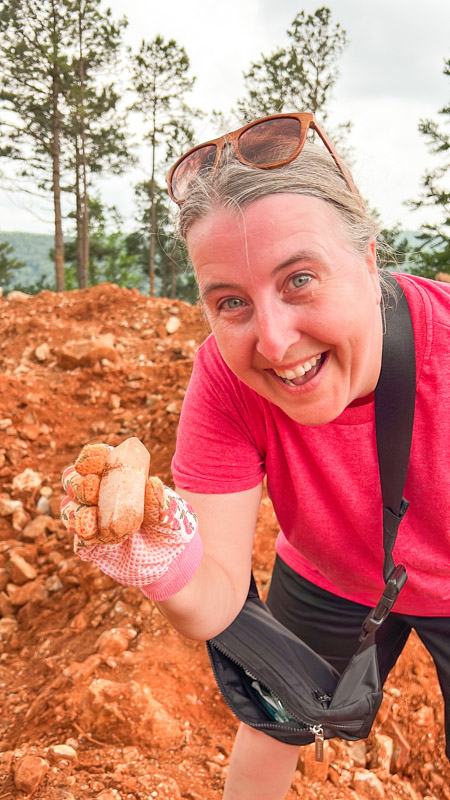 Along with its abundance of beautiful minerals, what really draws visitors to Mount Ida is its unique landscape and atmosphere. Surrounded by lush vegetation and rolling hillsides, here one can experience an untouched slice of natural beauty while engaging in an exciting outdoor adventure. From experienced collectors seeking rare specimens to families hoping to share a memorable experience together, crystal digging at Mount Ida offers something for everyone. Making it a great spot not just for rockhounds but also for anyone looking for a meaningful vacation destination!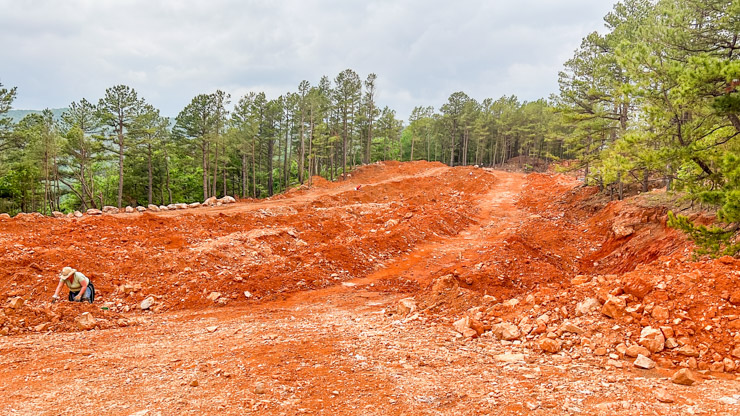 History Of Mining In Arkansas
Arkansas has a long history of mining. In the early 1800s, lead was mined in Arkansas and even used for currency until 1864 when paper money became more popular. Copper mining began in the late 1800s and continued into the twentieth century with an emphasis on zinc production. Other minerals such as bauxite were also mined in varying quantities throughout the state's history.
In the 1930's, Mount Ida, Arkansas saw prosperous times due to its growing lead-zinc industry. Companies like Lead Hill Mining Company opened up numerous mines here which allowed them to produce large amounts of ore. This led to increased profits for both companies and miners alike. This did not last long due to changes in technology. These new technologies that made other methods of extraction easier and cheaper than traditional underground mining techniques.
The legacy left behind by these past miners is still evident today in Mount Ida. Where crystal digging in Arkansas has become a popular activity amongst visitors. These visitors come from all over the world to experience this unique geologic phenomenon. The white quartz crystals found here are some of the most beautiful specimens in North America. They provide amateur rockhounds with hours of enjoyment as they search through piles of dirt. Always looking for their own gemstones or fossils hidden beneath the surface.
Geology Of Mount Ida
Mount Ida is a geological wonder, its majestic beauty belied by the ruggedness of its terrain. Its jagged peaks and valleys are home to various types of mineral deposits. It's these deposits that make it an ideal destination for crystal diggers. Here are five interesting facts about Mount Ida's geology:
The quartz crystals found in the area were formed over millions of years due to tectonic plate movement combined with weathering from rain and wind.
There are several different types of quartz crystals present in Mount Ida. These include, smoky quartz, rose quartz, and clear quartz.
Some of these crystal formations can be quite large – some have been known to reach up to two feet long!
The rock beds at Mount Ida contain many other minerals as well. Among these are fluorite (also known as fluorspar), tourmaline, calcite, pyrite, mica and barite.
In addition to these precious gems, there are also fossils scattered throughout the region. These fossils date back hundreds of millions of years ago when this part of Arkansas was covered by a shallow sea.
Due to the unique composition of its rocks and soils, Mount Ida has become a popular spot for crystal digging enthusiasts looking for one-of-a-kind specimens that cannot be found anywhere else in the world. It is also a great place for those who want to explore nature while having fun outdoors. Something all people subconsciously desire. Whether you're seeking rare minerals or just taking a leisurely stroll through nature's grandeur, Mount Ida offers plenty for everyone.
Staying At Forest Farm Retreat Center
Mount Ida, Arkansas is a great place to visit for both its geological features and outdoor recreation opportunities. One such option is Forest Farm Retreat Center, located near Mount Ida, Arkansas. This retreat center offers visitors a unique lodging experience that combines the beauty of nature with modern amenities.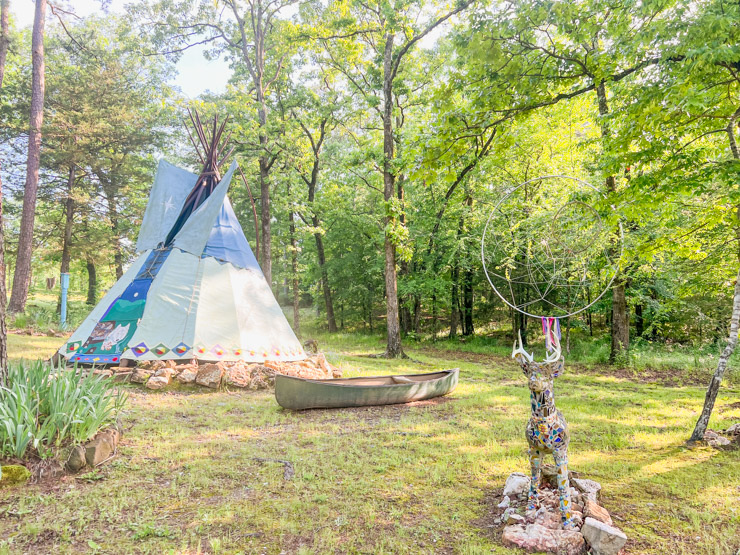 We absolutely love staying on working farms and Homestead's when we travel. The last couple of days we got to enjoy a nice nature retreat at Forest Farm Retreat Center. ( @Lake Quachita Vacation Rentals )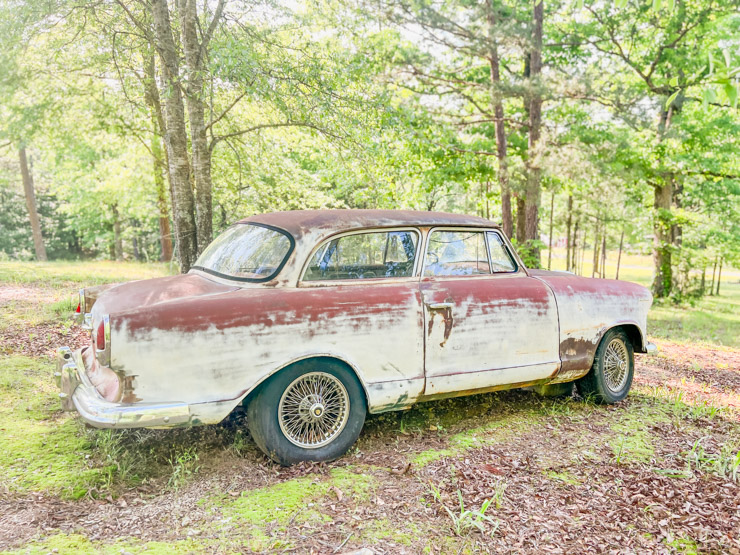 Connie, the owner wanted a place for people to get away from the busyness of the world and become one with nature. She will tell you this place is a little piece of heaven on earth.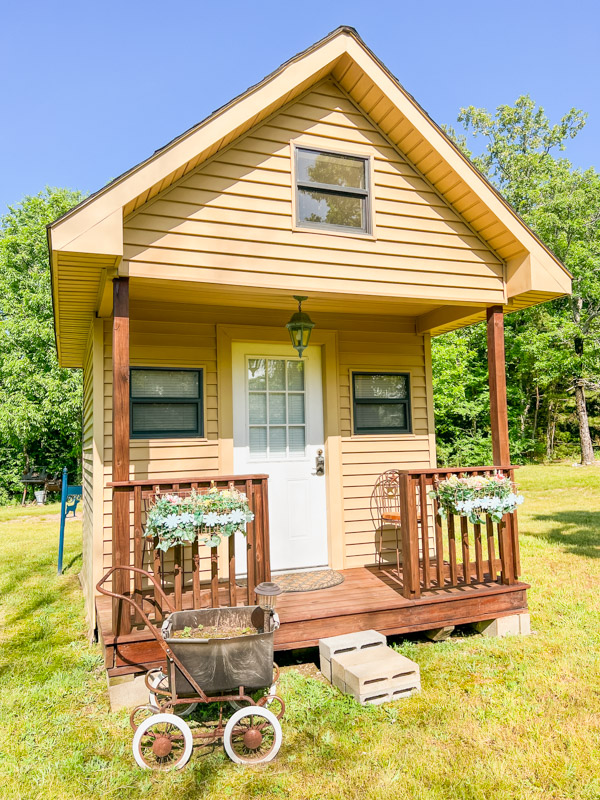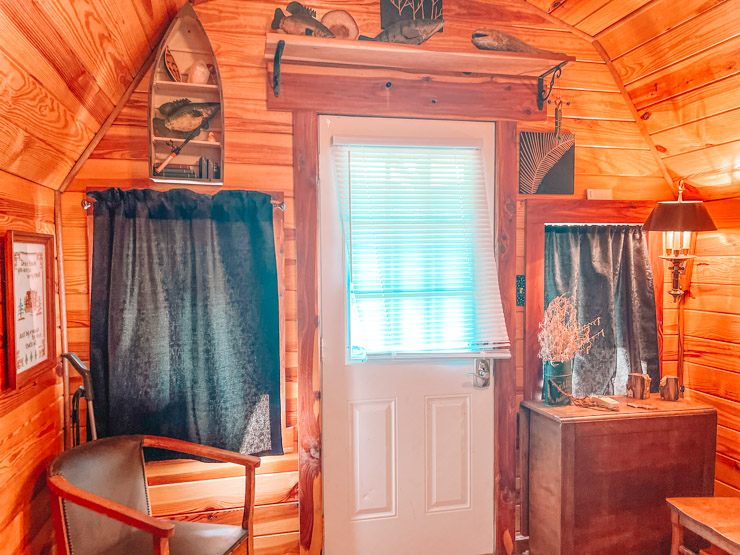 ForestFarmRetreatCenter is a place to come & connect with nature. Big 3 bedroom Guesthouse, Black Bear's Cabin, & Gazebo are on front of property and "Tiny House Row" with the "Gone Fishing" "Garden Shed" & Lulu's cabins are additional sleeping units on back side.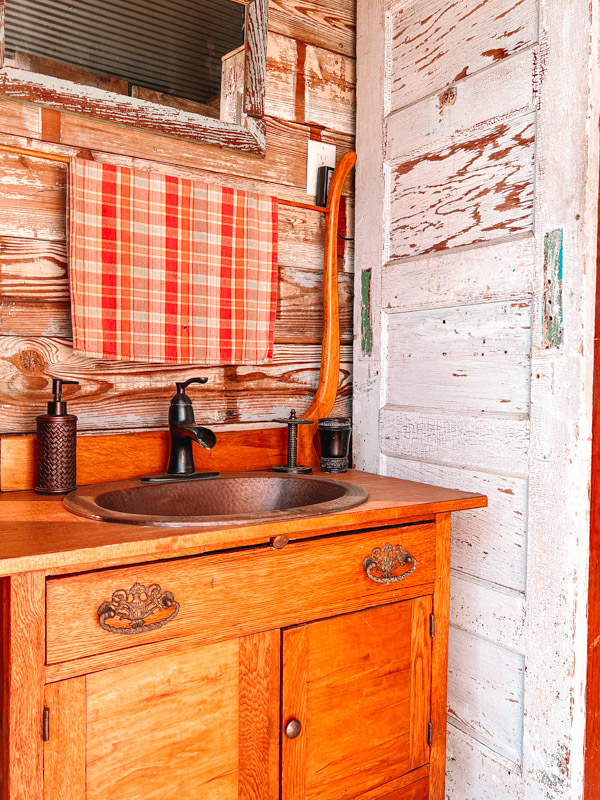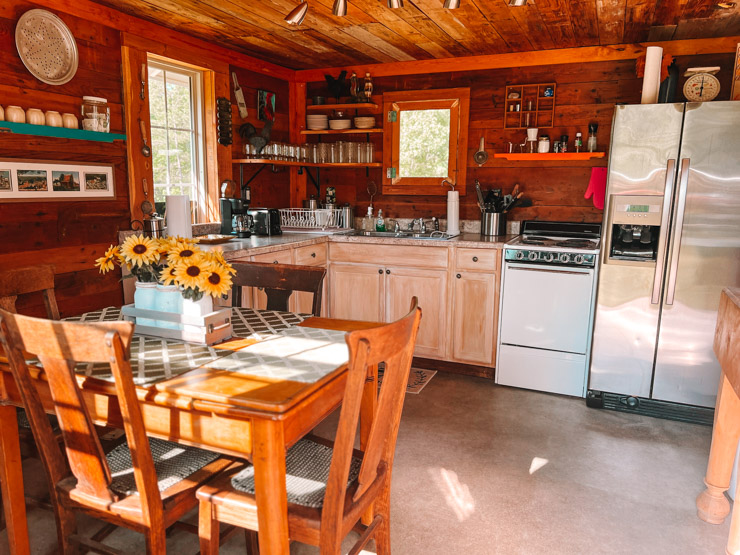 There are 3 tiny homes to choose from here on tiny house row. All decorated in a different theme. There is also a fully stocked community kitchen so that you can cook on site and a community bath and shower that has 2 1/2 bathrooms with three toilets and two showers, three sinks. And let me just tell you that shower is heavenly.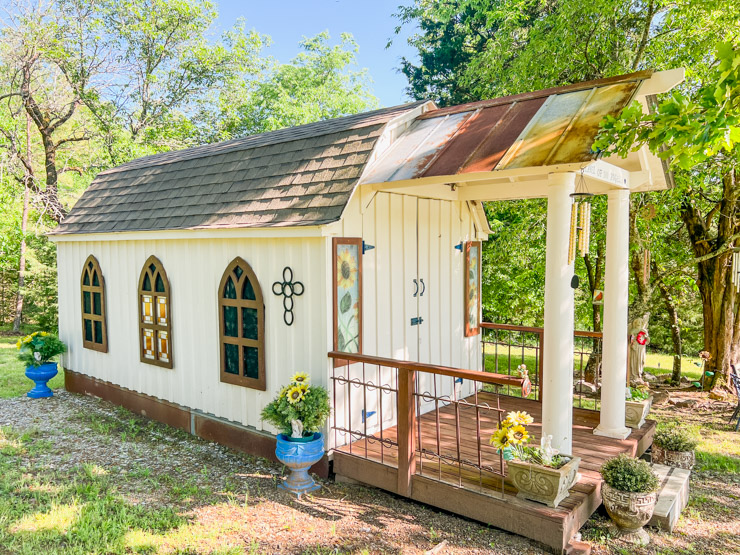 At the end of the row is the Chapel of 100 Angels. This cute chapel is sitting on one of two quartz veins found on this 15 acre property. It's all spread out on 15 acres but close enough to walk to each unit. Perfect for large groups wanting private spaces.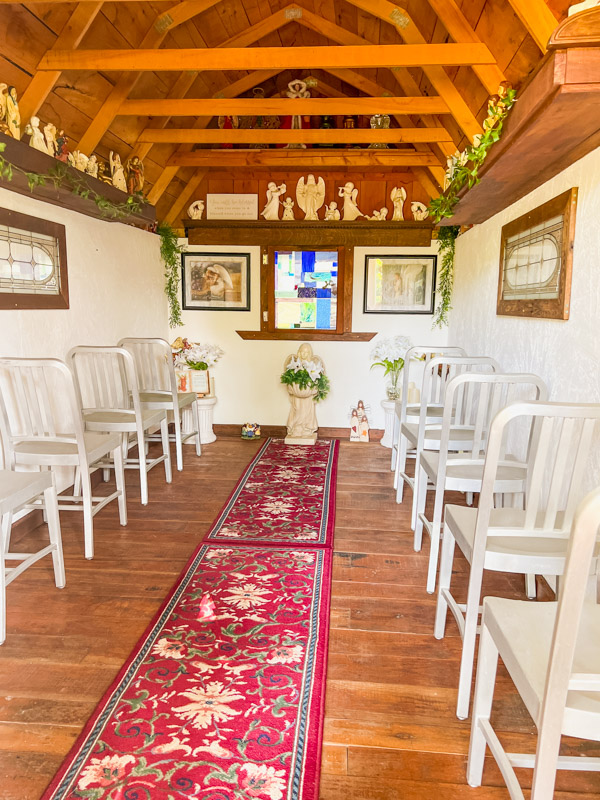 Stores Nearby
There is Bob's Grocery store 8 miles from her place and several Dollar Generals and a Family Dollar nearby. So you can totally save money by cooking your own meals. We cooked breakfast every morning and stopped by Bob's on the way home most nights to get something to cook. If you forget anything you shouldn't have a problem finding a place to replace it.
Connie is an absolute delight to talk to, and she did most of the work on the property herself". She has owned this property since January 2010 and spent years initially just cleaning up the land and grooming the landscape.
Artistic touches are in abundance here. "Design on a dime" is what put this place together and vintage salvage building materials were used to show an appreciation for the past. Many antiques throughout so you can step back in time while here. Organic gardens, free range chickens, Giant Dream Catcher and full size TeePee are all here to inspire those who come and provide an opportunity for a heart and soul "reset" while visiting. Free range chickens add charm and be sure to look for "Ted and Betty" our mallard ducks on the pond and their off spring Larry and Moe.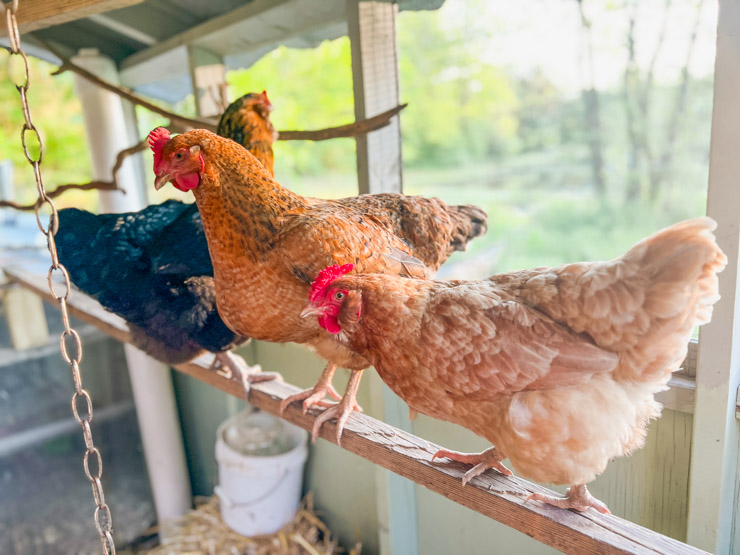 Daniel and I enjoyed walking the property with the dogs. We also loved playing with the chickens and the ducks, and sitting and relaxing by the pond. Oh did I mention this property is dog friendly? Tilly and Chloe loved it out here!
Dark Sky
Forest Farm Retreat Center is listed as a dark sky accommodation site with the Arkansas Natural Sky Association. With Forest Farm Retreat Center having a 1.75 rating on the Bortle Scale. (1 being the darkest sky, 9 being bright city lights) You can see the Milky Way at night.
April 8, 2024 will be a total solar eclipse, and this property is sitting on the 100% line of totality and will have 4 minutes 18 seconds of darkness. A limited number of primitive tent camping spots will be added to the property for this 5 night special event celebration. Tent camping spots will be offered by invitation only to past guests who have supported Forest Farm. They will enjoy seeing the eclipse with a very special group who has already secured all of the housing units on this property. If you are interested in being on this prime location for the 2024 eclipse, you'll need to make reservations to stay here before then, (this year )so you too can be considered "past guests" prior to the Eclipse.
One of the things I like most about my job is getting to help small business owners promote their businesses. I was really touched by Connie's story and really impressed on what she has done with the property on her own. Connie loves living off the land and I love sitting and talking about medicinal herbs and I even brought a few recipes home with me.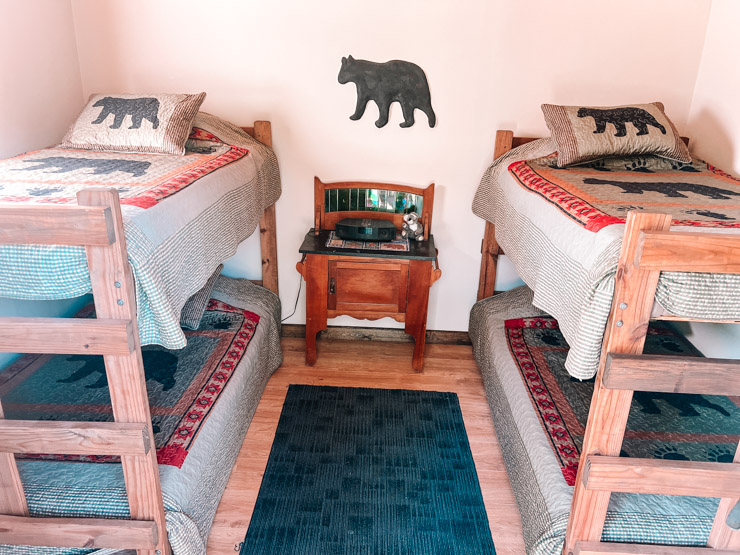 Close by
One of the cool things about Connie's property is it's located in Mount Ida, Arkansas, which is known for its quartz crystals. If you're interested in coming to Mount Ida to dig for crystals in the area, make sure you book Connies property as there are many crystal mines located nearby. Other unique features to be found on the property is an extra large dream catcher and large teepee. Access to the Ouachita River is just a 1/4 mile down the road. Plus the Womble IMBA bike trail is just 2 miles down the road. Stay tuned as we will be doing a whole blog post with everything you need to know about this place the surrounding area and how to book your stay.
If you're looking for a place that would be great for a church retreat, ladies retreat, men's retreat, yoga retreat, etc. This is definitely the perfect place for that! There are 15 total beds on this property in all units combined to sleep up to 22 guest including children.
PS don't forget to look up we had a bald eagle, circling the property that made for a gorgeous view. Check out her facebook at Lake Quachita Vacation Rentals and book your stay.
Camping And Lodging Nearby When Crystal Digging in Arkansas
Mount Ida, Arkansas offers a variety of camping and lodging opportunities for those looking to explore its crystal digging sites. We actually saw plenty of places for RV's as well.
For visitors interested in more luxurious accommodations, there are also several hotels located near Mount Ida. These hotels offer comfortable rooms as well as all sorts of other amenities. So you can enjoy their swimming pools, spas, fitness centers, and much more. These hotels often offer convenient packages. Some that include tickets to local attractions like ziplining tours or educational programs about mineralogy and geology. Plus they provide easy access to restaurants and shopping areas. So travelers can enjoy everything this part of Arkansas has to offer!
Whether it's camping under the stars or unwinding in luxury at one of the nearby lodgings, Mount Ida is sure to please anyone seeking freedom through exploration. Especially when it comes to discovering unique crystals hidden beneath its soil!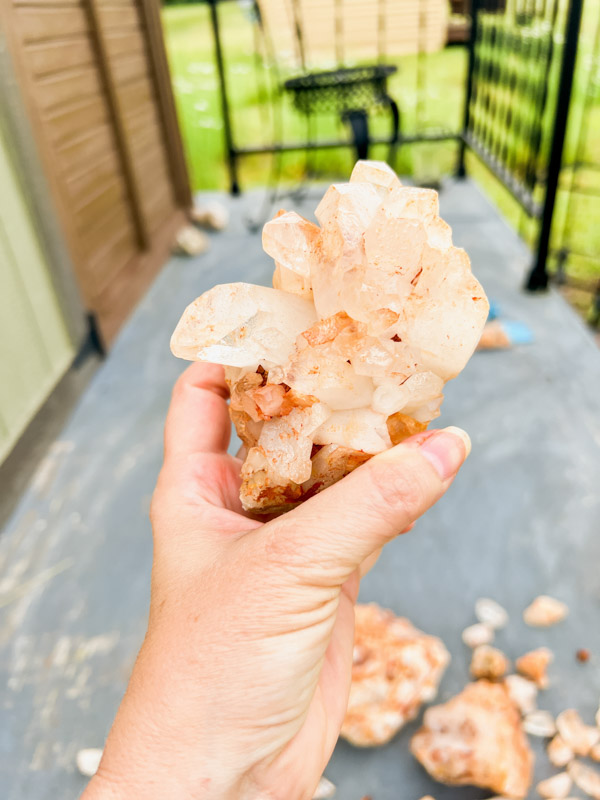 Types Of Crystals Found In The Area
Mount Ida, Arkansas is a great destination for crystal digging. The area has an abundance of quartz crystals that can be found in local gravel pits and streams. Tourists from around the world come to search for beautiful specimens of quartz.
The Mount Ida region is renowned for its large quartz crystals – some up to six feet long! These spectacular formations are unique in their clarity and sizes compared to other areas around the globe. Other common types of quartz include smoky quartz, citrine, rose quartz and milky quartz.
Calcite is another type of mineral commonly found in this region. It ranges in color from transparent clear forms that display a rainbow effect when light passes through them; pinkish-reds and oranges; pale blues or deep greens with sparkles throughout; as well as browns, blacks and whites. Selenite is one of the rarer minerals located here which appears translucent white often with wispy patterns inside it.
These different varieties of crystals make Mount Ida Arkansas a sought after spot for crystal diggers looking to add unique pieces to their collections or create stunning jewelry displays at home. Whether you're searching for a special souvenir or hoping to find something truly extraordinary. Mount Ida has plenty of precious gems just waiting to be discovered!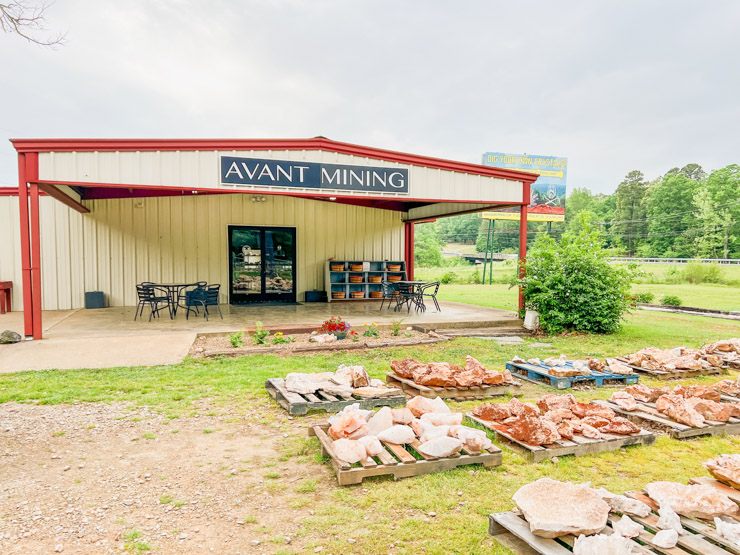 Avant Crystal Mine
Have you ever thought of digging your own crystals? If so, then the Avant Crystal Mine in Mount Ida, Arkansas is the place for you. Here visitors are invited to search and find their very own special crystal treasures that will make any home décor complete. Visitors can explore an ancient quartz mine onsite and hunt for beautiful pieces of quartz crystals.
The mine was founded in 2010 by James Zigras with the purchase of a small wavellite mine in the community of Avant, Arkansas. Avant Mining has grown to become the largest quartz crystal mining company in the world. They have 23 mines and over 12,000 acres of land on Fisher Mountain. The Ocus Stanley Claim has been in operation since 1946. It is the oldest public dig in the state of Arkansas. Our public dig is open Tuesday through Sunday from 9:00am to 5:00pm (weather permitting). Mining permits must be purchased prior to digging at the gift shop.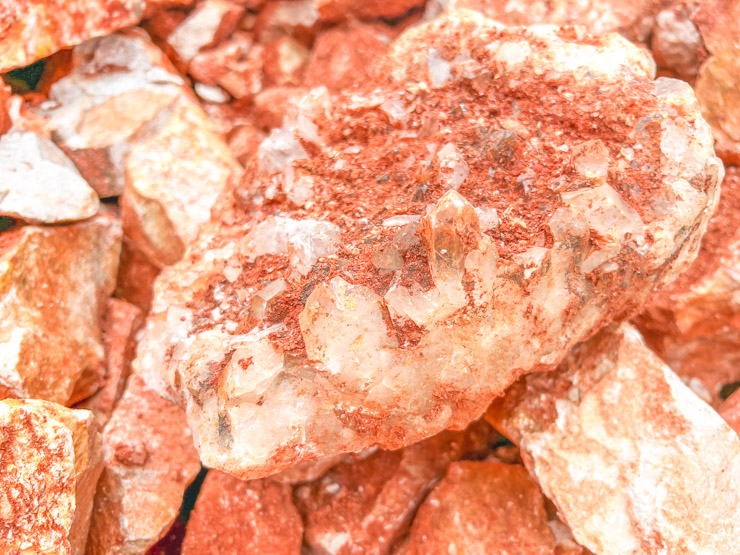 The experience
The experience at the Avant Crystal Mine begins with a guided tour through the dig site. Here guests learn about the history of mining in the area. As well as tips on how to identify the quartz crystals. Afterward, they get hands-on experience searching for quartz crystals among large piles of rock. With no two mines being exactly alike, guests have plenty of opportunities to discover something new every time they visit. In addition to crystal hunting activities, there are also educational talks available which provide further insight into the geological processes used by miners to extract gemstones from their natural environment.
We found some beauties!! This mine is located in Mt .Ida ,Arkansas. It's only $25 to dig and you get to keep everything you find! You can check their website for price changes and discounts. We went later in the day, which was nice and cool, but honestly we wish we would've gone a little bit earlier because we could've stayed a lot longer. We literally closed the place down lol.
A lot of times, we didn't even have to actually dig. They were just laying on top of the ground. 
And you could see several of the quartz veins running through the area. Daniel and I were both surprised on how clear some of these crystals were.  We were also really excited that we found a few clusters.  This place is dog friendly, but we left the dogs at home this time because we really wanted to focus on the dig and less on keeping an eye on the dogs.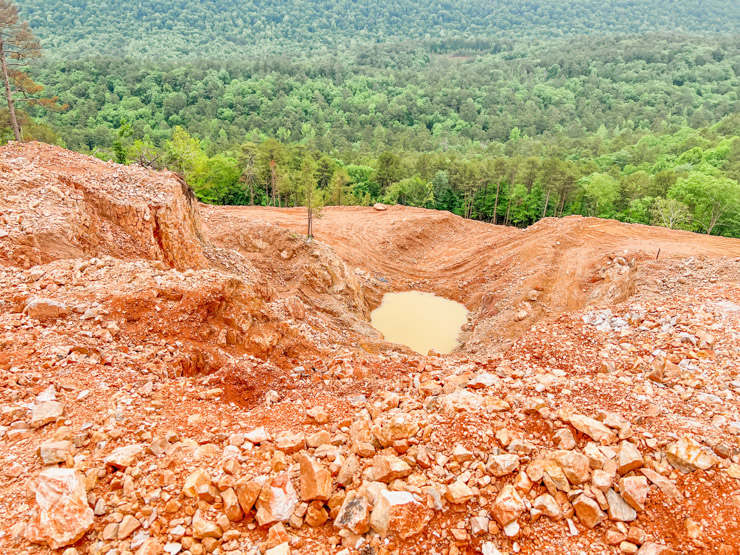 Pocket dig
They also have commercial mining available starting at $1000 where you can go in the very back and actually do a pocket dig.  They took Daniel and I in the back to see where all of this happens and let me tell you guys, it would be well worth the money!!!!!!!! We saw a huge giant crystals sticking out of the walls back there .
A trip to this unique Arkansas destination is sure to be both fun and educational! Guests can spend hours exploring without ever getting bored; plus they may even come away with one-of-a-kind souvenirs that will last forever! So if you're looking for an exciting day out or just want to try your hand at a bit of treasure hunting then be sure to check out what Avant Crystal Mine has to offer!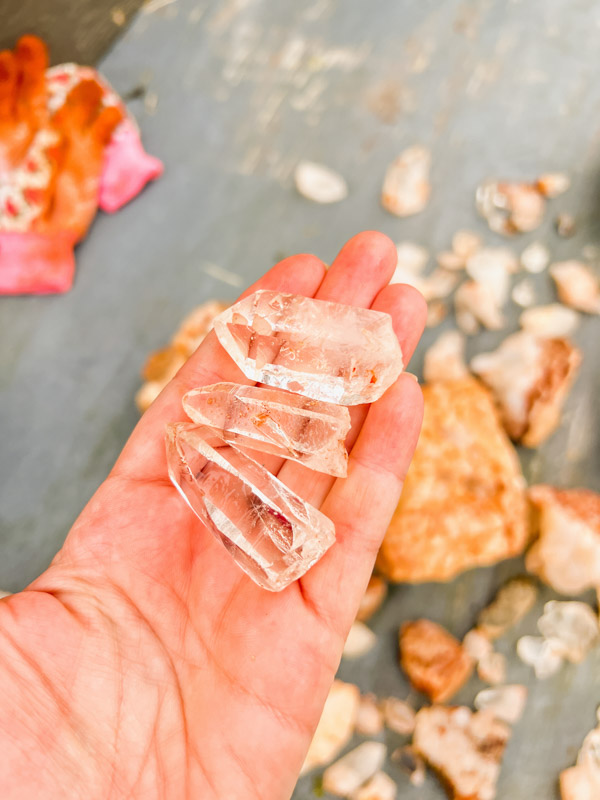 Avatar Crystal Mines
Mount Ida in Arkansas is home to a unique geological phenomenon: Avatar Crystal Mines (formally known as Arrowhead mine). This area, located in Montgomery County, is known for its crystal-filled quartz veins and other precious mineral deposits found within the sedimentary rocks of the Ouachita Mountains.
They offer several sections where you can dig. Both Phantom Cove and Tabby Circle have been improved and are fruitful to those who have the patience to dig! After a good rain, surface collecting is superb — but nothing beats a productive hole! Patience is the key!!
Golden Healers
There are many quartz crystals to be found including clusters, water-clear points, many small and a few larger crystals. Great news is it's all yours for the single digging price. You can also find a more yellowish crystal called :"Golden Healers" if you're lucky! You can surface search, dig in tailings piles, or find a vein in a wall. The owners Joe and Bee are extremely friendly and helpful. They took us around the mines and told how to look for crystals. They reopened the mine in March 2021. Don't be afraid to ask questions. Everyone we met was super friendly and eager to help!
Avatar Crystal Mine is located at the end of Forestry Road W37 off Owley Road in Mt Ida AR. The road in to the Mine is about 2/3 mile long and takes you back into the Ouachita National Forest. Please note the road to the mines are little rough, but just drive slow and you will be fine. Avatar Crystal mines is dog friendly. Just remember to keep your pet on a leash and bring plenty of water for them to drink.
For those looking for an unforgettable exploration adventure in Arkansas's stunning landscape, Avatar Crystal Mines has it all! There's something here for everyone who loves rockhounding.
More Crystal Digging in Arkansas Open To The Public
Mount Ida, Arkansas is a veritable treasure trove for those seeking out crystal digging experiences. Like the Avatar Crystal Mines, other mines offer visitors an opportunity to discover their own precious gems and minerals in the rugged landscape around Mount Ida. These sites are like windows into another world—offering up hidden wonders that have been locked away beneath the surface of this area for centuries.
The Zinc Mine offers one such experience with its 10-acre site open to public exploration year-round. The mine was originally operated in the 1920s as a commercial zinc operation and today yields some stunning quartz crystals which can be found among the tailings piles left behind from previous mining operations. This spot provides visitors with a unique glimpse into what remains of these old mining ventures, allowing them to find rare pieces that may not be available elsewhere.
You can also check out the Crystal Vista Trail, This is a free public hiking area that allows access to an abandoned mine where visitors can surface collect their own crystals. This site is run by the U.S. Forest Service and a good option if you are looking for a more off-the-beaten track experience.
Ouachita National Forest
Finally, the Ouachita National Forest boasts several spots where folks can hunt for gemstones on their own or join guided tours offered by local outfitters. With plenty of streams and rivers running through it, searching here reveals all sorts of treasures. These include calcite clusters, opalized wood petrified fossils, staurolite "fairy crosses", geodes filled with crystals – even diamonds! In addition to getting back to nature and exploring new places. Hunting in this vast forest gives adventurers a chance at discovering something truly special – perhaps unlocking an unseen beauty that only they will ever know.
List of other Mines:
Minerals of Arkansas
Crystal Vista
Supplies Needed For Crystal Digging
Crystal digging requires the proper tools and supplies for a successful experience. At Mount Ida, Arkansas, crystal hunters should be prepared to bring essential items along with them on their adventure.
To begin, sturdy footwear is recommended due to the uneven terrain of the area. The shoes should provide traction in order to grip slippery surfaces or mud if rain has recently fallen. Additionally, long-sleeved shirts and pants are encouraged as protection against sunburn or insect bites while exploring outside. Be sure to wear something you don't mind getting stained. Sometimes the red clay may not come out.
You'll also want some digging tools. Small gardening tools like a trowel and hand shovel works perfectly. You could also benefit from bringing a shovel and a screwdriver for hitting open a few rocks to see whats in side or shipping something off of a vein.
Next, it is important to bring adequate water bottles and snacks for energy during the dig. Depending on individual preferences, gloves may also help protect hands from getting scraped by sharp rocks while searching through stones for crystals. Lastly, an appropriate bag or 5 gallon bucket can store any valuable finds that may be discovered during this expedition. We also recommend bringing a wagon if you can. You will thank yourself when you try to load up your finds to carry them back. It can be quite heavy.
Successful crystal hunting involves forethought and preparation before heading out on an unforgettable journey into nature's bounty at Mount Ida, Arkansas!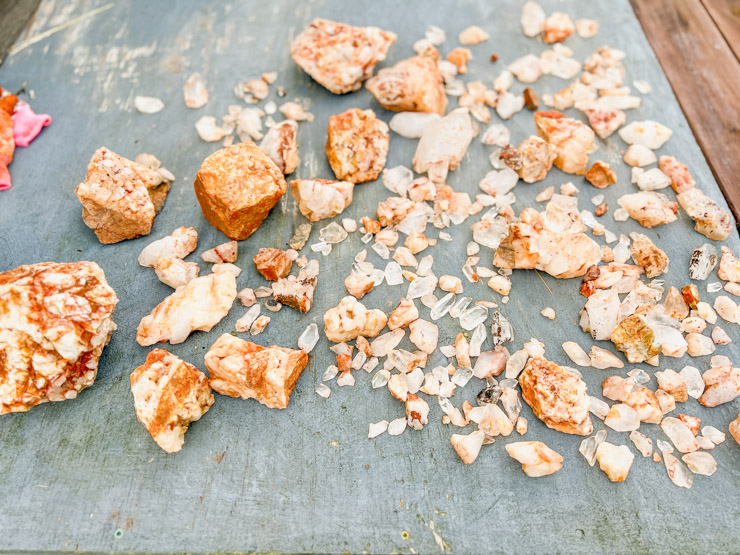 Techniques For Successful Crystal Digging
The crystal-studded slopes of Mount Ida, Arkansas beckon to the curious and adventurous alike. It is here that treasure hunters come in search of crystals embedded deep within the rocky terrain. With a little know-how, anyone can unearth beautiful specimens of quartz with ease.
The first step in successful crystal digging begins with preparation; it's important to do research ahead of time on where exactly to dig, as well as what types of tools are needed for the job. Once all necessary items are acquired, it's time to begin searching. The most effective way to find crystals is by looking for them around outcrops—the exposed edges of rocks that form overhangs or ridges—or near other visible minerals like mica flakes.
For those who want an even greater challenge, scanning deeper layers may yield spectacular results. We call this surface digging. Also look for dark spots in the dirt, these may be crystals just under the surface that are partially exposed. When digging you want to be careful not to break any points that could be on a larger rock that we call clusters. These are beautiful crystals all in a cluster and can be big or small. You have to train your eye to look differently. I can't tell you how many times we walked write over crystals because we didn't see them.
To ensure success when digging for crystals at Mount Ida, patience and persistence are key. Paying close attention while exploring will help uncover hidden gems among the stones and soil above ground or below surface level. With determination and hard work, adventurers can reap great rewards from their efforts!
Are There Places I Am Not Allowed To Dig? – Responsible Collecting Practices
When it comes to crystal digging, engaging in responsible collecting practices is essential for maintaining the integrity of a site and preserving its natural beauty. It is important that diggers are aware of any local regulations or restrictions before they start their search. Additionally, being mindful of private property rights by obtaining permission from landowners beforehand can prevent potential legal issues.
In the United States, some states have implemented laws on mineral collection which cover public land. For instance, Arkansas has established an administrative code regulating mining activities related to surface disturbance and subsurface operations on state-owned lands. These rules include provisions protecting both historical artifacts and archaeological sites as well as requirements for securing a permit prior to beginning excavation work. In addition, there may be special conditions attached depending on the location such as prohibiting metal detectors at certain areas or requiring tools such as shovels and picks to be used instead of mechanical equipment.
Furthermore, many national parks have policies against collecting crystals within their borders due to concerns about visitor safety and resource destruction. When planning a trip, researching these guidelines ahead of time will ensure that one's experience is not only successful but also legally compliant with all necessary regulations. By following proper procedures when crystal digging in Mount Ida, Arkansas—or anywhere else—diggers demonstrate respect for fellow visitors while helping preserve the environment for future generations to enjoy.
Where To Sell Your Finds
As the popular adage goes, "A man's worth is measured by his treasures." For those searching for crystals in Mount Ida, Arkansas, they may find themselves with a cache of valuable gems. Where can these be sold?
Firstly, many local stores that specialize in rocks and minerals are available to purchase from collectors who have found their way to Mount Ida. These shops offer both raw stones and polished pieces at various prices depending on size and quality. Additionally, they often provide expert advice regarding gemstone identification and pricing. Furthermore, some may even buy directly from the diggers if the stones are particularly rare or unique.
For those looking to make more money off of their finds, there are online auctions such as eBay or Etsy which allow them to list items up for sale to a worldwide market. Here buyers can bid against one another for the best price possible. Other options include attending mineral fairs where individuals can showcase their finds and receive offers from interested customers around the country. The final option would be to contact larger dealers who could potentially give higher rates than other sources due to their buying power and connections within the industry.
No matter what route someone chooses when it comes time to sell their findings. It is important for them take into account all possibilities before making any decisions. This way they get the most out of their hard work digging in Mount Ida!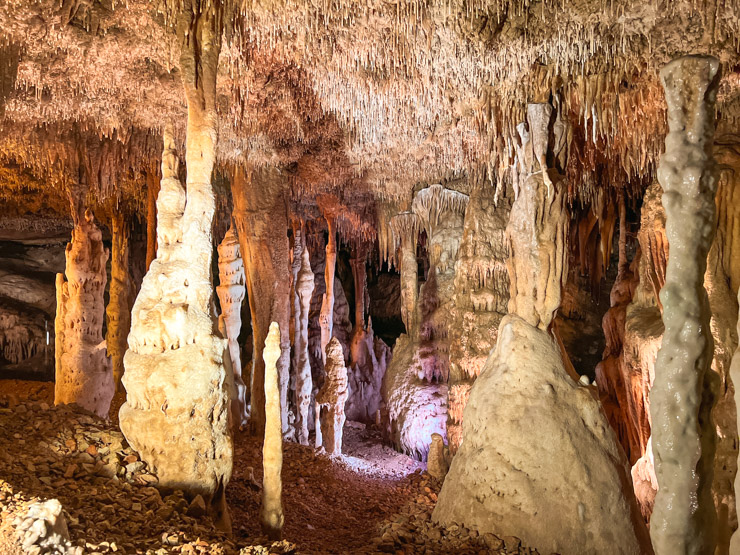 Local Attractions And Activities
Having discussed the various options for selling finds from crystal digging in Mount Ida, Arkansas, this section turns to exploring local attractions and activities after crystal digging in Arkansas.
The Ouachita Mountains are an outdoor enthusiast's paradise. The area is renowned for its stunning natural beauty and abundance of recreational opportunities. Here are three ways visitors can enjoy their stay:
Fishing on Lake Ouachita or several smaller lakes around town
Hiking along miles of trails that wind through National Forest Land
Exploring caves and caverns scattered throughout the region
For those looking to take a break from crystal digging. There are plenty of other family-friendly activities available in Mount Ida. Visitors can visit historic sites such as Montgomery County Courthouse Square, built in 1895; take part in music festivals held annually; or explore nearby Hot Springs National Park. There are also unique shops downtown where one can find everything from antiques to handmade jewelry. All these activities make Mount Ida a great destination for travelers seeking adventure and relaxation alike.
Frequently Asked Questions
Is There A Fee To Dig For Crystals In Mount Ida?
Mount Ida, Arkansas is home to one of the most impressive crystal deposits in North America. The area has a long history of mining for quartz and other crystals. With it starting with Native Americans thousands of years ago. With its stunning scenery and vibrant array of minerals. Mount Ida attracts hundreds of visitors each year hoping to find rare specimens. But is there a fee to dig for crystals in this popular spot?
The answer depends on where you plan to look for your gems. If you have access to private land or an organized tour group. Then it's likely that there will be some sort of cost associated with digging for crystals. You may also need special permission from local landowners before beginning any excavation work. However, if you are just looking around on public land or roadsides, then chances are there won't be any fees involved at all. It's important to check regulations first though as some areas may require permits even when collecting on public property. Also pay close attention to crystal digging in Arkansas laws. We mention a few in this article.
Safety
Crystal hunting can be an exciting experience but safety should always come first. Before setting out on any kind of treasure hunt it's essential to research the local laws when crystal digging in Arkansas. Also do your homework about potential hazards like cliffs, sinkholes, or unstable rocks. And since every state has different regulations regarding mineral collection. It's a good idea to make sure you know what those rules are so you don't get into trouble later on down the road. Once you've taken these precautions into consideration it's time to embark upon your journey towards finding that perfect piece!
Whether visiting Mount Ida in search of precious stones or simply enjoying its natural beauty. Remember that being equipped with knowledge and taking necessary safety measures can help ensure a successful outing. No matter what treasures lay ahead!
What Is The Best Time Of Year To Go Crystal Digging In Mount Ida?
Digging for crystals is a popular activity that can be found in many places around the world. One such place is Mount Ida, Arkansas, where crystal hunters have long sought to find and collect these precious minerals. While there may not usually be an entrance fee associated with digging for crystals in this location, it still pays to know when the best time of year is to go on such an adventure.
The optimal conditions for crystal hunting will vary depending on individual preferences and desired outcomes. For instance, some individuals prefer to dig during the summer months as the soil tends to be softer due to warmer temperatures and higher levels of humidity. On the other hand, others might opt for wintertime digging because snowfall has previously melted away any debris or overgrowth which could cover up potential finds. Furthermore, rainier periods tend also provide better visibility into cracks and crevices while providing more flexibility regarding equipment choices since they are less likely to become muddied or stuck in wetter terrain.
Do some research
No matter what time of year you choose to embark upon your journey, preparation remains key. Research should always take precedence before heading out onto any trails; identifying local resources (such as guidebooks or websites) that offer tips about where certain types of crystals typically appear is highly recommended so that one can get familiarized with their surroundings beforehand. Additionally, having proper supplies – including tools like shovels and hammers along with protective gear like gloves and goggles – ensures safety throughout the entire process from start to finish.
Crystal hunting can prove both rewarding and challenging at times but understanding how different seasons affect the search can make all the difference between success and failure. By thoroughly preparing beforehand, anyone has a chance of uncovering hidden gems within Mount Ida's beautiful landscape.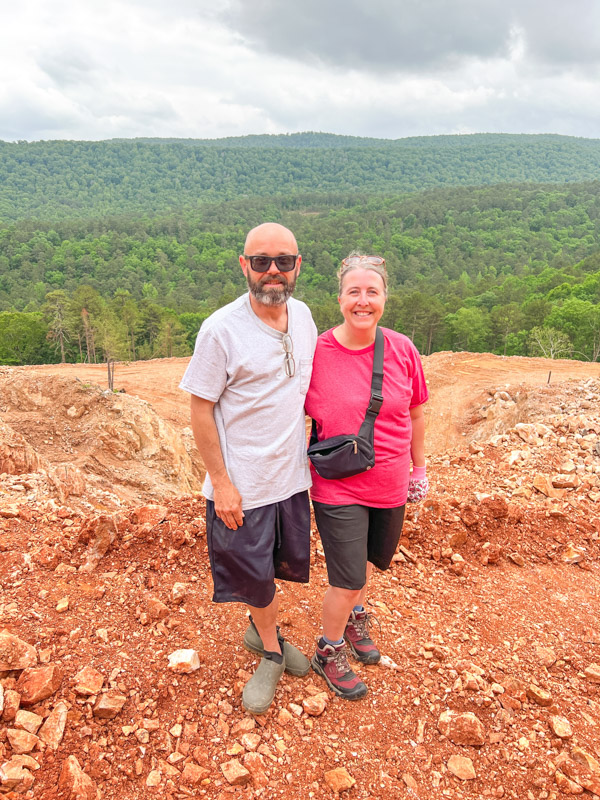 Is There An Age Limit For Crystal Digging?
Crystal digging is an interesting activity that involves searching for crystals in the earth. It has become increasingly popular, with many people travelling to certain locations to search for these valuable stones. As such, it's important to know if there are age limits when engaging in this activity.
This article will discuss whether there is an age limit for crystal digging and provide information on how minors may engage in this activity safely.
When undertaking any type of mineral collecting, it is important to be aware of local laws and regulations regarding access to public lands or private claims. Generally speaking, children under the age of eighteen must have a guardian present while they are doing anything related to mining or prospecting activities. This includes crystal digging, as well as other types of rockhounding and gemstone collecting activities. The goal here is to ensure the safety of those involved and protect them from potential hazards associated with the activity itself.
It's also advisable to check with land owners prior to accessing their property for any kind of excavation work or collection activities. Here are some tips to consider:
Be respectful when crystal digging in Arkansas – ask permission first before entering someone else's property;
Follow all rules when crystal digging in Arkansas – stay away from restricted areas;
Bring proper equipment – make sure you have all necessary tools for safe excavating;
Be mindful when crystal digging in Arkansas – research where it is legal/safe to collect materials beforehand;
Allowing minors the opportunity to experience crystal digging can be a great way for them learn about nature. It also build skills around geology, but it should always be done responsibly under adult supervision. By following these guidelines, adults can help ensure that young ones enjoy their time outdoors. Without putting themselves at risk or breaking any laws.
Are There Any Safety Precautions I Should Take While Crystal Digging?
When engaging in crystal digging, safety precautions should be taken into consideration. While this activity can be incredibly rewarding and exciting, it is important to remember that there are risks associated with the task. It is essential to understand the potential hazards before participating in a dig so that adequate steps may be taken for protection.
One key precaution when going on any sort of expedition or digging trip is to plan ahead. Being adequately prepared for such an adventure means having appropriate clothing and supplies like flashlights and well-stocked first aid kits; other items could include extra water, food, sunscreen, hats, gloves and insect repellent. Additionally, research must be done prior to embarking on a dig as certain areas may require permits or access fees while others might have restrictions related to their location or terrain type. All these preparations will help ensure that the experience runs smoothly and safely.
Finally, one of the most important aspects of safe crystal digging practices is understanding the land itself – its environment, wildlife and geography – as much as possible before visiting it. Familiarity with local conditions helps avoid potential dangers during explorations by providing insight into how best to traverse unfamiliar landscapes without getting lost or injured along the way. In addition, knowledge about relevant weather patterns will give travelers an idea of what conditions they're likely to encounter so necessary protective measures can be taken accordingly. By taking all these factors into account beforehand, adventurers can enjoy their journey knowing they have done everything within their power to protect themselves from harm's way.
Are There Any Guided Crystal Digging Tours Available In Mount Ida?
Mount Ida, Arkansas is home to some of the world's largest quartz crystal deposits. According to a report by the U.S Geological Survey in 2008, around 600 tons of quartz crystals are mined every year from Mount Ida and surrounding areas. This makes it one of the most popular spots for people looking to dig for crystals. The question then arises: Are there any guided crystal digging tours available in Mount Ida?
The answer is yes. There are several tour companies that offer guided trips to explore and mine the spectacular quartz formations found in this region. These tours typically include all necessary equipment such as buckets and shovels, as well as knowledgeable guides who can provide helpful information about where to find certain types of crystals and how best to extract them from their matrixes while preserving their natural beauty. Additionally, many of these tours also provide transportation services between various sites so that visitors don't have to worry about driving long distances or navigating unfamiliar terrain.
Is Crystal Digging in Arkansas Safe?
Safety should always be a top priority when engaging in activities like crystal digging. While guided tours may provide an extra layer of security against potential risks associated with exploring unknown locations. Participants should still take precautions such as wearing appropriate clothing (e.g., sturdy shoes) and bringing plenty of water for hydration purposes during long days outdoors among other items essential for safety and comfort during the expedition. In addition, it's highly advisable that individuals research beforehand on local laws governing mineral collecting. This way they can ensure compliance with regulations at all times. While searching for specimens in public lands or private properties alike.
In sum, those interested in crystal digging will find no shortage of options when visiting Mount Ida. Guided tours are available which can help make sure experiences remain safe yet enjoyable. Thanks to specialized equipment and experienced personnel offering invaluable guidance along the way.
Crystals have long been associated with spirituality and healing. Crystal Digging in Arkansas in Mount Ida, Arkansas offers a unique opportunity to those hoping to find precious stones or simply experience the beauty of nature. While there is no fee to dig for crystals, it is important to consider safety precautions such as wearing closed-toed shoes and bringing sunscreen, water, and snacks when visiting the area. The best time for crystal digging is during summer months due to higher temperatures providing more comfortable conditions for outdoor activities. There is no age limit on crystal digging; however children under 18 years old should be accompanied by an adult. If desired, guided tours can help visitors learn about the various types of quartz that are available in this region while also helping them locate certain specimens.
Whether one's goal is spiritual enlightenment or just looking for something fun to do outdoors, crystal digging in Mount Ida provides an exciting adventure worth exploring!