Best Bed and Breakfast in Oklahoma
If you're looking for a cozy place to stay while exploring all that Oklahoma has to offer, then look no further than these Best Bed and Breakfast in Oklahoma. Some of the best day trips in Oklahoma end with a good nights sleep.
From charming small towns to breathtaking landscapes, there's something for everyone in the great state of Oklahoma. With so many wonderful options to choose from, you're sure to find the perfect spot for your next trip. Most of them offer free parking as well. Oklahoma has so many wonder bed and breakfasts, hotels and air B&B's, and we couldn't possibly list them all but this list should get your feet wet.
Whether you're planning a romantic getaway or a family vacation, be sure to check out these top-rated bed and breakfasts in Oklahoma.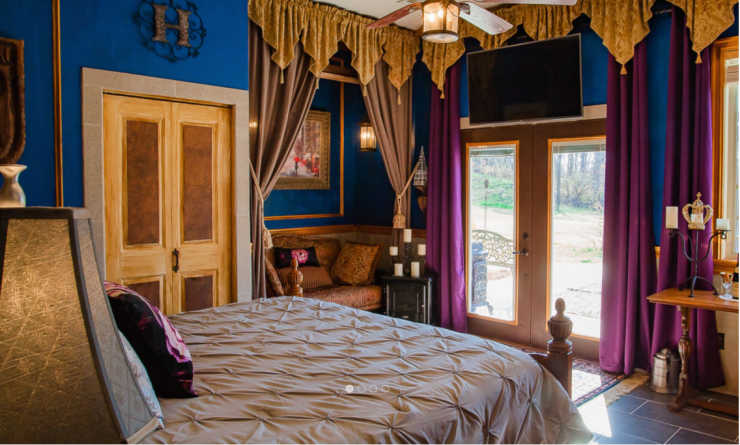 BarDew Valley lnn
Located in Bartlesville, Oklahoma, the BarDew Valley Inn was featured on ABC's Extreme Makeover: Home Edition in 2006. Since then, its ownership has changed hands and it is now a luxurious bed and breakfast that's perfect for a romantic getaway or self-pampering road trip.  
The inn has four unique rooms each with it's own private entrances. Each suite has a king-size bed, private bathroom, and en-suite patio that overlook the property's 14 acres. Guests can enjoy a complimentary country breakfast in the morning and then take a stroll around the private pond. They also offer free wi-fi.
Bartlesville, Dewey, and Pawhuska are all a short drive from BarDew Valley Inn. Visitors can experience attractions like The Pioneer Woman Mercantile, Woolaroc Museum and Wildlife Preserve, and the historic Downtown Bartlesville before turning for a relaxing night at the inn. This inn attracts visitors from all over the United States. If you love outdoor activities you can hike through 14 acres on the grounds.
Book yourself a room at the BarDew Valley Inn for a truly tranquil retreat away from everyday life.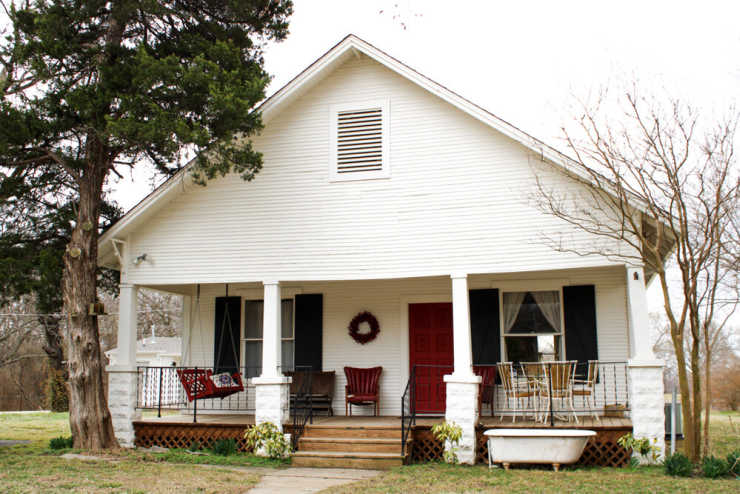 Cedar Rock Inn 
Just west of downtown Tulsa, Cedar Rock Inn is situated on a lavish 55 acres in the foothills. This historic home was built in 1890 by Creek Nation allottee, Tecumseh Perryman, and restored for public enjoyment in 2005. 
The B&B offers five suites that have an upscale, rustic frontier cosy rooms design and their own private bath. The Parkview Suite is the perfect place to spend a honeymoon or anniversary with a jacuzzi bathtub and walk-in shower for two. For an even more unique experience, The Cedar Suite has its own private cedar sauna room. 
The property has numerous walking trails and guests will be treated to a 3-course breakfast every morning. 
Cedar Rock Inn is the perfect way to relax and unwind after exploring everything that Tulsa has to offer.
Echo Canyon Spa Resort 
Voted the best hotel in Oklahoma in 2015, Echo Canyon Spa Resort is not your average bed and breakfast! This award-winning resort began as a B&B and later expanded to include the Aloha Spa and on-site restaurant, Baron of Beef. With luxurious rooms, a world-class spa, and stunning views of the surrounding forest, Echo Canyon Spa Resort is perfect for a relaxing escape.
Inside the gates, the resort offers guests a variety of accommodation options, including suites in the Hidden Creek mansion, cozy cottages, and cabins across the property. Step out onto your private deck, pamper yourself in the full-service spa, or enjoy a 5-Star meal. You won't even remember how to spell S-T-R-E-S-S after spending a night here! The dining area overlooks the canyon creek that is teaming with wildlife.
Whether you're looking for a romantic getaway or a weekend with friends, Echo Canyon Spa Resort is sure to impress.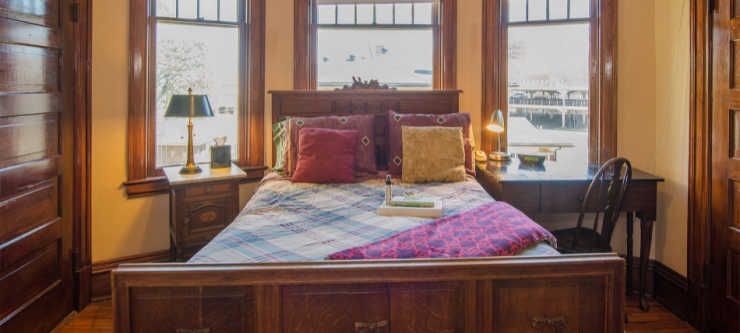 Grandison Inn at Maney Park
If charming Victorian is more your speed, be sure to be a stay at the Grandison Inn at Maney Park in Oklahoma City. Adorned with mahogany woodwork and gorgeous stained glass, this mansion was built in 1904 and restored as a stunning city oasis. 
Each of their eight suites is designed with a unique theme and offers private baths (or Jacuzzi tubs), antique furnishings, and comfortable beds. If you're coming with a partner or spouse, the inn offers special packages like in-room massages, rose petals, and a candlelit dinner that are sure to fan the flames of romance. Guests are invited to spend time on the expansive porch and relaxing in a rocking chair.
For the betrothed shopping for a wedding location, Grandison Inn offers an intimate location in Oklahoma City not to far from Will Rogers World Airport that's sure to impress your family and friends. After the ceremony, newlyweds can head upstairs to their luxurious honeymoon suite. Take a drive into downtown oklahoma city city and visit the Myriad Gardens or the oklahoma city museum of art. It's also just a short drive to the western heritage museum. If you're driving closer to Edmond you could also check out the Stratford House inn for your stay.
 Romantic, luxurious, and full of charm, the Grandison Inn at Maney Park is the perfect place for relaxation.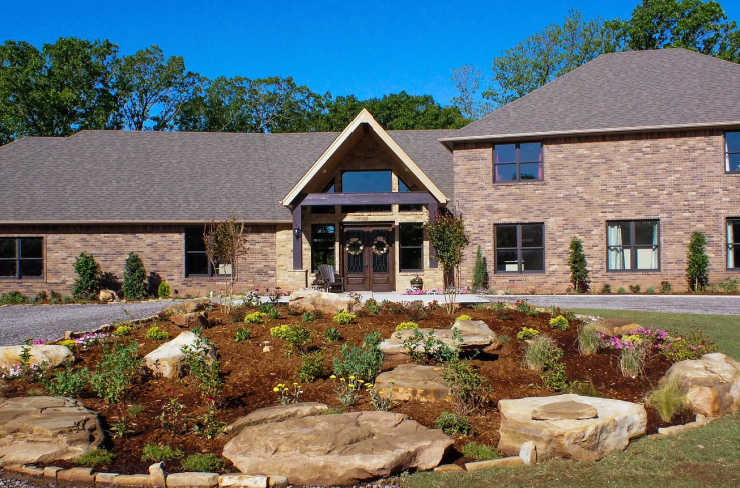 Hidden Meadows Bed and Breakfast
Hidden Meadows Bed and Breakfast is located in Stillwater, Oklahoma, and offers its guests a truly exceptional experience. Owned by husband-and-wife team, Bart and Connie Brashears, this stunning property is set on 20 acres of lush meadows.
You'll find nothing less than first-rate hospitality at this hidden gem. Reserve one of the bed and breakfast's four suites, with both king and queen size beds available, and private bathrooms. Guests also get access to the great room and upstairs common area which features a coffee bar, snacks, and comfortable furniture for lounging. 
Connie personally cooks a delicious breakfast every morning which is sometimes served on the largest of three decks. You can really taste the love put into every meal.
Hidden Meadows is a great choice for those who are seeking a peaceful hideaway with a personal touch.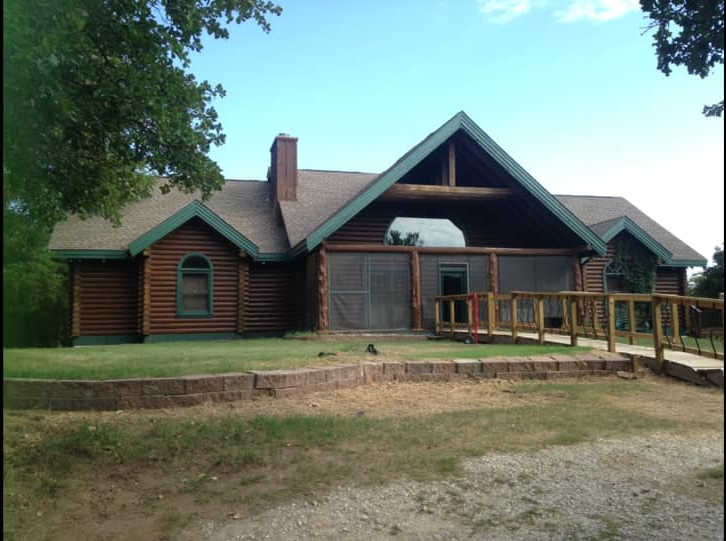 Indian Creek Village Winery & Inn
Step into serenity at the Indian Creek Village Winery & Inn. This extraordinary estate is home to a bed and breakfast, log cabin, an on-site RV park, and winery.
The 3-story Inn offers six-bedroom, six bathrooms, a full kitchen, and a pool that overlooks the winery. For bigger parties, the Log Cabin comes equipped with a salon (great for weddings), a hot tub, two master suites. The newly-built RV park is great for travelers looking for longer-term stays and has 10 pull-ins, sewer and water hookups, and wifi. 
There is no shortage of fun and relaxing activities at Indian Creek, where guests can partake in wine tasting, horseback riding, art lessons, or take a walk through the manicured grounds. 
Indian Creek Village Winery & Inn is an incredible sanctuary off the beaten path.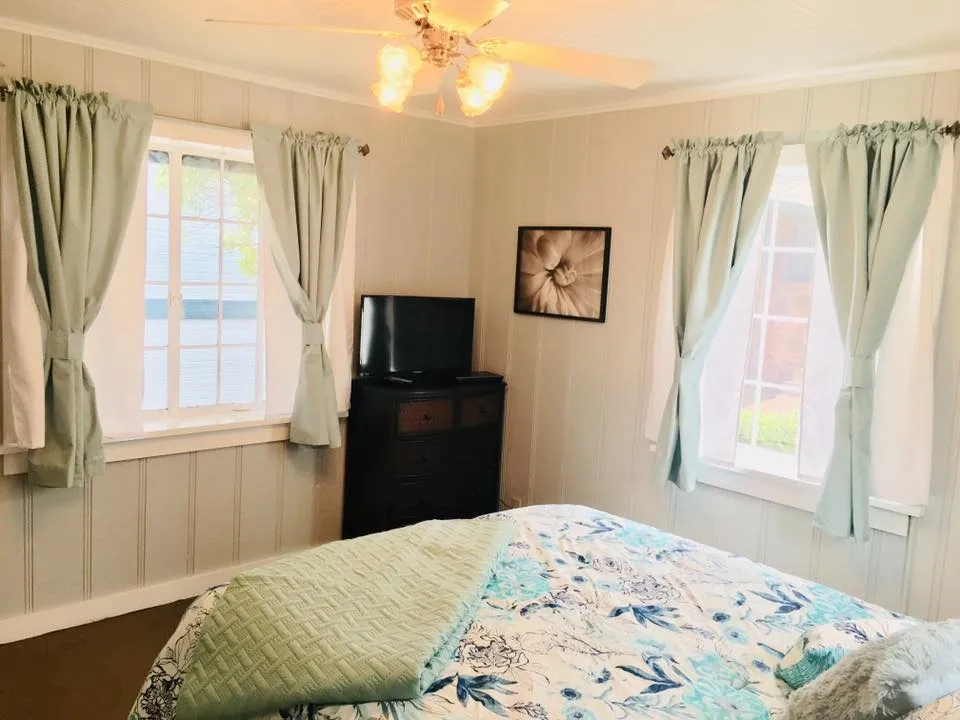 The Monastery at Forest Lake
The Monastery at Forest Lake is a beautiful bed and breakfast in Oklahoma City that is perfect for those who want to escape the hustle and bustle of the city. Just minutes from Bricktown where you could visit the oklahoma city national memorial, this historic property features five unique guest rooms, all of which come with a private bath. There are quite a few really cool places to stay near some of the best lakes in Oklahoma and this is one of them.
Originally built as a hunting lodge, The Monastery is a true oasis in the city and offers its guests stunning views of the lake and 14 acres of forest. It is a choice destination for weddings and includes an outdoor swimming pool, hot tub, and free fishing (just bring your own gear). 
With a massive home set on a picturesque property, this is a must-stay for those who want to experience Oklahoma's history and natural beauty. It was mentioned as one of the best b&b by Expedia.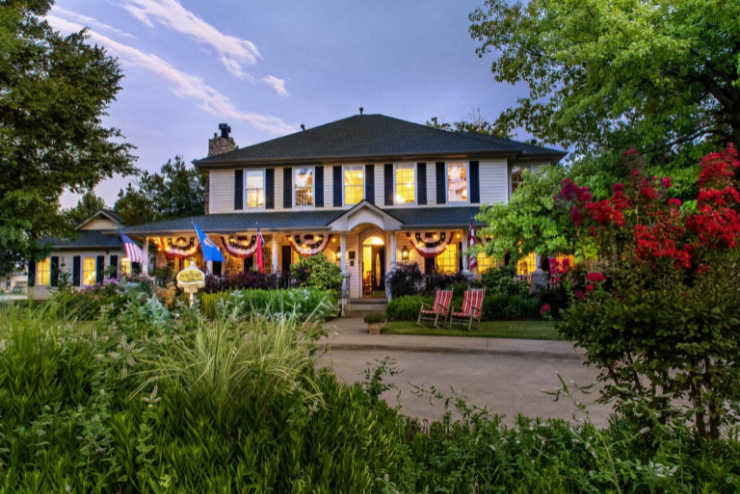 Montford Inn Bed Breakfast 
Nestled in the heart of Norman, Oklahoma is a multi-award-winning Montford Inn. With ten private bedrooms and six cottage suites, this romantic bed and breakfast is the perfect getaway for a couple looking to reconnect.
Guests staying in the main house get access to all the standard amenities, including gourmet breakfast options (like their signature French toast and cappuccino syrup) and even a Tesla charging station. Some of the cabins have jacuzzi tubs, outdoor hot tubs on a private deck, and spacious walk-in showers for a truly serene experience. 
The Montford Inn has hosted celebrities like Helen Hunt, who stayed at the inn while filming Twister and is conveniently within walking distance to excellent dining, art, and the University of Oklahoma. Guests love their Tonhawa smoothies and fresh fruit.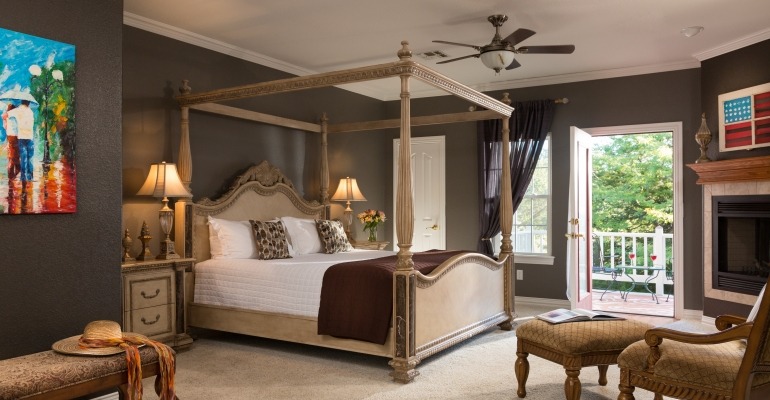 Shiloh Morning Inn
Shiloh Morning Inn is a rural romantic getaway on 73 acres of secluded countryside. The inn specifically caters to couples looking to reconnect and relax in a tranquil setting. 
Offering five large suites and four private cottages, every guest is treated to king-size beds, whirlpool tubs, or private hot tubs for two. Take a stroll with your sweetheart through their secluded walking trails or visit their on-site library of books, DVDs, and board games for a cozy night in.
In the morning, head down to the dining room of the main house for a delicious breakfast and enjoy their exclusive "Room Service Dinner for Two" delivered directly to your suite or cottage.
From Shiloh Morning Inn, take a short drive to Lake Murray State Park or Chickasaw National Recreation Area for a day of hiking, biking, boating, or just relaxing by the water. You can also enjoy the onsite golf course.
Terrapin Peak Bed, Breakfast & Beyond
If you're looking for a modern, yet rustic experience Terrapin Peak Bed, Breakfast, & Beyond is a must-stay for family getaways, romantic trips, or corporate retreats.
All accommodations at this special place are offered exclusively in their 3 luxurious cabins. Each offers different amenities, including whirlpool tubs, private decks, and full kitchens. All guests have access to free wifi throughout the property.
This bed and breakfast offers gorgeous views of the surrounding landscape and delicious gourmet meals prepared by a private chef. Whether you're looking for a decadent continental breakfast or a romantic dinner served in your room, you're sure to be impressed. 
If you're looking for a quiet and relaxing getaway, look no further than Terrapin Peak Bed, Breakfast & Beyond in Cookson, Oklahoma.
Two Hearts Inn
Upscale luxury is the only way to describe the Two Hearts Inn. Take a romantic trip around the world within one of the inn's five suites, decorated in beautiful Old World, French Neoclassical, tropical, and Southwestern themes.  
This bed and breakfast was built for love, with every room featuring a jacuzzi tub for two and guests can surprise their special someone with a dozen roses, chocolate-covered strawberries, and other romantic delights upon request. Suite hearts offer king size beds ,flat-screen tv with over 150 satellite channels and a fireplace. Suite Tuscany offers is one of the most requested rooms with a private balcony.
After an amazing sleep, the next morning you can dine on a gourmet breakfast either delivered to your room or at the Inspirations Eatery & Tea Room, which is located on-site and also offers lunch.
Two Hearts Inn is located in Oklahoma City and is the best place to connect with your true love.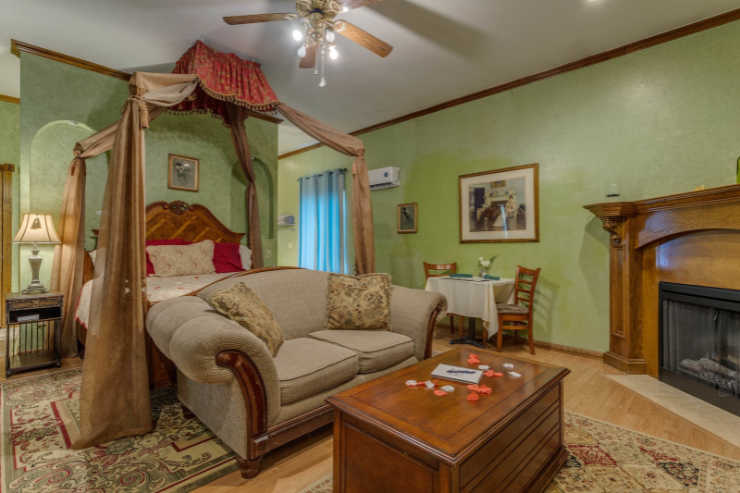 Whispering Pines Inn
Last but not least on our best bed and breakfast in Oklahoma is Whispering Pines Inn. Whispering Pines Inn is a hidden jewel just east of Norman on Hwy 9. Spend the weekend in this intimate atmosphere, styled after a 1900s mansion but providing amenities for the modern-day traveler. Along with a scrumptious breakfast delivered to your door, guests can wander the grounds, visit the koi pond, or enjoy a cocktail with their full bar service.
Pick from one of the inn's three luxurious cottages or five elegant bedroom suites, all featuring jacuzzi tubs and they even provide bubble bath with their own private bathroom and some with a dvd player.
The Whispering Pines Inn Restaurant is known for its fine cuisine and full bar. It is open to guests and non-guests alike, with a casual dress code for comfort. Take in a meal before heading out to explore the nearby attractions.
Spend your next vacation at Whispering Pines Inn, where romance awaits.
Oklahoma is home to some of the best bed and breakfasts and guest house in the country. From luxurious resorts with on-site spa treatments to cozy B&Bs hidden away in the woods with natural wonders, there's something for all tastes. If you know your just passing through and you'll be staying in the downtown area, check out the Colcord hotel. It has really nice rooms with suites. Whether you're looking for a romantic escape or a weekend with friends, these best bed and breakfast in Oklahoma are sure to impress. You may also want to check out some waterfalls in Oklahoma. So, pack your bags and get ready for some relaxation!
More Places to Visit in Oklahoma
FOLLOW US ON SOCIAL MEDIA
Don't forget to invite your friend's to our Facebook groups! We would also love to see your vacation pictures!