Indoor Camping Activities for Kids
Camping Activities for Kids can be a lifesaver if you end up with a lot of downtime on your camping trip! See these freebies here!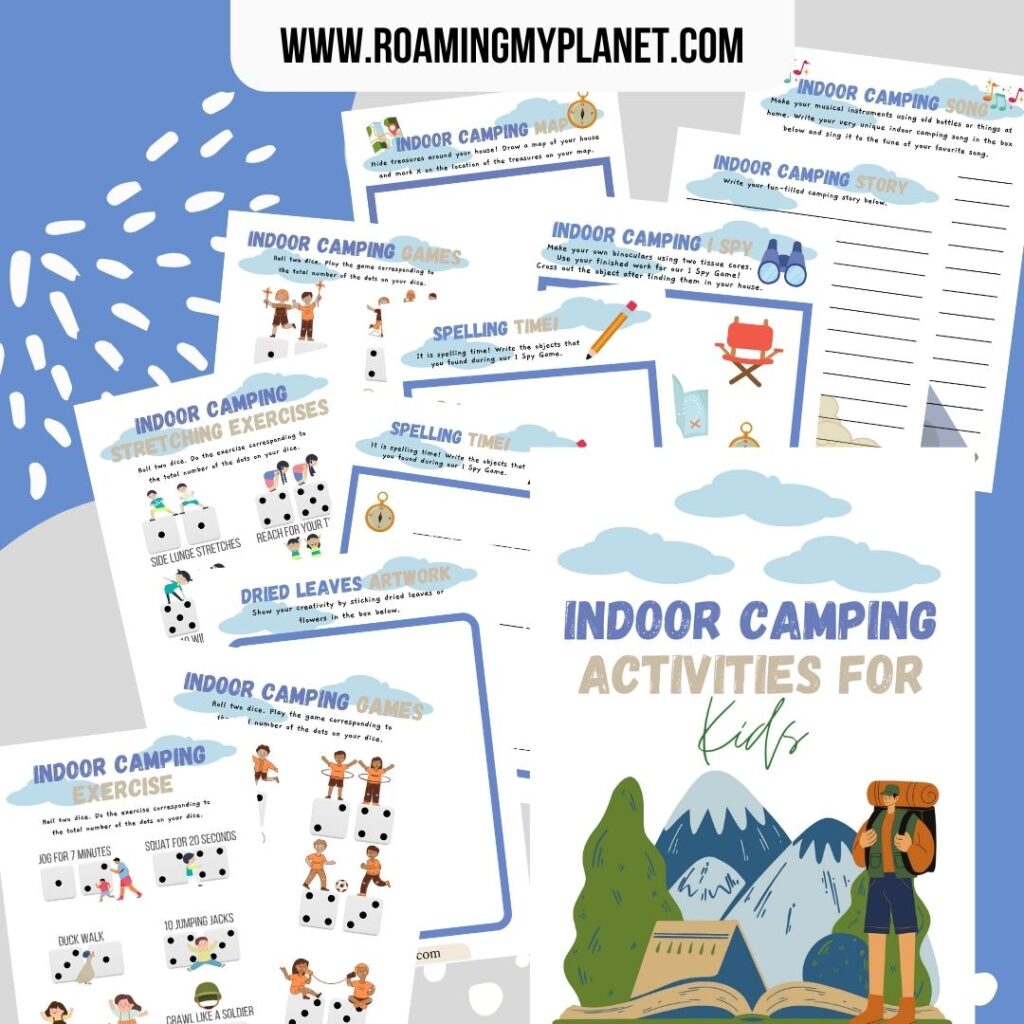 Indoor Camping Activities for Kids
Sometimes camping trips don't work out as great as they are expected to. Typically an unexpected rainstorm is the culprit.. In this case, you may find it difficult to keep the kids entertained in a small space, without the typical fun things to do everyone has at home!
These printables are great for having ready to go in the camper or along with you in your camping supplies. Our Indoor Camping Activities printables include indoor exercises –to get energy out– and a dried leaf art project, indoor camping games, and more. I would say (as a mom) that these activities are designed for younger grade school kids. These would also work for preschool and kindergarten age if parents are helping with reading. 🙂
Print your Indoor Camping Activities Pack Here
The best part about this activity is that it doesn't take up much space, and it's FREE to download and print, so if it doesn't get used, no biggie! Hopefully your camping trip can be full of outdoor fun and you won't even need to brainstorm for indoor ideas.
Need More Family Friendly Things to Do?
If you are looking to invest in some fun activities, see these camping trip friendly games and activities. These are great for evenings, downtime between hiking or swimming, and if the weather gets a little too warm or cool to be out! Target often has Circle offers for Board Games, including BOGO 50% off, so keep an eye out for sales!
If you have a small camper like we do, keep in mind any board games need to be able to fit into small spaces! Our best camping hacks include buying travel versions of games, or ones in reusable carrying cases. Those typical cardboard game boxes that fit up into the closet at home aren't ideal for travel.
Do you have ideas for keeping the kids busy indoors on camping trips? Share your best family activity ideas!
See more from Roaming My Planet Here:
Family Destinations & Articles You Should Check Out
FOLLOW US ON SOCIAL MEDIA
Don't forget to invite your friend's to our Facebook groups! We would also love to see your vacation pictures!