8 Haunted Houses in Oklahoma
When the days grow shorter and the leaves begin to change color, it can only mean one thing: Spooky Season is right around the corner! The time when ghost stories are being told and Halloween parties are in full swing. Let's check out 8 haunted houses in Oklahoma you need to visit.
If you're looking for a good time and a scare this year, Oklahoma has no shortage of scary haunted houses. From traditional haunted houses to creepy corn mazes, there's something for everyone looking for a good scream.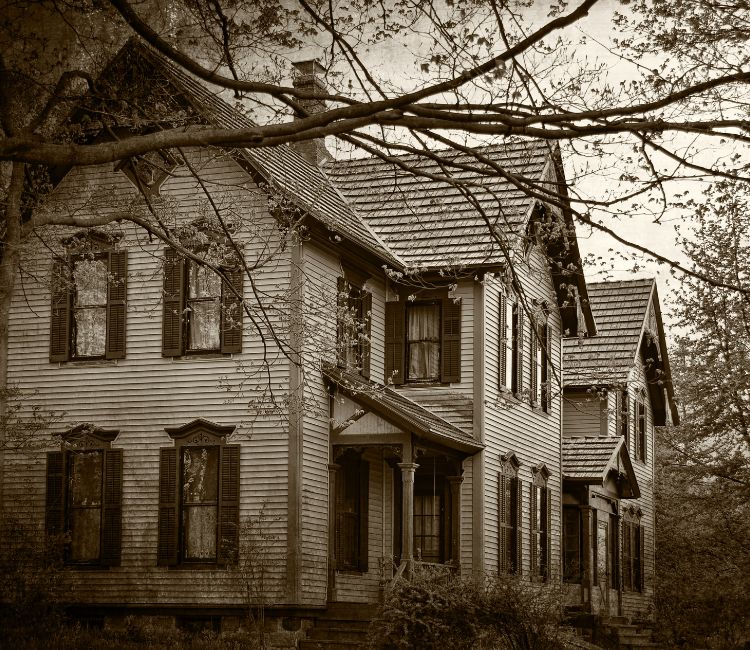 In this article, we'll uncover some of the best-haunted houses in the great state of Oklahoma and help you find the perfect attraction for your petrifying palette.
Be sure and check open times as some may only be on a Friday or Saturday night.
So put on your brave face and check out some of Oklahoma's scariest haunted houses and attractions! Who's ready for a fright fest?
13th Door OKC Haunted House
Enter 20,000 square feet of pure terror at the 13th Door OKC Haunted House. This heart-pounding Halloween haunted house is located in Oklahoma City Be sure to bring a buddy because this wicked adventure is not for the faint of heart.
Open just 13 days out of the year, the 13th Door promises to be one of the most terrifying things you'll do all year. With its impressive attention to detail, you'll never know what's waiting for you just around the corner. 
This haunted house also has Oklahoma's longest indoor corn maze, complete with a full-size grain silo that will take guts of steel to walk through.
Visitors will also come face-to-face with some of Hollywood's most wicked villains, like Freddy, Jason, and Pennywise. Don't let Jigsaw get inside your head in the suffocation room or you might never make it out! 
You'll be hard-pressed to find another haunt with such blood-curdling realism. At just $13 a head, 13th Door OKC Haunted House will not disappoint even the most extreme adrenaline junkies.
Haunted Castle Halloween Festival 
Every October, The Castle of Muskogee opens its doors to some of the most bone-chilling guests you'll ever encounter. As the veil things and the haunts come out, you're invited to explore over 62 acres of spooktacular attractions and entertainment.
The Halloween Festival has been around for more than 20 years and offers 11 different spooky events for your twisted enjoyment. Rated one of the best-haunted attractions in the state, there is something for all ages at The Castle of Muskogee.
The Halloween Train offers a family-friendly experience as it journeys around a harbor filled with pirate ships and an Enchanted Forest. Next on the spook-o-meter is the Torture Chamber, where guests can explore burial tombs and hidden tunnels while learning about torture methods from the Dark Ages. Step up the horror with The Haunted Hayride and Ultimate Maze where you'll travel through the Haunted Woods and encounter a myriad of nightmare-ish monsters. 
For those who are seeking a bone-chilling adventure, go for a walk on the Trail of Blood where you'll be dropped off in the woods which are filled with horrors while finding your way back to safety…if you can. Casa Morte, or the Murder Castle, will have you journey through the dark and unsettling silence – what terrible things happen within the walls? You'll just have to find out. In Zombie Hunt, you'll have to work as a team to take out the infected zombies with limited ammo while trying to not get turned yourself. Finally, Domus Horrificus brings to life characters from horror movies. The very same ones that gave you nightmares as a kid are out to get you, so you better run!
Don't miss out on this incredibly rich and haunted experience in Muskogee!
The Hex House – Tulsa
Voted one of the "15 Scariest Haunted Houses in the World," The Hex House is considered an extreme haunted attraction because of how thoroughly it immerses its guests in the experience. It is a multi-element, walk-through haunted house that is dark, and intense, and the actors are allowed to touch you.
In 1944, the original Hex House was made famous after a small casket was found buried in the backyard of a Tulsa home. They discovered that two young women were being held captive by a woman who was using occult control tactics for seven years. Police dubbed the case, "Hex House" because it had all the elements of a scary story. The house was a popular Halloween destination for locals until it was torn down in the 70s.
Inspired by its namesake, the Hex House is nothing short of a harrowing and horrifying adventure that will make any die-hard horror fan feel faint. You'll be transported into the eerie atmosphere of yesteryear, as every scene is designed to induce sheer terror in anyone that wanders the haunted hallways. 
Hex House is located in Tulsa and is unlike any other haunted attraction you'll visit. You'll experience nothing but raw fear in this historically-inspired haunted house.
Guthrie Haunts Scaregrounds
Located right off of Hwy 77, Guthrie Haunt Scaregrounds is a massive haunted experience that will be sure to frighten anyone who dares to enter. Considered a Super Haunt, covering 30,000 square feet of indoor and outdoor scenes, this spooky attraction will have guests jumping out of their skin.
Listed as one of Oklahoma's scariest haunted houses, the Scaregrounds is home to both Guthrie Haunts and Insomnia, where thrill-seekers have to interact with scare actors to escape its terrifying hallways. 
For an even more immersive experience, guests have the option to purchase a "touch pass" which allows the characters to touch you, smear you with blood, and even drag you away from your group. It promises to add a new level of intensity to your haunted house experience.
Guthrie Haunts Scaregrounds entertains from the moment you arrive. As you wait in line, you'll be treated to some fire and baton twirling, magic tricks, and a scary movie playing in the background. On-site food trucks are available for snacks, alcohol, and to cure your post-haunt anxiety.
Psycho Path Haunted Attraction 
Looking for haunted houses in Oklahoma near Tulsa? Outside of Tulsa, in a dark and mysterious wood, lies the Psycho Path Haunted Attraction. This unique horror experience is set on 40 acres of haunted woods and offers two different adrenaline-pumping attractions. 
The Dark Ride is an outdoor haunt that shuttles visitors through 20 minutes of eerie acreage and high-intensity scares. Modeled after classic theme park rides, their signature Scareage, a special vehicle that holds 8 people and is so quiet, you'll be able to hear every snapping twig. The authentic outdoor environment allows guests to experience real fog, and coyotes howling while they pass through scenes that would give Hollywood a run for its money. You are guaranteed to encounter things that go bump in the night that will jump out when you least expect it. Riders beware: once you board the Scareage, there is no getting off until the journey is over.
For the brave soul that just can't get enough dreadful delight, The Shadow Box is a walk-through haunted house spanning 4,160 sq. ft and plunges you into the depths of your own mind. As you travel through the house, be prepared for an array of hair-raising scenes and constantly wondering what is real. You'll never quite know what lies ahead in each room and to escape, you'll have to face your worst fears.
Psycho Path Haunted Attraction is open every Friday and Saturday in September. Entry into The Shadow Box is only permitted when purchasing a combo ticket ($35) for both attractions. A ticket for just The Dark Ride is $20 and they offer group discounts for parties of 8 at $240.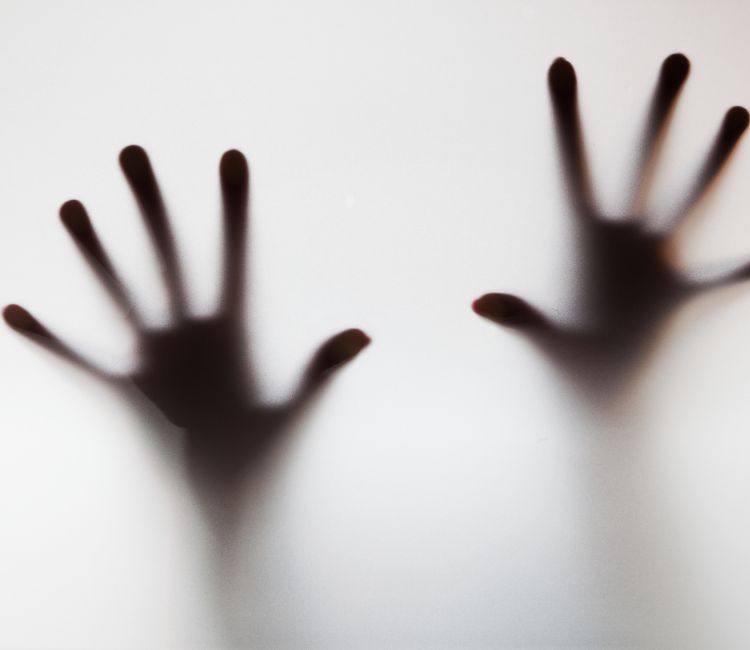 Trail of Fear Haunted Scream Park
Let fear be your guide at Oklahoma's largest haunted attraction. The Trail of Fear Haunted Scream Park has been delivering sinister visions of horror to its guests for over 20 years, and it's not hard to see why it has been rated the Sooner State's #1 haunted attraction.
Embark on the Hackensaw Haunted Hayride which sends visitors through the Hackensaw Family Compound…and they are hungry! This demented family doesn't like trespassers and will devour anyone they catch on their beloved land. You'll have to make your escape before they turn you into their next meal.
Camp Twisty is a haunted attraction that was added in 2021 and features a host of unnerving characters. Enter the hellish landscape of this frightening summer camp where the counselors are demented and the campers are equally deranged. Serial killers straight out of slasher flicks prowl around the grounds while you attempt to get out with your life.
The Trail of Fear Scream Park also offers two escape rooms with different themes. The Curse of the Black Swan is set aboard an abandoned pirate ship and to survive the night, you must solve the Curse of the Black Swan to save you and your shipmates from imminent death.
In Coppergrove's Crypt, you have 5 minutes to figure out if Edward Coppergrove is the vampire the townspeople accused him to be. Discover whether he's in the crypt before time runs out.
Once you're all screamed out, head to the Boo House BBQ and enjoy a host of delicious barbecue delights before heading down to the Apothecary where you can purchase souvenirs. 
The Sanctuary
Located right next door to Six Flags Frontier City, The Sanctuary is an elaborate haunt attraction that offers a haunted house experience during the Halloween season and lets guests puzzle their way out of an escape room all year round.
Originally founded as a mental institution in 1913, The Sanctuary was started by humanitarian Charles Labrie and it was known for its cutting-edge treatments. Due to the shortage of doctors during World War II, Labrie hired a German doctor named Dr. Ryan Hammond who eventually began performing grotesque experiments on himself and his patients. Things quickly deteriorated and Dr. Hammond staged a hostile takeover of the asylum.
The Sanctuary gives visitors a first-hand look at the grizzly and horrific results of this demented doctor. As you tour the haunted institution, be prepared for unsettling scenes, including the state Dr. Hammond's victims were left in. 
This may be the best place for Halloween season thrill seekers who crave a high-quality scare. The Sanctuary offers Hollywood-style set designs with state-of-the-art special effects and attention to detail so impeccably, you'll be convinced you're inside a real-life horror film.
Wicked Forest of Terror
Last but not least on our haunted houses in Oklahoma list. While not technically a haunted house, the Wicked Forest of Terror is an extreme haunted attraction in Oklahoma City that boasts nearly a mile-long rail of sweet nightmares for guests to walk through. 
This is considered Oklahoma's most extreme haunted forest and was created by some of the best minds in the haunted attraction industry. A loyal crew of architects has expertly crafted an experience that immerses its victims in a devilishly realistic haunted trail. 
You will be subjected to intense scenes, special effects, and live actors that will never break character as you journey through the eerie forest.
The Wicked Forest of Terror is not recommended for children under 13, though they do offer a kid-friendly trip through the forest called Tiny Terror which is open the last two Saturdays of October.
General admission is $25. If you don't want to wait in line, the attraction offers the Speed Pass ($35) which shortens your wait, and the Instant Pass, which allows you to skip the line altogether.
The coveted Wicked Pass costs $90 and lets you skip the line, lets you take a look behind the scenes, and even lets you get in on the scary action by joining a scene yourself. There are only 10 of these passes offered nightly.
In a state as big as Oklahoma, it's no surprise that there are some truly terrifying haunted houses and attractions. Whether you're looking for haunted corn mazes, horrific asylums from the past, or a walk-through haunted house, you'll be sure to find something that sends you home screaming. And if you dare, let us know how you made it out alive! Which of the haunted houses in Oklahoma do you plan to visit first?
FOLLOW US ON SOCIAL MEDIA
Don't forget to invite your friend's to our Facebook groups! We would also love to see your vacation pictures!