Door County Getaway, Sturgeon Bay Wisconsin – Winter Activities
If you're looking for a perfect getaway spot this summer, Door County in Sturgeon Bay, Wisconsin should be on your list. With its stunning scenery, friendly locals, and endless outdoor activities, it's the perfect destination to escape the city and relax. In this blog post, we'll provide some tips and tricks to help you plan your Door County getaway.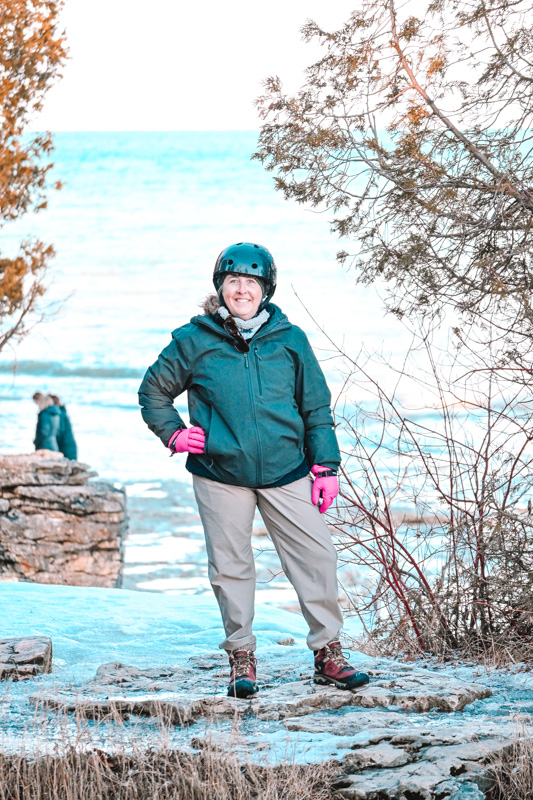 Introduction to Door County, WI
Door County, Wisconsin is a popular midwestern vacation destination. With its 300 miles of beautiful coastline dotted with lighthouses and thousands of acres of wooded green space, Door County is the perfect spot for a weekend getaway or a summer-long escape. The area is home to many outdoor activities, family fun, interesting historical sites. You will also find world-class dining and shopping in Door County. For couples looking for a romantic Door County getaway, Door County offers honeymoons, anniversary trips, and romantic getaways with plenty of activities to keep you busy. There are also dozens of lakeside communities with lodging options including hotels, motels, bed & breakfasts, inns, cabins, campgrounds, and resorts. So you can find the perfect place to stay during your Door County vacation.
One thing to mention is many places close during the winter or close early. But not to worry, there is still plenty of things to do. Just make sure you check each locations hours of operation. Do you like to visit State parks, nature trails, or maybe relaxing in a hot tub under the stars? Or maybe you just enjoy scenic views. Door County has something for everyone.
Open Door Bird Sanctuary
Open Door Bird Sanctuary is a unique and special place near Jacksonport, WI in Door County. It is a nonprofit sanctuary that provides homes for un-releasable birds of prey. The 34-acre sanctuary offers visitors a chance to see these incredible birds up close and learn more about their natural habitats. Visitors can explore the hiking trails, observe wildlife, and even take private tours year-round.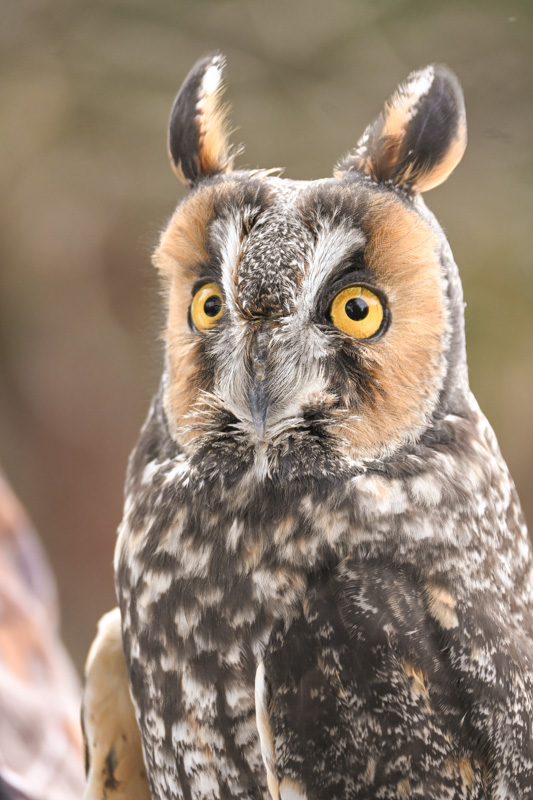 Open Door Bird Sanctuary offers an incredible combination of environmental education and bird awareness. During the summer season the sanctuary is open from 11am to 4pm. Admission for adults is ($10), age 5-12 ($7) and under 5 (free). It's a perfect destination for those looking to experience nature in Door County. Check the calendar and weather and plan your day! You are sure to have a great time with this unique experience.
History of Sturgeon Bay
Door County is full of history, and Sturgeon Bay is no exception. The city of Sturgeon Bay was named for the long, fish-shaped bay it borders. It is located at the midpoint of the 90-mile long Door Peninsula in Door County. In 1850, Oliver Perry Graham built a log cabin on the east shore of Sturgeon Bay.
Since 1939 the Door County Historical Museum has been educating locals and visitors alike. The Historical Village recreation by also gives visitors an insight into how life used to be in Sturgeon Bay. Here visitors can explore a store, school, church blacksmith shop, and homes with vintage buildings. Visitors can learn about how people used to live in Sturgeon Bay. They will also get a glimpse into the maritime history of Wisconsin's Great Lakes region with its lighthouses and other historic sites.
Things to Do in Sturgeon Bay in the Winter
Not only is Door County a great summer destination, it's also great in the winter! With the New Year's Eve Fireworks & Cherry Drop and the New Year's Day Parade, there is plenty of fun to be had. Ice fishing, snowshoeing, and sleigh rides are all popular activities in Door County in the wintertime. Plus, you can enjoy some of the region's best attractions such as Whitefish Dunes State Park and Cave Point County Park. There are even some unique places to eat like Sonny's Italian Kitchen and Door County Coffee and Tea. And for a cozy place to stay, check out The Runaway Lodge at Valmy (which is dog friendly). With so much to do in Sturgeon Bay during the winter season, you won't want to miss out!
Whitefish Dunes State Park in winter
Whitefish Dunes State Park is a great place to visit in winter. Located 14-1/2 miles from Sturgeon Bay, the park is open daily from 6am to 8pm and offers 1-1/2 miles of interpretive trails and 14-1/2 miles of hiking and skiing trails. For those looking for a unique outdoor experience, the park is also home to Cave Point Kayak Tour. This guided kayak tour gives you views you can get from the water. For those looking to take a break from the cold weather, the park also features a nature center with year-round museums and exhibits. Whether you're looking for an outdoor adventure or a cozy place to explore in winter, Whitefish Dunes State Park has something for everyone.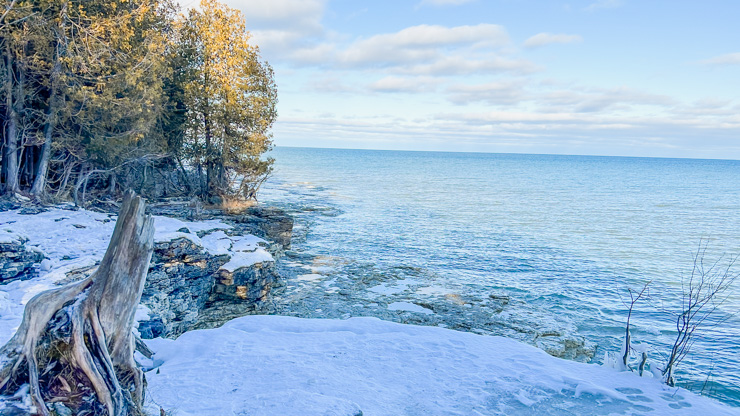 Cave Point County Park in Winter
Cave Point County Park in Door County, WI is a must-visit in the winter for anyone looking for an outdoor adventure. With its incredible ice formations and frozen water sprays, this 19-acre park offers breathtaking views of Lake Michigan from its shores. The half-mile hiking trail is perfect for exploring the winter wonderland that awaits you. Just a short walking distance from the parking lot you can get some great photos of ice on the rocks from the waves! Just be careful as the rocks can be slick. After a day of exploring the beauty of Cave Point, there are plenty of restaurants and bars to check out nearby, such as Sonny's Italian Kitchen and Door County Coffee and Tea. If you're wanting to stay overnight, The Runaway Lodge at Valmy offers pet-friendly accommodations that are perfect for your winter getaway.
Restaurants and Bars to Check Out
If you're looking for some great places to eat and drink in Door County has plenty of options! From classic pubs like the Nightingale Supper Club to Donny's Glidden Lodge Restaurant and The Inn at Cedar Crossing, there's something for everyone. For delicious desserts, head over to Scaturo's Baking Co & Cafe or The Gnoshery. Finally, don't miss out on the famous Door County Coffee and Tea (I'm actually drinking some Door County Coffee right now while I'm writing this!) or Sonny's Italian Kitchen. With so many great restaurants and bars to choose from, Sturgeon Bay is sure to offer an unforgettable experience!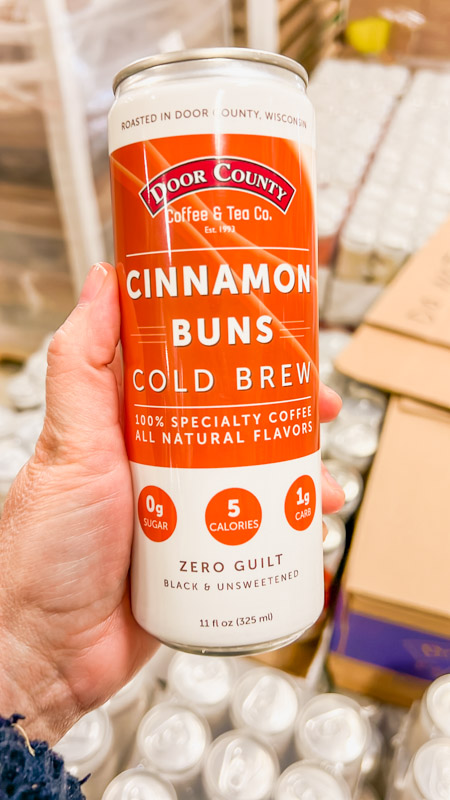 Door County Coffee and Tea
Door County Coffee and Tea Co. is a popular spot for coffee lovers visiting Sturgeon Bay. Located in the heart of the city, this family-owned coffee roaster offers over 100 freshly-roasted coffees and teas to choose from. Enjoy a cup of coffee or tea in the cafe, or pick up a bag of freshly roasted coffee beans to take home. With its close proximity to the beautiful Door County shoreline, you can enjoy your favorite beverage while admiring the stunning views of the bay.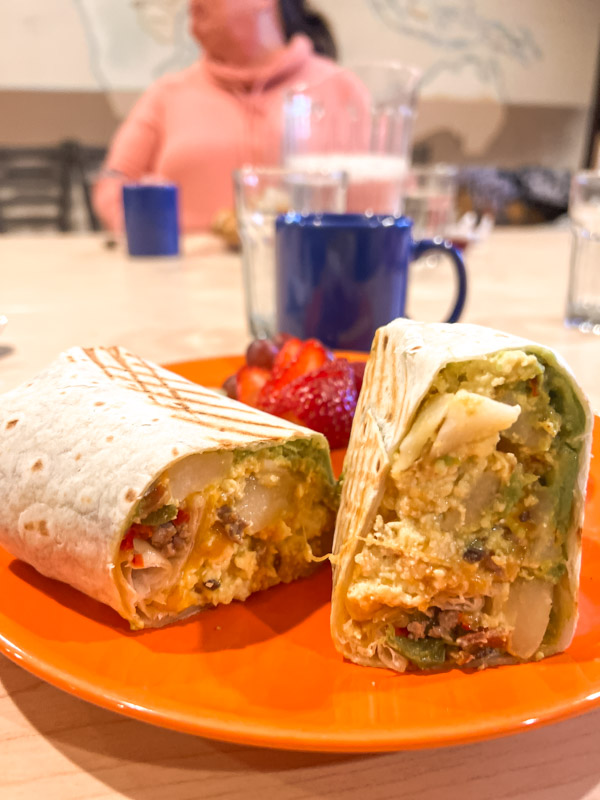 They also have a great breakfast menu too. Whether you're looking for a warm cup of coffee on a cold winter's day or a refreshing iced tea on a hot summer's day, Door County Coffee and Tea Co. is the perfect place for your caffeine fix. The Cafe and drive thru are open 7:30-4:00 7days a week.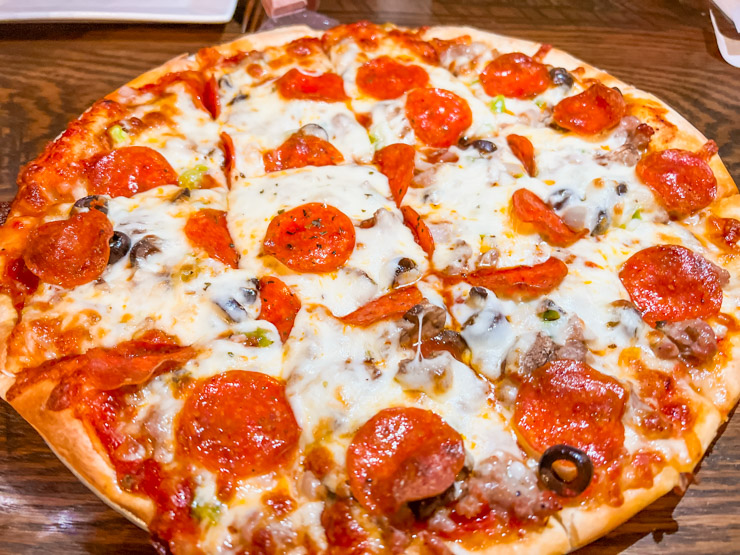 Sonny's Italian Kitchen
We can't talk about Door County without talking about great food. Sonny's Italian Kitchen & Pizzeria is a popular spot for pizza lovers in Sturgeon Bay, Wisconsin. Enjoy wood-fired pizza and Chicago-style pizza in this cozy Italian restaurant. With its unique views and delicious Italian food, Sonny's is a great place to visit while exploring Door County. Whether you're looking for a warm lunch on a cold winter day or a romantic dinner with a view, Sonny's has you covered! The menu features thick and thin crust pizzas, deep dish stuffed pizzas, pasta, chicken, sandwiches, baby back ribs, jumbo shrimp, and salads. Plus, Door County Coffee and Tea is available to accompany your meal. Visit Sonny's Italian Kitchen & Pizzeria today for an unforgettable experience in Sturgeon Bay!
Where to Stay in Sturgeon Bay
When looking for a place to stay in Sturgeon Bay, Wisconsin, visitors will be delighted to find a variety of lodging options. From hotels and motels to bed and breakfasts, there is something for every budget and taste. For an elegant stay, the AmericInn by Wyndham Sturgeon Bay, located at 3122 Lake Forest Park Rd, offers great amenities and comfortable accommodations. At the Quality Inn & Suites on 1015 Green Bay Road, guests can enjoy a convenient location and comfortable rooms. No matter what type of lodging you choose in Sturgeon Bay, you are sure to have a wonderful time exploring all that this area has to offer!
Places to Visit Near Sturgeon Bay in Winter
If you're looking for something a bit different to do in Sturgeon Bay, consider visiting some of the places nearby. Al Johnson's Swedish Restaurant, located in Sister Bay, is a must-see for lovers of traditional Swedish cuisine. The Ridges Sanctuary, located just a few minutes away by car, is a great place to go for nature lovers. Here you can take part in educational programs and explore the unique natural habitats of the area. For those with pets, The Runaway Lodge at Valmy is a great option as they are pet friendly. No matter what your interests are, there's something in Door County for everyone to enjoy in the winter months!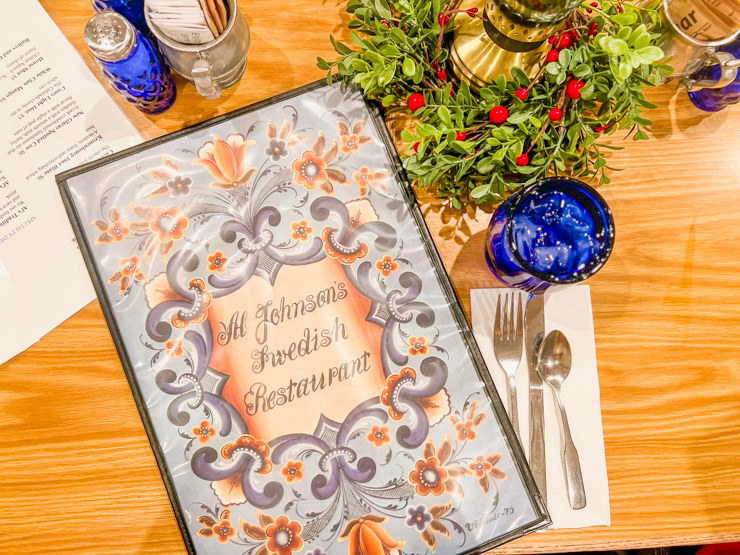 Al Johnson's Swedish Restaurant
Al Johnson's Swedish Restaurant & Butik is a must-see for anyone visiting Sturgeon Bay, WI. With its famous goats on the roof, Al Johnson's is easily the most legendary restaurant in all of Door County and maybe even Wisconsin. Offering a variety of delicious Swedish cuisine and an inviting beer garden, Al Johnson's is a great place to dine in or take your food to go. The restaurant also offers a wide selection of cheeses, jams, mustards and other gourmet items for sale in their Butik. Tourists can also take part in the Sister Bay Cheese Curd Tour or one of the many walking tours available.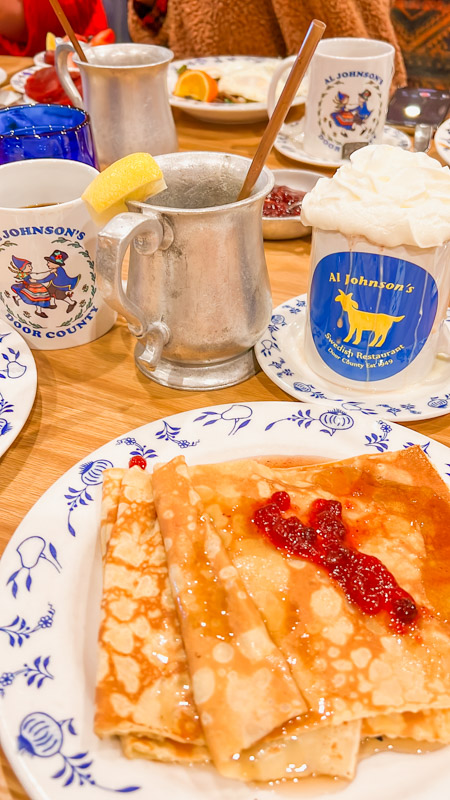 Definitely check out their gift shop with beautiful Swedish gifts. We bought some beautiful blue salt and pepper shakers. There's something for everyone at Al Johnson's Swedish Restaurant & Butik! Add this one to your list of things to see on your Door County Getaways at Sturgeon Bay WI. You have to try the lingonberries! They are great on the Swedish Pancakes!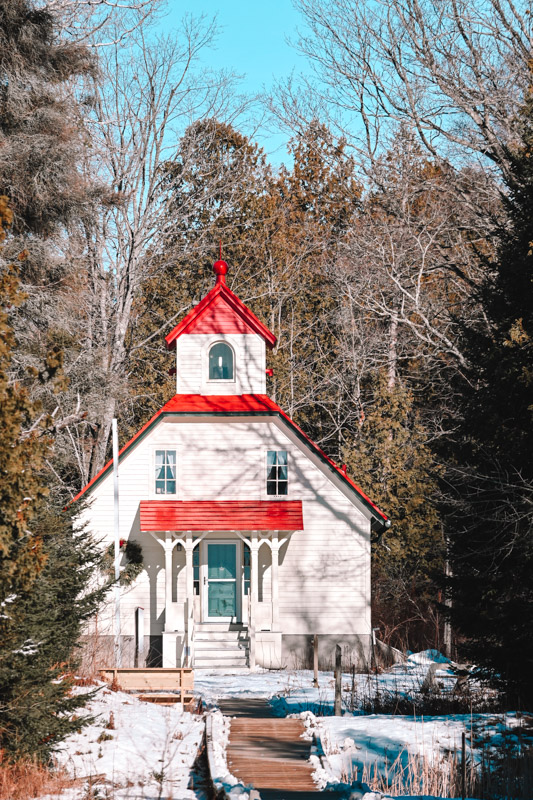 The Ridges Sanctuary
The Ridges Sanctuary is situated in the heart of Door County, just a short drive from Sturgeon Bay. Founded in 1937, it was Wisconsin's first land trust and has been protecting over 1400 acres of boreal forest and five miles of trails ever since. The area is renowned for its diverse natural beauty, with a variety of flora and fauna that can be enjoyed by hikers and bird-watchers alike. They offer self guided and naturalist guided hikes as well. The Ridge Sanctuary also offers nearly a 1/3 of a mile of 8 foot wide paths that are designed for 2 way wheelchair traffic. So everyone can enjoy the sanctuary! The Ridges Sanctuary is an ideal spot for a winter getaway in Door County.
While you are here you have to check out the Range Lights. Sailors coming into the bay would use these range lights to help them avoid underwater obstacles. There is a lot of history here at the Ridges Sanctuary!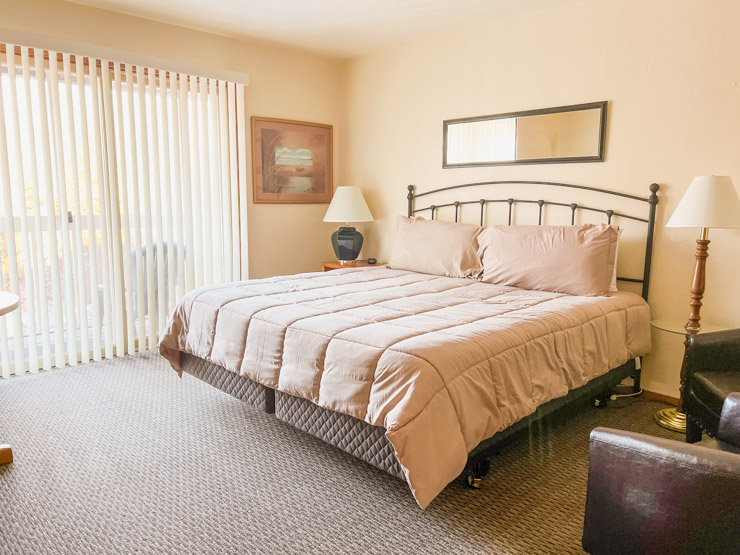 The Runaway Lodge at Valmy (dog friendly)
The Runaway Lodge at Valmy is a great option for travelers who are looking to bring their furry friends along on their Door County getaway. Located at 4902 Hwy 57 in Sturgeon Bay, the lodge features sixteen modern guest rooms with refrigerators and private decks, as well as amenities such as air conditioning, wheelchair accessibility, and WiFi. The rooms are clean and neat, and there's no lingering smell of other dogs. Plus, the lodge is conveniently close to all the attractions that Door County has to offer in winter, like the Open Door Bird Sanctuary and Whitefish Dunes State Park. So if you're looking for a pet-friendly lodging option that won't break the bank, the Runaway Lodge at Valmy is just the place for you.
Do you know why it's named The Runaway Lodge? The entire hotel was picked up and moved from a neighboring community! Make sure you ask to see the pictures. It's a pretty impressive feat!
Newport State Park
No Door County getaway would be complete without a visit to Newport State Park. Newport State Park, the sole wilderness state park in Wisconsin, has been recognized by IDA (International Dark-Sky Association) as an International Dark Sky Park, making it the first state park in Wisconsin to receive this designation. There are only 48 parks globally that have achieved this honor, and Newport now joins the likes of esteemed US National Parks such as Big Bend Glacier and Grand. IDA-accredited state park, Newport is one of only 13 other state parks in the US to receive such recognition.
Situated at the northernmost part of Door County on the west side of Lake Michigan, Newport offers an ideal location for stargazing with an undisturbed view of the eastern horizon during nighttime. The wilderness park spans an area of 2373 acres and provides only backpack camping facilities with few amenities, limited to the park office and a picnic spot that includes a park shelter. Visitors must display a vehicle admission sticker on their vehicles when they stop at forest recreation areas, state parks or trail parking spots. The sticker can be purchased beforehand. You can get annual stickers either at the park or beforehand, which allow you to access all state parks for the current year.
Places Near Sturgeon Bay We loved
Renard's Artisan Cheese – Located in Southern Door County, you can take a tour, join the free cheese and wine tastings, grab a meal at the deli or shop for gift boxes to take home. If you are flying into Green Bay, Renard's is great place to stop by on your way to the peninsula.
Sister Bay Bowl and Supper Club -Bowling on the vintage lanes is fun for the whole family but you can grab some great food too. They have amazing pizza and have been voted the best fish fry and best old fashioned. There are so many great places to eat and visit on your Door County Getaways Sturgeon Bay WI.
Other Places We Didn't Get to Visit that Are Worth Mentioning:
Peninsula State Park –Located at Fish Creek, and they offer so many activities from hiking, fishing, golf, boating and swimming.
Potawatomi State Park – great for biking in the summer and cross country skiing in the winter. This is one of the best places to visit for outdoor winter activities. Enjoy winter day trips or in the warmer months you can pitch a tent by a fire pit at the campgrounds.
Door County Maritime Museum -The hours change based on the season so check their schedule online. Here you can see the lighthouse tower and learn about the history of the area.
So many great locations to visit on a Door County getaway in Sturgeon Bay WI!
Other Lodging in or Near Sturgeon Bay
What are you waiting for?
Door County, Wisconsin, offers a variety of activities and attractions for visitors all year round. Whether you're looking for a romantic winter getaway or an adventure-filled weekend with friends, Sturgeon Bay has something for everyone. From the stunning scenery of Whitefish Dunes State Park, to the delicious food at Sonny's Italian Kitchen, to the wildlife viewing opportunities at Open Door Bird Sanctuary, the possibilities are endless. Rent a cabin with the comforts of home and warm fireplaces or check out the indoor pool and amazing views at the Westwood Shores Waterfront resort. With its stunning landscape and myriad attractions, Sturgeon Bay is sure to be a memorable Door County getaway destination.
Great Destinations for Couples
FOLLOW US ON SOCIAL MEDIA
Don't forget to invite your friend's to our Facebook groups! We would also love to see your vacation pictures!