Things to Do In Irving Texas for Couples
Daniel and I had a chance to explore Irving, Texas when I was invite to speak the 2023 #STEIrving Conference this year. I can't tell you how much I enjoyed the conference. I met so many new travel writers, learned a ton of information and made some great connections with destinations.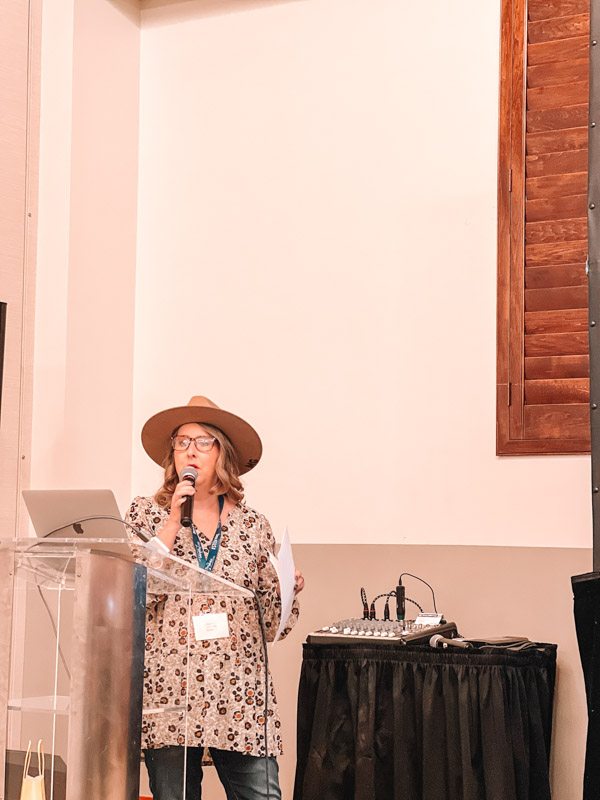 Couples in Irving, Texas have the perfect opportunity to explore a vibrant city full of endless possibilities. Whether you're looking for an adventurous day or romantic night out on the town. There are plenty of activities and attractions that will appeal to everyone. From thrilling amusement parks to scenic trails, here are 10 things to do in Irving Texas for couples to enjoy together.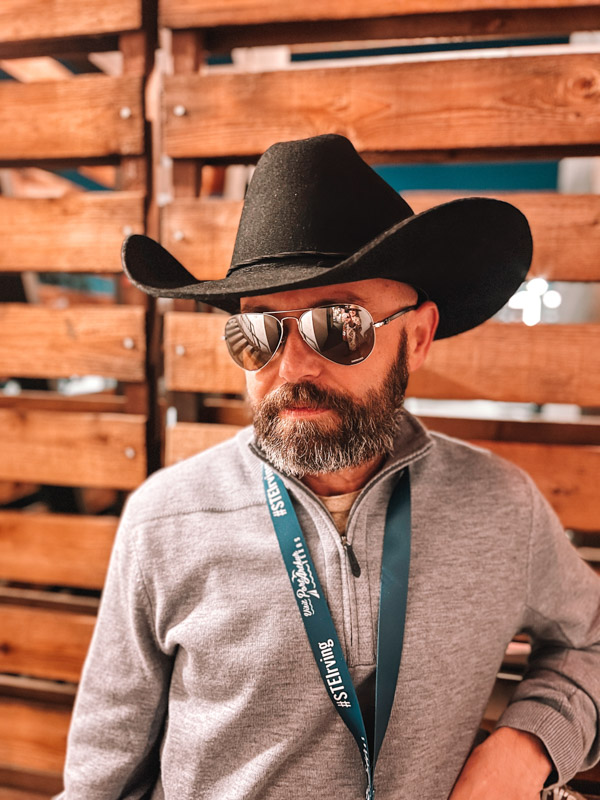 Looking for something fun? Explore the world-famous Six Flags over Texas theme park. With its exciting rides, interactive games, and live shows, it's sure to entertain everyone! For those wanting a calmer experience, take a stroll through Elm Fork Nature Preserve. Elm Fork Nature Preserve is a serene spot with stunning nature views and tranquil walking paths that you are sure to enjoy. Plus, don't miss out on historic downtown Irving. You can browse unique shops and restaurants as you discover all this charming area has to offer.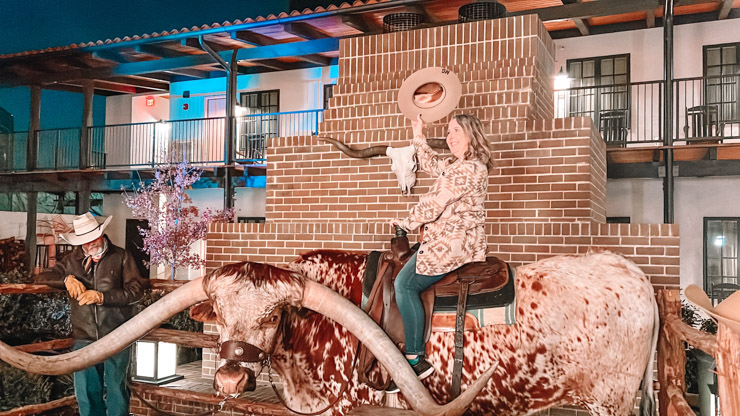 Whatever you decide to do in Irving, Texas with your significant other is sure to be an unforgettable experience! Did you know that Irving, Texas is just 3 1/2 hours away from Oklahoma City? It is a great location for folks in several big cities with so many fun things to do in Irving, Texas for couples or for the whole family.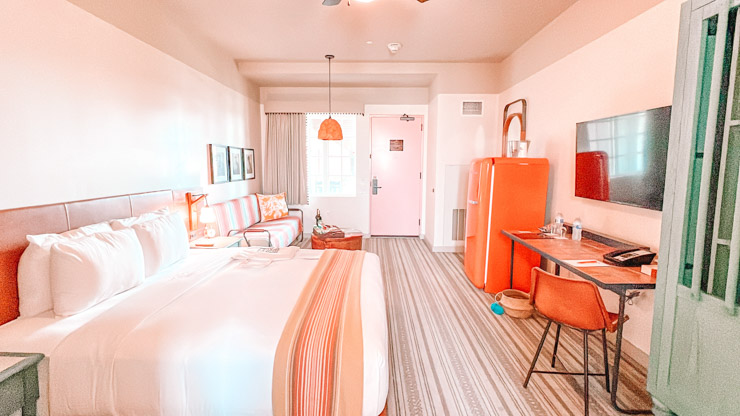 Stay At The Texican Court
If you're looking for a romantic getaway with your special someone, then the Texican Court in Irving Texas is the perfect place to stay. From its hip décor and amenities, to its convenient location near downtown Dallas. This hotel offers plenty of activities for couples to enjoy.
The first thing that will strike you about the Texican Court when you arrive is its colorful design. The lobby walls are filled with vibrant art pieces from local artists, while each room has been decorated thoughtfully with rustic furniture and unique touches like fully stocked retro style refrigerators and colorful striped robes. Plus, there's an outdoor patio where couples can relax in rocking chairs or take advantage of the complimentary bike rentals offered by the hotel.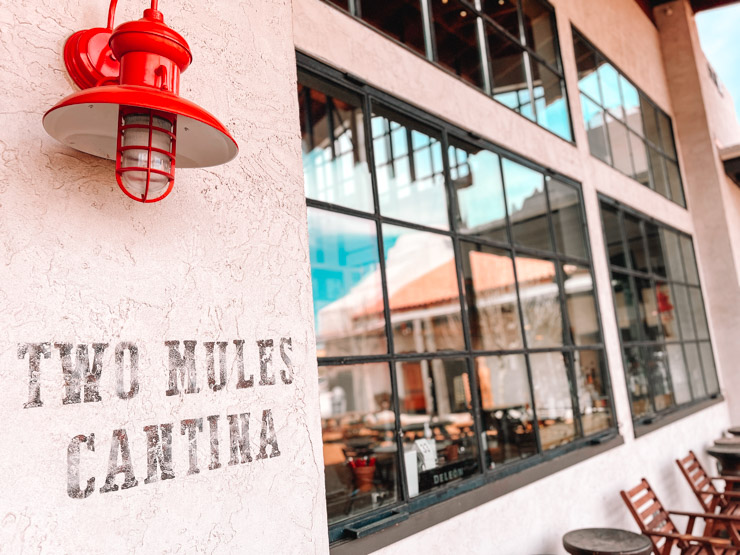 On site you can have a drink at the Salt Tequila Bar or treat yourself to a delicious Tex-Mex dinner at Two Mules Cantina which is absolutely delicious.
The Texican Court also provides easy access to all the attractions in Irving and nearby Dallas. The Toyota Music Factory is just a short walk away! The Texican Court is also also pet friendly. We love visiting places that are pet friendly! So if that is important to you too, add this one to your list of places to stay when deciding what things you want to do in Irving Texas for couples.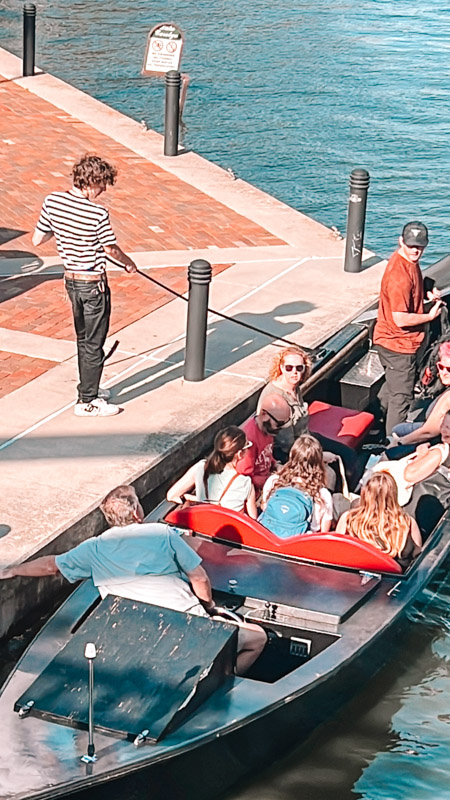 Take A Gondola Ride
If you're looking for an exciting and romantic experience in Irving, Texas, take a gondola ride! Over 25 million visitors flock to the Venetian-style canals of Las Colinas each year to enjoy this unique activity. Whether it's your first date or your 50th anniversary, a gondola ride will be sure to make lasting memories.
The beauty and serenity of the Venetian-style canals is something that you won't soon forget. The waterway is lined with lush trees, colorful flowers and breathtaking views. As you drift through the calm waters, let yourself relax as you gaze upon historic bridges, bustling marinas and charming mansions.
Afterward, take time to explore the shops along the canal. Or you can simply sit back and watch the world go by from one of the many cafes located beside the waterways. With its unique blend of history, culture and romance, there's no better way for couples to spend a day than on a unforgettable gondola ride in Irving.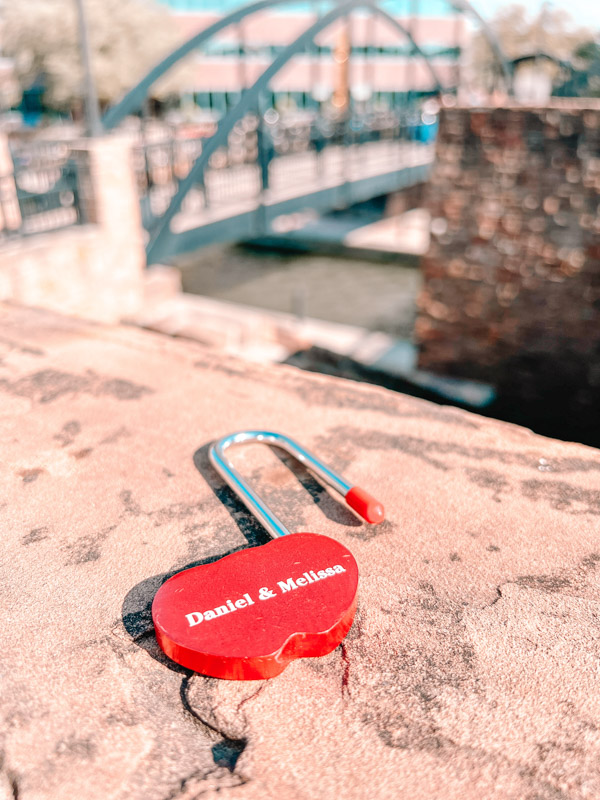 Love Locks At Lake Carolyn
Lake Carolyn in Irving, Texas is a great destination for couples looking to spend some quality time together. Take an evening stroll and explore the breathtaking views along the lake's shoreline. Then make your way over to Love Locks Bridge — a romantic spot with amazing photo opportunities! That's where you can attach personalized locks onto the bridge railings as a symbol of everlasting love. It's perfect for anniversary celebrations or just any day when you feel like expressing your devotion. You can even write messages on them if desired – it adds that extra special touch!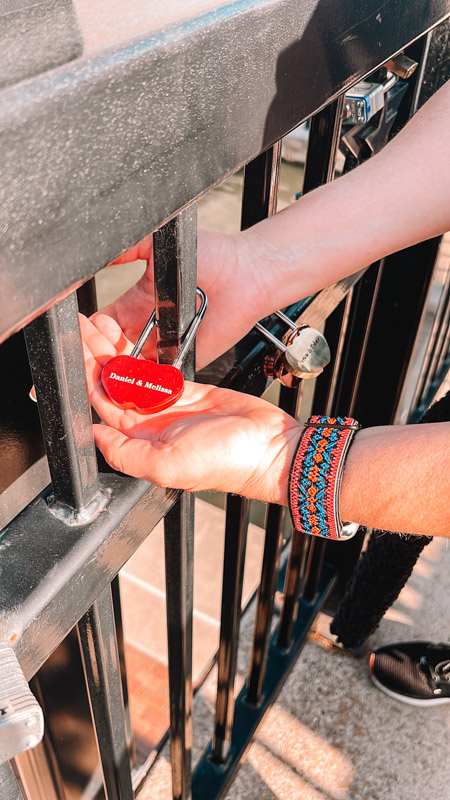 As if that weren't enough, there are plenty of other fun things to do around Lake Carolyn too. Paddle boarding is popular here, so why not give it a try? Or enjoy dinner by candlelight at one of the many restaurants located nearby. There's also live music performances throughout the year and lots of green space for picnicking and relaxing.
No matter how you choose to spend your time, a trip to Lake Carolyn promises to be peaceful, rejuvenating and full of beautiful memories with your partner. Whether attaching locks to celebrate years spent together or simply spending time enjoying each other's company, this spot offers something truly magical! A visit here is one of the most romantic things to do in Irving Texas.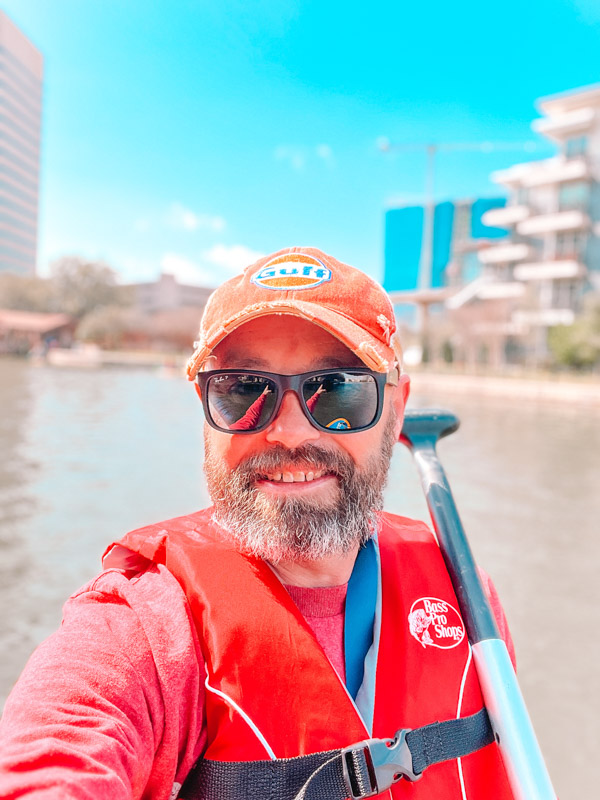 Go Kayaking At Lake Carolyn
Imagine the sun setting over Lake Carolyn, casting a stunning reflection of its own warm glow on the calm water below as you and your significant other paddle in tandem. This is one of Irving's most romantic spots for couples to explore. The SUP Shack will make sure this experience will be special for both of you.
As you float along together, take in the beauty around you – from lush greenery surrounding the lake to nearby wildlife such as turtles and ducks basking by the shoreline. With every stroke of your paddles, there's an opportunity to create memories that'll last forever. And while it may not seem like much at first glance, taking time out of each day to reconnect with nature can do wonders for your relationship.
So why wait? Pack up some snacks and head down to Lake Carolyn – just make sure you bring sunscreen! Enjoying Mother Nature's gifts while spending quality time with someone special can help keep relationships strong and healthy. Don't forget: You're only here once so why not make the most of it and enjoy the moment? This is great if you are looking for outdoor things to do in Irving Texas.
Throw Axes At Stumpy's Hatchet House
If you're looking for something different to do with your sweetheart in Irving, Texas, why not give axe throwing a try? At Stumpy's Hatchet House, couples can enjoy an exciting and unique experience that will be sure to bring them closer together. As soon as you step inside the door of this fun spot, you'll feel the buzz of excitement. From picking up an axe and trying it out, to actually hitting the bullseye on the target board – there's nothing quite like it!
You don't need any prior knowledge or experience in order to have a great time at Stumpy's. The friendly staff are always ready to help guide newcomers through the basics of how to throw an axe safely and accurately. You'll even get tips from experienced throwers who frequent the establishment. Once you've gotten the hang of things, then it's just a matter of having some good-natured competition between each other as you both strive for new personal bests!
And if all that wasn't enough, Stumpy's also offers drinks! So that after a few rounds of axe throwing, you can sit down together over a relaxing drink and recount your adventures from earlier in the day! It certainly makes for an unforgettable date night where memories will last long after you've left Stumpy's Hatchet House.
Go Shopping At The Shops At Las Colinas
For couples looking for a shopping experience in Irving Texas, The Shops at Las Colinas is the perfect destination. Shopping enthusiasts and fashion lovers alike will find something to love here. From high-end luxury stores to local boutiques, this place has it all! With over 130 different shops, there's sure to be something that catches your eye.
The great thing about The Shops at Las Colinas is that you can make an entire day out of it if you want. There are plenty of restaurants serving up delicious meals, as well as cafes for those who need a quick caffeine boost. Plus, with plenty of seating throughout the mall, it's easy to relax and take a break between stores or store hopping. It's also the perfect place to pick up souvenirs and gifts for family and friends back home.
Couples visiting The Shops at Las Colinas will never get bored because there's always something new happening; from special events like live music performances to seasonal sales promotions. Whether you're searching for unique items or just window shopping together, this is definitely the spot! You'll have no trouble finding something fun and exciting that both of you can enjoy while discovering hidden gems within this expansive retail space.
Get A Taste Of Local Cuisine At The Ranch
For couples looking to experience the distinct flavor of Irving, Texas, The Ranch is a great place to start. Located on South Story Road, this eatery offers delicious dishes made with locally-sourced ingredients in an inviting atmosphere. Here are some reasons why you should visit:
Delicious Menu Options: From burgers and tacos to salads and sandwiches, The Ranch has something for everyone's taste buds. You can even get wood-fired pizzas or share one of their signature platters!
Farm Fresh Ingredients: All of the menu items at The Ranch are prepared using fresh produce grown right here in Irving – so you know you're getting top quality food every time!
Friendly Atmosphere: Whether you're grabbing lunch with your significant other or celebrating a special occasion, The Ranch provides a warm and welcoming space for patrons to enjoy their meal. Plus, they have outdoor seating available if you want to take advantage of the beautiful weather!
So if you're looking for an unforgettable dining experience that highlights the best flavors of Irving, then make sure to check out The Ranch! With its farm-fresh cuisine and friendly atmosphere, it's sure to provide an enjoyable evening for any couple looking for a unique culinary adventure.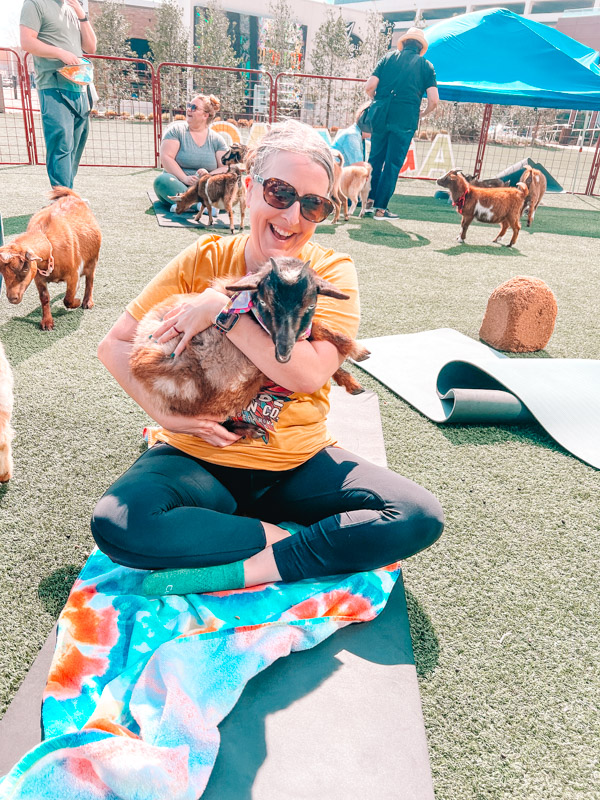 Couples Yoga And Goat Snuggles
Did you know that Irving, Texas is home to the world's largest permanent outdoor mural? It stands 21 stories tall and covers 8 acres! Couples looking for something fun to do in this city should definitely check it out.
For a unique experience, why not try couples yoga with goats? This activity has been gaining popularity around the country as an unconventional way of connecting with nature. You can find many places offering classes in the area, from small farms to larger retreat centers. Not only will it help strengthen your bond but also get you up close and personal with some adorable animals.
Goat snuggles are another great option if you're looking to add a bit of cuteness into your day. With just a few simple steps, you'll be able to cuddle up with one of these sweet creatures and have an unforgettable time. From petting their fur to feeding them treats, goat snuggles are sure to make any couple smile ear-to-ear.
So if you're looking for something more than dinner and drinks in Irving, then consider trying couples yoga or having a go at goat snuggles – both experiences promise plenty of laughs and deep moments shared between two people in love.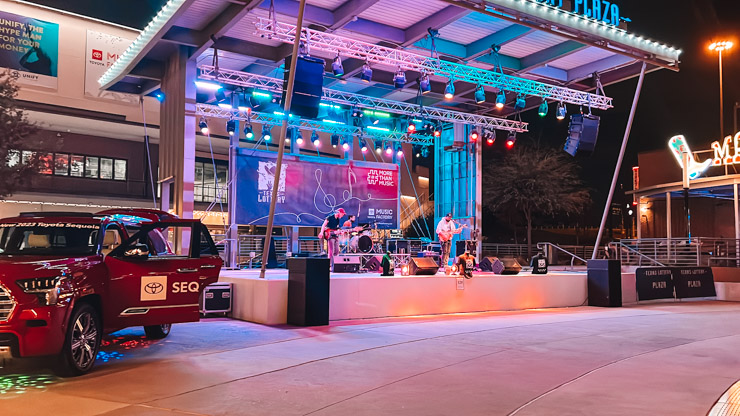 Take In A Show At The Toyota Music Factory
If you're looking for a great night out in Irving, the Toyota Music Factory is the place to be. As one of the hottest entertainment venues in Dallas-Fort Worth, it's sure to provide an unforgettable experience for couples. With its spacious concert hall, full service bars and restaurants, and wide array of music from local bands and international stars alike, there's something here for everyone.
The Toyota Music Factory hosts award-winning concerts throughout the year with performances from some of the biggest names in music. Whether you're into hip hop or country, rock or jazz, there are plenty of shows to choose from. Plus, if you'd rather just kick back and listen to some live tunes while having dinner, they've got that too. The atmosphere at this venue is always lively and inviting – perfect for date nights!
No matter what type of performance you decide on seeing at the Toyota Music Factory, it's sure to make your evening special. From outdoor festivals to intimate acoustic sets, there's something here for every taste. So grab your tickets and get ready for a memorable night out with your significant other finding the best things to do in Irving Texas for couples.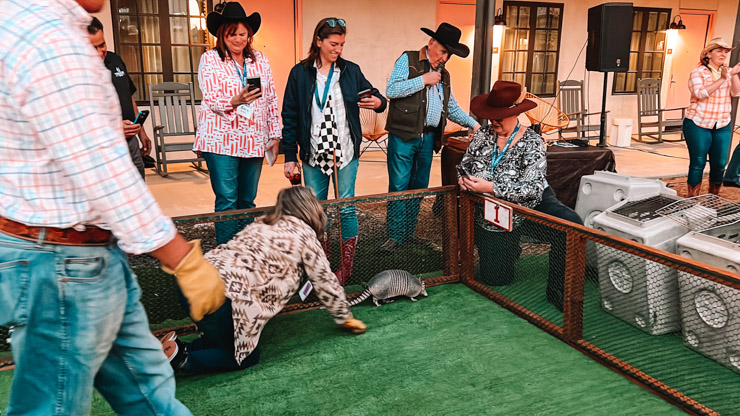 Conclusion
As a couple looking for fun things to do in Irving Texas, you don't have to look far. From romantic gondola rides to axe throwing at Stumpy's Hatchet House, there is something for everyone. Whether you're an outdoor enthusiast or prefer more relaxed activities, Irving has plenty of options.
No matter what kind of experience you're looking for as a couple in Irving, Texas, this city has it all. So grab your partner and start exploring! What is on the top of your list for great things to do in Irving Texas for couples?
Great Destinations for Couples
FOLLOW US ON SOCIAL MEDIA
Don't forget to invite your friend's to our Facebook groups! We would also love to see your vacation pictures!