Unique Places in California for the Ultimate Road Trip
Flashy cities, picture-perfect wineries dotting rolling hills, enchanting forests towered by snow-capped peaks, expansive deserts and rugged coastlines are just a few of the landscapes you'll get to witness on a road trip through California. Check out some of the most unique places in California for your next road trip.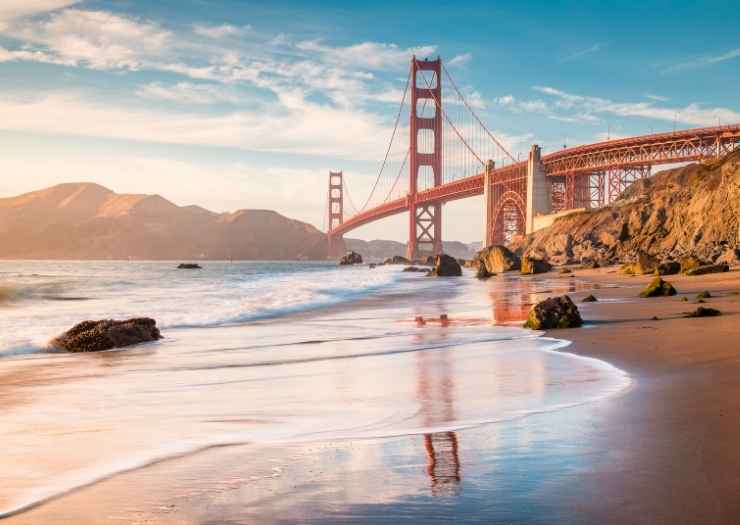 If you're currently in the plotting stages of your Cali road trip, chances are you're feeling a bit overwhelmed with options. Even though the Golden State brims with fantastic popular places to check out, there's nothing quite like visiting those that are less frequented.
If you're the type of traveler who prefers checking out unique spots rather than those mentioned in every single guidebook or you're simply looking for a mix of both, here are some of the most authentic stops to make on your California road trip guaranteed to make it a special one! Also check out the best time to visit California.
The Most Unique Places in California to Visit for the Ultimate Road Trip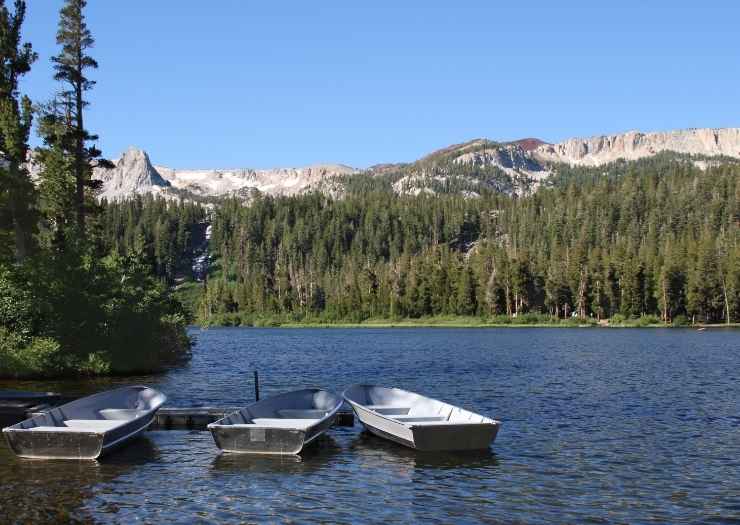 Mammoth Lakes
Peaceful meadows, crystal-clear lakes, enchanting pine forests, high-mountain desert, and looming mountain peaks are just a few of the landscapes you'll find at Mammoth Lakes, making it one of the most beautiful places to visit in California for nature lovers.
This small town tucked away inside the Inyo National Forest is surrounded by acres of pristine nature, all of which you can explore by going on a hike through over 300 miles of hiking-friendly terrain in its outskirts. As if that weren't reason enough to visit, the town of Mammoth Lakes is home to 5 gorgeous lakes and over 100 of them tucked away in its surroundings!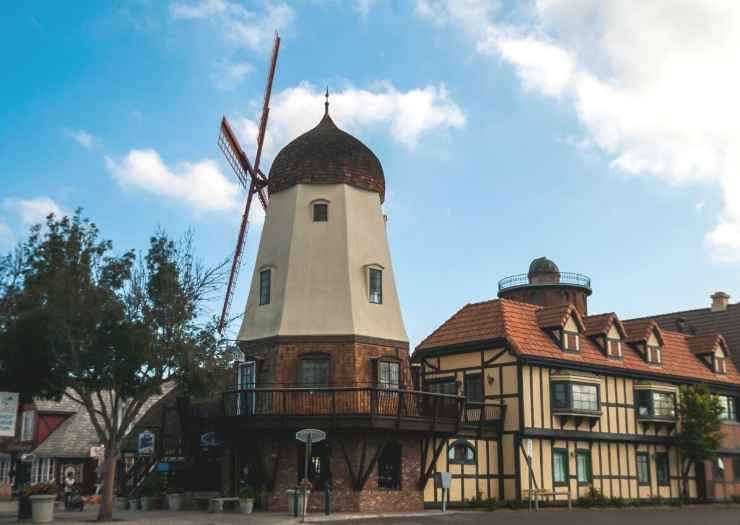 Solvang
If you're keeping travel local this year, you can still feel as though you've traveled across the Atlantic by visiting Solvang, a town that's often referred to as "a little slice of Denmark" due to its Danish-style buildings, its wineries, and its endless array of bakeries offering all sorts of Denmark-inspired treats!
Aside from eating everything that comes your way (be sure to try a fresh bear claw and Danish kringles to satisfy your sweet tooth), going on a wine-tasting escape is another must-do while visiting Solvang. Spread all over its outskirts, you'll find plenty of vineyards and tasting rooms guaranteed to make for a fun day spent hopping around and tasting some of Cali's finest wines!
If you're in for even more quirky adventures, grab your car keys and drive a bit outside of town to the nearby Ostrichland, which, as its name suggests, is a farm that's home to ostriches and emus you can interact with!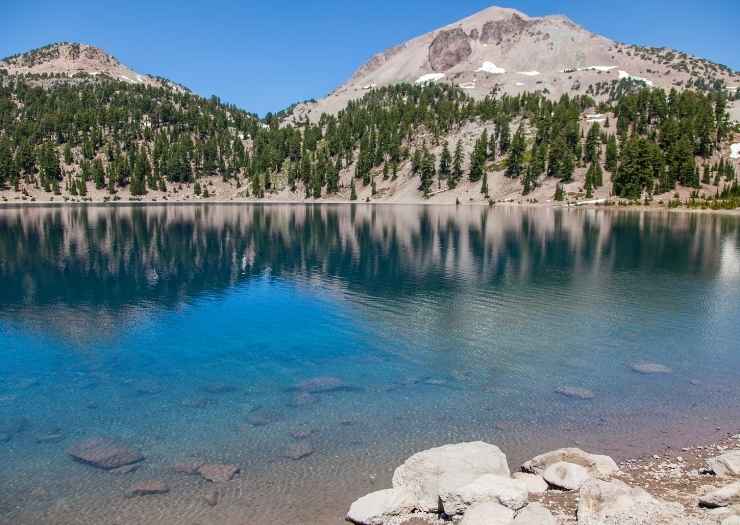 Lassen Volcanic National Park
The California national park system may be widely known all over the world, but there are still a few hidden gems inside it.
As one of the best-kept secrets in California (so much that even most locals don't know of its existence), Lassen Volcanic National Park is a haven of volcanic goodness thanks to the seismically active area it stands on. Think sulfur vents, bubbling mud pots, hot springs, beautiful lakes, and towering volcanoes to get a pretty good picture of what a visit to this striking national park is all about! 
As a fun fact, it's one of the few places in the world where all four types of volcanoes can be found – plug dome, shield, cinder cone, and stratovolcano, making it a truly rare natural wonder!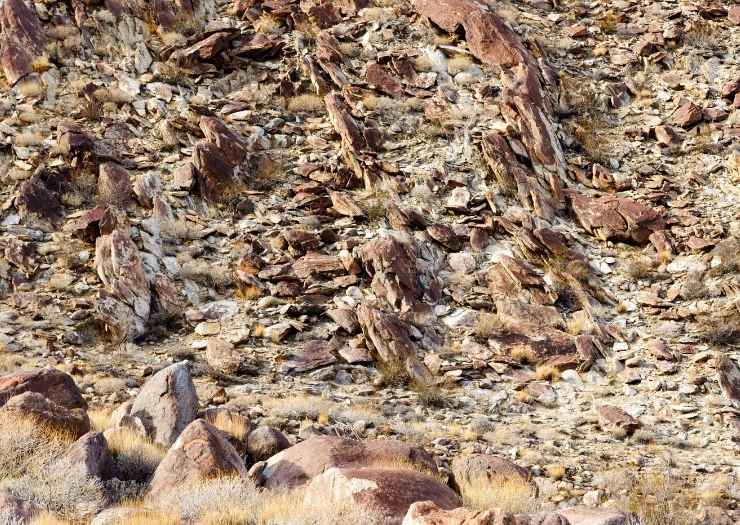 Galleta Meadows at Borrego Springs
The California desert is known for its artsy vibes, and Galleta Meadows is as quirky as it can get.
Seriously – where else on the entire planet can you go on a scavenger hunt through the desert in search of gigantic metal sculptures? From enormous sea serpents to prehistoric animals and massive insects, the entire area around the town of Borrego Springs is sprinkled by over a hundred sculptures spread all over.
Even though many of them are over 10 feet high, they can actually be pretty hard to spot amidst the desert, making it a super entertaining (and budget-friendly) adventure. Drive around in your car or rent an e-bike and count how many of them you can find!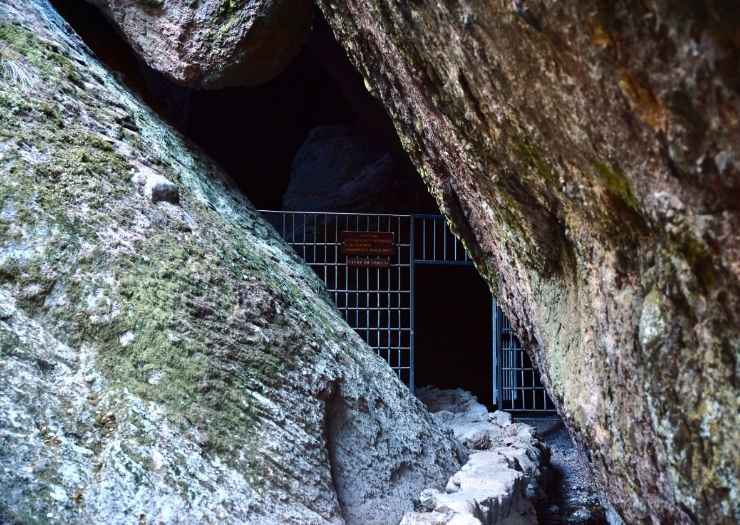 Pinnacles National Park
Pinnacles only became a national park in 2013, making it another relatively unknown gem in California's national park system.
If you want to explore central California's pristine nature without the hoards of crowds that other national parks like Yosemite National Park or Joshua Tree National Park see, make sure Pinnacles is on your bucket list! 
This jewel of a national park sits right on the San Andreas Fault, which makes its landscape a wonderland of quirky-looking rock formations and cave systems. As a tip, Pinnacles is a great place to take your kids to, as cave exploring here is pretty easy and doesn't require much skill, making it a prime spot for families looking for safe outdoor adventures.
Rock climbing is also an amazing activity to try here. During your visit, you'll be able to choose from beginner lessons to adventures that last several days in case you want to test out your skills.
Moreover, Pinnacles is one of the best spots in the entire United States to spot Condors. Even though the species is critically endangered, one of the park's aims is to protect them, and thanks to their reintroduction efforts, sightings here are pretty common!
Winchester Mystery House
If you're into spooky experiences, a visit to Winchester Mystery House is guaranteed to leave you aghast.
Even though it may not be everyone's cup of tea, we absolutely had to include this place on the list. Legend has it that back in the late 1800s, Sarah Winchester left her life in New Haven behind in order to start over in the city of San Jose.
She purchased a small farmhouse in the city with plans to renovate it, but things didn't go quite as planned. Not soon after she moved in, she began seeing the ghosts of people that had been killed by Winchester Rifles, the company of his deceased husband.
If you want to get better acquainted with the story of the house before your visit, make sure you watch Winchester, a 2018 movie made about it and the spirits that inhabit the place! This definitely one of the most Unique Places in California to visit if you love a good spooky story.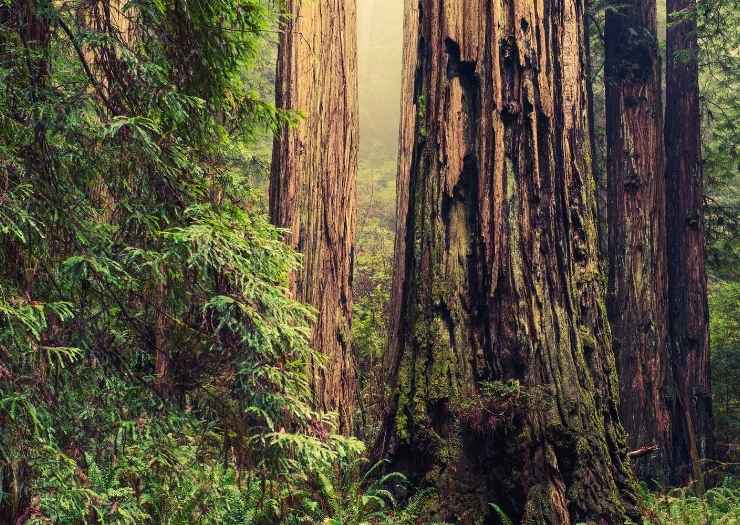 Redwood National and State Parks
Although not as secret as other national parks mentioned in this post, Redwood National Park still remains one of the most unique places to visit in northern California, especially if you're into forested settings!
Spanning over 130,000 acres of pristine forest, a visit to Redwood National Park is all about driving or hiking amid cirques of redwoods, which are considered the tallest trees in the world. In fact, the tallest tree in the entire world, the Hyperion (at 380 feet tall), proudly calls this national park its home!
Malibu Creek State Park
Set only 25 miles from downtown Los Angeles, Malibu Creek State Park makes for a perfect place to escape the bustle and hustle of the city.
Due to its location amid the Santa Monica Mountains, its terrain offers top-notch hiking and biking opportunities, all of which you can enjoy while gawking at the beautiful views of the surrounding mountains and the city along the way. Other fun activities include rock climbing, horseback riding, kayaking, and camping.
Malibu Creek State Park also happens to be a great place to spot some of the most interesting wildlife in California, so make sure you keep your eyes peeled for deer, coyotes, rattlesnakes, and even mountain lions!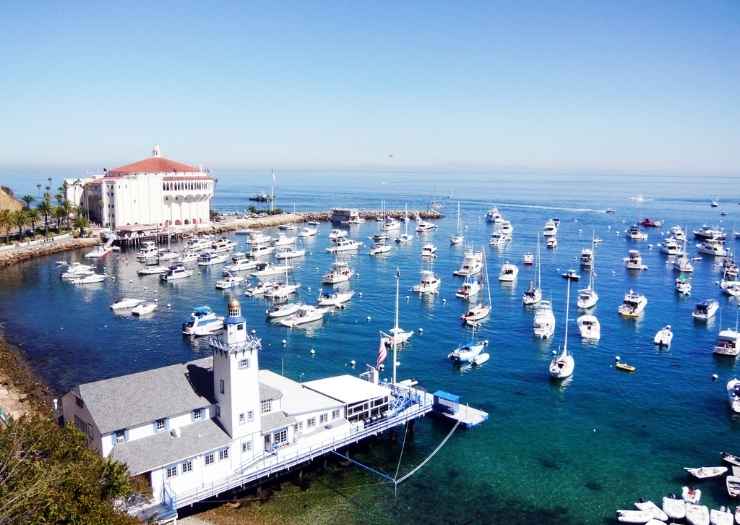 Santa Catalina Island
Santa Catalina is truly one of the most wonderful places to visit in California and one that hides right in plain sight.
Set just off the coast of Orange County in Southern California, it makes for a perfect escape from the mainland. During your visit, you'll get to get a taste of Channel Islands National Park, what is usually known as the "Galapagos of North America" thanks to its vast array of wildlife, unique marine life, and unbeatable landscapes.
During your visit, you'll get to choose from lying on the island's white-sandy shores, snorkeling amid its warm crystal-clear waters, eating seafood as fresh as it can get, or exploring the island's historical sights!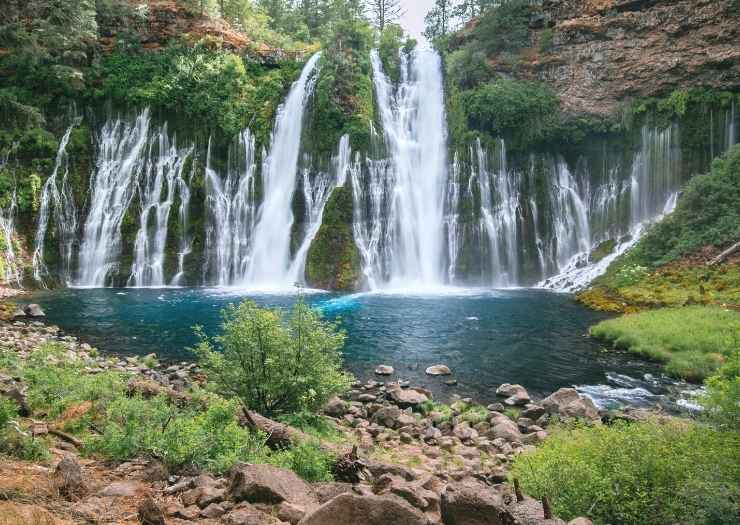 McArthur-Burney Memorial Falls State Park
As the second oldest state park in California, McArthur-Burney Memorial Falls is a dreamy forested area home to miles of lakeside shoreline and a striking 129-foot waterfall known as Burney Falls. Due to the 100 million gallons of water that flow daily from underground springs, this set of cascades is glorious to visit no matter the time of the year!
Moreover, camping is a dream here, so if you want to overnight, bring your gear along or opt to stay at one of the rustic cabins inside the park if a lil' more comfort is what you're after.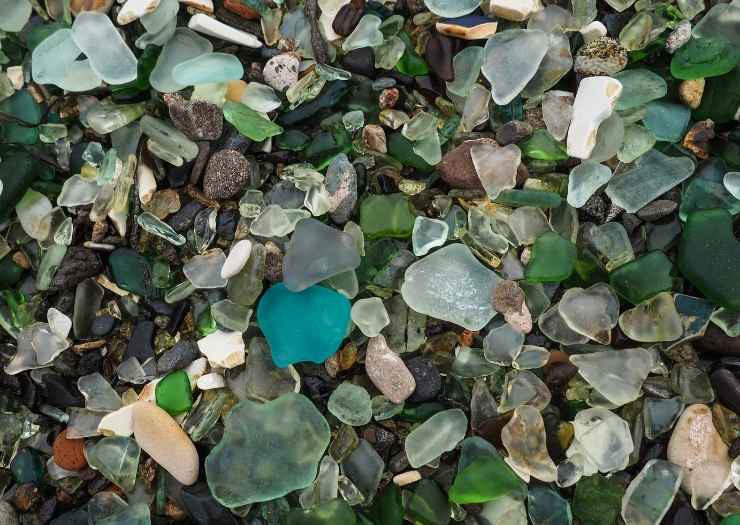 Glass Beach
Glass Beach gets its name from the thousands of colorful glass fragments that you can find on its sand.
This quirky place located next to MacKerricher State Park is blanketed by glimmering, kaleidoscopic-looking stones that are meant to be treasure-hunted for and kept as small "gems". 
In case you're wondering where they come from, the area was once a garbage dump, and over the years, the ocean polished broken glass bottles into colorful jewel-like stones! This definitely one of the most Unique Places in California to visit for treasure hunters.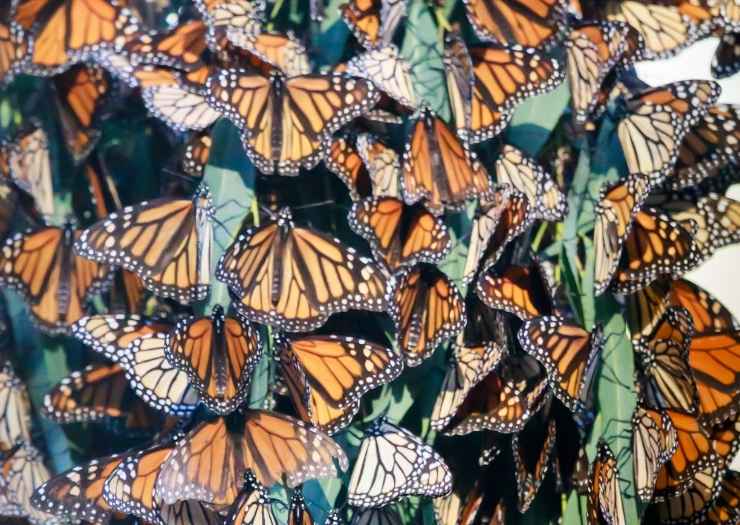 Monarch Butterfly Grove in Pismo Beach
California's warm coasts aren't only a prime vacation spot for humans, but many other species too! Monarch butterflies love making a stop here during their annual migration from Canada to Mexico, usually arriving around October and leaving in February.
If you're visiting California during the right time and are keen to witness the fantastical spectacle they create, an excellent place to see them if you visit during the season is the Monarch Butterfly Grove in Pismo Beach, which is considered one of the biggest viewing areas in entire California.
As a tip, the best time to visit is on a warm, sunny day, which is when the butterflies are most active. This definitely fits as one of the most Unique Places in California to visit.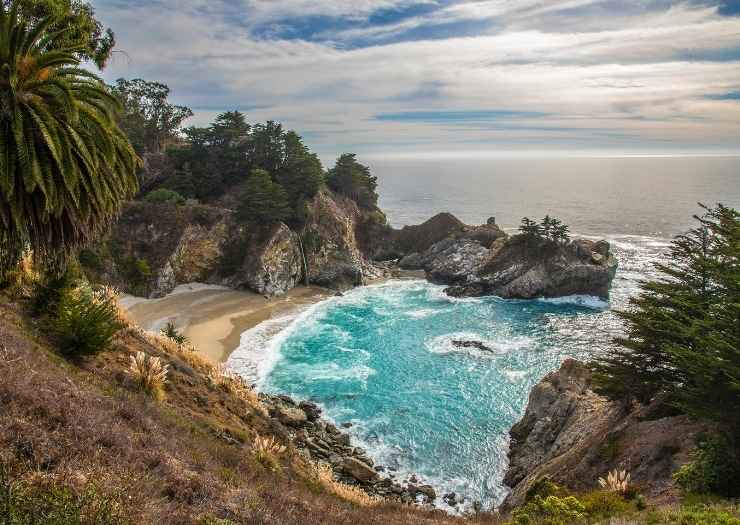 Pfeiffer Beach
A purple beach may sound like something straight out of an Expressionist painting, but it actually exists in this world and you'll find it at Pfeiffer Beach, one of the most beautiful beaches in California, if not the entire world!
Even though it's mostly famous for its purple sand, there's a whole lot more to this beach, too! Another landmark that makes Pfeiffer Beach's landscape so special is Keyhole Arch, a natural arch sitting offshore. Come sunset, the sun's rays pass right through the arch, creating a view that will almost make you feel as though you're dreaming.
Pfeiffer Beach is located inside the Big Sur area just off of Highway 1. Getting here can be tricky, as the short road off the highway is twisty and curvy. Still, though, once you get there, the scenery makes every curve worth the feat.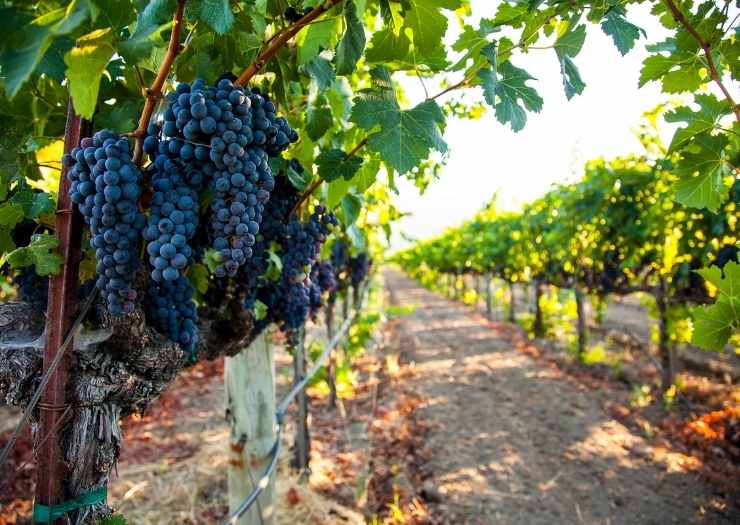 Napa Valley
Although not exactly off-the-beaten-path, Napa Valley is one of the best places to visit in California in order to get a taste of the state's outstanding wine scene.
Country charm, quaint boutique hotels, picturesque vineyards sprinkling its rolling hills, and farm-to-table restaurants with wine lists longer than their menus are the staples of this fabulous region in California.
Wine tasting is the main thing to do here, and you'll be spoiled for choice when it comes to picking out where to go for a tasting session. Our advice? Hire a driver in order to go on a little day trip in search of the best ones! This one is also listed in our 10 Scenic Drives in California.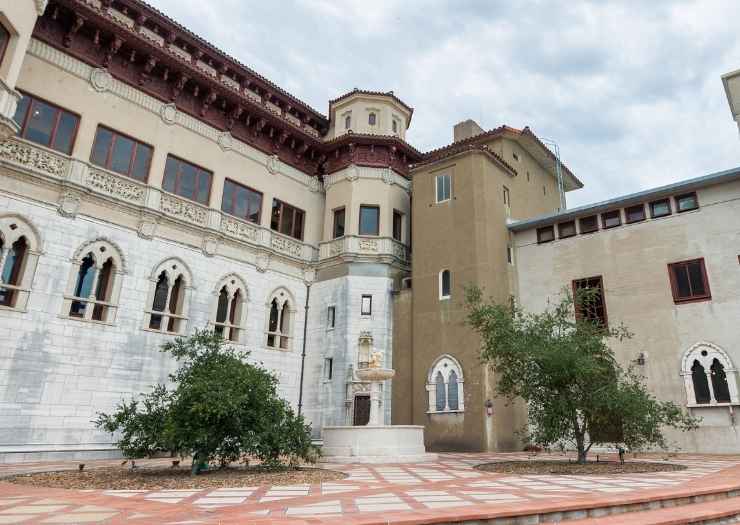 Hearst Castle
A castle outside of its theme parks like Walt Disney World is probably not what you'd expect to find in California, but Hearst Castle is probably one of the most fabulous ones in entire North America and one of the most extraordinary historic sites in the entire state.
Overlooking the town of San Simeon, this remarkable estate dates back to the early 1900s and today, visitors can actually visit the site and explore the castle's beautiful gardens, its Neptune Pool, and its rooms filled with rare artworks and antiques from all over the world.
I hope this list of the most unique places in the state of California inspired a few stops on your road trip! Even though there is plenty more to see, these places, in particular, stand high above the crowds when it comes to unusual experiences.
Have you ever been to any of these Unique Places in California? If so, I'd love to read about your time there, so let me know all about it in the comment section below!
FOLLOW US ON SOCIAL MEDIA
Don't forget to invite your friend's to our Facebook groups! We would also love to see your vacation pictures!