Discovery Princess: Mexican Rivera Itinerary
If you're looking for the ultimate in cruising experiences, then a Discovery Princess Cruise may be right up your alley. Onboard this luxury liner, passengers experience world-class service, amazing cuisine, and magnificent entertainment that bring together the wonder of exploration with luxury. From top-notch service and lavish amenities ,to thrilling ports of call and exotic activities. There's something on a Discovery Princess travel itinerary that will make each voyage an unforgettable adventure. In this review we'll give you an inside look into all the features that make Discovery Princess Cruises such stand out vacation options!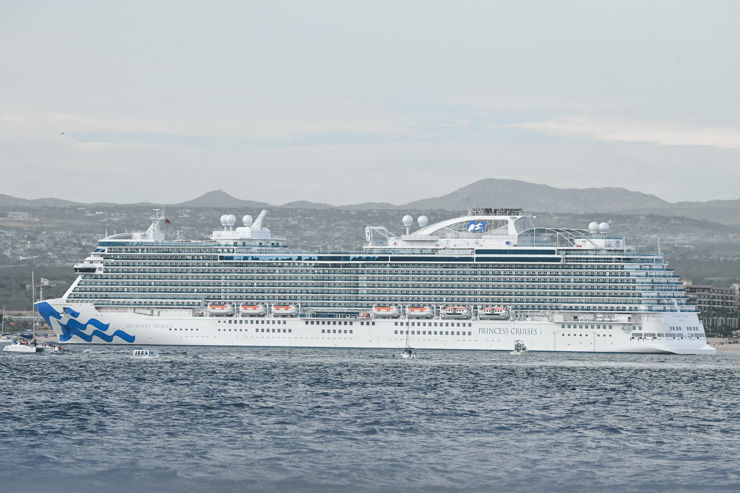 Introducing Discovery Princess: The Final Royal Class Ship
Introducing Discovery Princess: The Final Royal Class Ship – Princess Cruises' sixth and final Royal-class ship, Discovery Princess, is a fitting conclusion to the line's largest class of cruise ships to date. This 145K gross ton vessel delivers all the hallmarks that make a Princess Cruise so special, like comfortable and classy accommodation options, a variety of restaurants and eateries, and plenty of entertainment options for guests of all ages. With just recently making her debut in Spring 2022, Discovery Princess is a perfect choice for anyone looking for the ultimate in luxury cruising.
Mexican Riviera Itinerary
Onboard the Discovery Princess, guests can expect to embark on a 7-night journey along the Mexican Riviera aboard this luxurious and classically designed vessel. Departing from Los Angeles, the itinerary includes stops in Puerto Vallarta, Mazatlan and Cabo San Lucas. On the 2nd day, guests will have an opportunity to relax and explore all the ship has to offer during an at sea day. On day 3, you'll arrive in Cabo San Lucas for a 12:00 PM port of call. The last port you will enjoy is Mazatlan and explore the beautiful Cathedral Basilica of the Immaculate Conception. The following day, you'll be in Puerto Vallarta where you can experience some of Mexico's culture and beauty. Finally, you get to enjoy 2 sea days on your trip back to Los Angeles.
EMBARKING & DISEMBARKING
Embarkation was a breeze for us. We caught a shuttle from the hotel to the terminal and there were plenty of people and signs to direct you to the correct place. It took us about 20 minutes to get registered and collect our Medallion. Once on board we were pleasantly surprised to learn that our room was ready!
For disembarkation you will have a questionnaire delivered to your stateroom a couple of days before you plan on disembarking. You will have several options to choose from. Just choose whichever option best fits your needs. We chose to carry our own luggage off since we had an early flight to catch. We were off the ship by 7:20 and on our way to the airport after going through customs. Easy peasy!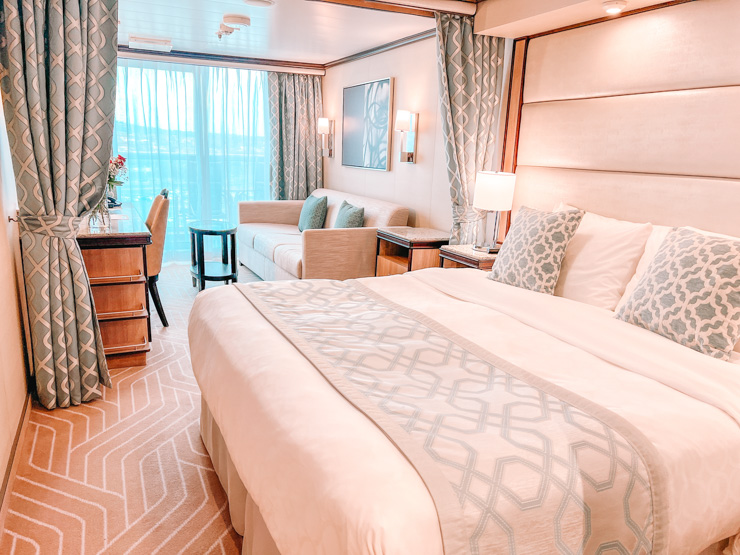 Clean and Comfortable Cabins
Accommodation Options: Clean and Comfortable Cabins are a key feature of the Discovery Princess. We got to enjoy a Mini-suite on our voyage. The mini-suite is about 323 sq. feet of luxury. It includes a balcony with table and chairs, a separate sitting area with sofa bed and coffee table. My favorite feature might have been the bath tub! It was a great way for me to wind down after a day of exploring. The bed is super comfortable, and a large flat-panel television has complimentary movies and television shows on-demand. If you purchase a mini-suite you can opt for the Reserve Collection, which has perks including a reserved area of the main dining room. Furthermore, suite guests can enjoy reserved seating at the theatre, private breakfast at Sabitini's and Lotus Spa Thermal Suite access. Nibble on masterfully-crafted canapés delivered directly to your stateroom. Skip the lines with priority check-in upon arrival and their exclusive disembarkation lounge during departure.
Not to mention the upgraded plush robes in your room! I really enjoyed having my coffee on the balcony in my robe in the mornings!
You'll enjoy 1/2 bottle of red wine plus 1/2 bottle of white wine in your suite upon arrival.
Other Mini-suite Benefits
Spacious staterooms up to 323 square feet with balconies
Princess Luxury Bed
Balcony with Patio Furniture (a table and two chairs)
Refrigerator
Separate seating area with coffee table and a sofa bed
Floor-to-ceiling sliding glass doors
Private bathroom including combination tub and shower*
Hair Dryer, Phone & Desk
Two flat-panel satellite TVs
Digital Security Safe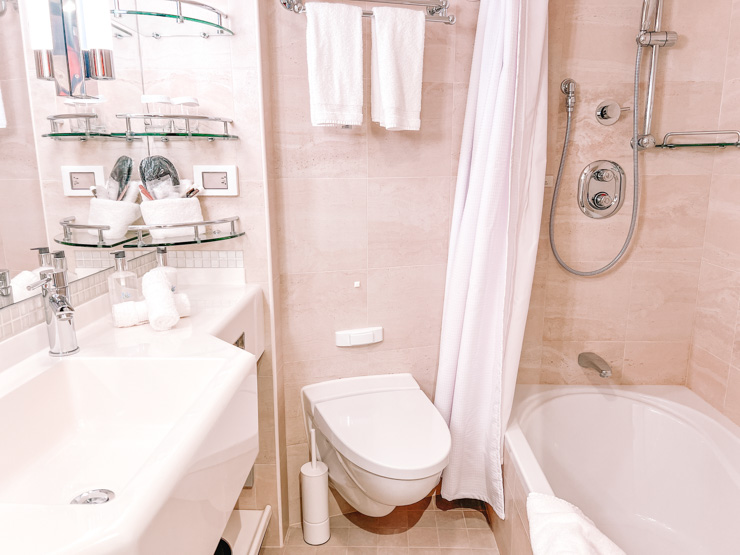 With great amenities and features included, the Discovery Princess offers some really comfortable accommodation for all types of travelers.
Overview of the Ship: Comfort, Class and Elegance
The Overview of the Ship section on Discovery Princess Review focuses on the comfort, class and elegance that the ship offers to its passengers. This 145K gross ton vessel delivers a megaship experience with beautiful public spaces, elegantly appointed accommodations, world-class entertainment and a variety of dining experiences. Enjoy 270-degree sweeping views from our largest balconies at sea, unwind in ultimate comfort at The Sanctuary, and indulge your senses with world-class dining. With all this and more, Discovery Princess provides an unforgettable cruise experience.
The Lido Deck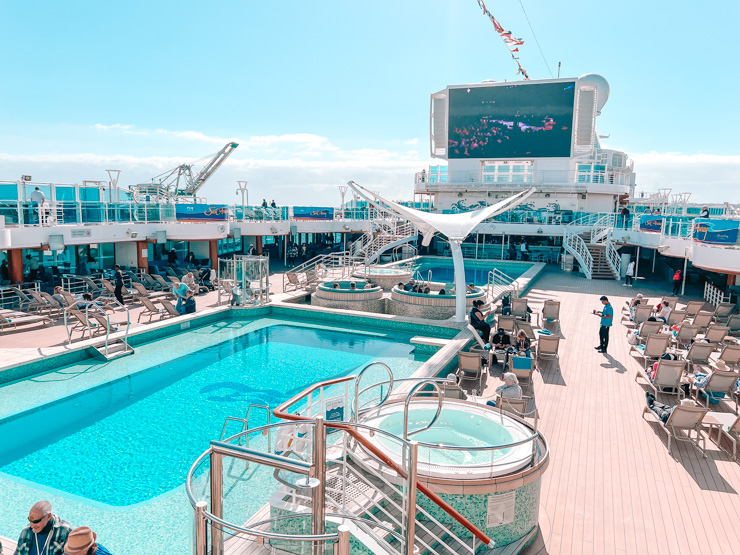 With 2 swimming pools, 3 hot tubs, and plenty of places to sit and watch a movie, Lido deck mid-ship is the place you want to be. There are also 2 bars, 2 restaurants, and a place to get some ice cream! Plus on deck 17 overlooking the pool area are more hot tubs and chairs to relax in!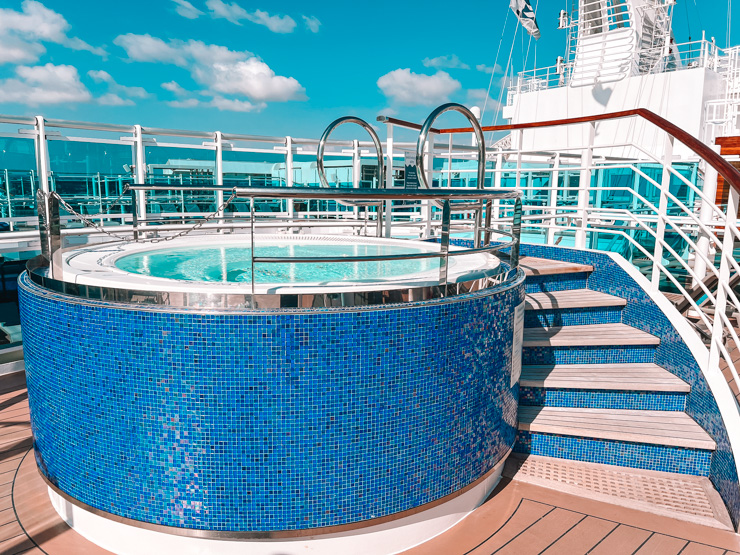 If you are looking for something more laid back. Don't worry the Discovery Princess has plenty of options around the ship for you enjoy some quiet time in the sun.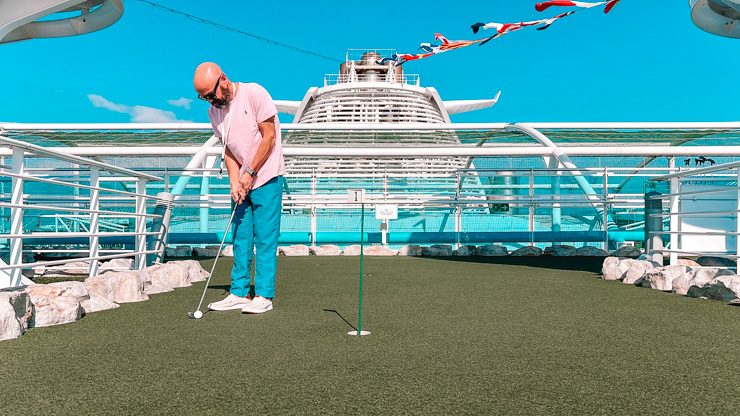 There is even a putting area on deck 17! A rocking ship can make putting more challenging!
Costs Included on Discovery Princess:
On Discovery Princess, all the costs of accommodation, dining and entertainment are included in the cruise fare. From the extensive World Fresh Marketplace buffet on Deck 16 and Gigi's Pizzeria. To the up-charge specialty dining options, there is something for everyone to enjoy.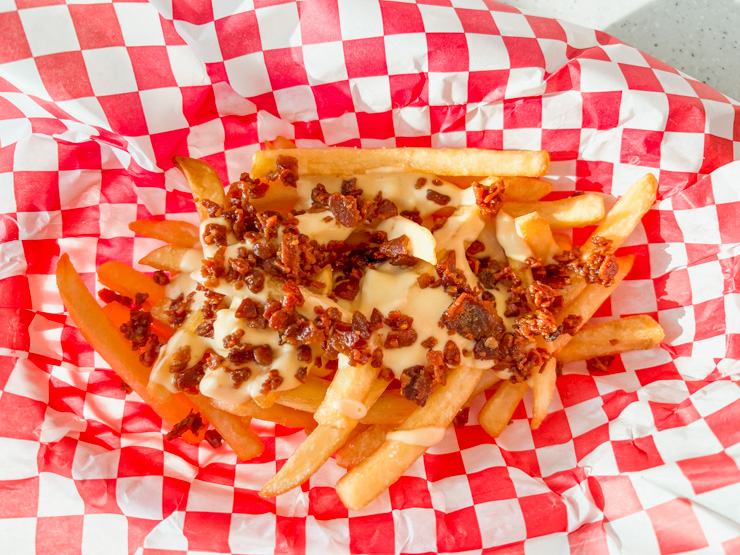 We enjoyed eating at the Salty Dog Grill on Deck 16. They have some loaded french fries that I might have fallen in love with! You also have to try the chicken tacos when you go. Here is full list of all restaurants included at no extra charge.
With a capacity of over 3,600 passengers, it is also one of the line's largest ships – allowing for comfortable cruising and plenty of space for activities. For those on a budget, interior or ocean view rooms are available at an attractive price. Plus, you can even indulge in some wellness spaces like the gym with sea views at no charge.
Costs Not included on Discovery Princess:
Costs Not included on Discovery Princess include for-fee food and special perks for your stateroom. Room service is complimentary, but if you'd like to treat yourself, you can order free robes for your room. There are also plenty of activities available on-board the Discovery Princess—from trivia games to music and arts and crafts—to keep everyone entertained during their journey. If you're looking for a little extra pampering during your trip, The Enclave and The Sancturary offer the perfect escape with their luxurious amenities. Whether you're looking for an unforgettable cruise experience or just a relaxing getaway, the Discovery Princess has something for everyone.
Dining Experience: A Variety of Restaurants and Eateries
In addition to its array of entertainment options, Discovery Princess also offers a variety of restaurants and eateries for guests to enjoy. The ship features three main dining rooms, the World Fresh Marketplace buffet restaurant, Gigi's Pizzeria, several complimentary dining options as well as six speciality dining options.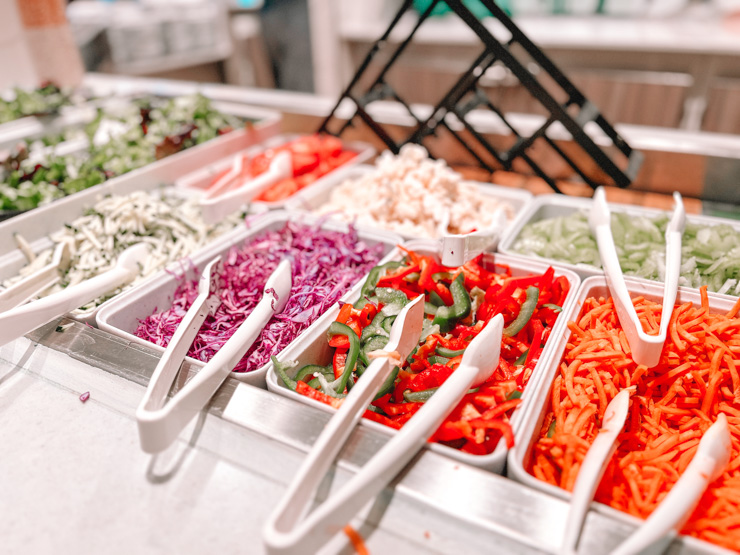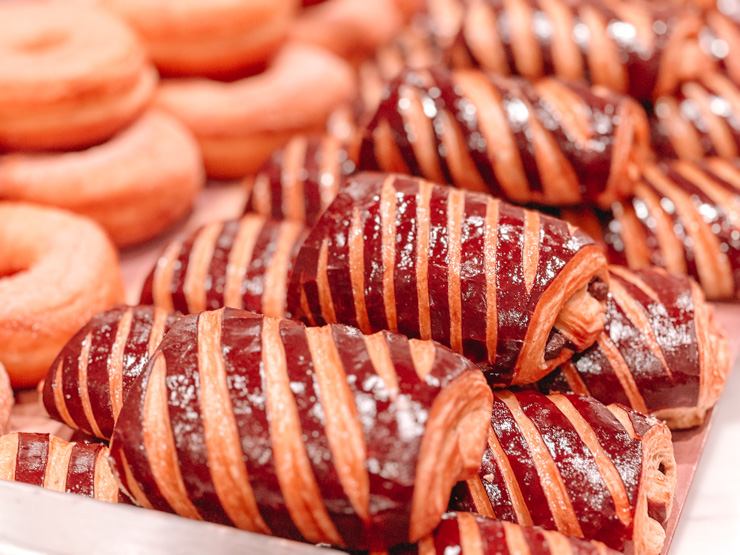 Chefs are busy baking, grilling and sautéing great-tasting fare from scratch all day long. Guests can sample premium aged beef and fresh seafood items in the classically elegant setting of the speciality restaurants. There are also 25 bars and restaurants on board the ship, including the most outdoor eateries of any Princess ship. With so much variety on offer, guests are sure to find something that tickles their taste buds.
Included
World Fresh Marketplace- casual dining buffet for breakfast, lunch or dinner.
The Pastry Shop- pastries made from scratch.
Gigi's Pizza- Neapolitan-style pizza voted "Best Pizza at Sea" by USA TODAY.
The Salty Dog Grill- hamburgers, hot dogs, fries, and tacos.
Ice Cream on Lido deck- soft serve ice cream. Popcorn is available during movies.
International Café- open 24 hours for coffee, pastries, and assorted sandwiches. ( one of my favorite places to go every morning)
Room Service Anytime and Free!- 24-hour free delivery with OceanNow.
Speciality dining not included
Crown Grill- cooked-to-order steaks and premium seafood.
Sabatini's Italian Trattoria- modern trattoria-style dining experience 
The Chef's Table- Executive Chef hosts the evening and provides culinary details about the menu
Bistro Sur La Mer- French bistro-style dining with a modern twist
The Salty Dog Gastropub- innovative gourmet creations inspired by local pub favorites 
Gelato- a taste of "la dolce vita" with Gelato
Here is a look at some sample menus
Entertainment Options: Trivia, Music, Arts and Crafts
Onboard entertainment on Discovery Princess is a real highlight. Passengers can fill their days with trivia, game shows, live music, and arts and crafts in the state-of-the-art Princess Theatre. There are also lots of classes on the Discovery Princess. These include dance, arts and crafts, fitness and bingo. There is also a Reef Family Splash Zone for those who want to relax. For quizzers and gamers, there are poker demonstrations and plenty of interactive entertainment options. All these entertainment options make Discovery Princess the perfect choice for an unforgettable cruise experience.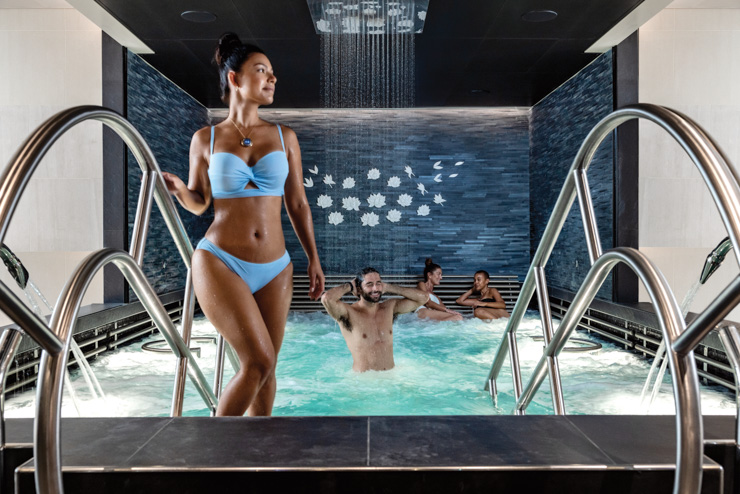 The Enclave
The Enclave is a peaceful escape from the hustle and bustle of the ship. Located inside the Lotus Spa on Deck 5 forward, this thermal suite offers a range of treatments and amenities to help you relax and unwind. With calming decor, including restful blues, the Enclave provides an atmosphere of serenity and tranquility. Whether you are looking for a massage, facial, or pedicure, the experienced staff are dedicated to providing an unforgettable experience. And with access to the Sanctuary, this is the perfect place to find respite from the world while on board Discovery Princess.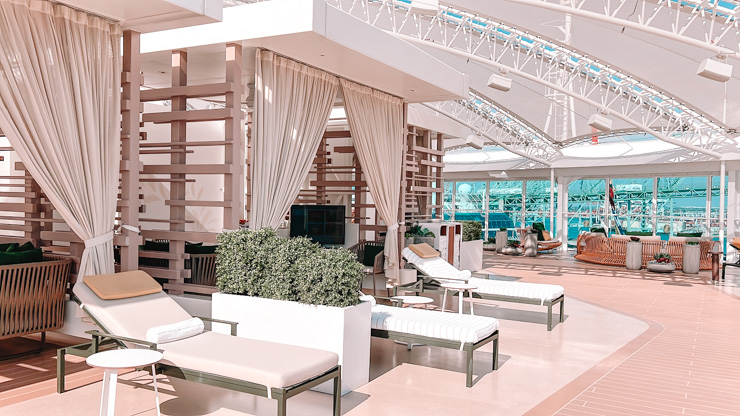 The Sanctuary
You can enjoy your own little sanctuary at the front of the ship. The Sanctuary is the perfect place for adults to relax and unwind. You can choose from cabanas, deck chairs, or even hammocks to relax in. Soak up the silence while reading a book or just relaxing with friends.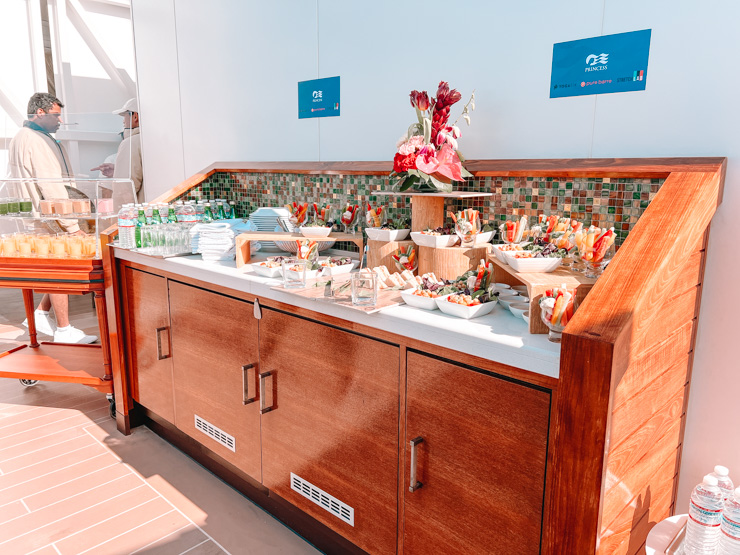 You can also take in different view of the ocean while at The Sanctuary since you are at the front of the ship. The Sanctuary is an experience you won't want to miss!
Conclusion: Love to Sail Again!
In conclusion, Discovery Princess is an amazing cruise ship that is sure to please all passengers! The luxury cabins, variety of restaurants, and plethora of entertainment options make it the perfect choice for couples, families and friends. It truly is the final Royal Class ship, and anyone who sails onboard will have an unforgettable time. The memories made aboard this magnificent vessel will last a lifetime. We'd love to sail again! See something that isn't included in our post that you want to know about? Shoot us an email or comment below and if we can accommodate, we will try to answer as best as possible and add that info to our post!
Awesome Oceanside Vacations
Check out some of these awesome oceanside vacation ideas.
FOLLOW US ON SOCIAL MEDIA
Don't forget to invite your friend's to our Facebook groups! We would also love to see your vacation pictures!