Emirates Airlines Economy Class Review
Are you planning a trip and considering flying with Emirates Airlines, or a trip to the United Arab Emirates? Read on to find out what you can expect from their Economy Class experience of Emirates Airlines! We have all the details, from seat comfort to food options, so that you can make an informed decision before booking your economy flight. We hope this Emirates airlines economy class review helps you have a more enjoyable flight.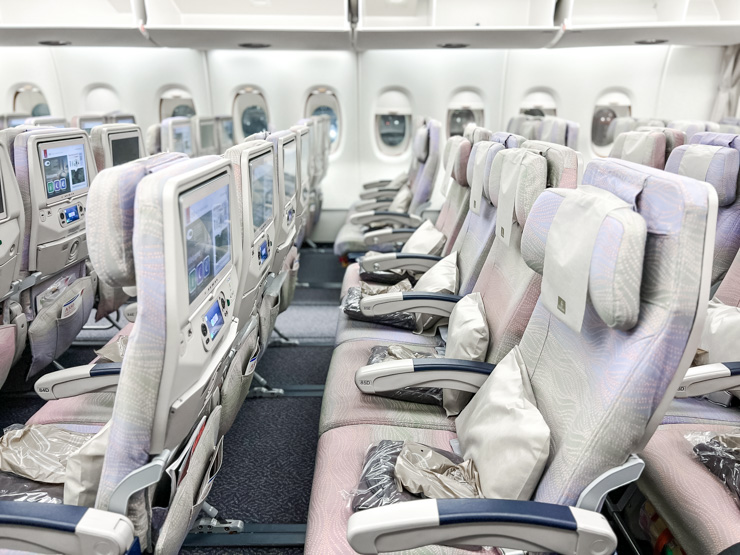 First, let me say my first experience with Emirates was an absolute nightmare! They left me outside check in for 6 hours with no boarding pass and no luggage. It took me 6 phone calls to their customer service just to fix one simple issue. So basically we spent 24hours in the same clothes only to board another 14 hour flight, IN THOSE SAME CLOTHES. And we missed the first day of our cruise. But we will save that story for another day or you can simply go check out our Facebook and Instagram videos. I hope to get a chance to try Emirates again and hopefully have a better experience.
I am going to try and give you an accurate emirates airlines economy class review and not let my pre-board experience with ground staff taint that review. Just straight forward.
Introduction to Emirates Airlines Economy Class
Emirates Airlines Economy Class offers a comfortable and luxurious flying experience, with modern economy seats and plenty of entertainment options on board. On one of our recent flights, we had the chance to experience the airline's latest seats on their massive Airbus A380. Read on to learn more about our experience in the Emirates Economy Class, including entertainment options and onboard amenities.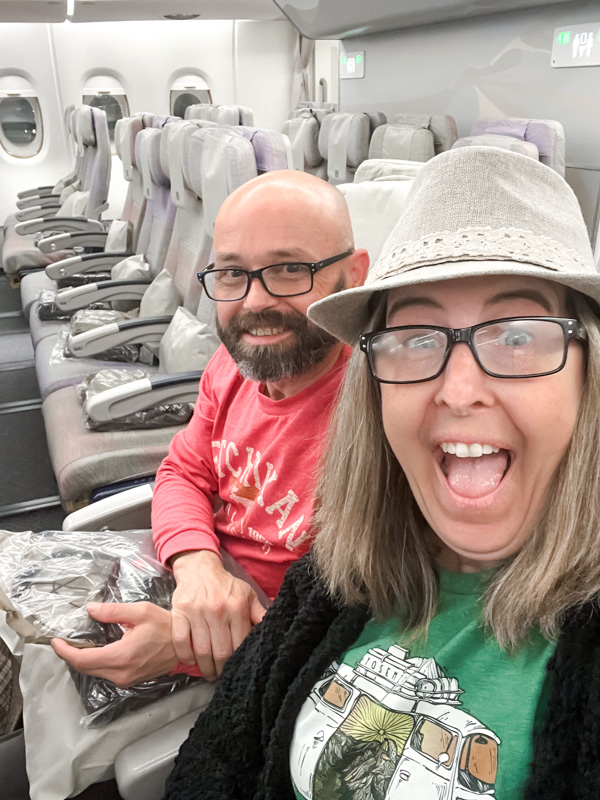 A window seat allows you rest against the airplane wall but an asile seat allows you to get up and walk around more freely on such long Emirates flights. You can pick a middle seat too if you'd like, we won't judge. For us, seat selection is a big deal, we know that isn't the case for everyone. Flights lately have been so full, I miss when you could expect to have an empty seat between you or any spare seat to put your coat and stretch your arms.
Pro Tip: Wear compression socks. On our leg home we weren't able to get an asile seat, so we couldn't get up as much as we'd hoped and my legs did end up swelling. Honestly our favorite seats were in the very back of the plane on an aisle because that is where the bathrooms are located and there is plenty of space to stand if you need to.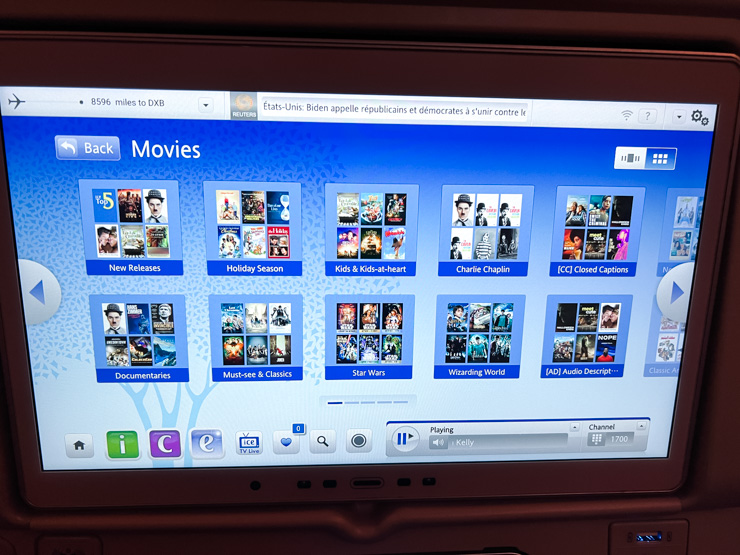 Entertainment Options on Board
Onboard, Emirates Airlines offers a range of entertainment options to keep passengers entertained during their long flight. The airline boasts a large inflight entertainment screen of 13.3 inches that displays a wide selection of movies, TV shows, music and games. Passengers can also use the Emirates app to create a custom playlist of their favorite movies and music before boarding their flight. In addition, Emirates Airlines also offers complimentary Wi-Fi access on select flights, allowing passengers to stay connected while on board. If you need to know more than just about the in-flight entertainment system keep reading the rest of our Emirates Airlines economy class review for all you need to know. There was so much to watch and we definitely did not get board.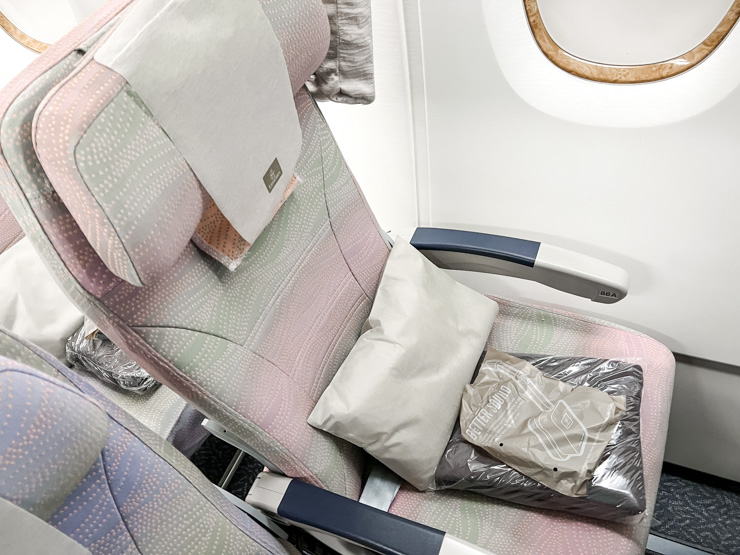 Onboard Services and Amenities
Onboard services and amenities are a key component of any flight experience, and Emirates Airlines economy class is no exception. The airline provides passengers with an array of amenities, such as complimentary blankets, pillows, and earbuds. Passengers can also enjoy a generous baggage allowance of up to 30 kgs (66 pounds) for checked and 10 kgs (22 pounds) for carry-on bags, as well as complimentary Wi-Fi on select flights. Additionally, Emirates also offers a range of entertainment options on board, providing passengers with an enjoyable and comfortable experience.
Ask a member of the cabin crew for one of their amenity kits onboard if you are missing some essentials. The complimentary amenity kits have just what you need to stay comfortable onboard for so many hours like international flights. Each reusable kit contains socks, eyeshades, a toothbrush and toothpaste, as well as a bookmark, all made using recycled materials. All of these items are there to help you feel fresh after flying for a long time, it's just a nice touch to offer a little something extra that we haven't seen from a lot of airlines.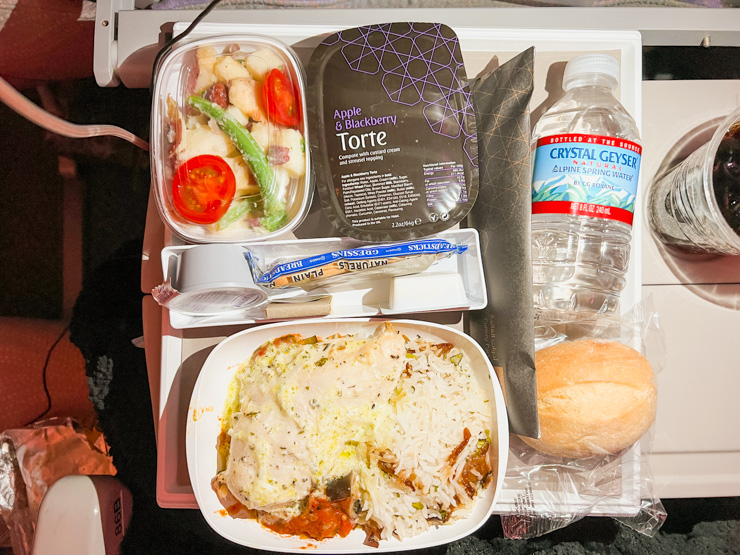 Meal Service on Board
Emirates Airlines offers delicious regional cuisine for its economy class passengers. On transatlantic flights, flight attendants serve passengers three meals, while a snack service is provided on some routes between the main meal times. So many good things to choose from for the main course and everything else to go with it! The above photo was our dinner. My husband and I are picky eaters and this was absolutely delicious!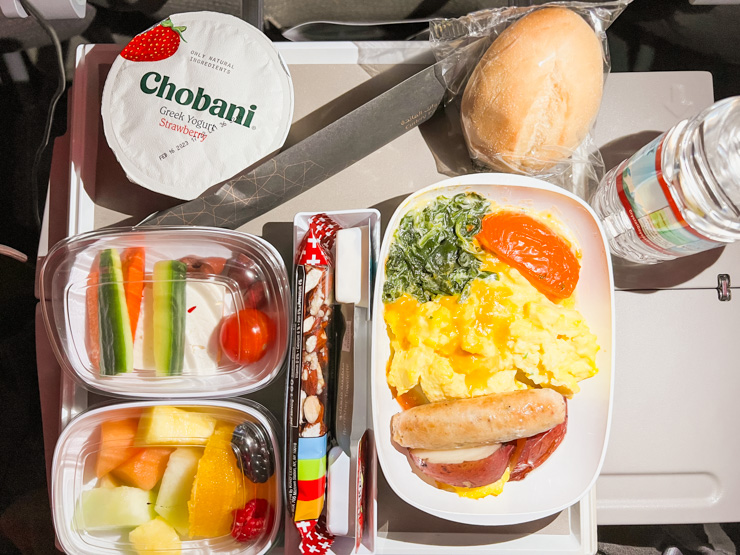 The airline has not reduced its food and beverage offerings due to COVID-19, offering a wide selection of meals and drinks or soft drinks to choose from. The above photo was our breakfast and we also got a snack while on board which was a slice of pizza. All meals were filling and we did not go hungry. With the selections of food and drinks consistently receiving high ratings in reviews, passengers will have plenty of options to enjoy during their flight.
Generous Baggage Allowance
Emirates Airlines Economy Class offers generous baggage allowances for passengers. Depending on the fare type, passengers can check in between 20kgs (44 pounds) and 35kgs (77 pounds) of luggage at no extra cost. For flights to and from the U.S., if you have a special economy fare, you're allowed to check one bag up to 44 pounds. Moreover, customers are permitted one piece of carry-on baggage, either a handbag or laptop bag, that may not exceed 55 x 38 x 20cm and must weigh under 7kg. This generous baggage allowance is just another added incentive for passengers traveling with Emirates Airlines Economy Class. Our Emirates economy class review would not be complete without letting you know a little bit more about what is available to you, so keep reading!
Emirates Lounge:
The lounges are usually for first class and business class travelers. It offers a quiet space with comfortable seating, gourmet food, drinks, spa services and free Wi-Fi. Some of the lounges can be accessed by folks flying economy class if they pay the extra fee. The Marhaba Lounge in Dubai is available to folks in economy if you pay for it ($130-$300 USD), providing you with access to food, beverages and a hot shower just like the passengers on an Emirates business class flight and first class passengers. You can always check the Emirates website for the most up to date information on availability and pricing.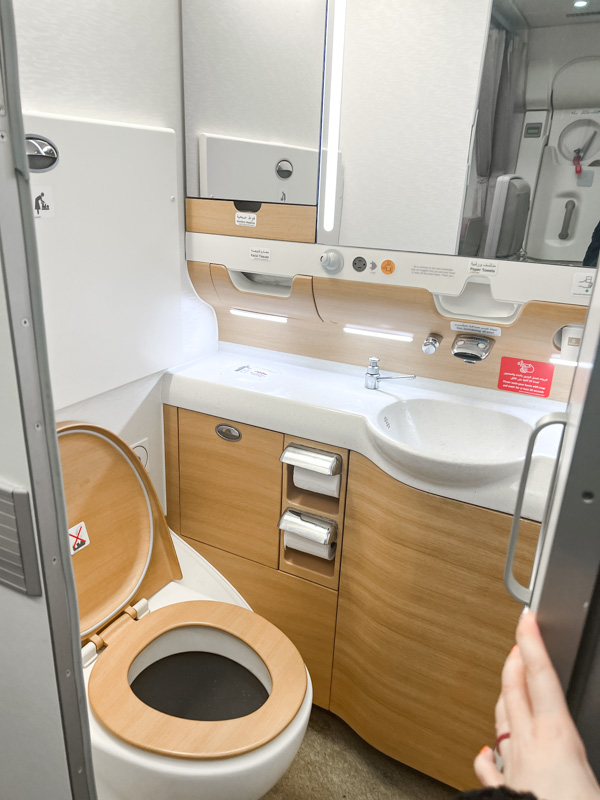 The Bathrooms on Board Emirates Economy Class
When traveling Emirates Economy class, passengers can expect only the best when it comes to their in-flight bathrooms. The lavatories are surprisingly well-equipped, with wooden cabinets and other luxurious features. Furthermore, passengers are given the option of booking a shower – with two located on each A380 plane – which feature more than just a shower; they're more like mini hotel bathrooms. This makes economy class feel as premium as first class, and allows passengers to experience the utmost comfort and luxury during their flight.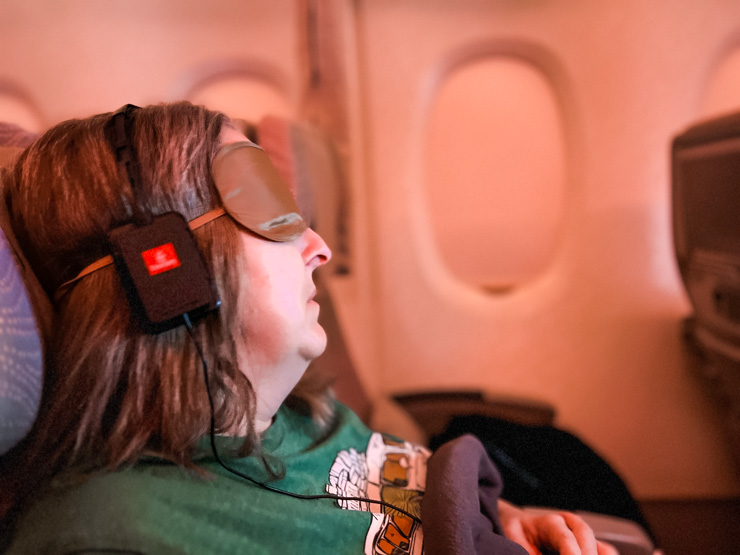 Pro Tip: We tried to make sure we combated jet lag as best as we could. We tried to time it to where , when it was time to go to bed in Dubai, that we had been up at least 10 hrs. That way we were ready for bed when we got there since it was going to be evening when we landed. We actually went to bed right after dinner on our Emirates flight and slept about 4-6 hrs and then woke back up and stayed up for the rest of the flight. Always make sure you arrive at least a day before your actual travel starts. This will help with jet lag as well as any airlines issues that might happen like what had happen to us.
Conclusion
Overall, Emirates Airlines Economy Class offers an impressive amount of comfort, entertainment, and convenience for those looking to travel in a budget-friendly way. From the spacious seating arrangements to the delicious onboard cuisine and generous baggage allowance, flying with Emirates Airlines Economy Class is definitely worth it. This is why it ranks among the world's 20 safest airlines and why it has a 4-star airline rating (according to SkyTrax). Whether you are looking for a convenient way to reach your destination or just want to enjoy a luxurious experience, Emirates Airlines Economy Class is the way to go. Have you traveled to The Middle East before or will your next trip be your first time. Let us know if there is anything we missed in this Emirates Airlines economy class review or other blog posts that you would like to know about traveling overseas or being a travel blogger!
More International Travel Posts:
FOLLOW US ON SOCIAL MEDIA
Don't forget to invite your friend's to our Facebook groups! We would also love to see your vacation pictures!