Cruising the Costa Toscana to Dubai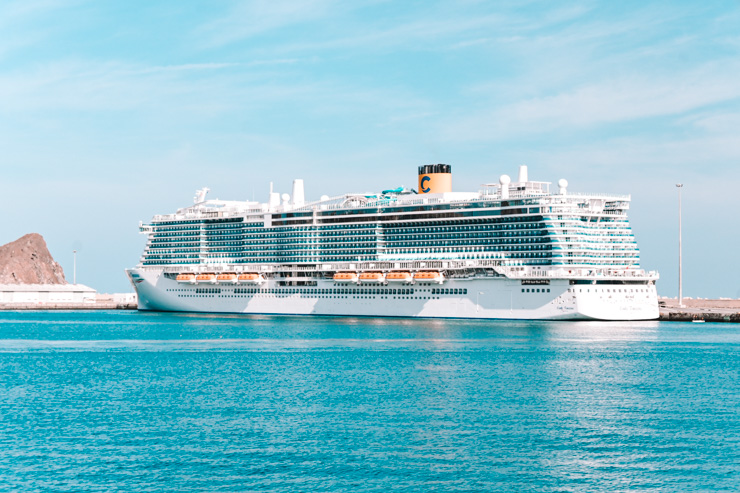 Are you looking for an unforgettable travel experience? Do you dream of seeing the world, but don't have the time to take a long journey? Then why not consider taking a cruise on the Costa Toscana from Dubai? In this blog post, we will explore the sights and sounds of this incredible voyage and show you how to make the most of your trip. So get ready for luxury, adventure, and culture – it's time to embark on a truly once-in-a-lifetime experience! Check out Costa's website.
Costa Cruises brings the spirit of Italy on its ships, providing passengers with a unique opportunity to experience Italian culture while sailing around the world. As it proudly sails under an Italian flag, Costa is not only bringing smiles and relaxation to travelers; but also acts as an ambassador for widely-recognized values like style and passion! Check out what the Costa Toscana is doing to be responsible explorers.
Cruise the Mediterranean, explore Northern Europe, soak up Caribbean sunsets or experience Arabia's exotic beauty – no matter where your dreams take you, one of their 13 magnificent ships will carry you there. From South America to beyond the oceanic horizon – be swept away on a journey of discovery like never before!
Explore the vast Mediterranean aboard Costa's newest pride and joy, the majestic Costa Toscana! With capacity for 6,600 passengers on board ready to soak up its culture-rich itinerary – Civitavecchia-Rome (Italy), Naples (Italy), Ibiza (Spain) Valencia( Spain ), Marseille( France )and Savona ( Italy ) – this is no ordinary cruise. Enjoy 'the art of living the sea', diving into a world full of life where history meets contemporaneity; you never know what wonders await around each corner.
EMBARKING & DISEMBARKING
Experience a hassle-free embarkation and disembarkation process when sailing aboard the Costa Toscana. Guests will be welcomed aboard at the start of their cruise in Dubai, U.A.E., where they will be able to enjoy the onboard amenities and activities as soon as they step foot on the ship.
The Costa Toscana has designed a streamlined process for embarking and disembarking that will make guests feel comfortable and safe during their cruise. On embarkation day, guests will arrive at the cruise port in Dubai with their valid ID cards, passports, and boarding passes. From here, they will be processed through security and check-in before being directed to the cruise terminal.
Once onboard, guests can explore all that the Costa Toscana has to offer, including restaurants, lounges, activities, and entertainment venues. At the end of their cruise, disembarkation is just as effortless. On arrival at the port in Dubai, guests will need to have all of their documents in order before collecting their belongings from their cabin and disembarking the ship. They even have a short presentation a couple of days before disembarkation where they explain the process to you so you know what to expect!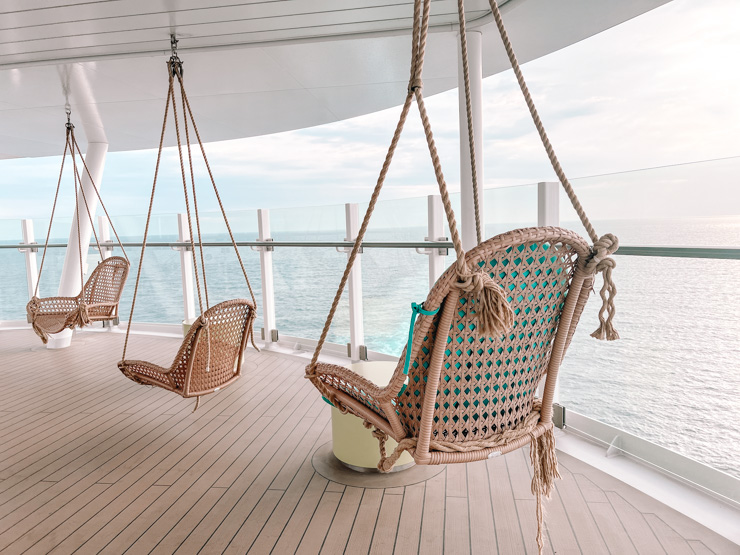 To ensure a smooth and stress-free embarkation and disembarkation process, guests should make sure they comply with all of the requirements outlined by the Costa Toscana before arriving at the port in Dubai. Guests are also encouraged to check their ship account prior to arriving at the port to minimize wait times on embarkation day. You can take care of any outstanding charges to your account the day before disembarkation at customer service or at any of the kiosks they have around the ship so you won't have to wait in line.
We collected our passports the night before disembarkation and the luggage tags were delivered to our room. We were assigned a disembarkation time and just had to have our bags outside our room by midnight that night. Just make sure you don't pack your clothes for the next day or you may be leaving the ship in your PJ's! Our disembarkation time was 9:30 and we had our luggage by 9:45. It was super easy.
Navigating the Ship
No matter how many cruises you have been on, navigating the ship can be a challenge. The Costa Toscana has made navigating the ship a lot easier. At the elevators they have a list that tells you what deck everything is located on. Not only that, they also have symbols that tell you where on the ship it is located. A triangle means it's at the front or bow of the ship, a square is midship, and a half circle is the back or stern of the ship.
There may be a time you will need to visit guest services. On the Costa Toscana instead of having to stand in line, you check in at a kiosk with your ship card. You are assigned a number and you are free to find a comfortable place to wait. There are monitors in the area that will display your number when it's your turn!
Speaking of guest services, there are several places on the ship that can handle most things you need to do. There are kiosks that will allow you pay on your ship account. You can use cash or card. Just beware that as of this writing those machines didn't accept US dollars. There are also touch screen monitors throughout the ship where you can access your ship account and look at details.
If you plan on getting the internet package, I recommend signing up as soon as possible. This is a popular feature on this ship and Costa only has one internet specialist on board to help navigate any internet problems. Lines can get very long and you can wait up to hours to get help. This is one of the things we mentioned to our Costa rep, that could be fixed in order to make our cruise experience better.
Sea Balcony Cabins
On Costa Toscana cruise ship, passengers have the option of choosing from 2,663 cabins, 1,550 of which offer private balconies. These balcony cabins offer an unbeatable view of the sea and provide a luxurious, private space for travelers to take in the sights. For those looking for a more economical option, Costa Toscana also offers inside staterooms with no view. Of course you can always choose from suite cabins, terrace with a sea view cabin, balcony cabin, and Oceanview cabin as well.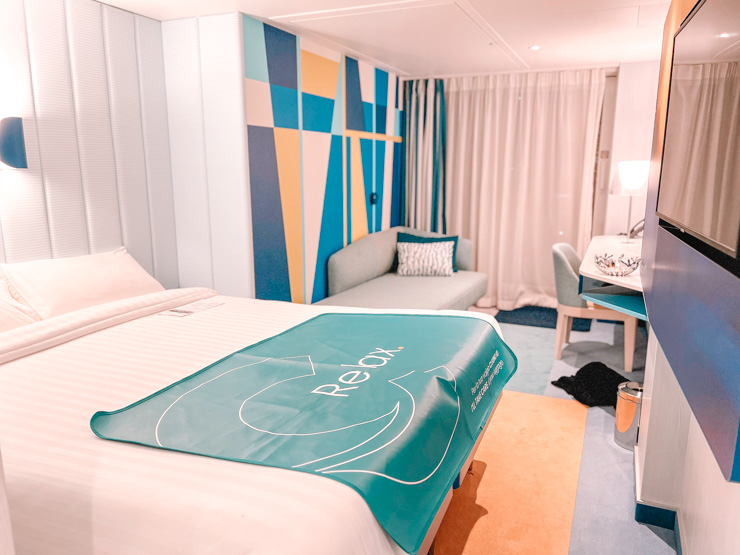 Our cabin for this cruise was the Sea Balcony. We had a queen bed and sofa in our stateroom. Your luggage does fit underneath the bed. We were able to put our 3 suitcases underneath the bed with room to spare. There are 2 closet spaces with lots of places to hang clothes and shelving (no drawers) . The bathroom has quite a bit of shelving which I found nice. Much more than most cruise ships. It helped keep everything organized. I also love that there is plenty of hot water so if you love a hot shower, you are going to be in heaven!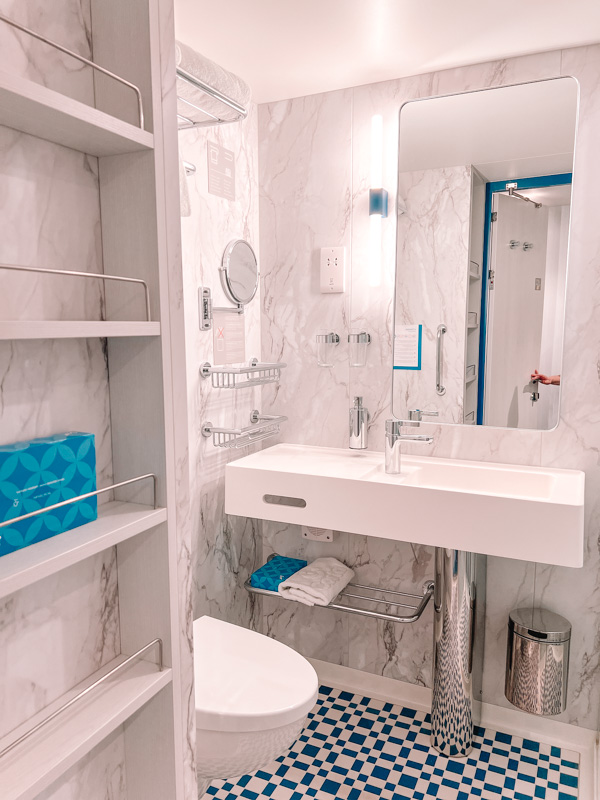 The balcony is pretty spacious as well. There are a couple of chairs on the balcony where you can sit and relax in private. It also makes some great views of the ports for taking photos.
The one and only thing we did not like about our room is the glass window in between the shower and the bed with a curtain over it.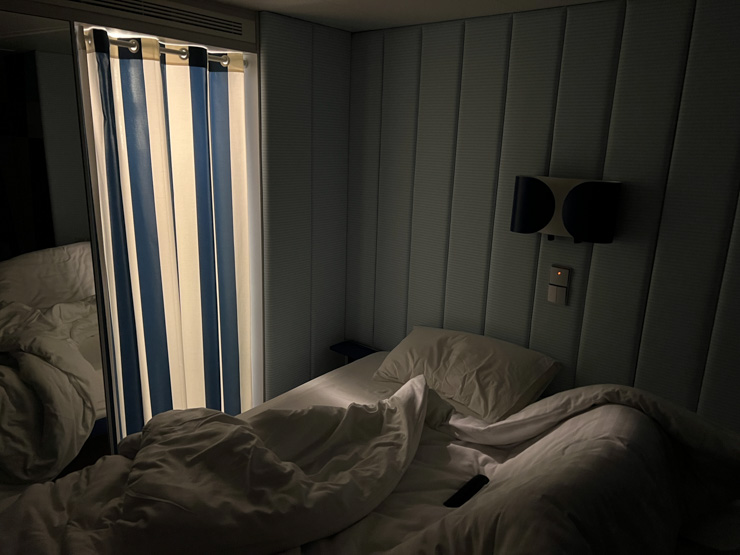 If you are rooming with someone and you or they wake up early, it makes it almost impossible to take a shower without waking them up. Even with the curtain, the light shines right on the persons face laying in bed. I wish they offered a black out curtain for that.
Dining Options on Toscana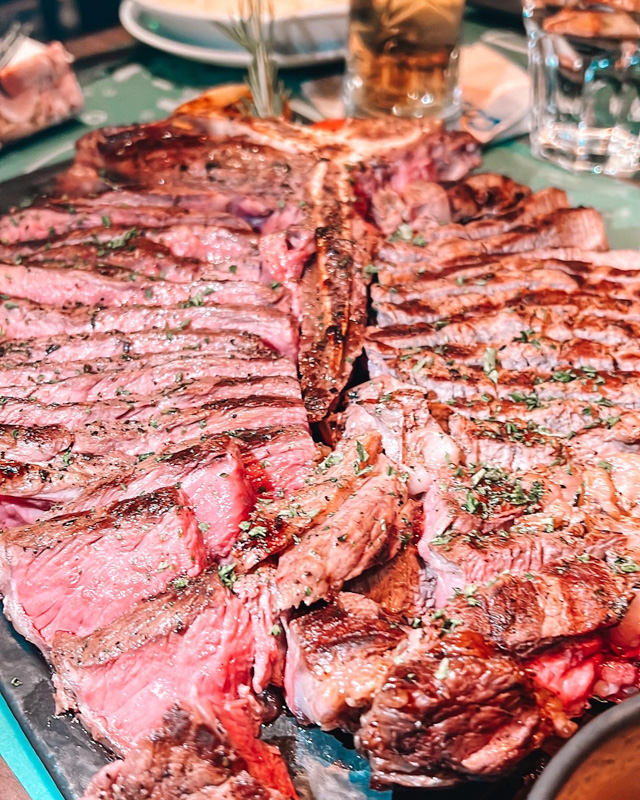 The Costa Toscana offers a variety of dining options to suit every taste, budget and culinary preference. Start your day with an array of delicious breakfast options at the buffet or the main dining room. Then for lunch you can enjoy pizza at Pizzeria Pummid'oro , burgers or some amazing appetizers at the Heineken Bistro. Of course the buffet is always open for lunch. For dinner, indulge in a four-course meal in the formal dining room or sample international cuisine in one of the several themed restaurants.
Archipelago– Three world-renowned chefs, with three different menus: Bruno Barbieri, Hélène Darroze and Ángel Leónre interpret the ingredients, traditions and recipes of the your next cruise's destinations.
Teppanyaki Restaurant– A Japanese style restaurant
Sushino at Costa– sushi bistro that is designed to bring you an authentic Japanese experience that includes nigiri, maki, sashimi, and mochi.
Pummid'oro Pizzeria– Several different pizzas to choose from
La Fiorentina Steak House– enjoy Italian meats such as Florentine T-bone and Piedmontese fassona steak, but also Irish Black Angus and organic chicken.
Burger Bar– enjoy burgers, hot dogs, and snacks by the pool
Kikipoke– Poke bowls with a view
Dim Sum Chinese Dumplings and Noodle Bar– Taste the best of China between Noodles and Ravioli, with a menu based on meat, fish or vegetarian.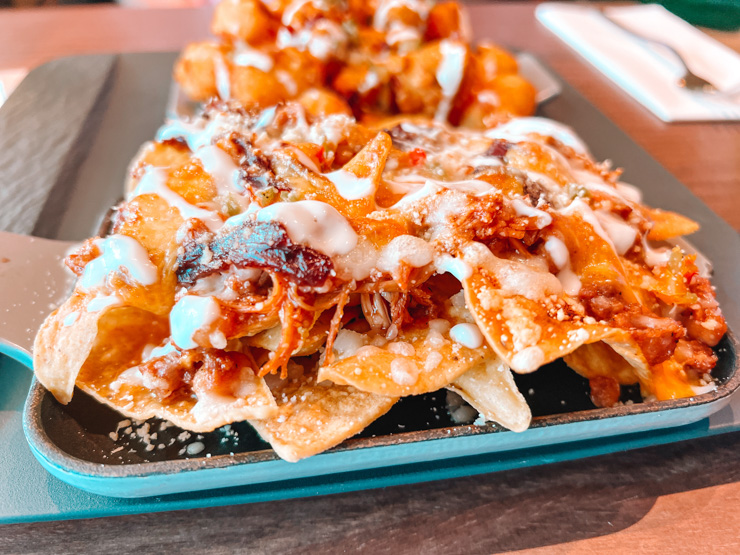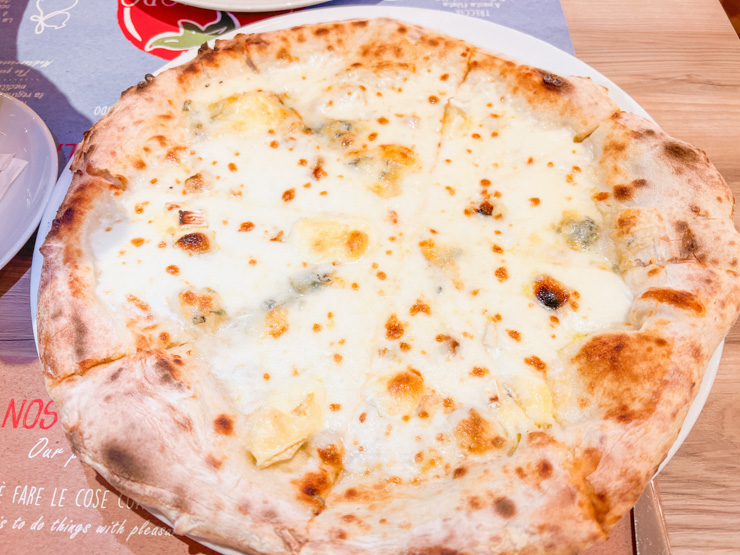 If you are feeling adventurous you should try the Archipelago . They offer 3 very different menus you can try from 3 different chefs. Enjoy the creativity of Bruno Barbieri, the authenticity of Hélène Darroze, and the seafood experimentations of Ángel León. This restaurant will have you expanding your taste buds. You can also get a wine pairing to go along with your meal.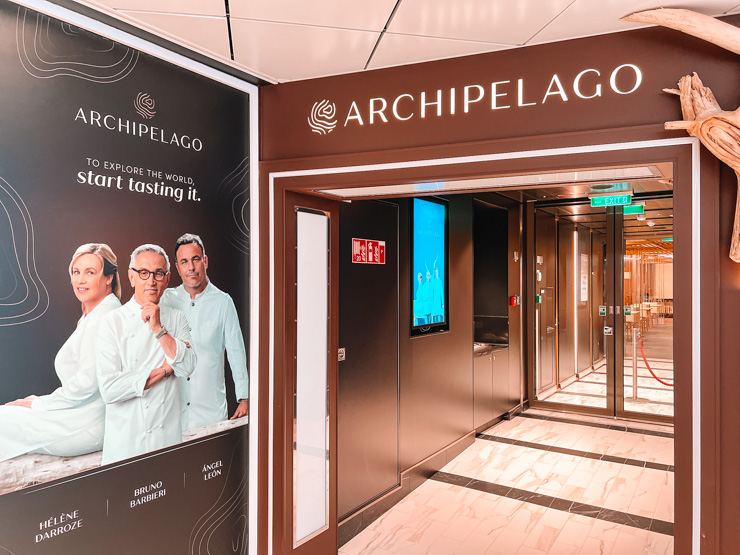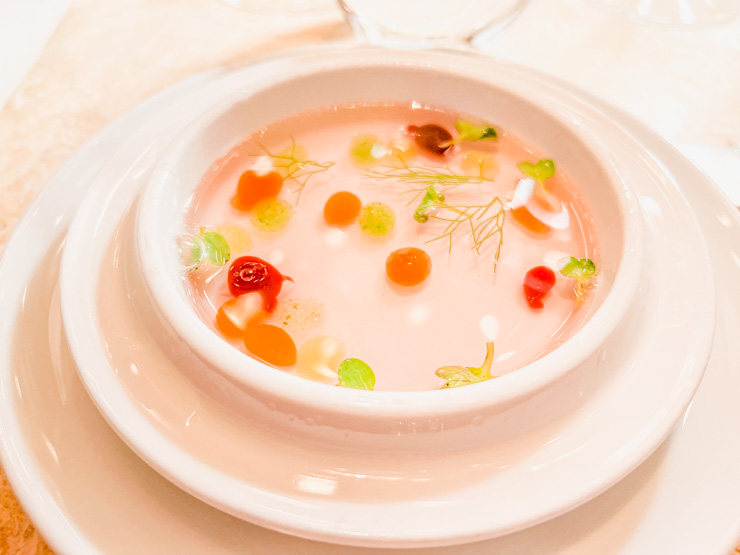 The ship also features two poolside eateries and several bars and lounges where you can enjoy light snacks and drinks throughout the day. Whether you are looking for a quick bite or a romantic dinner for two, you'll find something to satisfy your appetite on board the Costa Toscana.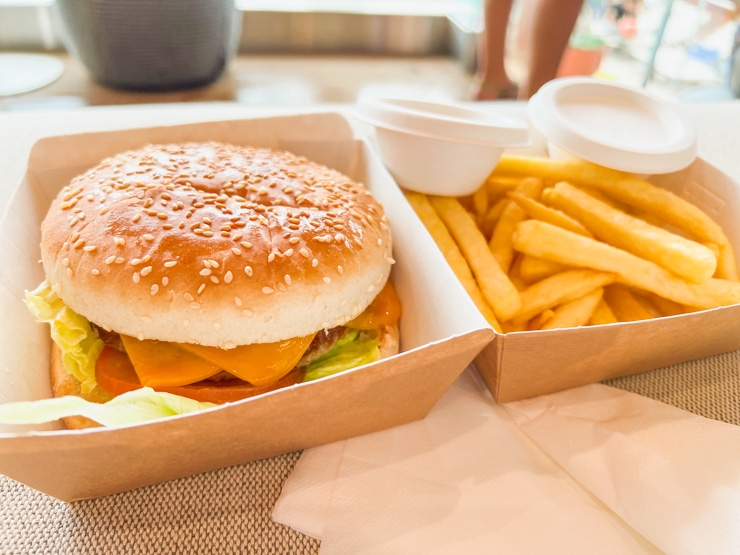 MUST TRY
If you are looking for something unique make sure to stop by the Nutella at Costa. You can try several different dishes made with Nutella! It is located on Deck 17 in the pool area.
Entertainment Options on Toscana
The Costa Toscana doesn't just provide a luxury cruise environment, it offers an array of activities and entertainment options to keep you occupied during your voyage. With a variety of live performances, movies, classes, special events, and even a spa, the Toscana offers something for everyone.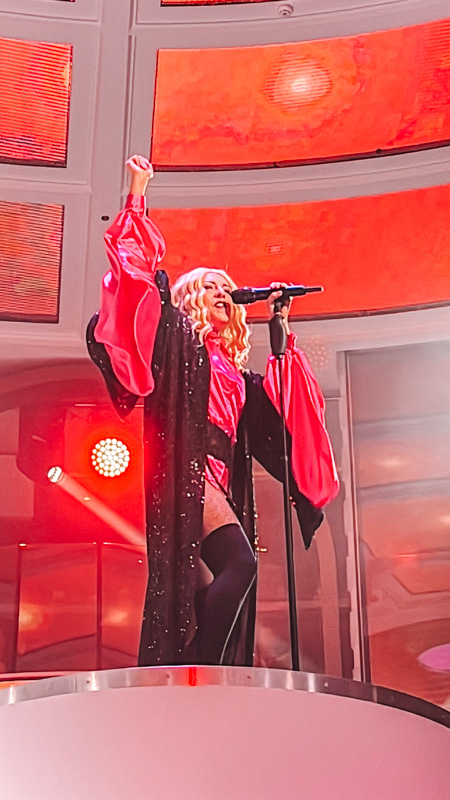 Onboard entertainment is provided by the professional theater troupe of Costa's "Theatre of Dreams". They put on regular performances of spectacular musicals, acrobatic shows, and comedy acts. This is the perfect way to unwind after an unforgettable day at sea. Plus with the Colosseo being mid ship you won't miss a performance! They also broadcast the performances on your TV in your stateroom so if you had a long day on your excursions you can still enjoy the show!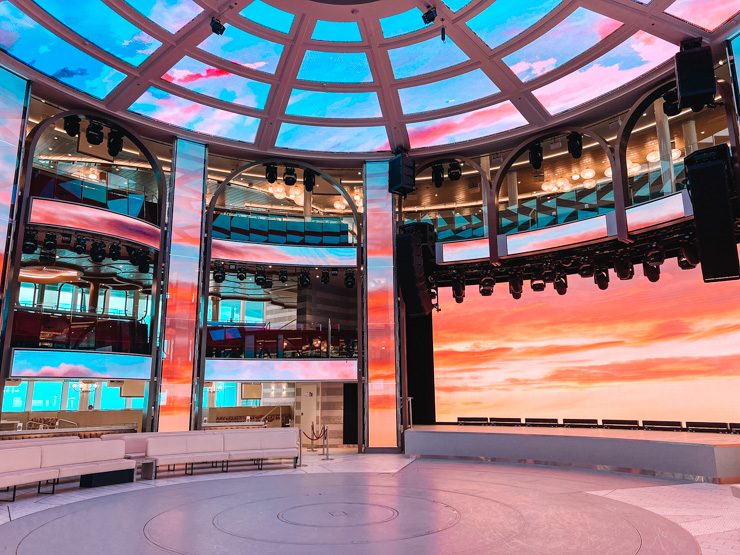 There are several areas for live music that are sure to keep you entertained. We enjoyed listening to a 1 man band play while devoured some nachos at the Heineken Bistro for dinner one night!
Costa Toscana hasn't forgot about the kids. They have a teens lounge and Squok Club. At the Squok Club they offer activities for kids ages 3 to 11. There is also a nice size game room with a variety of games to enjoy.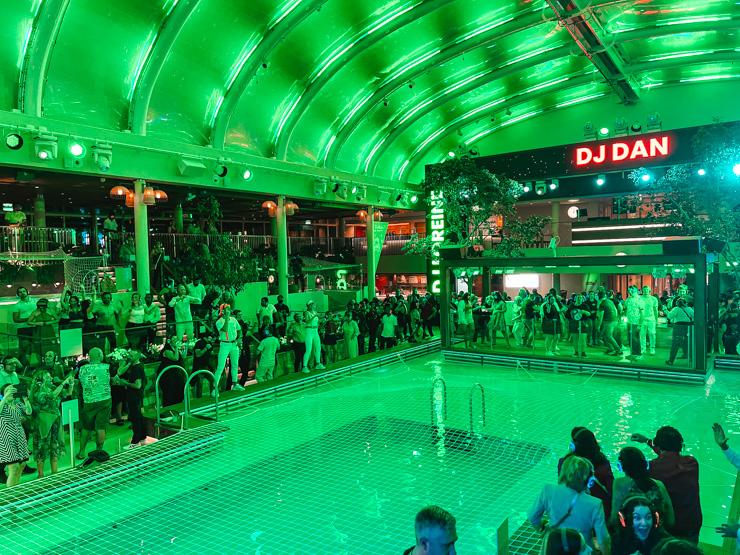 On our sailing there were several themed nights that we were able to enjoy. The Silent Disco was amazing! Just seeing everyone sing and dance to 3 different DJ's was very entertaining! You could tell which DJ everyone was listening to by the color lit up on their headphones. White Night was another fun night that ends with a a dance party on the back of the ship!
For those looking for a more relaxed experience, take a break and enjoy some pampering at the onboard spa. If you want to enjoy something other than a massage, We loved using a day pass to the spa on our sailing. We were able to use the thermal spa, salt room, dry sauna, steam room, and snow room. Yep you read that right… a snow room! This was a great refresher for me and I would recommend this to everyone. It felt so amazing going to the spa after a long day of exploring. The Beauty Spa Solemio also offers facial masks, hair removal, manicures, and they even have a hairdresser on board to keep you looking your best.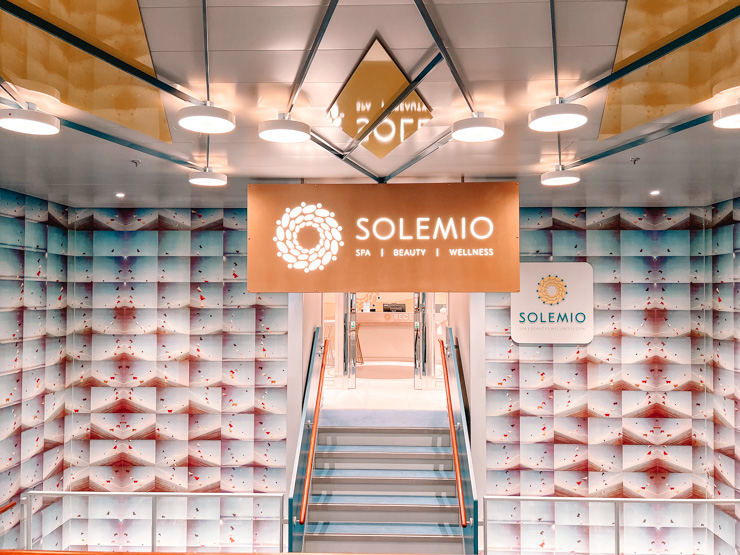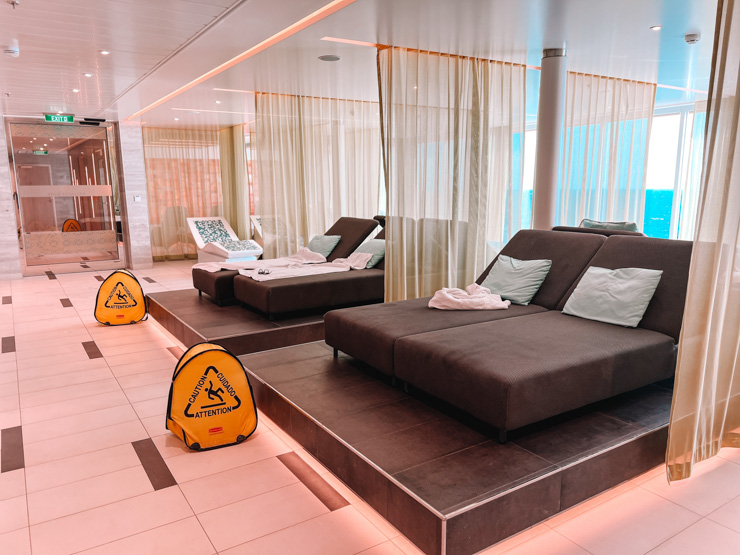 Or you get active with aerobics classes, yoga sessions, or visit the on board gym. They even have a sport court area where you can play basketball, soccer, and many other activities. If you enjoy hanging out in the pool or hot tub, Costa Toscana has 13 swimming pools and hot tubs to choose from. In the La Spiaggia Beach Club, there is a covered solarium with 4 clear hot tubs that were adult only. This was awesome because it allowed the adults a place to relax without all the kids splashing and taking over the pool area like on most cruise ships. There is something for everyone to enjoy on the Costa Toscana.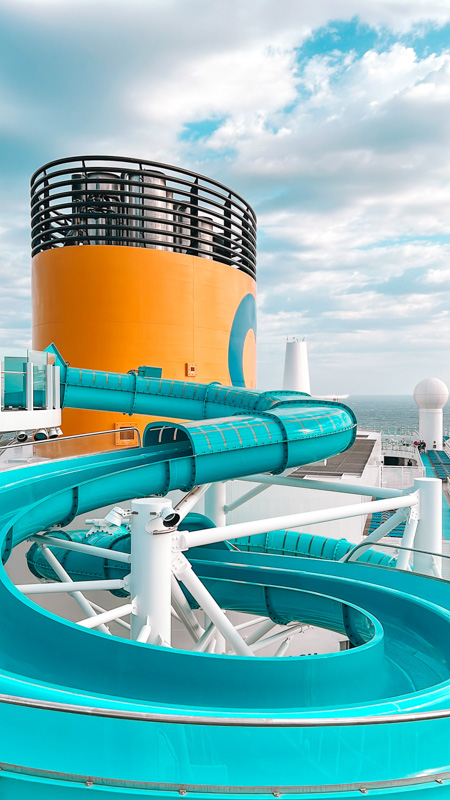 When night falls, the ship transforms into a live music venue providing guests with an unforgettable experience. Enjoy live performances from international artists and DJs playing a range of genres from jazz to EDM. If you're looking for something more low-key, you can enjoy some of the incredible views from the sky walk or anywhere along the deck 18. There are plenty of chairs and lounging areas for you to enjoy! You can even find a hammocks where you can relax and be rocked to sleep by the ocean.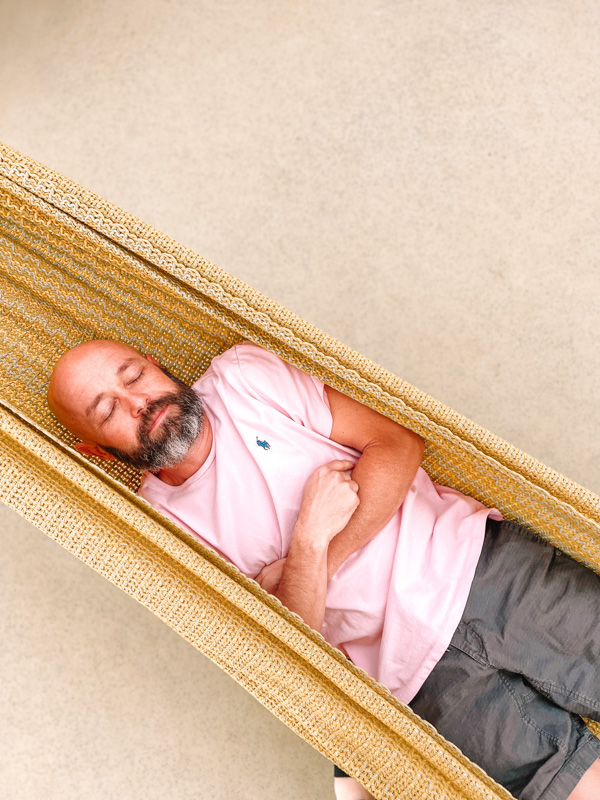 You also don't want to miss the onboard Duty-Free shops. We were pleasantly surprised with prices on board. We were able to pick up some last minute gifts. Plus with the wide variety of items they offer it was easy to find something for everyone. With so much to do onboard the Costa Toscana you'll never be bored during your journey to Dubai!
For Americans Cruising with Costa
If you're use to cruising on American based ships there are a few things you need to know about cruising Costa and we thought these tips would be helpful when planning your cruise.
Most cruise ships in America have shampoo and conditioner in the shower. This ship does not. So make sure you pack some. They do provide body wash so you won't need to bring your own. They also don't offer wash cloths so you will need to bring your own.
On your TV, you may notice most of the stations are in a different language. However there is a button on your remote that will allow you to switch it to english if english is available on that channel. If you need subtitles though, they are only in Italian.
Make sure you bring European plug converters. You can purchase them here. You WILL need these to plug anything in.
When you get to the cruise port you will see signs all over to download the Costa Cruise app. Don't freak out if you can't find it in the app store. This app is not available to the U.S. You will simply need to login at MyCosta.com.
Remember you are in a different country, not everything is Americanized. I feel like I need to say this because sometimes expectations from Americans can set them up for disappointments. I have heard comments in Facebook groups etc and I simply have to remind people "YOU'RE IN A DIFFERENT COUNTRY". Not everything is catered to Americans. Try to enjoy the culture of the country you are visiting. New experiences can bring a lifetime of memories. It also helps you understand and learn from the different cultures.
Make sure you hit the currency exchange at the airport. You won't be able to exchange money on board the ship. We tried to exchange money in Doha, Qatar and we needed our passport or a picture of our passport to do so. Most places accept the US dollar so it's not mandatory that you get the local currency. Also be aware of the exchange rate. It can change daily. We were told that a picture of your passport would suffice.
Download a translater app, it will help you communicate with other passengers on board that may come up to ask you questions. We have had some interesting and fun exchanges with fellow passengers.
If you are an early riser, there is hot tea and water located on Deck 8. Most places are closed until 7-7:30am. You can grab coffee at the Cafe Vergano on deck 6 at 7:00am.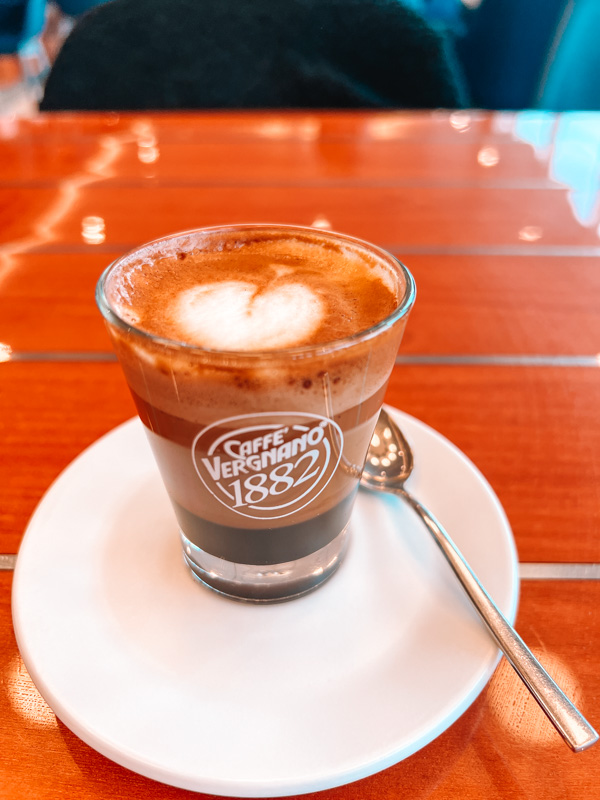 What to Pack
Whether you're a first-time cruiser or a seasoned veteran, packing for a seven-day cruise is no easy feat. To make sure you have everything you need for your journey aboard the Costa Toscana, here are some items you should consider packing:
A comfortable but stylish outfit for disembarking, such as a nice sundress, a polo shirt and khakis, or something comfortable for travel.
A swimsuit – don't forget your sunscreen!
A lightweight jacket or cardigan in case of chilly nights.
Comfortable shoes – it's a long trip and you'll be on your feet most of the time.
A camera, to capture all the amazing sights on your journey. Also carrying an extra memory card is a good idea.
Any medication you might need during your stay, such as seasickness pills or headache tablets.
Your passport and visa (if necessary).
Clothes for any themed nights. On our Costa Toscana sailing we had a white night, Arabian night and we brought fancy clothes for a night. I mean who doesn't like to dress up!
Pack light but don't forget any of these essential items. Above all else, make sure you have fun and enjoy the beautiful sights of Dubai and the UAE while cruising the Costa Toscana. This is just a sample but you can also check out our full cruise carry on packing list. While not necessary everywhere, women might need to have their shoulders and knees covered. You only need to wear a head scarf if you plan on visiting a mosque. Men shouldn't wear tank tops, short shorts, or clothes that aren't modest. These rules could change often so it's best to check with your travel agent for current information and customs.
If you forget something…
The terminal at Dubai has few stores where you can pick up any toiletries, snacks, or just about anything else you forgot to pack. We picked up a few things here including our power adapter!
Is Traveling to Dubai Safe?
This trip was truly a cultural experience for us and we have learned so much!
Much of what American media talks about in the the Middle East is very exaggerated and some of it is false. The media actually makes money off division (think about that). We felt completely safe over there! Dubai is the 7th safest city in the world and did you know Abu Dhabi has virtually no crime, no unemployment and no homelessness?
We felt safer there than we did to our trip to New York City. The people over there love Americans and they love tourists. They don't actually need the tourists for income, they just love the people.
Making the Journey to Dubai
Planning a cruise to Dubai? Look no further than Costa Toscana, Costa Cruises' flagship ship! With flights from various locations and ports around the world, you can make your way to this exotic destination with ease.
Flying into Dubai International Airport is the most convenient option, but other nearby airports are also available. You can also take a ferry from Abu Dhabi or Muscat to reach the port. Once you arrive in Dubai, you'll be ready to begin your cruise aboard this magnificent vessel.
The Costa Toscana offers a variety of cabins, ranging from budget options to luxurious suites. No matter what your budget is, you will be able to find something that fits your needs. Plus, all passengers will enjoy the same onboard experience and amenities, such as a range of dining options and entertainment.
From the moment you step on board the Costa Toscana, you'll know that you've chosen the right cruise for your journey to Dubai. And with its many ports of call in the UAE and surrounding areas, you'll be sure to have an unforgettable experience. So don't wait any longer — book your cruise on the Costa Toscana today!
What are the Port Options?
The ports of call during your cruise aboard the Costa Toscana will give you a chance to explore the stunning beauty of the UAE and its neighboring countries. From Dubai, you'll have the chance to visit Muscat in Oman, Abu Dhabi, and Qatar. In Muscat, you'll be able to sample the local cuisine, while in Abu Dhabi, you'll be able to explore the glitz and glamour of a modern Arabian mecca. Finally, in Qatar, you'll be able to admire the local architecture and venture into the majestic deserts.
No matter where you visit, you'll have plenty of time to explore and take it all in. You can easily customize your holiday to make it truly unique. From shopping trips to cultural tours, there are plenty of options available that can help make your journey special.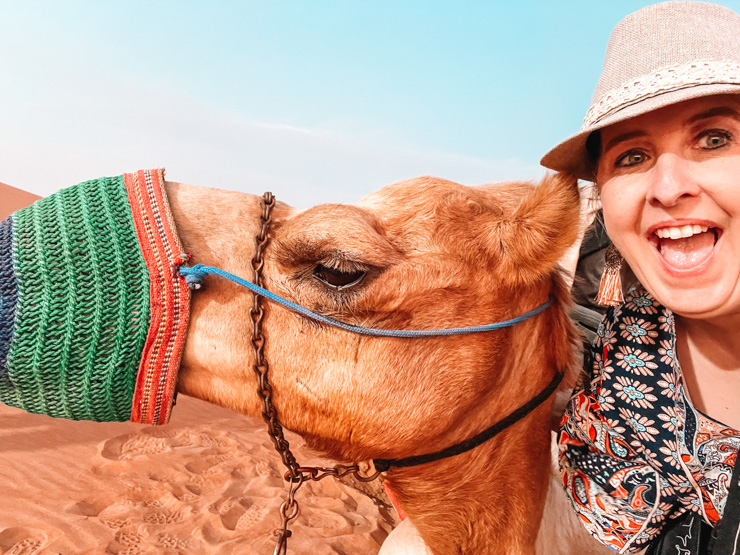 So if you're looking for a truly unforgettable experience, why not join us on a cruise aboard the Costa Toscana? With tantalizing ports of call and plenty of activities to keep you entertained onboard, it's sure to be an unforgettable voyage! make sure you subscribe to our newsletter and Follow us on Facebook as we plan on going into detail on each port. So you won't want to miss those up coming blog posts!
Cruising Dubai's Coastline
Experience the beauty of the United Arab Emirates and Dubai by taking a cruise on the Costa Toscana. Whether you're looking for a romantic dinner cruise or an action-packed all-day excursion, you'll find it on board. Enjoy the stunning sights of Dubai's skyline and coastline as you glide along the shore.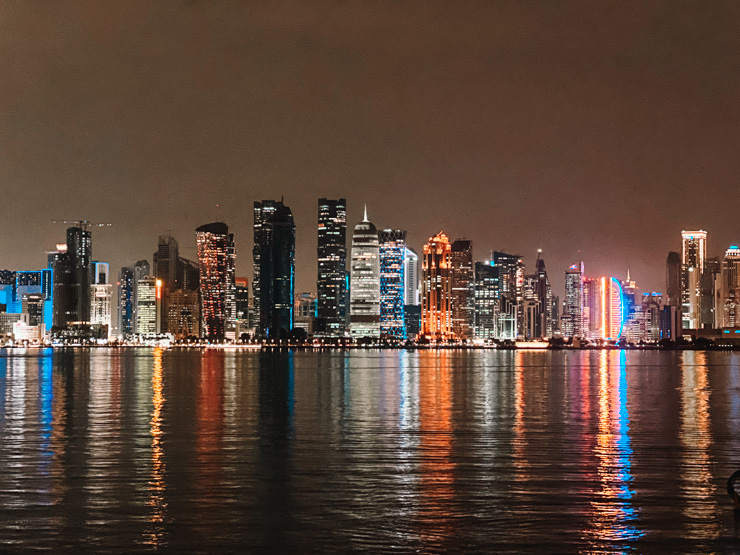 Take in the graceful architecture of some of Dubai's most iconic buildings, including the Burj Khalifa, the world's tallest structure. Then head to Palm Jumeirah, where you can take in stunning views of its artificial islands and resorts.
With over 400 miles of coastline to explore, you'll never run out of things to do while cruising along the Arabian Sea. Experience all that the UAE has to offer with stops at some of its most popular ports, such as Abu Dhabi and Muscat. Or take an extended cruise and make stops at lesser-known ports like Doha, Oman.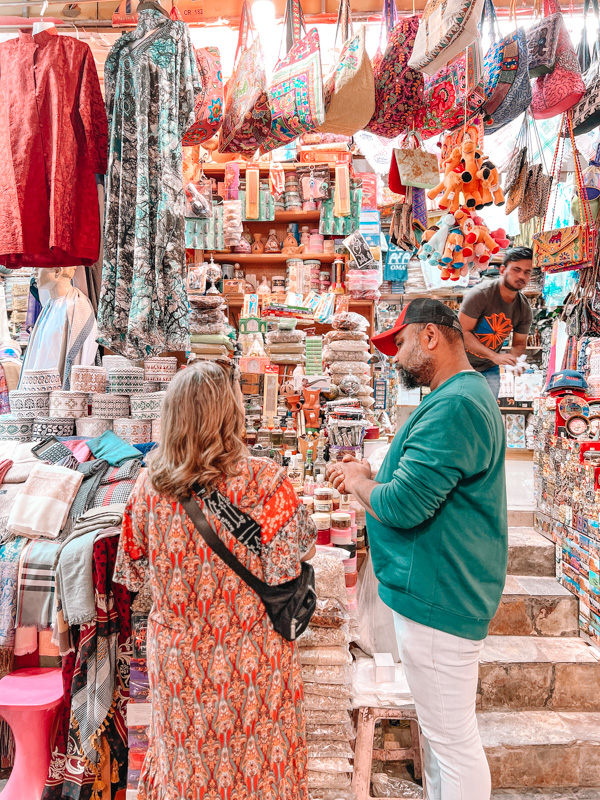 No matter where your cruise takes you, it's sure to be an unforgettable experience. Enjoy all that Dubai has to offer from the comfort of your own private cabin aboard the Costa Toscana. So grab your bags and get ready for the adventure of a lifetime!
Making the Most of Your Time in Dubai
Once you've reached the seaside city of Dubai, you'll be eager to make the most of your time there. From shopping and sightseeing to taking part in thrilling desert activities, there is plenty to do during your visit.
To get the full Dubai experience, why not explore the city's markets? The Gold Souk is a great place to find all sorts of jewellery and souvenirs, while the Spice Souk provides an aromatic and vibrant atmosphere.
If you're ready to take on the desert, you can take part in a range of activities such as camel rides, sandboarding, and dune bashing. Or why not take a hot air balloon tour and watch the sunset over the golden dunes? You can even get up close and and personal with a falcon!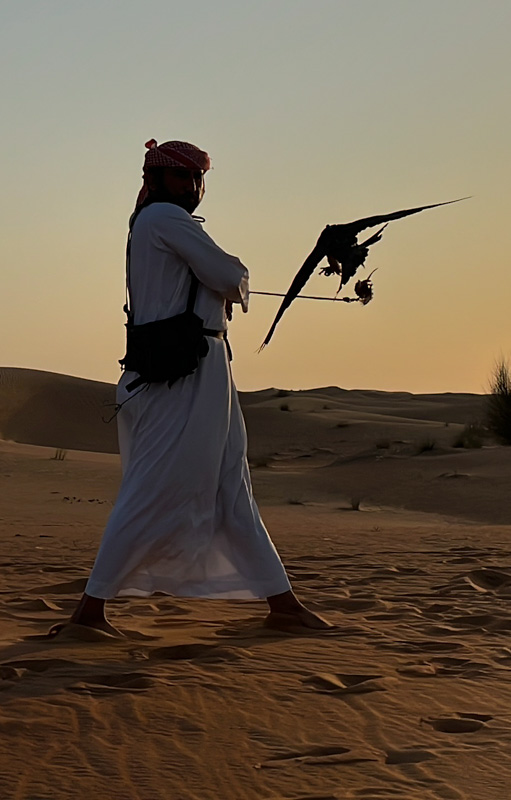 If you're looking for something more relaxed, there are plenty of beaches and parks to explore. Take a dip in the sea or just enjoy some sunbathing while taking in the stunning scenery.
No matter how you choose to spend your time in Dubai, you'll be sure to have an unforgettable experience. So make sure to make the most of it during your Costa Toscana cruise!
We will writing a more in-depth article on Dubai so make sure to check it out.
Weather in Dubai
Dubai has 4 seasons. The temperature in the summer averages in the mid 90's and the humidity can make seem hotter. The best time to cruise from Dubai is the winter. The average temperature in the winter is in the low 70's and the overnight lows around the mid 50's. Perfect weather for exploring all Dubai has to offer. Of course weather is unpredictable so check about 10 days before you plan to leave to get a more accurate forecast.
Awesome Oceanside Vacations
Check out some of these awesome oceanside vacation ideas.
FOLLOW US ON SOCIAL MEDIA
Don't forget to invite your friend's to our Facebook groups! We would also love to see your vacation pictures!