Cruise Ducks: What are Cruising Ducks and Why do People Hide Them?
We love to go on cruises and we love all of the meals and activities they have to offer. It is a great place to spend time with family and friends and maybe even make some new friends along the way. Whenever we go to a new place or on a new ship we love to explore and check out what they have to offer and see if maybe there is something new we haven't done before. It could be onboard or on an excursion but we want to know what all the options are. Keeping reading if you want ti find out what a cruise duck is.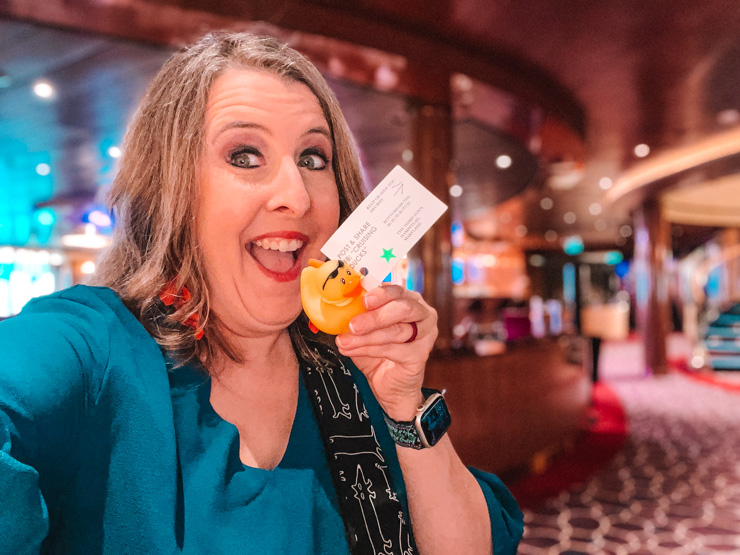 Of course you are going to have a great list of everything that the cruise line offers from dining to activities, but what if there is a fun new activity that isn't always from the cruise line itself? There is a new activity between passengers that we keep seeing more and more of. Are you intrigued?
If you've been on a cruise ship, you've probably seen a rubber duck. But have you ever seen a cruise duck? No, not a real duck – cruise ducks are little rubber ducks that have been hidden on board the ship by a passenger. And there's a good chance you've seen one without even realizing it.
Many cruise ships are known for a place to have fun, and hiding and finding a rubber cruise duck is just a fun game like searching for a hidden Mickey or painted rocks! This is a game that is fun for all ages, and many folks, not just children are getting on board with the cruise duck fun. If you want to see some of the photos people post search for a Facebook group dedicated to cruise ducks!
Are you ready to join the fun? Read on to learn all about this fun game.
What is a Cruise Duck
So, what exactly is a cruise duck? A cruise duck is simply a rubber duck that has been hidden on board a cruise ship by a passenger. The object of the game is to find as many cruise ducks as possible, take a photo of it to share on social media and then hide them again for the next passenger to find. It's a game that can be played by both children and adults, and it's a great way to pass the time on long voyages.
Many ducks hide in the trees, by the hot tub, or even get left in the room in a drawer or safe for the next room occupants to find when they unpack. Look high and low when you start to hunt and try to be creative if you ae hiding some ducks.
Cruise ducks have been around for years, but they've only become really popular in recent years. Thanks to social media, passengers are now able to share photos and videos of their finds with friends and family back home. This has helped to spread the word about the game and encourage more people to take part.
Why do people hide cruise ducks? There are a few reasons. Firstly, it's a fun way to pass the time on long voyages. Secondly, it's a great way to make new friends onboard. And finally, it's a nice way to spread some happiness around the ship. After all, who doesn't love finding a hidden rubber duck?
Some ducks are hidden very well while others are in plain sight. Some of the kiddos might need help from an adult to spot some of the ducks in a tricky hiding place. If you have a difficult time locating one you can always ask a crew member if they have seen any, they may give you a clue! Most crew members know to leave them alone and will not move them or throw them out.
Thinking about joining the fun on your next cruise? Make sure if you hide some cruise ducks to add cruise duck tags if you want to follow the whereabouts of your ducks. Join a cruising ducks Facebook page for ideas and hints from a fellow passenger.
How did Cruise Ducks Get Started
People started doing this before 2018 but it grew in popularity in 2018. The inspiration for the new game of hide-and seek with toy ducks came from a young girl's wish to bring joy and happiness. Her name is Abby Davis, this 10-year-old girl helped popularize this fun activity with her mom, Ashley Davis on their 7 day Carnival Breeze cruise back in 2018! Carnival cruise line is known for fun, but this game is now on other cruise lines as well. It is less likely to spot ducks on an adult only ship but not impossible.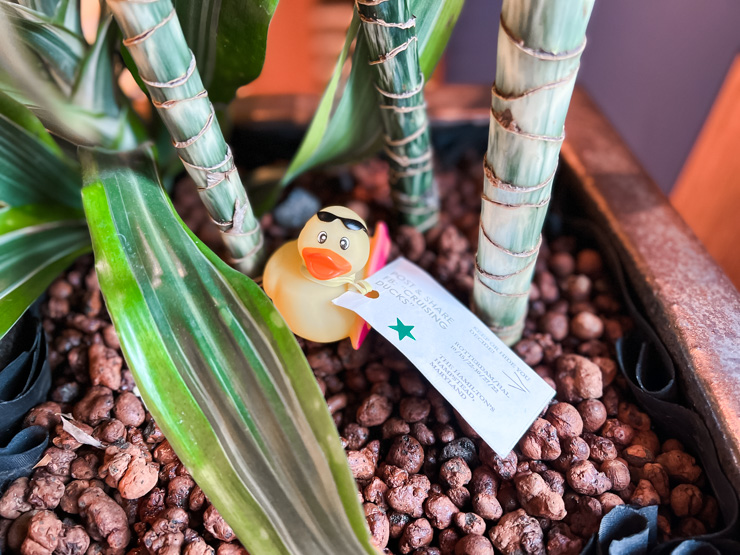 How to Play
Now folks like to buy ducks at places like Amazon and Oriental trading because it's easy to find cute ducks for pretty cheap and get free shipping. But you can make handmade ducks and label them with the name of the ship or the date, buy special colors of ducks, duck key chains or anything fun you can think of. Many kids like to find them so try to keep your ducks and their notes family friendly!
You can make little cards and tie them to them, or leave business cards on them so cruise passengers can post and tag you or email you a pic of them with your duck. Once you find a duck, you can keep it, or just take a photo of it (use the hashtag #cruisingducks) and leave it be. If you keep it try to leave one of your own ducks somewhere for someone else to find. There are no official rules for the cruise duck game, but please do not put them in gift shops, do put them in a public space, and not where they can be blown overboard or where they create a safety hazard. Do try to be courteous and have fun with the rubber duckies! Purchase Ducks.
Conclusion:
Are you ready to get on board with the cruise duck phenomenon? If you're planning a cruise, make sure to keep your eyes peeled for hidden rubber ducks and join one of the numerous social media groups to get started on the fun! And if you're feeling adventurous, why not hide one yourself? Remember, the more people playing the game, the more fun it is for everyone involved.
Awesome Oceanside Vacations
Check out some of these awesome oceanside vacation ideas.
FOLLOW US ON SOCIAL MEDIA
Don't forget to invite your friend's to our Facebook groups! We would also love to see your vacation pictures!