Mexican Stew Meat Recipes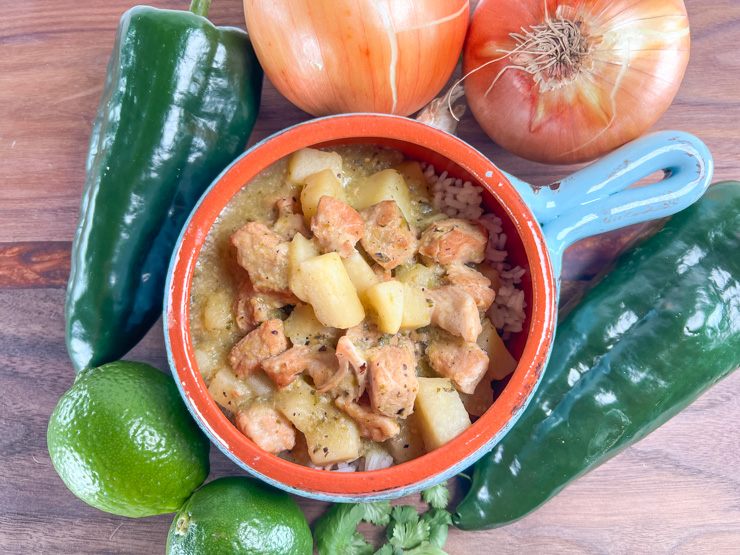 Have you ever had something that was so good you had to figure out how to make it? We were traveling and stopped in a small mexican restaurant in Colorado. I had the most amazing mexican stew. It was so good I was trying to figure out how to make it as I was eating it! This is one of the easiest mexican stew meat recipes to make. It has so much flavor and is the ultimate comfort food for me!
Which way?
My favorite way to make this flavorful stew is in the slow cooker. The cooking time for this recipe in the crock pot is about 5-6 hours on high heat. For me, I like to be able to put it all in the crock pot and forget it. As with most delicious recipes, there is a little bit of prep. Most of it can be done before hand though. I like to make the salsa verde the night before. Just store it in an airtight container in the refrigerator and use it the next day. You can also cook this tasty stew on the stove top in a stock pot or large dutch oven for 2 or 3 hours depending on the cut of meat that you use. You could even use a big sauté pan to cook this if you wanted.
Any of these cooking methods will deliver an awesome dish. It just depends on how much time you have to cook.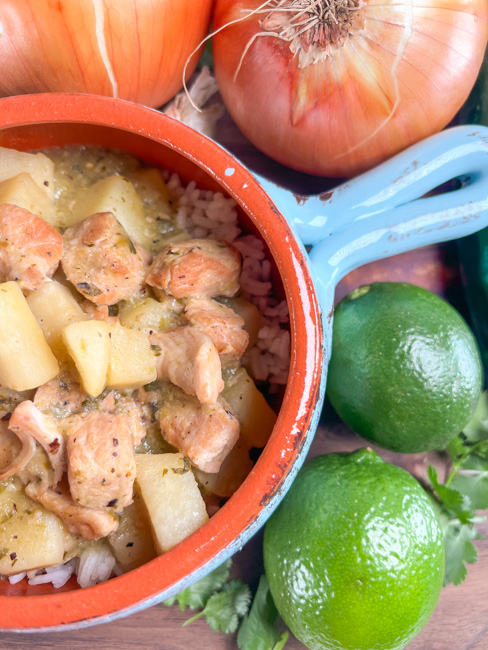 Salsa verde
Salsa Verde is a salsa that is used in a lot of mexican stew meat recipes. It's extremely versatile as you can use many different kinds of green peppers to make it. I like to use a poblano pepper and a spicy pepper. I use either a jalapeno or a serrano pepper to add a little heat. If you don't like a lot of heat, you can just use the poblano as it is usually a low heat pepper. If you don't have time to make the salsa verde you should be able to find some at your local grocery store. Although this is what gives this stew it's great taste, so if you have time, you should try to make the salsa verde yourself. It's great on tacos, pork chops, and just about anything else! Once this is made, just set to the side.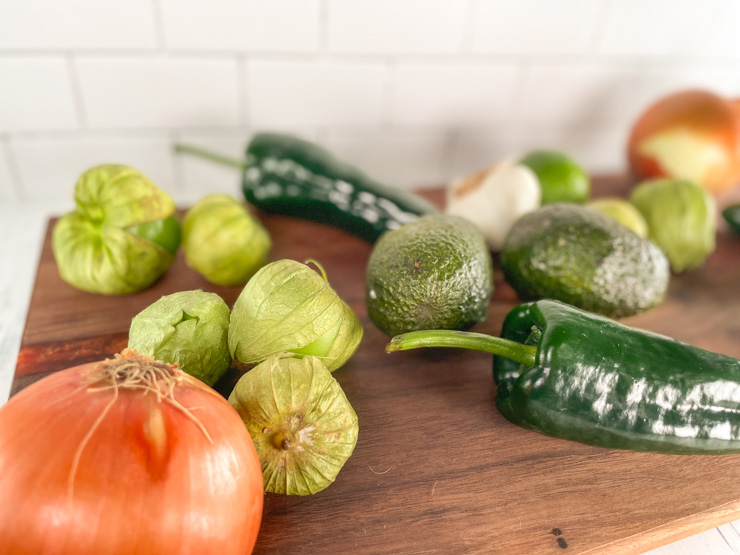 Getting started
Take the outer paper husk off of your tomatillos and wash them off. They may feel sticky and that's ok. Just wash them and cut them in half and put them cut side down on a baking sheet. Cut your onions in half and ad those cut side down. Now put your garlic and green chilies you used on the baking sheet and put it under a broiler for 5-7 minutes. Check on it and turn the peppers over and remove anything that is done roasting. The tomatillos will have a spot that will be a dark brown. That's perfect. If anything needs to finish roasting just put them back in and keep checking on them. When the peppers are done put them in a bowl with a kitchen towel over it. The steam will make it easier to peel the burnt skin off.
Once everything has cooled, peel the burnt skin off the peppers and garlic. Next just add everything to a food processor. Pour any liquid that is on the baking sheet in the food processor as well. I know seems like a lot of extra work for a crock pot meal but this step will give you the best flavor! And again, if you just want dump and go you can buy store bought salsa verde.
Here is a recipe for a salsa verde that I love! You can always add or change out the peppers you use. Experiment and see what you like!
Meat and potatoes
Cooking this stew in the slow cooker allows you to cook a tough meat and it turn out tender. I had leftover thick cut pork chops that I used but you could use just about any cut of meat. Pork shoulder, pork loin, or even beef stew meat and turn this into a mexican beef stew recipe. The main thing is making sure your meat is cut into 1/2 cubes, it will cook evenly and be easy to eat with a warm flour tortilla. Take your flour, garlic powder, salt, and pepper and mix it up in a plastic baggy. Add your cubed meat and shake to coat. Make sure all the meat is evenly covered and add the meat to the bottom of the slow cooker. If you are cooking this on the stove top you will brown the meat over medium-high heat until the meat is browned.
Next thing to do is cut your medium potatoes into cubes. Again I cut them into 1/2 cubes so it would be easier to eat and everything will cook evenly. Add them into the slow cooker when you are done. If you are doing this on the stove just add them to your pot.
Tip- You can brown your meat even if you are using a crockpot. It will add a depth of flavor and doesn't add too much time to the recipe. Just add the browned meat into the slow cooker when you are done.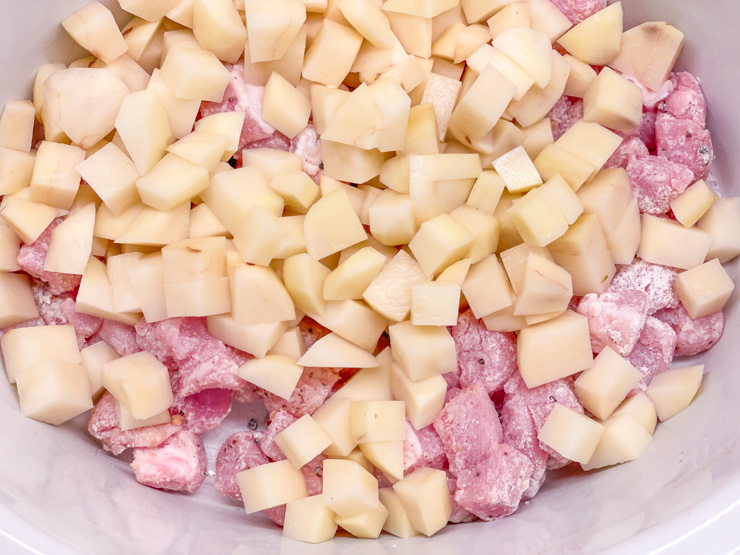 Cooking liquid
Now is the time to pour your salsa verde on the meat and potatoes. Add your water or chicken broth if you are using pork or chicken. You can add beef broth here if you are using beef chuck roast. Using a beef broth or chicken broth instead of water will just add to the flavor of the dish. Then just turn the crock pot on high for 5-6 hours or until the potatoes and meat are tender. Mine took about 5 hours to cook but your time may vary depending on your crock pot. If cooking on the stove top just simmer for 2-3 hours or until everything is tender.
Time to enjoy!
We love to eat this stew over rice! I know it sounds strange but you should try it at least once. If you want you can also add a dollop of sour cream and some cilantro. Another great way to eat this stew is with flour tortillas. Also you just use the warm tortillas to mop up the delicious stew. You can even use a slotted spoon to get the meat and potatoes, add some black beans and corn to make burrito bowls! This is a recipe that the whole family loves and now it's in our rotation when we want to enjoy mexican flavors.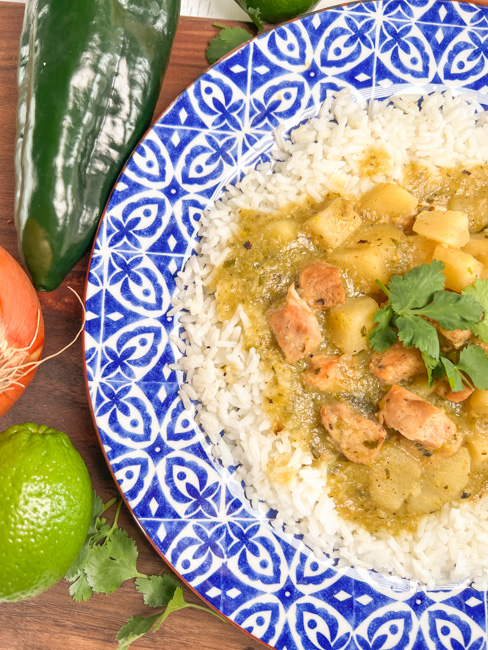 Leftovers
This a great meal to freeze in individual portions and then just thaw them out for a quick meal on those busy nights. We just bought these so we can freeze our leftover soups and stews. They work great for stocks and broth also! Let us know if you want us to post anymore mexican stew meat recipes!
Check out our other travel inspired recipes!
The best ever bacon jam recipe!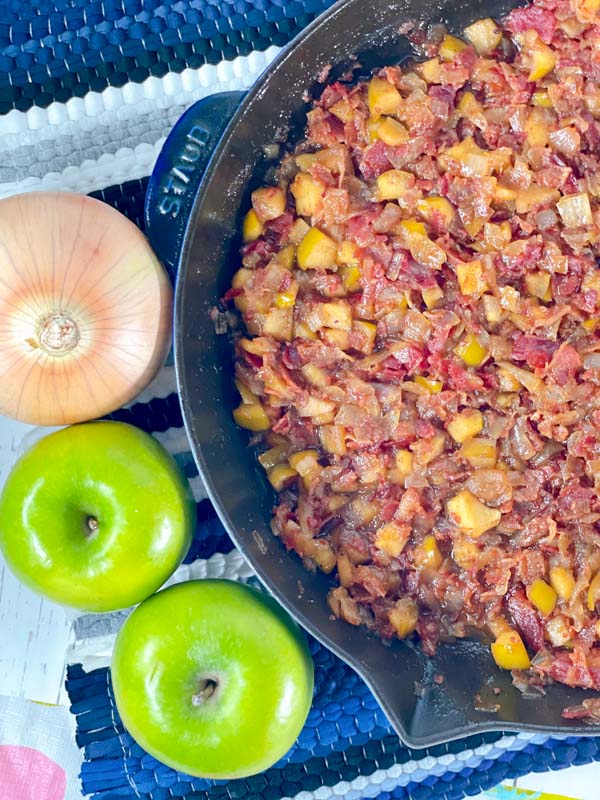 Mexican Chili Verde Stew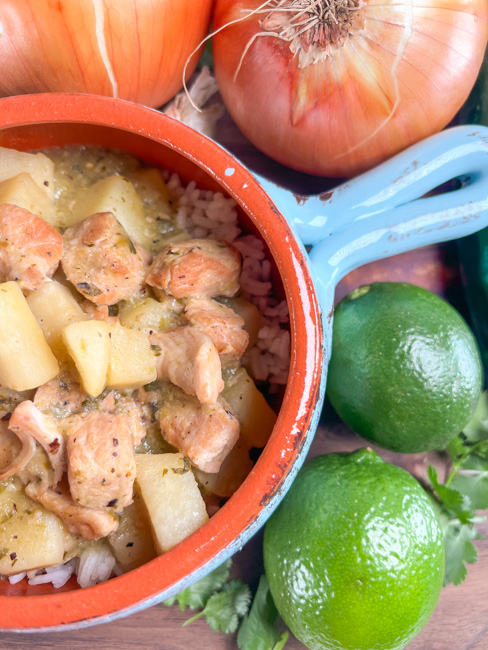 Total Time
6 hours
20 minutes
Ingredients
Salsa Verde:
1 Yellow onion
1 jalapeno pepper
1 poblano pepper
1 lb of tomatillos
4 cloves of garlic
1/4 cup cilantro
Stew:
1 tbls flour
1 tsp garlic powder
Salt and pepper to taste
4 medium potatoes
1 lb of thick cut pork chops ( or really any cut of meat you want)
2-3 cups of water or chicken stock
Instructions
Turn the broiler on your oven on.
Grab a baking sheet.
Husk and clean your tomatillos then cut them in half. Place them cut side down on the baking sheet.
Cut your onion in half and place it on the baking sheet.
Place both your peppers on the baking sheet.
Place under broiler for about 7 minutes or until the tomatillos start turning black.
Once those are done set aside and let cool.
Now take your pork and cube into 1/2 inch cubes and place them in a baggie with the flour, garlic powder, salt, and ground black pepper.
Shake until everything is coated evenly.
Now put the pork in the crockpot.
Cube your potatoes into 1/2 cubes and add them to the crockpot as well.
Once your salsa verde is cool enough to handle peel the skin off the peppers and deseed them. Add them to the food processor.
Add your cilantro to the food processor
Add the rest of the ingredients from the baking sheet in the food processor and blend until smooth.
Now pour the mixture over your meat and potatoes.
Add 2-3 cups of water depending on how think of a stew you want. 2 cups was perfect for us. You could use chicken stock here as well for more flavor.
Cook on high for 5-6 hours or until meat and potatoes are cooked through.
FOLLOW US ON SOCIAL MEDIA
Don't forget to invite your friend's to our Facebook groups! We would also love to see your vacation pictures!