Doha Cruise Port: Things to Do in Doha, Qatar
Are you heading to Doha soon? If so, you're in for a treat! This vibrant city offers plenty of things to see and do. From shopping and dining to historic attractions and cultural sites, there's something for everyone. In this blog post, we'll be exploring the best things to do in Doha!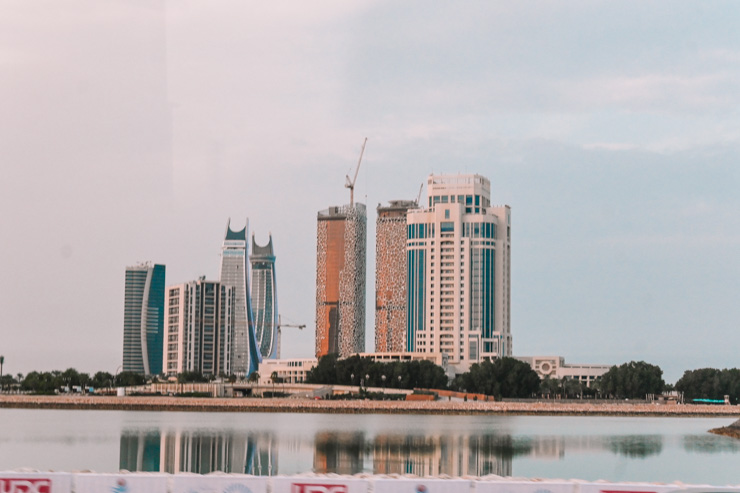 Is Traveling to Doha Safe:
This trip was truly a cultural experience for us and we have learned so much!
Much of what American media talks about in the the Middle East is very exaggerated and some of it is false. The media actually makes money off division (think about that). We felt completely safe over there! Dubai is the 7th safest city in the world and did you know Abu Dhabi has virtually no crime, no unemployment and no homelessness? Our Tour Guide in Doha told us that you could leave your purse some where, come back in an hour and it will still be there.
We felt safer there than we did to our trip to New York City. The people over there love Americans and they love tourists. They don't actually need the tourists for income, they just love the people.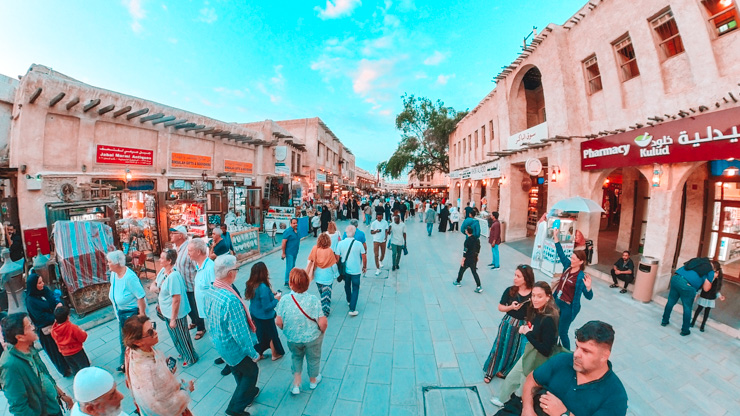 Visit Souq Waqif
If you're looking for things to do in Doha, then a visit to Souq Waqif should be at the top of your list. This traditional Arabian market is one of the oldest and most popular attractions in Qatar, and it's easy to see why. Souq Waqif offers a unique shopping experience with its perfumes, spices, dry fruits, souvenirs, and more. You can also explore the Gold Market, which hosts more than 40 shops dedicated to fine jewelry. If you're looking for souvenirs, the Souq is your go-to spot.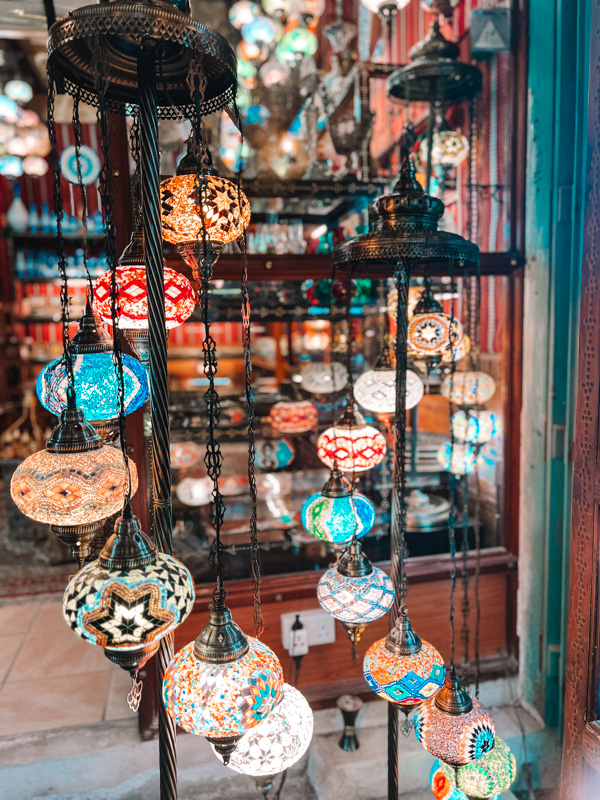 And if you want to experience some culture, don't miss out on the falconry show – a traditional Qatari pastime with a long history. The exterior of this building is absolutely beautiful but once you are inside you will have all of your Middle East cravings satisfied. We recommend taking a taxi and spending at least a half a day here. Most tours do not give you enough time at the Souq. If you're planning on only visiting one Souq on your trip, this is the one you want to go to.
We actually bought some beautiful handmade potholders here. Had we had more time to spend we would have done more shopping but our ship tour did not give us enough time.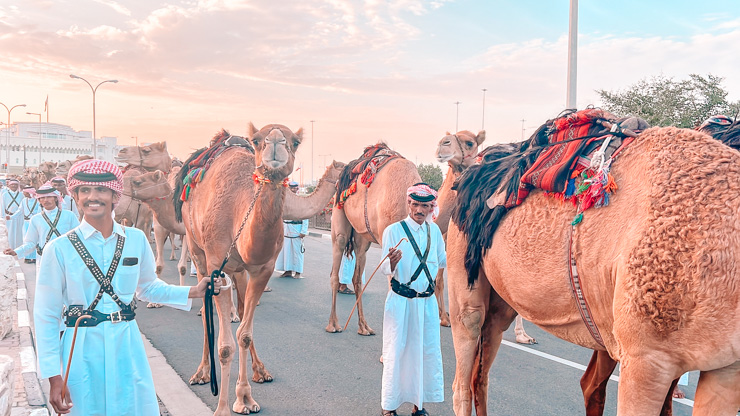 While at the Souq Waqif, be sure and check out the Royal Camels and Royal Horses. There stables are located here. We arrived just in time to see the Royal Camels parading down the street back to their pens.
Tip:
They do accept the US Dollar just be aware of the exchange rate as it can change daily. We also tried to exchange some money at the port terminal but were told we needed a passport or a picture of our passport. Overall it wasn't necessary, as every place we went accepted the US Dollar.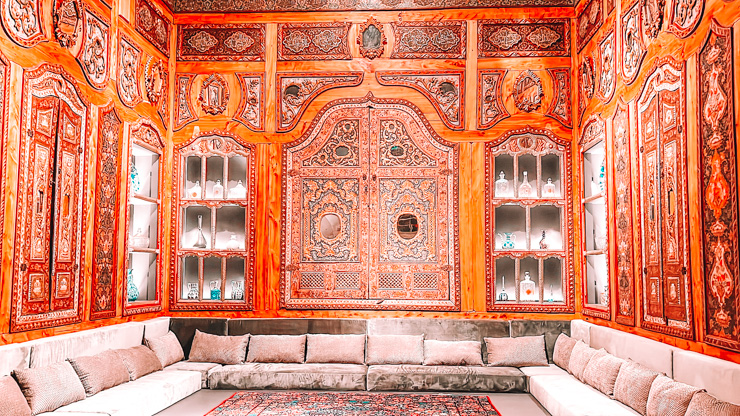 Explore the Museum of Islamic Art
The Museum of Islamic Art is a must-see destination for anyone visiting Doha. Located on the waterfront, The Museum of Islamic Art was designed by internationally renowned architect I.M. Pei. It houses a collection of Islamic art from 3 continents from 1400 years. Spread across three floors, with the first two dedicated to the permanent collection and the third floor showcasing temporary exhibitions. Visitors can explore masterpieces of Islamic art and be surrounded by breathtaking views as they take a tour through the museum. Whether you're an art enthusiast or just looking for a unique cultural experience, the Museum of Islamic Art is sure to provide an unforgettable experience. Upgades were made in 2022 to attract visitors from the FIFA World Cup. This place is kept up to date and ready for visitors but will keep the history buff in your group happy for hours.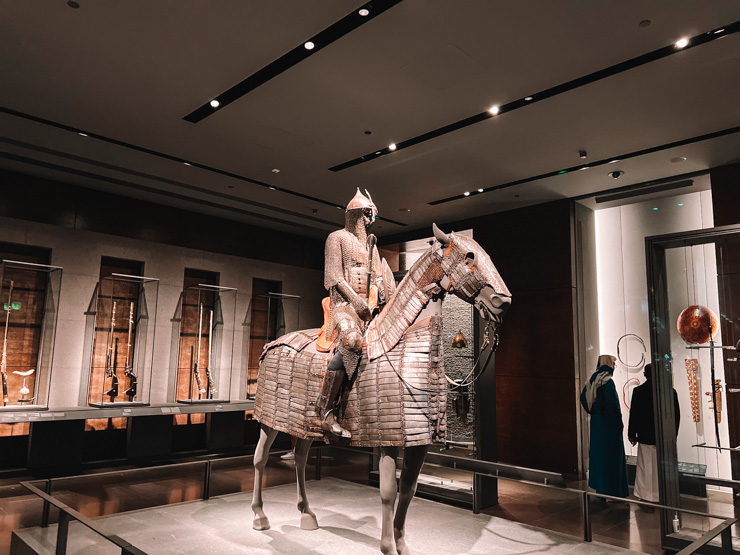 We recommend starting at the top floor and working your way down. make sure you go out onto the balcony area on the first floor to get a some cool shots of the fountains and city scape.
Visit the Imam Muhammad Ibn Abd Al Wahhab Mosque
If you're looking for a truly breathtaking experience, then a visit to the Imam Muhammad Ibn Abd Al Wahhab Mosque is a must. Standing atop a hill, this remarkable mosque melds tradition and modernity, with an impressive fort-like appearance and dozens of domes. Open to the public, it is the largest mosque of its kind in Qatar and can accommodate up to 11,000 people for prayers. And if you're staying in the area, you can even take a tour of the mosque daily. So make sure to add this stunning sight to your list of things to do in Doha! This is truly one of the most impressive buildings in Doha, and the perfect place for outdoor photos.
This unique experience was one of my favorite things on the trip simply because it is unlike anything I have ever seen in my entire life. This is number one of my favorite things to do in Doha.
Tip:
Remember that is a place of worship so be respectful. Appropriate dress is required. Ankles, wrists, and head will need to be covered for woman. Men are asked not to wear short shorts and inappropriate shirts.
Admire the Pearl Qatar
After exploring the historical treasures of Qatar, take a trip to the Pearl Qatar. Located towards the west bay lagoon of Doha, the Pearl is a modern Mediterranean district full of architectural beauty. Take a stroll and breathe in the fresh sea air, or take a dhow cruise (a traditional sailing boat) and admire the stunning views from the boat.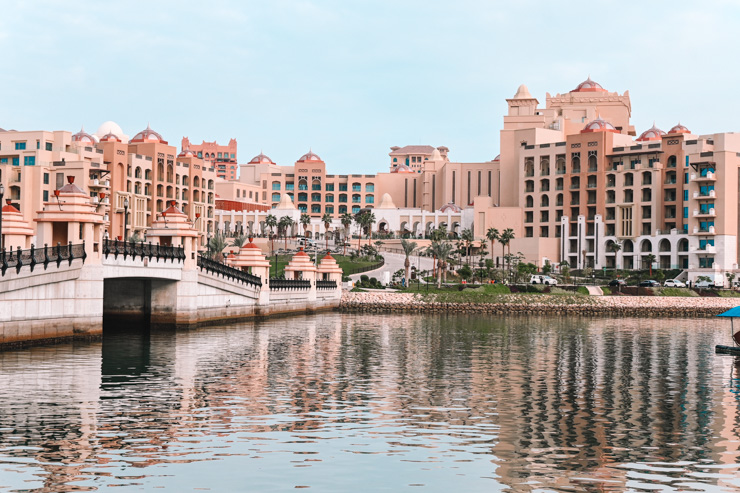 With canals and pastel-colored buildings, this is an experience that will transport you to Venice. This artificial island is a work of art and has so much to offer. Dining, or shopping at a gift shop to residential areas and other sites to see. If you need a coffee, they do have a Starbucks here and there are public restrooms.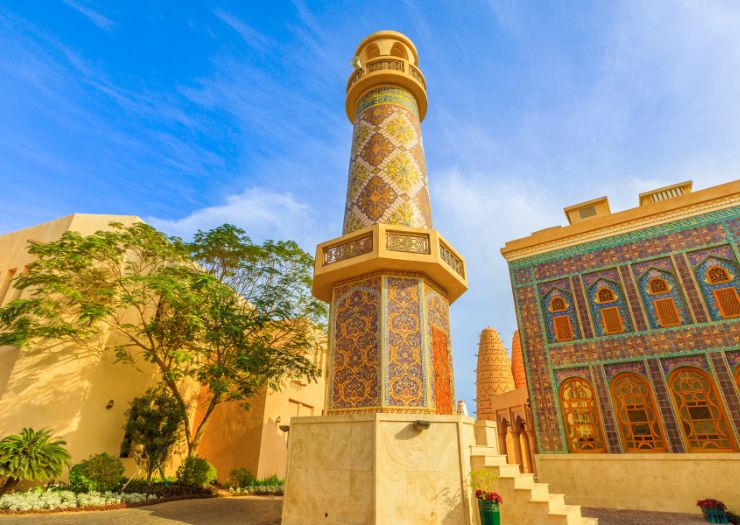 Discover Katara Cultural Village
Located on the eastern side of Doha, Katara Cultural Village is a must-see for anyone visiting the city. It is home to a variety of attractions, from the Planetarium to the Amphitheater. Visitors can also enjoy a range of restaurants and cafes for a delicious meal, relax at Katara beach or browse the shops at City Centre Mall. Most shops are open everyday 9am-4:30pm except on Fridays to explore this cultural village in more depth.
The buildings are all so unique and stunning you could spend all day looking around. It is a great place to sit and enjoy the cafes for brunch or lunch. From gelato to sandwiches and more traditional fare you will not be disappointed at these locations that combine shopping malls with amazing culture. The city of Doha is full of modern spins on ancient culture so you feel like you are comfortable but in the middle of real local culture. It is easy to see why this is a popular spot for folks to stop at during a day trip in Doha. If you are short on time make sure this is on your list of things to do in Doha.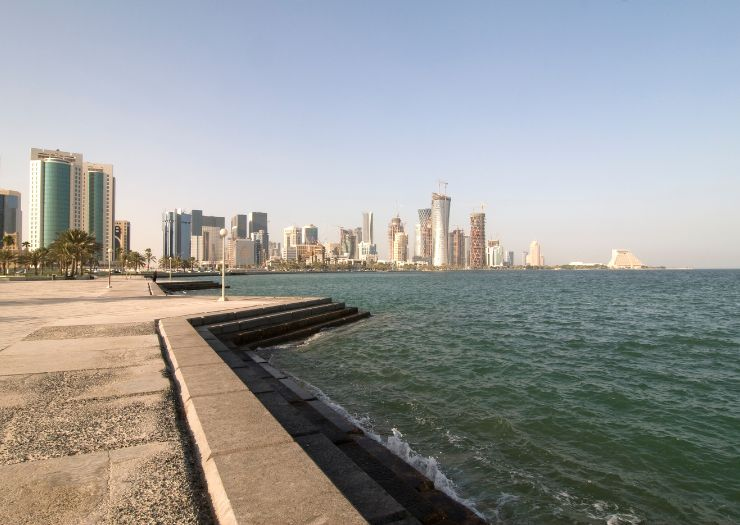 Take a Stroll Along the Doha Corniche
After taking in all the sights and sounds of the Souq Waqif, why not take a leisurely stroll along the Doha Corniche? This seven kilometer stretch of beautiful promenade overlooks the serene waterfront and offers stunning views of the city. Stop outside top attractions like the National Museum of Qatar and the Dhow Harbor, or just take in the sunset with a crescent moon in view. A perfect way to enjoy the sights of the beautiful Doha Bay, it's an experience you won't want to miss. This is a beautiful place to see sky scrapers, the dhow boat and gorgeous water. This is such a relaxing stop when there are so many things to do in Doha.
Shop at City Centre Mall
After a day of sightseeing and exploring, take a break from the hustle and bustle of the city and shop at City Centre Mall. This mall is one of Qatar's largest and oldest shopping centers and offers a wide range of services that are not just customer friendly but will make your shopping experience best in Qatar. If you are looking for modern malls there is something for everyone here. Visitors can explore the various stores that are of interest to them.
If you're in search of some entertainment after shopping, be sure to check out Fun City or Inflata Park – a trampoline park inside the mall! This one will make you feel right at home, you will find modern, luxury brands and familiar shops here. This is an ideal place to visit when you start to feel home sick, or the kids are overwhelmed with all the amazing culture in Doha.
From visiting the grand mosque to admiring the largest collection of Islamic art there are so many things to do in Doha. You can plan for a long layover or spend days admiring all there is to offer and relaxing at five-star hotels. If you have time a Doha City tour will not disappoint. Even a brief stop at the Qatar National Library can keep you busy for a while with their creativity stations. We just feel we didn't have a long time to see and enjoy it all between cruise and flight time. Enjoy the various activities and beautiful beaches with whatever time you can give to Doha. You will be so glad you did! What things to do in Doha are you looking forward to the most?
Awesome Oceanside Vacations
Check out some of these awesome oceanside vacation ideas.
FOLLOW US ON SOCIAL MEDIA
Don't forget to invite your friend's to our Facebook groups! We would also love to see your vacation pictures!