Best Time to go to Disneyland – What You Need to Know
Disneyland Resort, known as the happiest place on Earth, attracts millions of visitors each year. Planning a trip to this enchanting destination requires careful consideration of the best time to visit. In this blog post, we will explore the factors that influence crowd levels, discuss the best months and days to visit, and highlight special events to help you make the most of your Disneyland vacation. If you are looking for the best time to go to Disneyland we are going to cover some things you may have never heard of or thought about. 
Understanding Crowd Levels 
One of the main reasons people seek the best time to go to Disneyland is to avoid large crowds. Long lines and packed attractions can diminish the experience. Crowd levels at Disneyland Park and Disney California Adventure Park vary throughout the year, depending on school holidays, major events, and seasonal festivities.
While Disneyland is a popular destination year-round, certain months offer a great time to visit with lower crowds and good weather. The sweet spot for a Disneyland vacation is during the off-peak season, which typically falls in early September through early November and late January through late April. During these periods, you can expect fewer crowds, shorter lines, and a more relaxed atmosphere. The highest crowd levels are during the summer months when most kids are on school break and over the holidays as well. There will be several calendars you want to check to help you determine the best time to go to Disneyland for you. 
Special Events and Seasonal Festivities 
Disneyland Resort hosts a variety of special events and seasonal celebrations that add extra magic to your visit. From Halloween-themed parties  like the spooktacular Oogie Boogie Bash during Halloween Time to the dazzling Holiday Season with Christmas decorations and festive entertainment, these events provide unique experiences for guests of all ages. Be sure to check the Disneyland website for specific dates and details. (Try not to mix up events that take place at Walt Disney World as some are similar but not the same as what you find at Disneyland California) 
However, it's important to note that special events can also attract larger crowds. If you're interested in attending a particular event, check the Disneyland calendar and plan your visit accordingly.
Remember that special events at Disneyland may require separate tickets or specific timeframes. So, planning ahead is essential to make the most of your experience. If you aren't interested in an event you can try and avoid the summer break crowd. 
For each traveler or family the best time to go to Disneyland will be determined by many factors. Are you looking to run the marathon? Great look at the race calendar. If you don't want to run the marathons still check the race calender and avoid the days of those races to avoid crowds. Do you only take family trips when the kids are out of school? Great, if you want to avoid the most crowds for school break days try to go at the very beginning or very end of those breaks. Seriously, like pack up and pick up the kids from the last day of school and start driving. It will get more crowded the following week.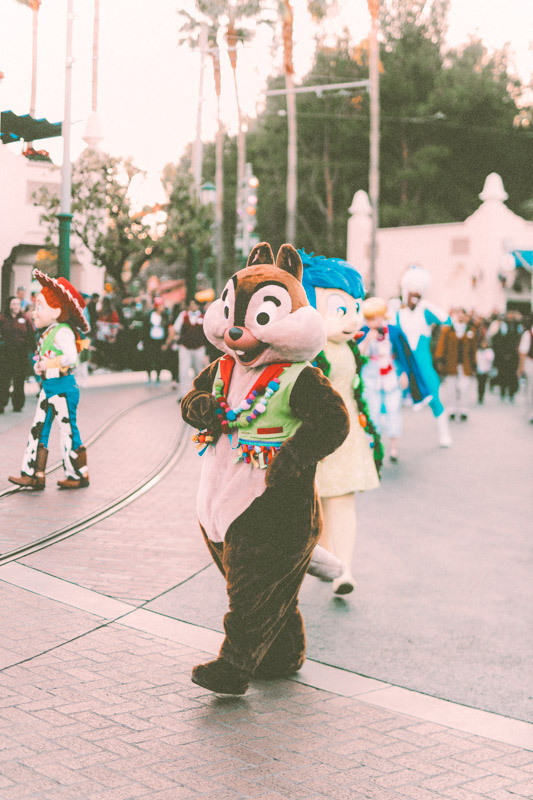 Choosing the Best Days 
Selecting the right days of the week to visit Disneyland can significantly impact your experience. Weekdays, especially Tuesdays through Thursdays, tend to have lower attendance compared to weekends. If your schedule permits, plan your trip for a weekday to enjoy shorter wait times and smaller crowds. And like we stated above, if it is during something like the DCA Food & Wine festival or the Oogie Boogie Bash those weekdays will be more crowded than if you went another time. There are so many seasonal events I didn't even know existed! 
School Breaks and Holidays 
While school breaks and major holidays are popular times for families to visit Disneyland, they also bring larger crowds. Spring Break season (beginsin early March and runs through April/Easter), summer vacation, and the holiday season, including Christmas break and Thanksgiving week, tend to attract more visitors.
 If you can go after the new year, when most school are back to class you might be able to catch the last of the holiday decorations before they come down (usually they all come down after the first week of the year).
 If you don't like crowds, the time from Thanksgiving to Christmas is the worst time to try and go. That and summer break. "Summer Break" usually includes everything from Memorial Day Weekend to Labor Day weekend. 
Moreover, during the schooling months, weekdays can be a quieter period to visit Disneyland. If you can plan your trip outside of these peak periods, you'll have a better chance of enjoying shorter lines and a more relaxed atmosphere.
Tips for Avoiding Crowds and Wait Times
In addition to choosing the best time to go, there are a few strategies you can employ to minimize the impact of large crowds. Arriving early in the morning when the park opens or staying late in the evening can provide opportunities to enjoy attractions with smaller crowds. Taking advantage of Genie+ and the Lightning Lanes, which allow you to reserve ride times in advance, can also help you save time waiting in line.
Crowd levels can significantly impact your Disneyland experience, affecting wait times for attractions and the overall park atmosphere.
If you don't fancy large crowds, plan your tour during off-peak times. 
In addition, you could plan your visit during the "shoulder seasons". These are the periods just before or after the peak tourist season, normally during late winter or early fall. 
To maximize your Disneyland experience, consult a crowd-tracking tools like a Disneyland crowd calendar. These online tools provide crowd predictions based on historical data and can help you identify the best days and months to visit. Keep in mind that crowd levels are estimates and can vary, but they offer valuable insights when planning your trip. Keep in mind the pandemic era has changed the data significantly so if the tracker is using data from before 2020 it might not reflect the average crowd times like they have been since then.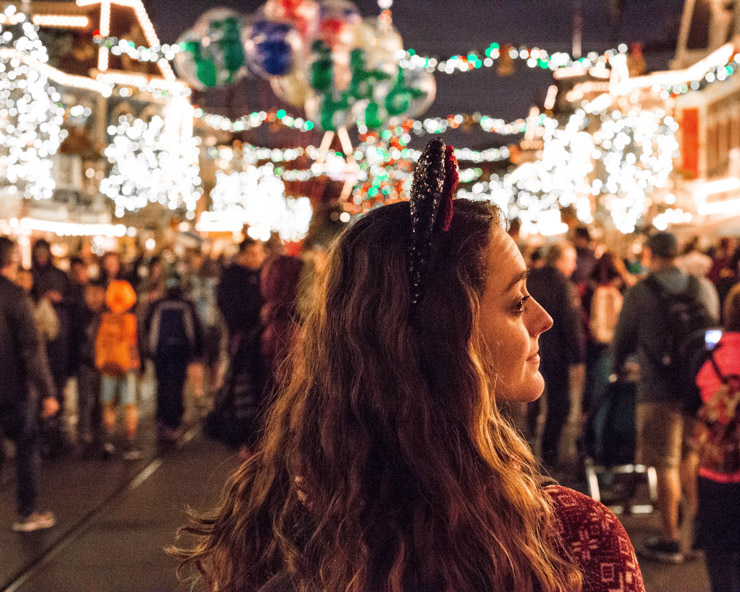 How to Get the Best Value Tickets
A trip to Disneyland can be costly, especially if you are traveling on a budget. However, with some smart planning, you can find discounted Disneyland passes that could help you save.
One way to save money is by purchasing tickets in advance online. Many ticket vendors offer discounted prices compared to purchasing tickets at the park's entrance. 
Additionally, consider visiting during the park's less busy seasons, as ticket prices may be relatively lower. It would also help if you kept an eye out for special promotions or discounts by Disneyland or authorized ticket sellers.
Disney has started using new pricing for admission tickets. When you open the Disneyland app or website you can see the ticket prices. One day, one park passes (not park hopper where you can go to Disneyland and Disney California Adventure both in the same day) range from $104-$169. Looking at this calendar can help you plan for what you need. 
You can also get things like the MagicBand+ which costs more but does some pretty cool things. Before having this at Disneyland guests used MagicBands for years at Disney World and love them. You may not want one, but I like using mine. You can also add some things like your park ticket to a smart watch wallet, that's what I did last time I went to Disney World. 
Southern California Residents can grab some special deals when available, so make sure to check for those if you live in the area. 
Weather Considerations
Weather is one factor you must consider when planning your visit to Disneyland. Generally, Southern California enjoys a mild climate with warm summers and cool winters, making it a desirable destination all year-round. However, the weather can vary throughout the seasons, and understanding these variations can enhance your experience at the park.
During the summer, typically from June to August, the weather in Southern California is sunny and warm. This is the peak tourist season, as families take advantage of school vacations to visit Disneyland. While the weather is pleasant, the summer can also bring larger crowds and longer wait times at Disneyland.
If you prefer smaller crowds and milder temperatures, visiting during the spring, fall, or winter seasons might be more suitable. During this time, the weather is generally mild, with occasional showers. The park tends to be less crowded during this time, allowing you to enjoy shorter lines and a more relaxed atmosphere.
The park hours also may change with the seasons, so make sure you check that calendar to know when you can get in and how long you can stay. 
Don't be discouraged by rainy days forecasted during your trip though, just be prepared. When I was a kid we went to Disneyland on a rainy day and we wore ponchos and just kept going. There were hardly any other people there. A rainy day can help you avoid huge crowds, so don't let the wettest month of the year keep you away. Just plan ahead for it. 
Conclusion
Determining the best time to go to Disneyland involves careful consideration of crowd levels, special events, and personal preferences. While there are peak times that attract larger crowds, there are also periods of the year when you can experience the magic of Disneyland with fewer visitors. By planning your trip strategically, consulting a crowd calendar, and utilizing tips for avoiding crowds, you can unlock the full potential of your Disneyland vacation. Make your visit to the happiest place on Earth a truly magical experience! If you are ready to hear those children singing in It's a Small World or the Pirates and their yo-hos it's time to start planning your next trip now that you know the best time to go to Disneyland. I always have a good time when visiting Disney Parks but it helps when we plan ahead and know what to expect.