Magical on a Budget: 7 Tips for Saving Money at Disneyland
Imagine strolling down Main Street, U.S.A., the scent of popcorn in the air, and the iconic Sleeping Beauty Castle standing tall in the distance. Disneyland, the epitome of enchantment, beckons visitors into a world of fantasy and wonder. As you plan your dream trip to the Happiest Place on Earth, there's no need to let budget worries cast a shadow on your adventure. In this guide, we're about to unlock the secrets of experiencing the magic of Disneyland without breaking the bank. From strategic ticket purchases to clever dining hacks, we'll explore seven invaluable tips that will not only save you money but also ensure your journey is every bit as enchanting as you've imagined. Let's delve into the realm of making memories, where frugality and fantasy go hand in hand – welcome to 'Magical on a Budget: 7 Tips for Saving Money at Disneyland'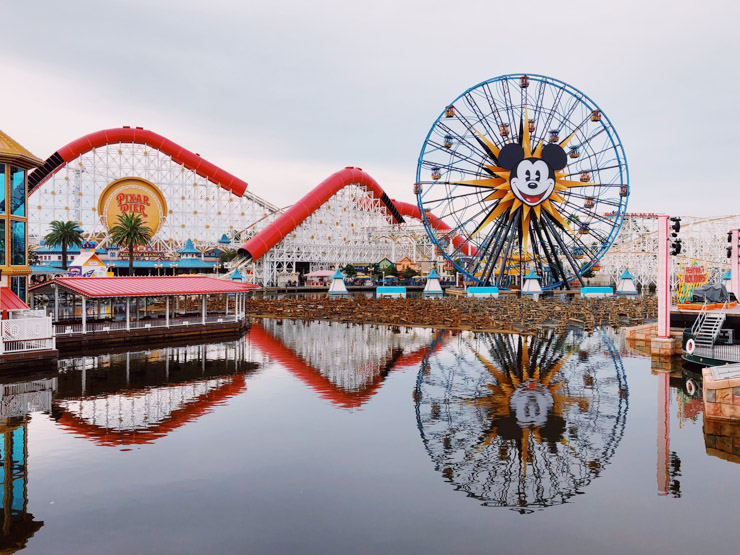 Plan Ahead and Set a Budget:
Before setting foot in Disneyland, determine how much you're willing to spend on tickets, food, souvenirs, and other expenses. Having a clear budget in mind will help you make informed choices and avoid overspending.
Determine how much you're comfortable spending on each expense category. Be realistic and consider your financial situation. Allocate more funds to priorities like park tickets and accommodation and a little less to discretionary categories like souvenirs. Start by making a list of all potential expenses, including transportation, accommodation, park tickets, food, souvenirs, and any additional activities you plan to do. Research the current prices for each category to get a rough estimate.
Divide your total budget by the number of days you'll be spending at Disneyland. This will give you a daily allowance that you can use as a guideline for spending on meals, snacks, and other daily expenses.
Purchase Tickets During Off-Peak Season Instead of Waiting to Buy the Last Minute. 
Ticket prices can soar during holidays such as halloween, Christmas, summer holidays, or weekends. Purchasing tickets during off-peak seasons instead of waiting until the last minute can be a smart strategy to save money on your Disneyland trip. Here's why:
Lower Ticket Prices: Off-peak seasons typically have lower demand for park tickets, leading to reduced prices. By buying your tickets in advance during these times, you can take advantage of these lower rates.
Availability: Purchasing tickets early ensures you have a better chance of getting the specific ticket type you want. During peak times, tickets can sell out quickly, leaving you with limited options or potentially higher prices from resellers.
Avoid Price Surges: Disneyland often adjusts ticket prices based on demand. As the date of your visit gets closer, ticket prices may increase, especially for popular dates and holidays. Buying tickets in advance locks in the price and shields you from potential price hikes.
Plan with Confidence: Knowing you have your tickets secured well in advance allows you to plan the rest of your trip with more certainty. You can arrange accommodations, transportation, and activities without the stress of uncertain ticket availability.
Time to Budget: Purchasing tickets early gives you more time to incorporate the cost into your overall budget. It's easier to allocate funds for tickets when you plan well in advance, rather than scrambling to accommodate last-minute expenses.
Avoid Long Lines: During peak times, the lines at ticket booths can be quite long. Buying tickets ahead of time lets you skip the ticketing lines and head straight into the park, maximizing your time for attractions and experiences.
Flexible Dates: Purchasing tickets early allows you to have a wider range of options when it comes to choosing your visit dates. This flexibility can help you select days that align with your schedule and budget.
Peace of Mind: Once you have your tickets in hand, you can relax and look forward to your trip with peace of mind. You won't have to worry about ticket availability or potential price increases as your trip approaches.
Remember to check Disneyland's official website for information on ticket prices and availability for different seasons. By planning ahead and securing your tickets during off-peak times, you'll not only save money but also set the stage for a more enjoyable and stress-free Disneyland adventure.
Purchase Tickets Smartly:
Disneyland offers various ticket options, including single-day and multi-day passes. Opting for multi-day passes can often provide a better value per day. They also have deals on their website. The more days you stay , the cheaper it is. Also don't forget to look for a Disney Travel Agent who may know of prices changes coming. Their services are usually free to use. Additionally, consider visiting during off-peak seasons when ticket prices might be lower.
How to Save Money on Food at Disneyland? 
Disneyland cuisine is an experience in itself, with the variety and adorable presentation of food. However, as you might expect, this can quickly become a significant expense. 
A smart strategy to save money is to pack your snacks, sandwiches or fruit. This way you ensure healthy and budget-friendly meals for yourself and the family during your Disneyland adventure.
Although you're allowed to bring your bottled water and snacks to the park, Disneyland's meal policy prohibits large coolers of food. So plan accordingly! 
You can then allocate part of your budget to treat yourself at one of Disneyland's unique eateries for dinner. This approach offers a balanced mix of saving and splurging on park dining. 
Opt for Meal Deals: Many dining locations in Disneyland offer meal deals that include a main course, side, and drink. These can often be more cost-effective than buying items separately.
Share Meals: The portion sizes at Disneyland can be quite generous. Consider sharing meals with family or friends to save money and avoid food wastage.
How to Save Money on Hotels Near Disneyland?
Another key element in budgeting for your Disneyland trip is your choice of accommodation. While staying at a Disneyland hotel might provide an unparalleled magical experience, it surely comes with a pretty hefty price tag.
Instead, look towards Anaheim and the surrounding areas for budget-friendly alternatives. Many of these hotels offer free shuttle services to Disneyland and often boast their own set of fun amenities. 
You may also consider getting affordable vacation rentals that match your unique needs on online marketplaces such as Airbnb, Vrbo, Booking.com, Tripadvisor, Agoda, or Expedia. Saving money on accommodation will allow you to relocate those funds to enhance other aspects of your Disney trip. 
Sign up for Fetch Rewards and earn FREE GIFT CARDS for Southwest Airlines, Delta, Hotels.com, Uber and more to use on your vacation just by scanning your grocery receipts. Download the app and USE CODE: EF9PC and get 2,000 bonus points.
Save Money by Buying These Souvenirs Online Instead of at the Park 
The allure of Disneyland merchandising is hard to resist. From Mickey Mouse ears to light sabers, there's a dizzying array of memorabilia vying for your attention. However, these cute trinkets can rapidly rack up the bill.
Before you set foot in that park, it's critical you define a clear souvenir budget. Decide on how much you're willing to spend on these mementos and stick firmly to this limit. 
Remember, the essence of Disneyland lies in its magical experiences rather than material goods. So, instead of focusing too much on keepsakes, concentrate more on making memories that will last a lifetime, the most precious treasures you could bring home from this enchanted place. When it comes to saving money at Disneyland, you can save a ton just buy pre buying your souvenirs ahead of time. And if your sneaky and pack them away till you get there, the kids will never know!
The Best Disney Souvenirs to Buy for Your Vacation:
Opt for Cost-effective Transportation 
When visiting Disneyland you mustn't forget to consider the cost of transportation. While using your personal car may seem convenient, parking rates at Disneyland might be higher than you'd prefer.
To save more, consider opting for public transportation or a ride-sharing service such as Uber or Lyft to reach the park. MaxPass or FastPass tickets include unlimited PhotoPass downloads and could help you save on transportation while helping to shorten wait times for attractions. 
Conclusion 
It's hard to put a price on creating lifelong memories at Disneyland. However, as illustrated throughout this article, there are numerous tactics for making your Disney adventure both magical and affordable. 
Whether that's exploring during off-peak seasons or simply packing your own lunch, saving money doesn't mean sacrificing fun.   We Hope these tips will have you saving money at Disneyland on your next vacation.
So why wait? Plan wisely, economize smartly and dive into the enchanting world of Disneyland! 
More Great Disney Posts