One of the downsides of traveling is that we have to leave our fur babies at home. Trust me… They are not happy! So we have been trying to find more places to go where we can take them with us. We wanted to find a place close to us that was pet friendly and had plenty of things for us to do. Hot Springs , Arkansas fit that bill!
WHERE TO STAY HOT SPRINGS:
The 1st step in finding a place to go for your "Barkcation", is finding a place to stay that allows pets. We found an AMAZING Bed and Breakfast in Hot Springs, The 1890 Williams House Inn. The Main House, which is 6500 sq ft, has 6 extra large rooms. They also have a 2000 sq ft Carriage House which has 3 big rooms!
We stayed in the Carriage House. Let me tell you… It was not what I expected. I've stayed in a few B&B's and have never had a room like this! This room was HUGE! It had a living area with a pull out couch and a HUGE TV. There was also a full kitchen where we cooked a couple of our meals. The bedroom had a HUGE closet, an extremely comfortable king size bed and a bathroom with a big walk in shower. I almost forgot one the most underrated things they had… A washer and dryer! We were there 5 days and a couple of those days we went crystal mining. We were DIRTY! Having a washer and dryer there saved the day! The 1890 Williams House Inn is conveniently located near downtown so it's very close to Bath House Row and the shops. I loved that we were separated from the main house because we didn't have to worry about the dogs bothering anyone if they heard a noise and barked. The inn keeper was so charming, she really made us feel comfortable and welcomed. He have more pictures of the Inn as well as the food in our Instagram handles below.
So I told you about the Bed part of the Bed and Breakfast, so what about the Breakfast part? Well let me tell you… It was AMAZING! We had breakfast every morning while we were there and we never had a bad breakfast! There was even one morning when unbeknownst to us there was an issue with the scheduled menu and we had no clue. I think that mornings improvised breakfast was my favorite! Breakfast was delivered to our room every morning except for one, where we chose to eat in the main house with everyone else.
WHAT TO DO FOR THE "HOOMANS ":
When your in Hot Springs you have to go to the Bath Houses. They get their water from natural springs. The water comes out of the spring at 147 degrees and has some therapeutic qualities to it. The Bathhouse Row in Hot Springs you see today consists of eight bathhouse buildings that were constructed between the years of 1892 and 1923. It was actually designated as a National Historic Landmark District in 1987!
The Bath House that we went to consisted of 4 different pools that varied in temperature from 98 degrees to 104 degrees. They also had free Natural Spring water for us to drink so we could stay hydrated while we enjoyed the spa's! We enjoyed it so much that we went back for a 2nd time!
Another thing Hot Springs is famous for is that it was the vacation spot for a number of gangsters back in the day. At the Gangster Museum of America we learned that Hot Springs was run by gangsters back in the 20′, 30's and 40's. The gangsters had a rule that Hot Springs was a "no violence" city. That means that you could actually have seen rival gangsters hanging out at the same club, restaurant, or just walking down the street and they not have to fear for their lives. Crazy huh!
The Gangster Museum of America does a great job explaining the history of Hot Springs and the gangsters that city their vacation spot!
WHAT TO DO FOR THE "FUR BABIES" :
So we've talked about things that you can do when you go to Hot Springs but what about the "fur babies". What can they do? Hot Springs is a very pet friendly place and here a few things we did with our "fur babies".
Bleu Monkey Grill –
While you are out enjoying Hot Springs with your fur babies you will eventually get hungry. Of course no one wants the headache of having to go drop off the fur babies back at the room. Never fear the Bleu Monkey Grill has you covered! They have an outdoor patio area that is dog friendly. Every table even has an umbrella to keep everyone cool! The waitstaff even bought out water bowls for our The Royal Dogs!
The food at the Bleu Monkey was AMAZING! We sampled almost every appetizer and let me tell you… I could have made a meal just out of those! They were so good! The menu has something for everyone. No need to worry about trying to please that picky eater. You gotta try the Mac and Cheese Balls!
Ron Coleman Mining –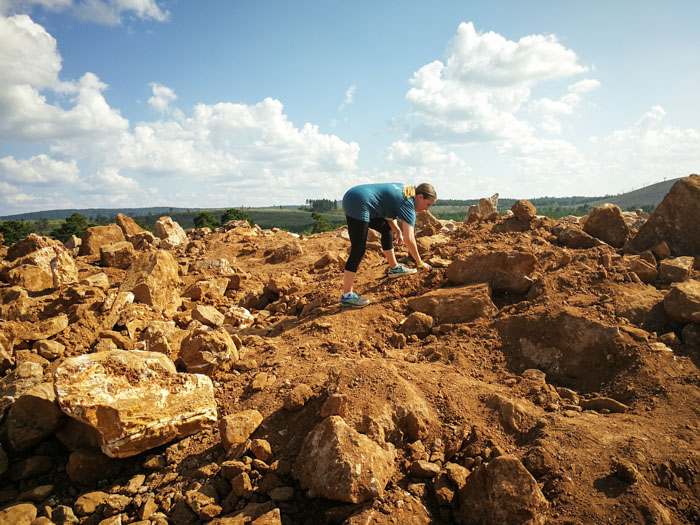 So on the first day in Hot Springs we were talking to some of the locals and when we told them what our schedule was they all said you have to go crystal mining at Ron Coleman Mining. When we explained to them that it wasn't on our schedule they all said you have to make time. On our 2nd day we were talking to the locals and they all told us the same thing! So we decided to add them to our things to do and I'm glad we did.
First of all they are more than just crystal mining. They have a very informative tours that you can take that not only shows you how they mine for the crystals but also shows you a bunch of different crystals from around the world. You can also zip line out over the mining pit! Zip lining over the mine affords you a view that is unlike any other!
Now on to the mining! We brought a little pop-up tent so our "fur babies" would have some shade to hang out in while we were mining for crystals and depending on how the weather is when you go I would recommend this. CRYSTAL MINING IS ADDICTIVE!!! The thrill of the find is AMAZING! When we 1st got there I thought for sure that there was no way we would find anything. That it would be all picked over. Boy was I wrong! They bring dump truck loads of dirt and rock up to the public area frequently throughout the day. So there is always fresh stuff to dig through.
We brought simple hand held garden tools to dig with. There is no need for a big shovel or any other tools. Don't worry… if you don't have any tools they have them for sale up in the showroom. We love that Ron Coleman mining was dog friendly. They even have a few "shop dogs " roaming around like this little cutie who was posing for us. Check out all those crystals we found above and that wasn't even the half of it!
Hot Springs National Park –
We decided to spend one afternoon taking the dogs for a walk up on the mountain. After looking at the map we decided to try to the Sunset Trail on the North Mountain. The entrance to the National Park is literally right in town. You would not believe the view driving up to the top either! The view from on top of the mountain was AMAZING! You have a beautiful view overlooking the town of Hot Springs. The trail is perfect for big dogs but our little Izzy had some trouble with the uneven trails because she is older. Checkout out instagram hanles for even more beautiful photos not shown here…. BARKCATIONS, LIFESTWOSHORT, THECONSUMERQUEEN, BARKCATIONS