Honeymoon Cabins in Gatlinburg TN: Where to Book
Looking for the perfect honeymoon destination that combines breathtaking natural beauty with cozy, romantic accommodations? Look no further than Gatlinburg, TN. Nestled in the heart of the Great Smoky Mountains, this charming town offers an array of honeymoon cabins that are sure to make your stay special and unforgettable. Let's look at honeymoon cabins in Gatlinburg TN.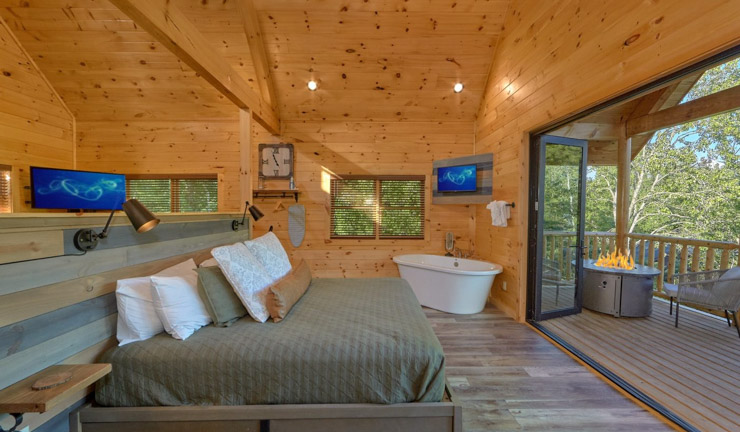 Gatlinburg is known for its scenic beauty and proximity to the Great Smoky Mountains National Park, making it the best place for nature-loving newlywed couples. Imagine waking up in a beautiful log cabin surrounded by lush trees and gorgeous mountain views. It's the perfect spot to begin your first vacation as a married couple.
When it comes to honeymoon cabin rentals, Gatlinburg has it all. From luxury cabins to cozy retreats, there's a wide variety of options to suit your preferences. Many cabins feature private outdoor hot tubs, jacuzzi tubs, and heart-shaped jacuzzis, providing the perfect way to relax and unwind after a day of exploration.
One-bedroom cabins are a popular choice for honeymooners, offering the privacy of your own cabin while still being in close proximity to downtown Gatlinburg. You can enjoy the seclusion and tranquility of a secluded cabin while being just a short drive away from the vibrant downtown area.
When booking a one bedroom honeymoon cabin, you might find modern amenities and luxurious touches. Picture yourself curling up in front of a cozy wood-burning fireplace or enjoying a soak in a whirlpool tub. The living area is spacious and inviting, with comfortable seating and a flat-screen TV for those romantic evenings in.
The one-bedroom cabin, (honeymoon cabins ) are designed with romance in mind. Featuring king beds and stone fireplaces, they create the perfect ambiance for a romantic escape. Some cabins even have floor-to-ceiling windows that offer stunning views of the surrounding mountains.
Honeymoon Cabins in Gatlinburg TN.
In addition to the romantic amenities,, these cabins also offer great outdoor spaces. From private decks with rocking chairs to porch swings overlooking a mountain stream, you can spend quality time together while enjoying the beauty of nature. And for those who enjoy grilling, many cabins come equipped with a charcoal grill, perfect for preparing a delicious meal together. Just decide what type on amenities you are looking for. Are you looking for great great amenities such as a pool table, full kitchen, living room,,jetted tub, flat screen tv,or a dining room? Maybe you want a Gatlinburg cabin rental with a wooded view, maybe even a private cabin with a beautiful view or a beautiful cabin with a great mountain views in a prime location?
Honeymoon Hills
Searching for Gatlinburg honeymoon cabin rental? Honeymoon Hills cabin in Gatlinburg, TN, is the epitome of a romantic escape. Nestled in the breathtaking beauty of the Great Smoky Mountains, Honeymoon Hills offers a collection of luxury cabins specifically designed for honeymooners. Each cabin boasts a unique and charming ambiance, with features like heart-shaped jacuzzi tubs, cozy fireplaces, and private outdoor hot tubs. The cabins are strategically located in a prime spot, providing stunning views of the mountains and close proximity to downtown Gatlinburg. Whether you're strolling hand in hand through the charming streets of Gatlinburg or enjoying the privacy of your own cabin, Honeymoon Hills is the perfect destination for couples seeking a romantic and unforgettable honeymoon experience.
While you're shacked up in the likes of Cupid's Cabin or Sweet Romance, be sure to take plenty of snaps of the incredible views that all of these private hideaways have to offer, so you can fill your own wedding photo book with the memories you make. It's a beautiful Gatlinburg dream for a newlywed couple and it's in the perfect location for a romantic trip.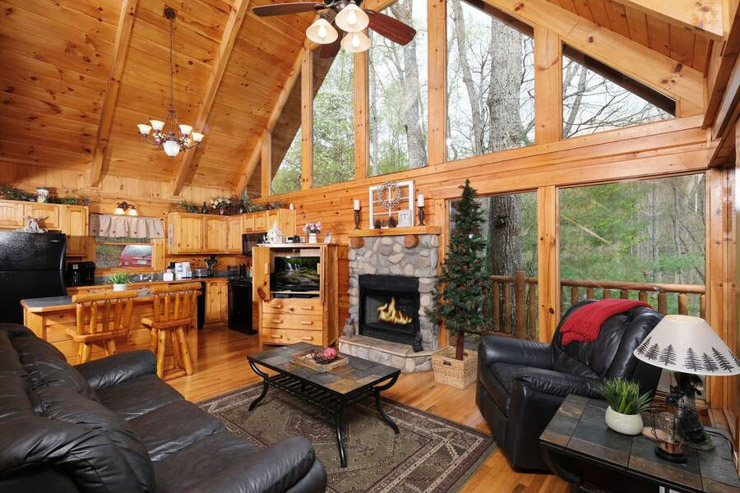 Happily Ever After
Looking for the best honeymoon cabins? This standalone cabin is ideal for couples who just want to get away from it all, enjoying a honeymoon that blends the best parts of being in the wilderness with all of the amenities you'd expect from a modern vacation property.
Experience your own fairytale at the Happily Ever After cabin in Gatlinburg, TN. This enchanting cabin is a dream come true for honeymooners, offering a secluded and romantic retreat amidst the natural beauty of the Great Smoky Mountains. Step inside and be captivated by the luxurious amenities and thoughtful touches that await you. From the heart-shaped jacuzzi tub and the cozy gas fireplace to the private deck with a bubbling hot tub, every detail is designed to create the perfect ambiance for romance. The cabin also features a fully equipped kitchen, a living area with a flat-screen TV, and a comfortable king bed for ultimate relaxation. With its gorgeous mountain views and serene surroundings, the Happily Ever After cabin is the ultimate haven for newlywed couples to create unforgettable memories and embark on their own happily ever after.
Tennessee Treehouse
While you might be looking for romantic Gatlinburg cabins, how about a tree house? Escape to the Tennessee Treehouse in Gatlinburg, TN, for a one-of-a-kind honeymoon experience. This unique cabin takes the concept of a romantic getaway to new heights, literally. Perched high among the trees, the Tennessee Treehouse offers a secluded and picturesque retreat that blends harmoniously with nature. Step onto the private deck and be mesmerized by the breathtaking views of the surrounding mountains. Inside, you'll find a cozy and rustic ambiance with modern amenities. Relax in the jacuzzi tub, snuggle up by the wood-burning fireplace, or unwind in the private outdoor hot tub. The cabin's intimate setting provides the perfect opportunity to reconnect with your loved one and create lasting memories. Whether you're enjoying a quiet evening on the porch swing or gazing at the starlit sky from the comfort of the king bed, the Tennessee Treehouse offers a truly enchanting and romantic escape for honeymooners seeking a unique and unforgettable experience.
Because this is a resort-located cabin, it also gives you the option of visiting the communal pool, and taking advantage of other on-site features, which is good if you aren't eager to go all-in on an isolated honeymoon.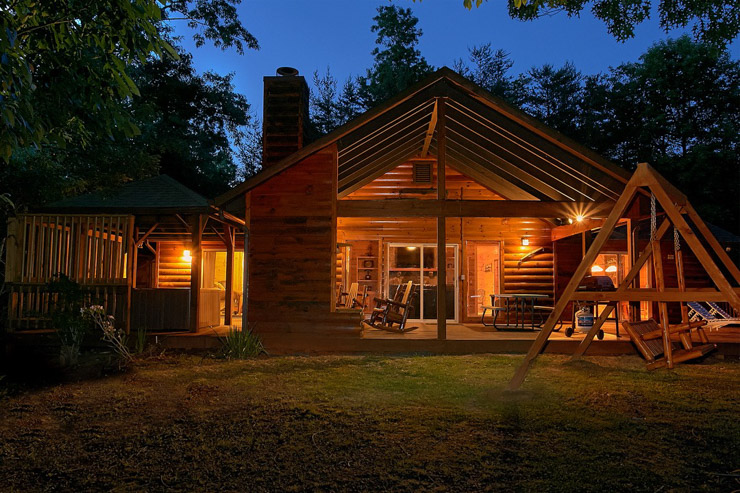 Another Day in Paradise
Following the tradition of having cabins which are named in elaborate ways, Another Day in Paradise is the perfect place for couples that are fresh from their wedding and looking to really unwind and get away from it all near Gatlinburg.
It ticks all the boxes in terms of what you'd expect for luxury accommodation, with a home theater setup, a wood burning fire, a hot tub, a deck with BBQ, and a fully equipped kitchen area complete with coffee maker, dishwasher and more. It's why we had to add it to our honeymoon cabins in Gatlinburg TN. list.
You can also enjoy games on the nearby tennis courts which are part of this property, and chill out on the covered porch after dark, to look out over the landscape and plan your next life goals together. It's even conveniently located for journeys to other nearby attractions.
While staying in Gatlinburg, you'll have plenty of options for entertainment. Challenge your partner to a friendly game of pool or try your hand at an arcade game in the cabin's game room. If you prefer to venture out, the town offers popular attractions and activities such as hiking, horseback riding, and visiting the local arts and crafts shops.
When it's time to dine, Gatlinburg has a variety of popular restaurants that cater to different tastes. Whether you're in the mood for a romantic candlelit dinner or a casual meal with stunning mountain views, you'll find the perfect place to satisfy your cravings.
The location of these honeymoon cabins is truly prime. You'll have easy access to downtown Gatlinburg, where you can explore the shops, galleries, and restaurants. And for those who want to immerse themselves in the great outdoors, the Great Smoky Mountains National Park is just a short drive away, offering endless opportunities for adventure and exploration.
Gatlinburg's honeymoon cabins provide the ideal setting for a romantic vacation. Whether you're looking to relax and unwind or embark on outdoor adventures, you'll find that this beautiful town offers everything you need for a memorable and incredible honeymoon experience.
So why wait? Book your luxury honeymoon cabins in Gatlinburg TN. today and create beautiful memories in this picturesque destination. Whether you choose a cozy cabin with a private hot tub or a spacious cabin with incredible mountain views, Gatlinburg is the perfect getaway for newlyweds seeking a romantic and unforgettable honeymoon. We also recommend looking for romantic cabins or luxury honeymoon cabins in the pigeon forge.
Great Destinations for Couples