Wine Slushie Recipe with Snow
Are you looking for a fun and festive way to enjoy red wine this winter? Look no further than this delicious wine slushie recipe! This frozen drink is made with just three ingredients – red wine, frozen snow and diet sprite or 7up. It's easy to whip up and perfect for sipping on chilly days. This recipe was submitted by one our readers Angela S. from Edmond, Oklahoma and it's a great way to enjoy delicious wines in the winter..Give it a try today. Thanks Angela for providing the recipe and the photos for this Wine Slushie Recipe.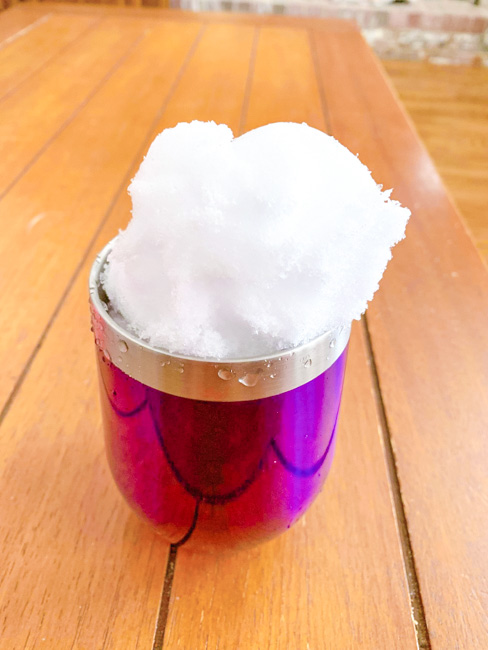 Snow can be beautiful to look at but it isn't something that is enjoyed by everyone. but what if we could give you a way to make it something you look forward to every year? What if we told you, you could make wine slushies out of snow? Sounds crazy but we're going to tell you how. We used our favorite wine, red wine, in this red wine slushie but you can also use your favorite white wine if you prefer.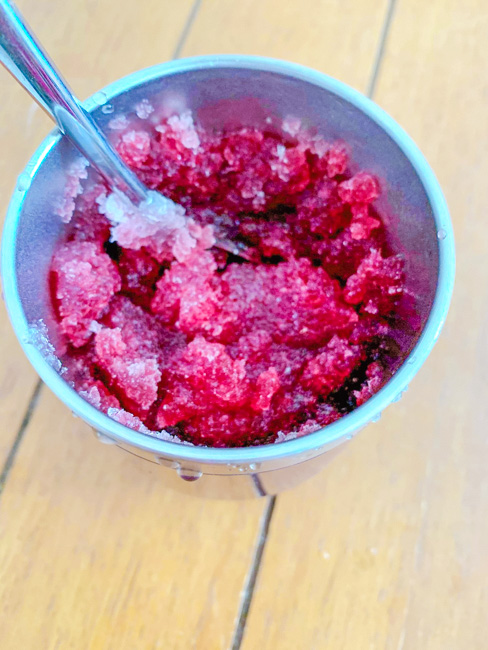 First you need to choose your favorite bottle of wine. Whether it's a sauvignon blanc or a sweet wine like pinot grigio the kind of wine you choose is really up to your preferred taste. A white wine slushie is just as good and actually I prefer white moscato wine while my husband prefers a good red. So grab some wine glasses and let's get started on this Wine Slushie Recipe.
Ingredients:
– 1/2 cup of wine (red or white)
– 1 cup frozen Snow (or enough to fill the cup)
– 1/4 cup diet sprite or 7 up
How to prepare:
1. Pour wine into a 12 oz stainless steel cup or wine glass and pack cup with snow, stir, add snow to the top, stir, and top off with diet Sprite/7-up. Regardless of cup size, mix wine 2 to 1 with diet sprite and fill with snow.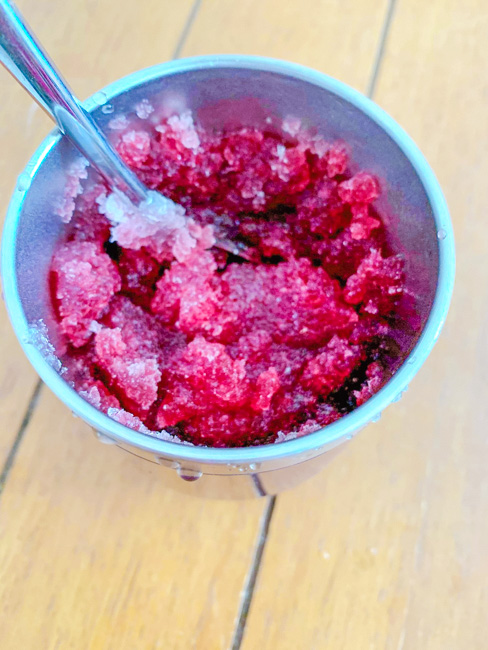 Non Snow Wine Slushie Recipes
If you're in an area that doesn't snow often, or you're reading this in the middle of Summer. We're going to also show you how to make this any time of year but you're going to need to get out your blender.
The best part about these wine slushies is that they come together so fast with simple ingredients in a blender and it's perfect summer drink for a hot summer day. There's no blending, freezing and then repeating the process all over again with this recipe! You literally just throw everything into your kitchen appliance for an easy party drink everyone will love- making it perfect host material or girls night out too. You only need 3 ingredients for this one. White wine, simple syrup and frozen fruit works better than fresh fruit in this easy recipe . No ice cubes required. I sometimes like to cut up leftover fresh fruit and store them in an ice cube tray just for this.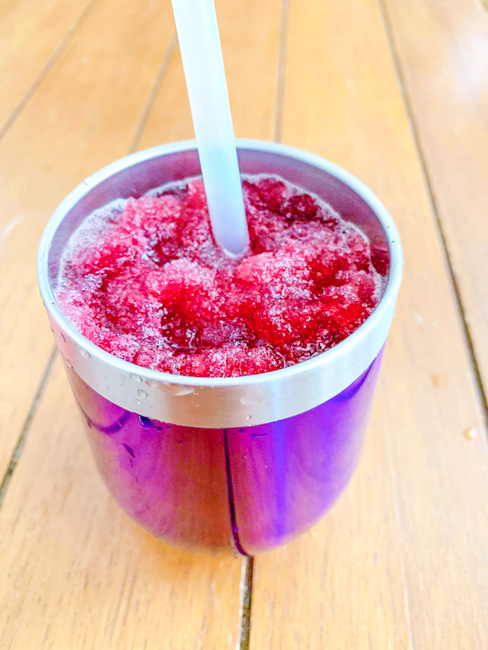 Next you need to choose your favorite summer fruits. You could use ,frozen peaches, frozen pineapple, mixed berries or even the sweetness of the watermelon for a watermelon wine slushie. There are so many different flavor combinations you can make. It's the perfect drink to enjoy in warmer weather!
So get ready to make your favorite summer cocktail with your favorite bottle of white wine because happy hour is on.
Ingredients:
1 bottle of your favorite sparkling white wine (I use about 2 cups of sparkling white wine)
1/2 cup simple syrup
3 cups of frozen fruit
Just add all of these ingredients to your food processor or high powered blender and blend for a couple of minutes. I love using these freezable wine tumblers.
At the end of the day, the best part about this recipe is that it's perfect for those hot summer days when you're looking for something refreshing to drink. It might even take you back to fond memories if your favorite summer vacation .We have several other recipes on our blog which are sure to be a hit with your friends and family. Check out our delicious strawberry lemonade or iced coffee drinks if you need more inspiration. Let us know what you think of this Wine Slushie Recipe below!
Check out our other Travel Inspired Recipes.
FOLLOW US ON SOCIAL MEDIA
Don't forget to invite your friend's to our Facebook groups! We would also love to see your vacation pictures!