Have you heard of Muffin Mix Pancakes??? I love a good camping hack involving food! See how to make breakfasts easier at the campground, lake trips, or on vacation!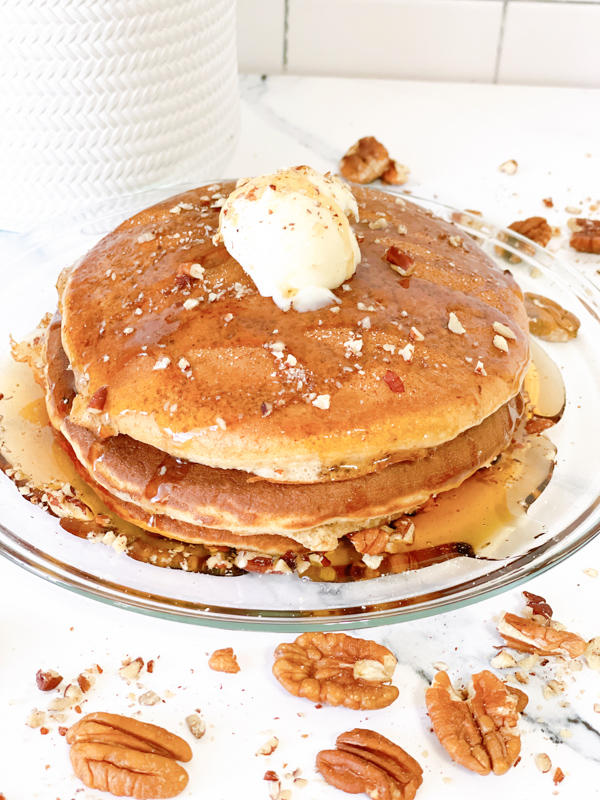 We love camping and have a bucket list of destinations we would like to travel to. And, having recently bought a small camper, we are gathering up even more ideas for great camping trips.
Planning out your camping recipes is a must before you travel. It will keep you from spending too much time cooking and also allow you to have fun and not overly stress about what everyone will be eating!
Muffin Mix Pancakes:
Anything to make cooking at the campsite easier is a win in my book! I am always trying to think of little kitchen hacks and easy recipes that can be adapted to camping. While it's super fun to eat and cook outdoors, some recipes can be pretty time consuming at the campsite. Or, just not work when you're working with limited dishes and uneven heat that comes from the grill or campfire. This also goes for if we are renting a cabin, lake house or just on vacation.
Muffin Mix Pancakes start with a typical small pouch of muffin mix from the store. You can choose any flavor you want, but this recipe will work best with the non-fruit muffin mixes. Martha White and Pillsbury single muffin pouches (around 7-8 oz size) will work. If you have another brand you like, such as Jiffy or Betty Crocker, you can try those, too!
I have to say, these turned out to be one of the BEST pancakes. They are light, fluffy, and full of delicious flavors. I made the banana nut, but you can pick any flavor muffin mix!
Important Note:
If you use a mix with dehydrated fruit, the fruit may not soften all the way. This is due to the fact pancakes cook much more quickly than muffins do, and the 20+ minutes that a muffin mix normally spends in the oven will soften the fruit. Not the case with pancakes! So definitely stick to a muffin mix that is flavored but does not contain fruit. Try starting out with:
A Chocolate Chip Muffin Mix
A Chocolate Chip – Chocolate Muffin Mix
Bran
Honey
Applesauce
Cinnamon
How to Make your Muffin Mix Pancakes at the Campground:
For Muffin Mix Pancakes, just add about 2/3 cup of milk and 1 egg. to the dry pouch of muffin mix. Add the milk slowly, since you may not use an entire 2/3 cup.
Camping hack: If you don't typically bring along fresh eggs and milk on your camping trips, a carton of Egg Beaters makes a great substitute and the carton is much less breakable while traveling! I would highly recommend this substitution.
If you're not comfortable bringing milk you can opt for powdered milk. However, we use milk for several purposes on camping trips. We prefer to bring it along for cereal and coffee and it keeps well in a mini-fridge or good quality cooler like a Yeti or RTIC. Powdered milk is not my fave, so honestly I would suggest just brining milk along and making sure you have it cold or refrigerated consistently.
That's it! You can mix these up in a small bowl while the campfire or grill is heating up. Then, just add to a cast iron pan which has been well greased with a slab of butter– my preference– or 1 tsp coconut oil or vegetable oil.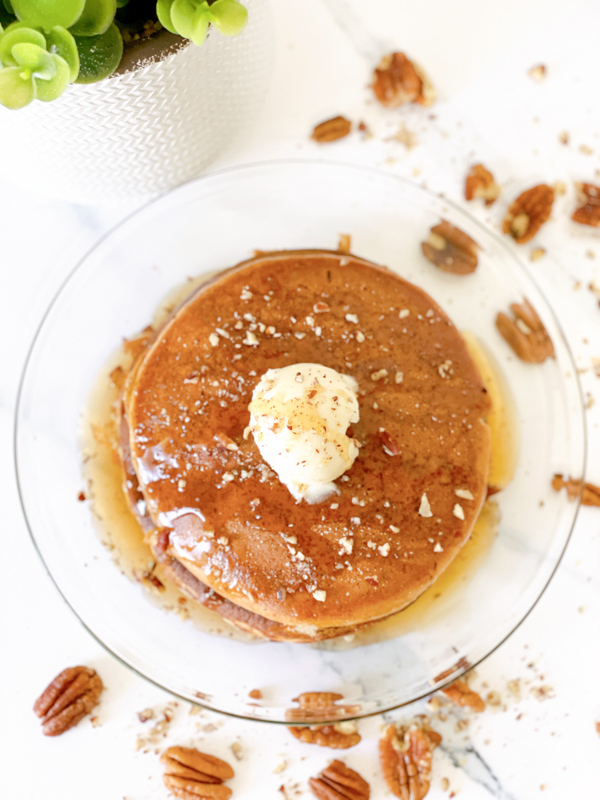 Serve with butter and syrup, or get creative and add some nuts, whipped cream, preserves, or whatever else you have along with you! This idea is one I will plan to repeat often, especially if we ever have a group including kids. Kiddos will love having their own specialty pancakes while camping! I can see the Chocolate Chip Chocolate ones being especially popular!
I hope you can use this Muffin Mix Pancakes recipe at the campground, lake, or even at your own home for a fun and different breakfast idea! Thanks for Reading.
Print Your Recipe Here:
Camping Hack: Muffin Mix Pancakes
Make pancakes from a muffin mix in your favorite flavor!
Ingredients
1 Muffin Mix 7-8 oz
Egg Beaters equivalent to 1 egg, or 1 egg
2/3 cup milk
1/2-1 Tbsp butter, coconut oil or vegetable oil
Instructions
Whisk together muffin mix, milk and egg in a small bowl. Add milk slowly, alternating with whisking, to ensure batter is not too thin. If you have 1% milk or skim milk, you will use less than the 2/3 cup.
Heat up a skillet to medium heat and add butter to skillet
Pour batter onto skillet and watch for bubbling up. Check underside of pancake to ensure it's not overcooking, if needed. Depending on how thick the batter is, pancakes will take 1-3 minutes to cook.
Flip pancake and allow to completely finish cooking, about 30 additional seconds.
Serve with any desired toppings, like whipped cream, butter and syrup, nuts, or fruit!
Notes
These Muffin Mix Pancakes were so good, I didn't even need to add any more butter to my stack of pancakes!
Calories: For a stack of three pancakes, this mix was 455 calories. Each pancake was roughly 155 calories including the milk and eggs, for anyone needing specifics. This will vary with the mix used. You may be able to get two servings out of one mix, for lighter eaters or for kids.
Do not use a muffin mix including fruit pieces.
Nutrition Information:
Yield:

1
Serving Size:

1
Amount Per Serving:
Calories:

326
Total Fat:

27g
Saturated Fat:

8g
Trans Fat:

1g
Unsaturated Fat:

17g
Cholesterol:

214mg
Sodium:

202mg
Carbohydrates:

9g
Fiber:

0g
Sugar:

0g
Protein:

12g
Note: for exact nutritional information, consult your dietitian. All nutritional information provided is simply a guideline
See More Camping Recipes Here!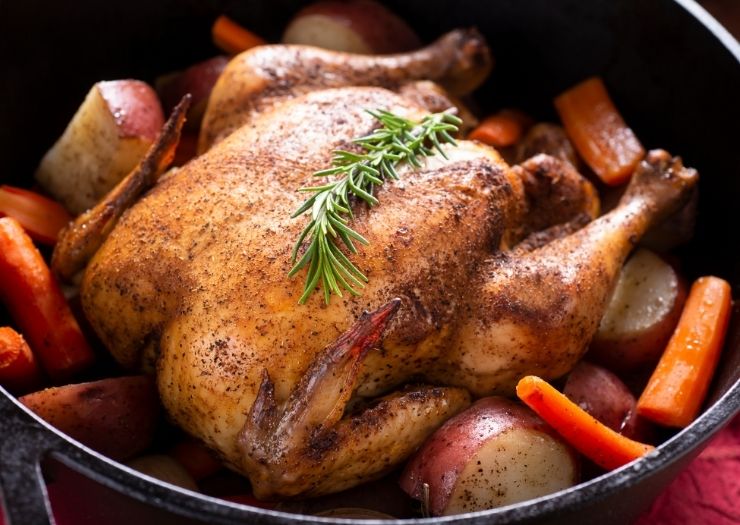 This Dutch Oven Chicken is perfect for home or the campsite– it's made in a cast iron Dutch Oven with lid!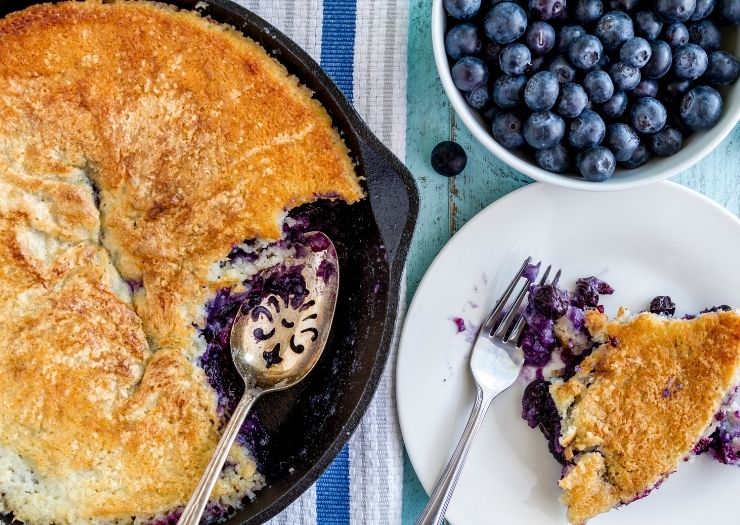 Cast Iron Skillet Blueberry Cobbler doubles as a dessert — and then a breakfast for the next day! Perfect for getting two meals out of one meal prep at the campsite.