Holiday Travel Gift Guide
For the traveler at heart, or something to use on your next road trip, see our Holiday Travel Guide for must haves for travelers!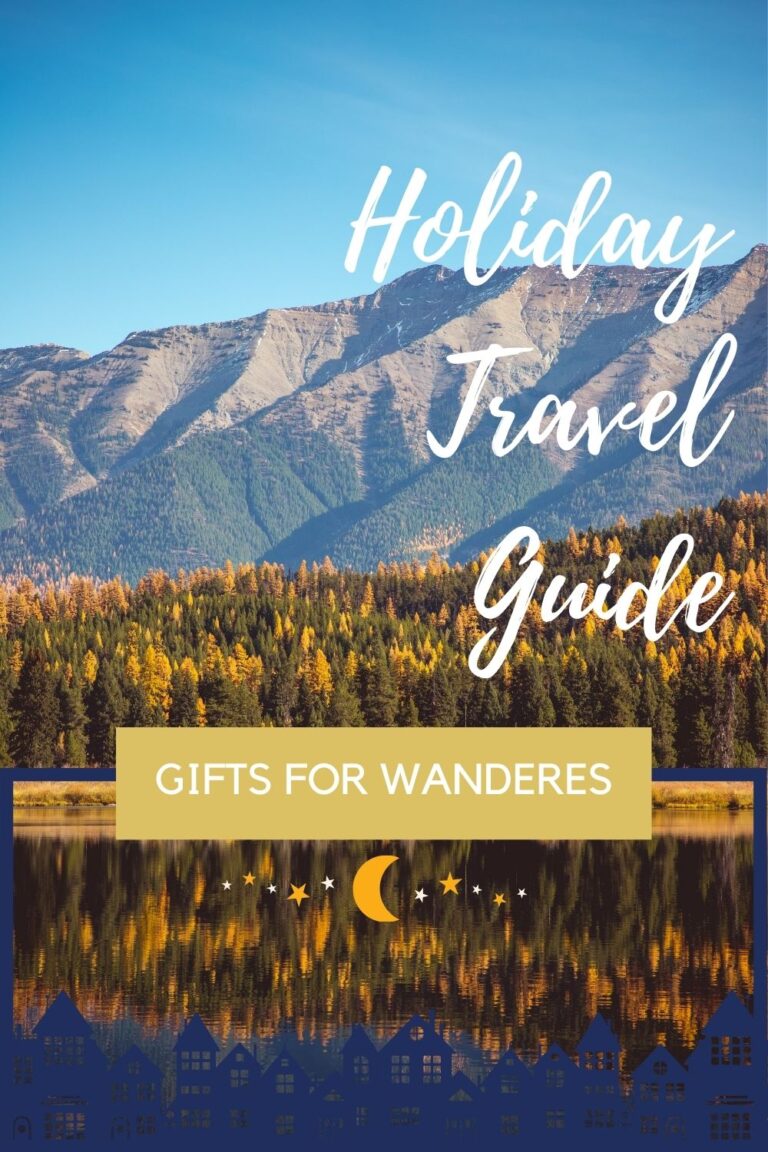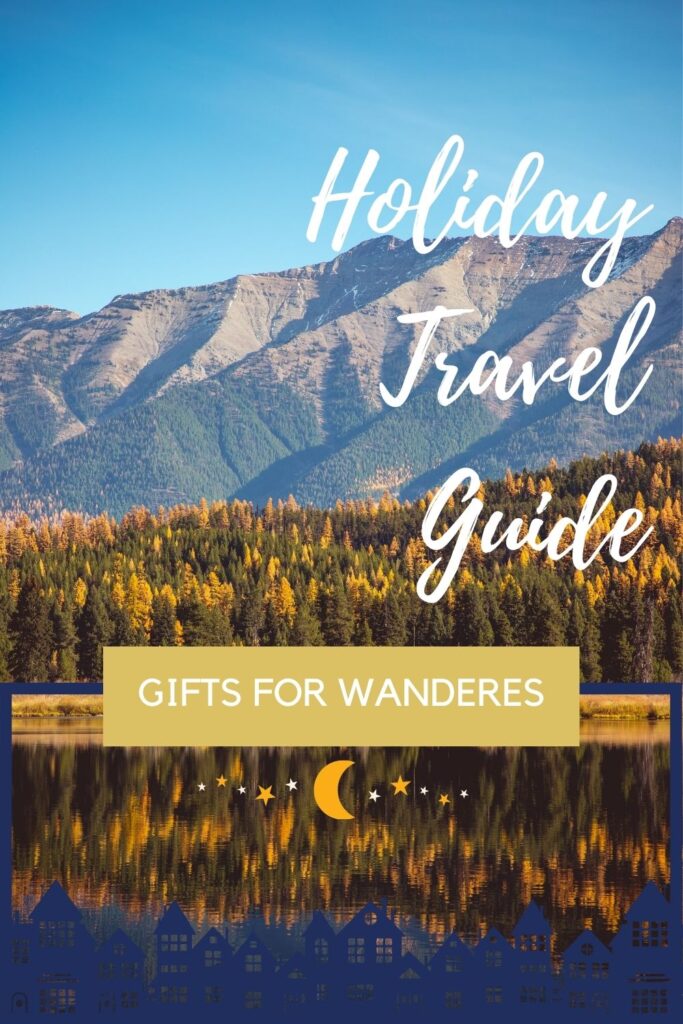 This year we put together a short gift guide of travel items that the traveler on your gift list would appreciate! Whether you have someone in the family always looking for their next destination, or you're finally planning that family vacation that's waited all last year– see these great gift ideas!
Please note, items were provided at no cost to RoamingMyPlanet.com/Melissa Garcia for the purposes of this guide. Thanks for reading!
Holiday Travel Gift Guide –
Refillable Sanitizer Keychain from SIX FEET AWAY CO –
Hand sanitizer is a must for travel. Keep it readily available without having to touch everything in your purse, with this fun hand sanitizer key chain. Choose your favorite color, or one to match your purse! $9.99/ Shop Here
• Vegan Leather
• Convenient Keychain Clip
• Handy Wrist strap
• Includes a 1 oz Refillable Bottle
PlaneAire Hands Hand Sanitizer-
Hand sanitizers often smell unpleasant and leave your hands feeling dry or sticky. We want to give you something better: a hand sanitizer you'll actually love to use.
PlaneAire® Hands is made with your hands in mind—from its custom lotion pump to its premium 'hand' picked ingredients. Made with soothing and moisturizing inner leaf Aloe Vera, vibrant plant-based oils and hydrating glycerin. $6.99 each/ Shop Here
Pluggerz Brand Comfortable Ear Plugs-
If you're hiking often like we are finding ourselves doing more as we continue our travel and also socially distance, you might find that your ears bother you with elevation changes. Ear plugs are also great to block extra noise (and possibly stress) if you are waiting in busy areas like airports.
The earplugs are made of hypoallergenic silicone material and can be used over 100 times. They are easy to take anywhere thanks to the handy storage case. Feature pressure regulating filter. Find in stores at CVS locations. More Here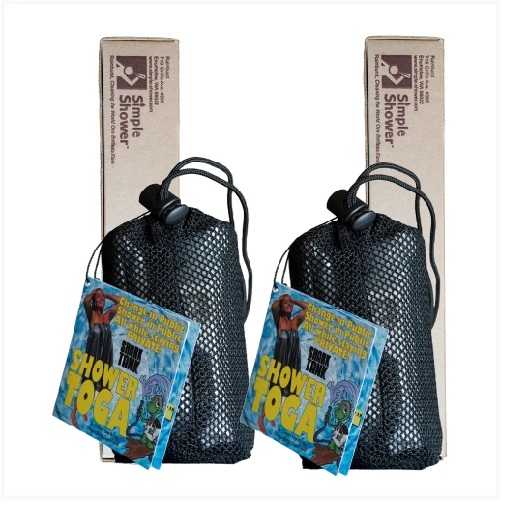 2 SHOWER TOGAS AND 2 SIMPLE SHOWERS-
What is Shower Toga? Shower Toga is a innovative 5 ounce, coated nylon wearable product for changing, showering and redressing.
Shower Toga doubles as a bag for your dirty clothes, or wet suit, allowing you to keep your car clean and dry. Cleaning up after activities has never been easier. Ideal for camp and outdoor showers or where facilities are limited. Pack pictured – $112. Shop Here.
SO SIMPLE TO USE-UNDRESS IN SECONDS
SHOWER TOGA FITS FROM 4T (CHILD) ALL THE WAY TO XXXL (ADULT)
DOUBLES AS BAG FOR DIRTY GEAR-KEEPS CAR CLEAN
MACHINE WASHABLE
HIGH QUALITY COATED NYLON CONSTRUCTION
SATISFACTION GUARANTEED OR RETURN FOR REFUND
LIGHTWEIGHT & PORTABLE AT ONLY 5 OZ-SIZE OF CANDY BAR
USE ANY WATER SOURCE-SOMETHING AS SIMPLE AS WATER BOTTLE
WAXIEST – THE ULTIMATE EAR CARE BUNDLE-
If travel makes ear care difficult, check out the ear irrigation and cleaning kit from EARcareMD.
Get all your favorite EARcareMD products in one convenient package with our price-saving bundle. Our favorite bundle includes WAX BLASTER MD, EAR CLEAN MD Refill Pack, and one bottle of EARWAX MD (bulb not included). With this bundle, you'll receive our Green Safety Tips Refill Pack for FREE! $68.97/ Shop Here
Thanks for reading our Holiday Travel Gift Guide! Have a Merry Christmas season, and Happy Traveling!
Please note- all wellness products shown are for product information only and this post is not meant for any health advice.
Tinggly Travel Gift Boxes –
Tinggly is a unique way to give gifts to friends and family, or even yourself. See the range of fantastic gift boxes, each of which contains 100s of experiences that the recipient can choose one of, according to their own preferences – adventure, romance, pampering, foodie, culture – for example. These experiences are available all around the world, so essentially you're giving somebody a travel voucher that is completely customizable – they can use it for whatever they want to do, whenever and wherever it suits them. Prices Vary. SHOP HERE
Celeste – Black Suit from SAUIPE:
The Celeste one-piece swimsuit is perfect for a party at the beach or lounging by the pool, Celeste's criss-cross back straps offer a chic look from every angle. Wear it at the beach, pool and beyond, by simply pairing with a skirt or pants. Also available in white and navy, sizes S-L. $235. SHOP HERE
Criss-cross back straps in handwoven Macrame
Ruched details
Fully lined
Made in Brazil
87% polyamide, 13% spandex
Glamping Hub:
Treat your friends and family to an adventure this Christmas with a Glamping Hub Gift Card! With over 26,000 accommodation across the globe to choose from, Glamping Hub offers beautiful secluded outdoor options, perfect for friends or loved ones who love to travel, or those whose trips may have been postponed this year. Glamping is perfect for people who are looking for a way to relax, disconnect, and escape to nature after a crazy year. Order your Gift Card Here!
FOLLOW US ON SOCIAL MEDIA
Don't forget to invite your friend's to our Facebook groups! We would also love to see your vacation pictures!
---