See this Dutch Oven Pot roast for a one-pot dinner, perfect for the campground or a hearty dinner at home!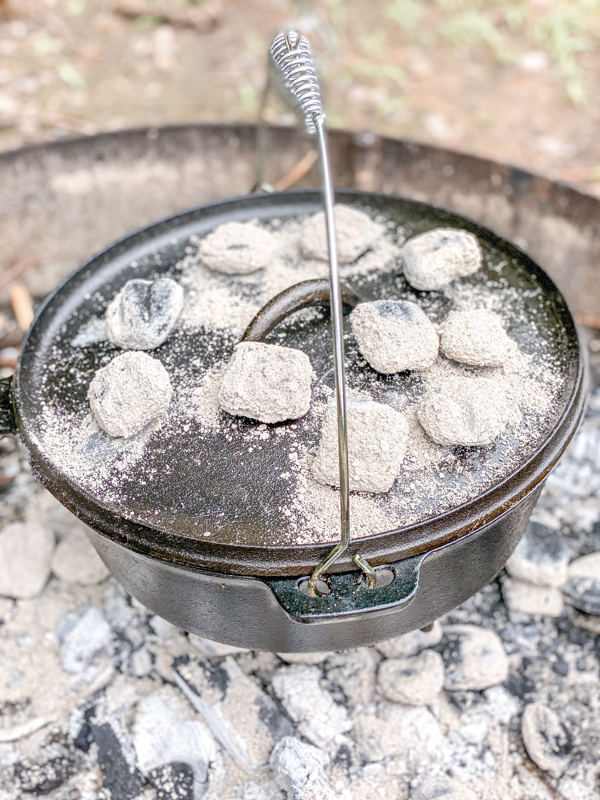 Dutch Oven Pot Roast
When we think of pot roast we may typically think…slow cooker meal! However, prior to the days of the slow cooker many of our grandmothers would have a pot roast cooking slowly in a large pot like a cast iron Dutch Oven, or even a covered dish inside the oven.
Although I absolutely love the convenience of my slow cooker at home, while we are out at the campground it isn't a realistic option for cooking food. Many campgrounds have a tripod and fire pit setup, so it's much easier to cook food in a Dutch Oven, attached to the tripod by a handle. You can also make this Dutch Oven Pot Roast on a charcoal grill if you don't have a fire pit accessible.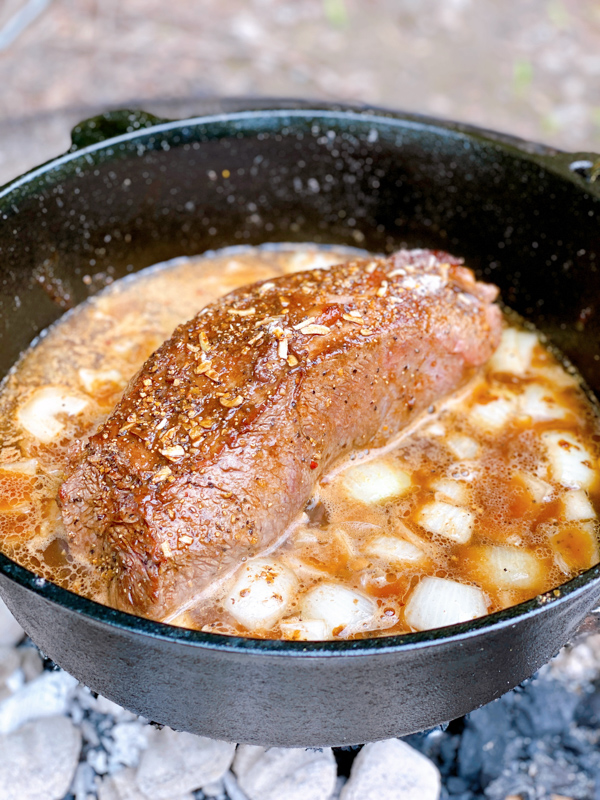 Ingredients to Bring to the Campground:
The ingredients for this Dutch Oven Pot Roast are pretty typical for any pot roast. We added all of our favorite veggies: carrots, potatoes, and onions primarily. We chose a cut of meat that would add a lot of flavor without being too tough. You will need a good quality Dutch Oven with a lid and handle, a pair of tongs to move briquettes, and of course your charcoal briquettes.
You can use whatever meat you prefer in this pot roast. If beef isn't in the budget, a good alternate is a pork loin roast. I can usually find these on sale for around $3-4 locally (we are in Oklahoma), and they freeze very well.
One money-saving tip is to always look for the unseasoned cuts of meat, and search for markdown stickers and family packs! These are all great ways to get the same quality meats for a few dollars less. Usually at my store, the sell-by dates are still good even if the meat has been marked down. If you see a sell by date that is coming up quickly, you can also ask the butcher if they can mark it down!
You can bring veggies along that are shelf stable: carrots and potatoes and onions don't require refrigeration. You can also add some dehydrated mushrooms into the pot and they will slowly rehydrate while your Dutch Oven Pot Roast is cooking. And finally, don't forget the spices!
What to Serve with Pot Roast
We sometimes use fully cooked, heat and eat biscuits, and you can also serve this with a loaf of crusty French bread. I love roast with anything that will soak up that delicious sauce from the roast.
If you already have the campfire going, try out our Campfire S'mores Cones or this delicious Skillet Blueberry Cobbler!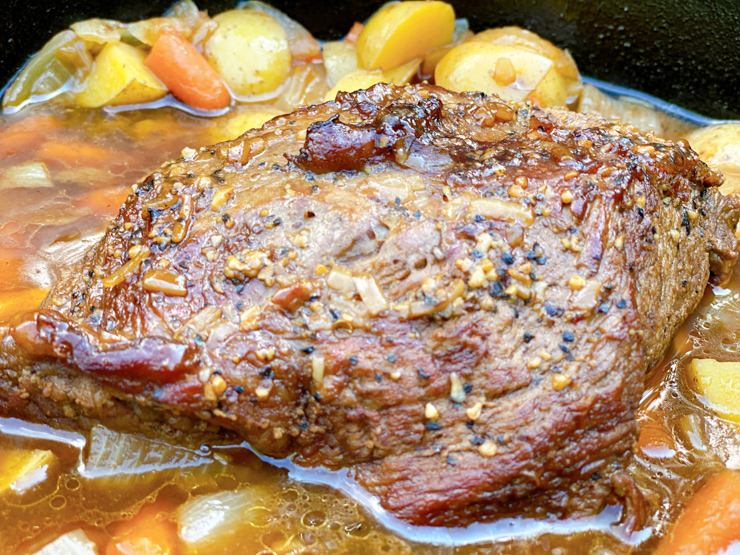 Ready to put this one on your menu? Get your recipe below!
Campfire Recipes: Dutch Oven Pot Roast
Cook Time:
2 hours
30 minutes
Additional Time:
15 minutes
Total Time:
3 hours
15 minutes
No need for the slow cooker for this One-Pot main dish, which you can make at home or at the campground!
Ingredients
3-4 pound roast (whatever your favorite roast is)
2 teaspoons beef bouillon
2 Tablespoons balsamic vinegar
1 Tablespoon Worcestershire sauce
3-4 Tablespoons vegetable oil
1 large onion, or 1 small, sliced thick then quartered.
1 onion soup mix packet or our homemade onion soup mix.
2 teaspoons Montreal Steak seasoning
2 -4 cans beef broth OR 2 -4 cups water + 2 teaspoons beef bouillon
1-2 pounds mini carrots (I used about half a bag of mini carrots)
2 pounds white or red thin skinned potatoes
Instructions
Light about 30 briquets and let them get all nice and hot (about 15-20 minutes).
Have some extra briquets nearby so you can add them to keep your heat up later
After coals are nice and hot, place your Dutch Oven on the coals and add vegetable oil in the dutch oven.
When the oil is hot, sear both sides of the roast. Set roast aside.
Add your onions to the dutch oven and return seared roast to pan, on top of the onions.
Add balsamic vinegar, Worcestershire sauce, Montreal Steak seasoning, and onion soup mix to the Dutch Oven.
Pour in 2 cups of your beef broth - alternately you can use Beef Bullion and 2 cups of water.
Put the lid on the Dutch Oven and add about 9 briqutes on the top of the lid.
Cook about 1 - 1 1/2 hours, depending on the size of your roast.
Add some briquets as needed to keep heat up.

After cooking time is finished, remove lid and if the liquid is mostly gone add your remaining broth (or water and bouillon).
Add your veggies.
Put the lid back on the dutch oven and let cook for about an hour or until veggies are fork tender. (Don't forget to add more briquets on the lid)
Your roast should be between 145-160 degrees before your take it off.
Slice and serve!
Notes
Optional: To thicken up sauce for gravy, add 3-4 Tbsp flour into a small bowl. Slowly add cooking liquid from the finished roast, stirring as you go. Do not add a lot at once, or it will clump!
Once the mixture has about 1 cup cooking liquid and is the consitency of a thin slurry, slowly pour it back into the Dutch Oven. You can stir over medium heat for 5-10 minutes and the cooking liquid will thicken. Sauce will thicken additionally as it sits.
Crock Pot adaption: If you're making this at home, cook in the slow cooker 6-8 hours on low, until vegetables are fork tender and meat thermometer indicates center of roast is at a safe temperature.
Nutrition Information:
Yield:

4
Serving Size:

1
Amount Per Serving:
Calories:

401
Total Fat:

15g
Saturated Fat:

2g
Trans Fat:

0g
Unsaturated Fat:

13g
Cholesterol:

0mg
Sodium:

3519mg
Carbohydrates:

57g
Fiber:

11g
Sugar:

13g
Protein:

11g
Note: for exact nutritional information, consult your dietitian. All nutritional information provided is simply a guideline
See more from Roaming My Planet Here: